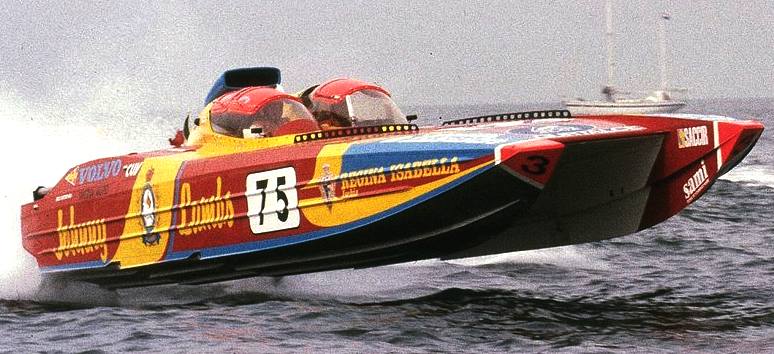 A motorboat, speedboat, or powerboat is a boat which is powered by an engine. Some motorboats are fitted with inboard engines, others have an outboard motor or two installed on the rear, containing the internal combustion engine, the gearbox and the propeller in one portable unit.

An inboard/outboard contains a hybrid of a powerplant and an outboard (or outdrive), where the internal combustion engine is installed inside the boat, and the gearbox and propeller are outside.

There are two configurations of an inboard, v-drive and direct drive. A direct drive has the powerplant mounted near the middle of the boat with the propeller shaft straight out the back, where a v-drive has the powerplant mounted in the back of the boat facing backwards having the shaft go towards the front of the boat then making a 'V' towards the rear. The v-drive has become increasingly popular due to the wakeboarding and wakesurfing sports. Inboard/outdrives generally have a z-drive configuration.

Power boats vary greatly in size and complexity, from a 4-meter, open center console sport day boat type to the luxury mega-yachts capable of crossing an ocean, with offshore racers in between.

Power boating describes activities performed in a motorized boat. Generally, a power boat has a high power-to-weight ratio and a hull design that allows for easy planing, so allows for higher speed and improved handling. Also, the shape of the actual boat is usually very streamlined, which minimizes air resistance and drag, therefore increasing speed. Power boats are often used recreationally, including waterskiing and wakeboarding.


POWERBOAT RACING

Offshore powerboat racing is racing by large specially designed ocean-going powerboats, typically point-to-point racing.

Probably one of the largest, most dangerous, and most powerful racing machines of all, the cost of construction of these boats and the huge quantities of fuel required to participate make it an expensive and elite sport.

Many different types and classes of boats can compete in individual races, on the same course, at the same time. Offshores have widely been known as a "Rich man's" sport, however, now even people with normal pleasure boats can compete in some newly formed classes (with minor safety modifications). This may include single or twin piston engine V-bottom boats, single or twin piston engine catamaran style boats, four piston engine boats, and turbine boats. Depending on the class, speeds varies from 65 mph (105 km/h) to 250 mph (400 km/h).

In Europe, Middle East and Asia, offshore powerboat racing is led by the UIM regulated Class 1 and Powerboat GPS (formerly known as Powerboat P1).

In the USA, offshore powerboat racing is split between OPA Racing, APBA/UIM races and the OSS races.

Although there are team sponsors, the sport is still an amateur sport financed by a mixture of private funding and commercial sponsors. One of the benefits of sponsoring an offshore powerboat team, as stated by team owner and driver Bjørn Rune Gjelsten, is that in Formula One motor racing, 1 million will only allow a small space, whereas in offshore powerboating, this covers the whole of the boat.

The sport is moving more to a circuit racing style also known as "run what you brung", which makes for a better TV and spectator experience, though there are still old fashioned endurance offshore racing classes.
Marine & Boat Insurance Providers Table

| Company | Type of Insurance | Website |
| --- | --- | --- |
| 24 hour dinghy insurance | Dinghy & Sailboard Insurance Immediate insurance premiums displayed by clicking onto the class of craft. | |
| ABG | We've teamed up with Boatinsure.co.uk to provide our clients with a competitive online marine quote: DINGHY, SPEED BOAT, SMALL YACHT, CABIN CRUISER. | |
| Affinity Insurance Brokers | Official Brokers to the Irish Sailing Association. Affinity Insurance Brokers, the premier source for insurance coverage and risk management advice for Ireland's sailing and fishing communities. | |
| Amilcroft | Cargo INSURANCE. Take advantage of capacity and services through the London market and other specialist insurers. Our arrangements include insurers able to write surplus lines in most of North America. | |
| Arden Insurance | Arden Insurance Services are able to arrange cover on all craft from the smallest of dinghies to the largest ocean going vessels. Discounts are also available for: RYA Qualifications, Policy excesses up to 1,000GBP, Craft in Marina Berths, Craft with alarms. Many of our standard policies include: Third Party Liability up to 2,000,000GBP, 12 Months in commission cover, Underwater Machinery Damage, Protected No Claims Bonus, Road Transit Cover, Legal Protection Cover. | |
| Edwards & Associates | We offer marine insurance to cover pleasure boats such as yachts and cabin cruisers, as well as larger private boats. Whether you are looking for personal or commercial marine insurance, we have a large base of insurers who we use to make sure that you get the best possible deal: Personal and Commercial Marine Insurance. | |
| BC-Marine Inurance | Set the right course to solve your Marine Insurance Requirements. Marine Craft Insurance, Legal Protection, Foreign Travel, Boat SalesAccident & Medical, Loss Of Earnings, Marine Finance, Marine Tradesmen, Crew Liability, Instalment Plans, Boat Builders & Repairers, Public Liability, Recovery & Assistance, Product Liability. UK, Ireland, Scotland, Wales & the EU. | |
| Bishops | We have particular expertise in the following: International Marine, Cargo, Inland Goods in Transit, Hauliers Liability, Freight Forwarders Liability. | |
| Alfred Blackmore | Alfred Blackmore Group Ltd UK insurance broker specialising in bloodstock, classic car, construction, financial services, healthcare, international motor, marine, professional indemnity, reinsurance and special accident. | |
| Blythin & Brown | Loughborough brokers provide online quotes for marine insurance, and also offer a full range of financial advice. | |
| | Marine insurance underwritten by Lloyd's of London. Discover what is covered by the policies, read the FAQs, get an online quote or claim online. | |
| | Covers most commercial risks in the following industries: manufacture, motor trade, haulage supply, farms, shops, offices, clubs, pubs, hotels and marine (ONLINE APPLICATION FORM). | |
| Craftinsure | German marine insurer provides boat-insurance services throughout Europe. Select a boat type, get a quick quote, and track a claim. 20% internet purchase discount. | |
| Newton Crum | Dinghy - Narrowboat - Motorboat - Sailboard- Yacht - Marine Insurance. FREE INSURANCE QUOTATIONS no charge or obligation. Dinghy Insurance, Sailboard Insurance, Inland Waterways Insurance, Yacht - Motorboat - Speedboat Insurance, Stolen Boat List. | |
| Engine Breakdown Cover Ltd. | Offers unique insurance policies for marine in-board engines. | |
| Fairmont Insurance Services | Super Yacht Insurance for yachts in excess of $1 Million to over $125 Million. Coverage includes Liability, Loss of Charter, and Crew Personal Accident and Medical. | |
| Lucas Fettes & Partners | Marine Insurance: Hull and accessories of a vessel, passengers and worldwide cargo movements. | |
| Navigators and General | Navigators and General has been at the forefront of yacht and motorboat insurance since 1921 and has been the market leader in this field for over 70 years. Navigators & General is part of the Zurich Financial Services Group and Financial Ombudsman Service, providing policyholders with world-class security. Today, Navigators provides cover for vessels with a total value in excess of £750,000,000. Underwriting insurance for all types of leisure craft, from dinghies to £5,000,000 vessels, has provided us with the breadth of experience to understand even the most individual requirements. | |
| Giles Insurance Brokers | Marine Insurance. Dinghy, Power Boat, Yacht, Cabin Cruiser, Jet Ski, Charter Boat, Commercial Fishing Boat, Yacht Yard | |
| SHW Group | Marine Cargo Insurance. Cover is arranged with specialist insurers and the individual policies are written to suit your business requirements including if required Warehousing for distribution during export or import. | |
| LONHAM GROUP LTD | Freight legal liability for both UK and international domiciled companies. Freight legal liability insurance, Cargo insurance, Charterer's Liability insurance. Delegated authority to deal with claims matters relating to marine insurance. | |
| Mardon Marine Insurance Brokers | boat-insurance.co.uk and yacht-insurance.co.uk are the websites of Mardon Marine and maritime Underwriting Agencies Ltd. (Including Maritime Underwriting Agencies Ltd) | |
| Noble Marine | Noble Marine are specialist insurance brokers dealing with all classes Yacht insurance, rowing insurance, laser class, dinghy insurance, sailboard insurance. | |
| Rob, Perry Marine | Need Insurance? We are agents for one of the most competitive insurance brokers in the country who specialise in marine insurance. | |
| Pendleton May | We operate a scheme for the insurance of yachts, motor boats and small craft. Our expertise, experience and number of clients insuring their boats enables us to provide you with wide cover at competitive cost. Try us by completing our form. | |
| Terra Nova | Terra Nova Protection & Indemnity provides fixed premium P&I cover for the Owner / Manager / Charterers of commercial ships operating in domestic, coastwise or short-sea trades. | |
| Oban Insurance Centre | Read about the insurance schemes covering marine, holidays, business, motoring and agriculture. Offers an online quote system. | |
| B Portwood & Co.Ltd | Marine and boat insurance. On-line insurance rates are provided for dinghies, canoes, sailboards, small craft, inflatables, speedboats, yachts and motorboats for use in the uk and in Western Europe for up to 60 days. | |
| Alexander Brooks & Stevens Ltd | Marine Insurance providers | |
| Graham Sykes Insurance | Graham Sykes Insurance insure a variety of boats. Our polices cover you for use on inland and costal waterways between May and September. Smaller craft usually have to be laid up ashore over the winter months. For larger vessels we can provide cover for them all year round. For the water skiers out there we can usually extend your policy to include liability for towing water skiers. | |
| Craig & Suttar | In most cases we can provide all risks cover including third party liability for you and your craft. Polices cover you for use on inland and costal waterways between May and September. For the waterskiers out there we can usually extend your policy to include liability for towing waterskiers. In some case we can add your boat onto your house contents insurance which is sometimes cheaper. | |
| Tyser (UK) Ltd | Marine and boat Insurance | |
| Yachtsman Marine Insurance Ireland | Yachtsman Marine Insurance Ireland. Sports boats, Yacht cruisers, motor cruisers. We offer yachtsmen an exceptional insurance package at a highly competitive price. We are constantly reviewing our policy wording to provide the most up to date terms and conditions to ensure that our clients have the most appropriate cover. | |
Meeting Your Needs

Offering a range of services to most business sectors the providers below specialise in insurance design, risk placing and risk management for UK and international concerns.

They have considerable experience in the development of solutions for both Marine and Commercial risks. With access to Lloyds of London and a range of ABI registered Insurers they can secure the most competitive premiums and terms. All of the above is a very good reason to click through from us to obtain your online quotation, and it doesn't cost you a penny more to do so.
Fleet operators might reduce insurance costs if their ships have
autonomous capability, which system promises safer seas.