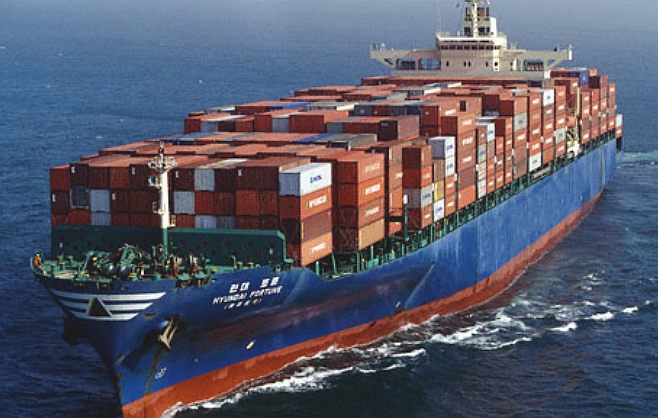 Sea Freight is the most cost-effective method of shipping heavy or bulky items internationally.
A freight forwarder, forwarder, or forwarding agent, is a person or company that organizes shipments for individuals or corporations to get large orders from the manufacturer or producer to market or final point of distribution. Forwarders contract with a carrier to facilitate the movement of goods. A forwarder is not typically a carrier but is an expert in supply chain management. A forwarder contracts with asset-based carriers to move cargo ranging from raw agricultural products to manufactured goods. Freight can be booked on a variety of carrier types, including ships, airplanes, trucks, and railroads. It is not unusual for a shipment to move along its route on multiple carrier types. International freight forwarders typically arrange cargo movement to an international destination. International freight forwarders have additional expertise in preparing and processing documentation and performing related activities pertaining to international shipments.

Some of the typical information reviewed by a freight forwarder is the commercial invoice, shipper's export declaration, bill of lading, and other documents required by the carrier or country of export, import, or transshipment. Much of this information is now processed in a paperless environment.

The FIATA short-hand description of the freight forwarder as the 'Architect of Transport' illustrates the commercial position of the forwarder relative to his client. In Europe, there are forwarders that specialize in 'niche' areas such as rail-freight, and collection and deliveries around a large port.

In some countries, a forwarder may deal only with domestic traffic and never handle international traffic.
BY COUNTRY
Australia

In Australia most licensed Customs Clearance Agents (now more commonly referred to as Customs Brokers), operate under a freight forwarder.

Bangladesh

In order to start as a freight forwarder business in Bangladesh a person needs a government license.

Canada

Transport Canada is the federal department responsible for the implementation and enforcement of the transportation policies and programs of the Government of Canada. The Canadian freight forwarding industry falls under the regulatory guidance of Transport Canada. The Canadian Border Services Agency is charged with enforcing the majority of the regulations that international freight forwarders are required to follow. International security measures are the dominant concern of freight forwarders and customs brokers.

The Canadian International Freight Forwarders Association was established in 1948 to support and protect the character, status, and interest of foreign freight forwarders by establishing uniform trade practice and regulations. CIFFA also holds an educational role by providing a certificate and advanced certificate programs.

Ireland

Even in smaller markets, such as Ireland, the role of freight forwarders is strategically important. International merchandise trade is worth €148 billion to the Irish economy. 82% of manufactured products are exported, further highlighting the importance of the freight forwarders to a nations' economy. Associations like the Irish International Freight Association and FIATA help maintain the professionalism of this industry through educational and representative roles. The FIATA Diploma in Freight Forwarding is an example of how this can be achieved.

Kenya

In Kenya freight forwarders are commonly referred to clearing and forwarding agents. A license is required to operate as a freight forwarders in Kenya which can be acquired from Kenya Revenue Authority. Freight forwarders in Kenya are responsible for clearing consignments through Kenya customs, arranging transportation, and forwarding the consignment to the consignee. Both exports and imports are required to be cleared through customs in Kenya.

Nigeria

Freight-forwarding in Nigeria has been in place since the exporting of groundnut as a cash crop since 1914, though not initially as freight forwarding but as the means of transportation of both goods and services from one country to another. Following the methodology of their British forebears, agents were used to facilitate the transport of goods and services.
Thailand
K.connect worldwide (Thailand) Co., Ltd was established in 2012 and located in BKK Thailand with 20 staff, 2 container trucks and warehouses, they offer the following services:

* International air &sea freight forwarder
* Import & Export
* Door to Door service
* Customs Clearance
* Inland Transport
* Project cargo handling & Exhibition
* Packing and Crating
* Insurance Brokerage
* DDU/DDP
* D/O

They have special expertise in dangerous goods, perishable and oversize cargos, garments on hangers and live animals & tropical fish

K.CONNECT WORLDWIDE (THAILAND) CO.,LTD.
44/247 Liap Khlong Fang Nuea Rd., Prinyaluk
Nongkham, Nongkham Bangkok 10160 Thailand
Tel : (662) 404 3383-5 Fax : (662) 404 3382
Mobile : (66) 081 9469561
BBM : 23B8BAC5

Website : www.kcnect.com
kik@kconnectworldwide.com
sirikran@kconnectworldwide.com


UK SEA FREIGHT

In the U.K., freight forwarders are not licensed, but many are members of the British International Freight Association. Freight forwarders in the UK consolidate various goods from different consignors into one full load for road transport to Europe, which is often known as groupage. Some freight forwarders offer additional related services like export packing.
UK OCEAN INTERNATIONAL
Ocean international can handle sea freight cargo from 1 pallet to turn key projects. They provide weekly export services (fixed day sailings every week) to the principal ports of the Six continents, receiving at Southampton, Tilbury, Birmingham, Manchester and Glasgow. Their experienced staff can liaise with banks and arrange prompt payment ASAP after shipment. They can organise consular requirements for shipments that require specialist documentation such as certificates of origin and notaries.

Ocean international has many import full load and consolidation services arriving weekly into Southampton and Felixstowe from the Far East, the United States of America and the Indian sub-continent. To enhance this service full import customs clearance facilities are available at all ports to clear consignments quickly and efficiently as soon as they arrive and then delivery arrangements can be made to the customers premises.

A large duty deferment facility is available with H.M. Revenue & Customs so there will be no delay in payment of customs duties and taxes to the government.
Unit 4, Swanwick Business Park Bridge Road, Southampton, SO31 7GB
UK Local Number - 0845 0066138
Tel: +44 (0)1489 578222
Fax: +44 (0)1489 578333
Email: sales@oceaninternational.com
Visit: http://www.oceaninternational.com/page.aspx?pid=17
UK TRANSGLOBAL EXPRESS
Unit 5, The Gateway
Wirral International Business Park
Wirral, Merseyside, CH62 3NX
Tel: +44 (0)151 334 6599
Fax: +44 (0)151 334 6344
Email: freight-team@transglobalexpress.co.uk
Visit: http://www.transglobalexpress.co.uk/Sea-Freight


USA

In the U.S., companies that handle domestic U.S. freight must be registered with the U.S. Department of Transportation's Federal Motor Carrier Safety Administration. Such forwarders are "carriers" who accept freight for transportation and are liable for transporting the freight from origin to destination, under their own bill of lading. The legal definition at 49 USC 13102 (8)is: FREIGHT FORWARDER.—the term "freight forwarder" means a person holding itself out to the general public (other than as a pipeline, rail, motor, or water carrier) to provide transportation of property for compensation and in the ordinary course of its business — (A) assembles and consolidates, or provides for assembling and consolidating, shipments and performs or provides for break-bulk and distribution operations of the shipments; (B) assumes responsibility for the transportation from the place of receipt to the place of destination; and (C) uses for any part of the transportation a [surface carrier] carrier subject to jurisdiction [of the Department of Transportation] of under this subtitle.

International ocean freight forwarders arranging for shipments to and from the US must be licensed by the Federal Maritime Commission as Ocean Transportation Intermediaries. An Ocean Transportation Intermediary is either an ocean freight forwarder or a non-vessel operating common carrier (NVOCC). An ocean freight forwarder is an individual or company in the United States that dispatches shipments from the United States via common carriers and books or otherwise arranges space for those shipments on behalf of shippers. Ocean freight forwarders also prepare and process the documentation and perform related activities pertaining to those shipments. An NVOCC is a common carrier that holds itself out to the public to provide ocean transportation, issues its own house bills of lading or equivalent document, but does not operate the vessels by which ocean transportation is provided. Companies may obtain both licenses and may act in both capacities even on the same shipment. The U.S. legal distinction between the two is that a freight forwarder acts as the agent of a principal (typically a shipper or consignee) and the NVOCC is a transportation company (carrier) that is physically responsible for the carriage of goods and acts as its own principal.

Companies acting strictly as an Ocean Freight Forwarder typically do not issue their own contract of carriage (bill of lading) and as agent are generally not liable for physical loss or damage to cargo except in cases of errors in judgment or paperwork or fiduciary responsibility. NVOCC's act as ocean freight carrier and issue their own bill of lading and are legally responsible for physical loss or damage in accordance with the terms and conditions of their bill of lading and tariff. Similar to other countries, freight forwarders that handle international air freight will frequently be accredited with the International Air Transport Association (IATA) as a cargo agent; however, they must obtain an Indirect Air Carrier (IAC) certification from the Department of Homeland Security (DHS).
Marine & Boat Insurance Providers Table

| Company | Type of Insurance | Website |
| --- | --- | --- |
| 24 hour dinghy insurance | Dinghy & Sailboard Insurance Immediate insurance premiums displayed by clicking onto the class of craft. | |
| ABG | We've teamed up with Boatinsure.co.uk to provide our clients with a competitive online marine quote: DINGHY, SPEED BOAT, SMALL YACHT, CABIN CRUISER. | |
| Affinity Insurance Brokers | Official Brokers to the Irish Sailing Association. Affinity Insurance Brokers, the premier source for insurance coverage and risk management advice for Ireland's sailing and fishing communities. | |
| Amilcroft | Cargo INSURANCE. Take advantage of capacity and services through the London market and other specialist insurers. Our arrangements include insurers able to write surplus lines in most of North America. | |
| Arden Insurance | Arden Insurance Services are able to arrange cover on all craft from the smallest of dinghies to the largest ocean going vessels. Discounts are also available for: RYA Qualifications, Policy excesses up to 1,000GBP, Craft in Marina Berths, Craft with alarms. Many of our standard policies include: Third Party Liability up to 2,000,000GBP, 12 Months in commission cover, Underwater Machinery Damage, Protected No Claims Bonus, Road Transit Cover, Legal Protection Cover. | |
| Edwards & Associates | We offer marine insurance to cover pleasure boats such as yachts and cabin cruisers, as well as larger private boats. Whether you are looking for personal or commercial marine insurance, we have a large base of insurers who we use to make sure that you get the best possible deal: Personal and Commercial Marine Insurance. | |
| BC-Marine Inurance | Set the right course to solve your Marine Insurance Requirements. Marine Craft Insurance, Legal Protection, Foreign Travel, Boat SalesAccident & Medical, Loss Of Earnings, Marine Finance, Marine Tradesmen, Crew Liability, Instalment Plans, Boat Builders & Repairers, Public Liability, Recovery & Assistance, Product Liability. UK, Ireland, Scotland, Wales & the EU. | |
| Bishops | We have particular expertise in the following: International Marine, Cargo, Inland Goods in Transit, Hauliers Liability, Freight Forwarders Liability. | |
| Alfred Blackmore | Alfred Blackmore Group Ltd UK insurance broker specialising in bloodstock, classic car, construction, financial services, healthcare, international motor, marine, professional indemnity, reinsurance and special accident. | |
| Blythin & Brown | Loughborough brokers provide online quotes for marine insurance, and also offer a full range of financial advice. | |
| | Marine insurance underwritten by Lloyd's of London. Discover what is covered by the policies, read the FAQs, get an online quote or claim online. | |
| | Covers most commercial risks in the following industries: manufacture, motor trade, haulage supply, farms, shops, offices, clubs, pubs, hotels and marine (ONLINE APPLICATION FORM). | |
| Craftinsure | German marine insurer provides boat-insurance services throughout Europe. Select a boat type, get a quick quote, and track a claim. 20% internet purchase discount. | |
| Newton Crum | Dinghy - Narrowboat - Motorboat - Sailboard- Yacht - Marine Insurance. FREE INSURANCE QUOTATIONS no charge or obligation. Dinghy Insurance, Sailboard Insurance, Inland Waterways Insurance, Yacht - Motorboat - Speedboat Insurance, Stolen Boat List. | |
| Engine Breakdown Cover Ltd. | Offers unique insurance policies for marine in-board engines. | |
| Fairmont Insurance Services | Super Yacht Insurance for yachts in excess of $1 Million to over $125 Million. Coverage includes Liability, Loss of Charter, and Crew Personal Accident and Medical. | |
| Lucas Fettes & Partners | Marine Insurance: Hull and accessories of a vessel, passengers and worldwide cargo movements. | |
| Navigators and General | Navigators and General has been at the forefront of yacht and motorboat insurance since 1921 and has been the market leader in this field for over 70 years. Navigators & General is part of the Zurich Financial Services Group and Financial Ombudsman Service, providing policyholders with world-class security. Today, Navigators provides cover for vessels with a total value in excess of £750,000,000. Underwriting insurance for all types of leisure craft, from dinghies to £5,000,000 vessels, has provided us with the breadth of experience to understand even the most individual requirements. | |
| Giles Insurance Brokers | Marine Insurance. Dinghy, Power Boat, Yacht, Cabin Cruiser, Jet Ski, Charter Boat, Commercial Fishing Boat, Yacht Yard | |
| SHW Group | Marine Cargo Insurance. Cover is arranged with specialist insurers and the individual policies are written to suit your business requirements including if required Warehousing for distribution during export or import. | |
| LONHAM GROUP LTD | Freight legal liability for both UK and international domiciled companies. Freight legal liability insurance, Cargo insurance, Charterer's Liability insurance. Delegated authority to deal with claims matters relating to marine insurance. | |
| Mardon Marine Insurance Brokers | boat-insurance.co.uk and yacht-insurance.co.uk are the websites of Mardon Marine and maritime Underwriting Agencies Ltd. (Including Maritime Underwriting Agencies Ltd) | |
| Noble Marine | Noble Marine are specialist insurance brokers dealing with all classes Yacht insurance, rowing insurance, laser class, dinghy insurance, sailboard insurance. | |
| Rob, Perry Marine | Need Insurance? We are agents for one of the most competitive insurance brokers in the country who specialise in marine insurance. | |
| Pendleton May | We operate a scheme for the insurance of yachts, motor boats and small craft. Our expertise, experience and number of clients insuring their boats enables us to provide you with wide cover at competitive cost. Try us by completing our form. | |
| Terra Nova | Terra Nova Protection & Indemnity provides fixed premium P&I cover for the Owner / Manager / Charterers of commercial ships operating in domestic, coastwise or short-sea trades. | |
| Oban Insurance Centre | Read about the insurance schemes covering marine, holidays, business, motoring and agriculture. Offers an online quote system. | |
| B Portwood & Co.Ltd | Marine and boat insurance. On-line insurance rates are provided for dinghies, canoes, sailboards, small craft, inflatables, speedboats, yachts and motorboats for use in the uk and in Western Europe for up to 60 days. | |
| Alexander Brooks & Stevens Ltd | Marine Insurance providers | |
| Graham Sykes Insurance | Graham Sykes Insurance insure a variety of boats. Our polices cover you for use on inland and costal waterways between May and September. Smaller craft usually have to be laid up ashore over the winter months. For larger vessels we can provide cover for them all year round. For the water skiers out there we can usually extend your policy to include liability for towing water skiers. | |
| Craig & Suttar | In most cases we can provide all risks cover including third party liability for you and your craft. Polices cover you for use on inland and costal waterways between May and September. For the waterskiers out there we can usually extend your policy to include liability for towing waterskiers. In some case we can add your boat onto your house contents insurance which is sometimes cheaper. | |
| Tyser (UK) Ltd | Marine and boat Insurance | |
| Yachtsman Marine Insurance Ireland | Yachtsman Marine Insurance Ireland. Sports boats, Yacht cruisers, motor cruisers. We offer yachtsmen an exceptional insurance package at a highly competitive price. We are constantly reviewing our policy wording to provide the most up to date terms and conditions to ensure that our clients have the most appropriate cover. | |
---
Meeting Your Needs

Offering a range of services to most business sectors the providers below specialise in insurance design, risk placing and risk management for UK and international concerns.

They have considerable experience in the development of solutions for both Marine and Commercial risks. With access to Lloyds of London and a range of ABI registered Insurers they can secure the most competitive premiums and terms. All of the above is a very good reason to click through from us to obtain your online quotation, and it doesn't cost you a penny more to do so.
Fleet operators might reduce insurance costs if their ships have
autonomous capability, which system promises safer seas.