Trimaran title sponsor B&Q is the biggest DIY retailer in Europe and third biggest in the world. http://www.diy.com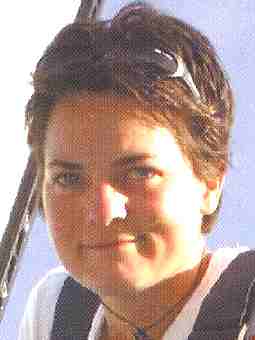 Ellen Macarthur MBE
LATEST: ELLEN WINNING BATTLE OF THE DOLDRUMS - FOR NOW... 28 Jan 2005 - 00:06
Weaving in out and off the cloud formations, hunting down the wind, for the moment Ellen is winning her own battle of the Doldrums, keeping boatspeed at between 12 and 15 knots, and only 100 miles from the latitude where the forecasts say she'll be clear...but 100 miles if you are swallowed by the windless zone can cost you days...
WHAT DID ELLEN GIVE TO NEPTUNE? 27 Jan 2005 - 22:52
At the Equator Ellen offered up to Neptune the most valuable thing she had on board. Can you guess? Send your answers in, click on Email Ellen on the home page. All will be revealed tomorrow...
ELLEN CROSSES EQUATOR 27 Jan 2005 - 22:17
Back into the Northern Hemisphere! B&Q crossed the Equator at 2145gmt setting a new solo time of 60 days, 13 hours and 35 mins. Taking 1 day, 10 hours and 50 mins off the previous fastest solo time set by Joyon of 62 days, 0 hours and 25 mins. The ahead calculation is greater because Ellen is effectively closer to the finish than Joyon because she has crossed the Equator a few degrees further east.
DATA UPDATES 27 Jan 2005 - 20:01
We're missing a couple of hours unfortunately due to failure of a key T1 dataline in London...beyond our control...hopefully things back to normal shortly! Manual update - at 2000gmt Ellen was doing 15.7 knots at 018T, 26 miles from the Equator, with some small islands that don't even appeaer on CMAP charts, some 70 miles ahead o her on her track...she spotted them on the way down the Atlantic by chance!
ELLEN CALL: 33 MILES FROM THE EQUATOR 27 Jan 2005 - 15:50
At 1940gmt B&Q was just over 30 miles from re-entering the northern hemisphere, but the wind was already dropping as the massive 100 mile wide area of Doldrums cloud was approaching. Wind down to 14 knots, expecting zero at some point! OC support team Technology man Charles Darbyshire on the phone to sort a problem with the Dartcom - a neat bit of kit that provides semi-realtime satelite images of the clouds, superimposed on B&Q's position-perfect for cloud dodging, but not this big sucker ahead!
TIME AT THE EQUATOR? 27 Jan 2005 - 15:48
Plenty could go wrong of course in the next 60 miles, but if Ellen gets B&Q there, what time do you think she will cross the Equator! Put your answers on the Emails to Ellen page?? Right now she is less than 60 miles away doing 19 knots, but the forecast is for a big deceleration ahead...
CLOUD ACTION AHEAD 27 Jan 2005 - 15:28
Latest from Commanders': Ellen will run into clouds and squalls starting near 1 degree S and may have a few patchy clouds near 2 degrees S. Think we are about at max wind speed and flow will start to edge down after 15utc today as we get into some of the cloud cover. Expect flow to reach max right [south] around 18-21utc today and then start to back around 30m south of the Equator. The ENE trades should start around 2-3 degrees N. Click on Live Data above to see B&Q nav area.
WHAT LIES AT THE DOLDRUMS/ 27 Jan 2005 - 13:38
A big area of squalls in the Doldrums will keep Ellen on full alert. With the airflow moving more vertically than horizontally as the SE and NE Trades come together, this can produce a suction effect resulting in either no wind or more often than not violent rain squalls with strong gusts of wind that can have a catastrophic result if a skipper is caught unawares. The main Doldrum activity appears to be west of 30 degrees west stretching over a 180 mile area north-south...
FAST & SMOOTH 27 Jan 2005 - 10:15
B&Q sailing at over 20 knots - wind from behind providing a smoother ride northwards compared to the uncomfortable reaching conditions of yesterday. See Day 61 full story below...
B&Q GAINS AT IDEC'S EXPENSE 27 Jan 2005 - 06:45
Ellen's fast growing advance is principally down to Joyon having a terrible time right now. Yesterday, IDEC only made 162 miles VMG [velocity made good to the finish as opposed to miles sailed through the water] and today is worse, just 130 miles. B&Q making just under 18 knots this morning towards the Equator and Ellen may find herself having to sacrifice this lead at the Doldrums.
---
DAY 60: BACK IN THE BLACK AS TRADE WINDS KICK IN...
Wednesday, 26 January 2005 at 09:32


KEY DATA DAY 59 0710 GMT:

Distance ahead: 29 miles
Time ahead: 6 hours [representing 1.19% of time remaining] calculated using the time it took for Joyon to get to the same Distance to Finish as Ellen's current position

OMEGA: Official timekeeper for Ellen MacArthur

Lat/Long: 10 38 S / 029 43 W (112 miles SE Recife / 640 miles S Equator)
Average Boat speed: 14.45 knots (heading N by W)
True Wind speed: 16.6 knots (direction E)
Sea temperature: 27.6 degrees C
Distance sailed so far: 23,043 miles at an average speed of 16.4 knots
(data communicated by Thrane MiniC via BT Business Broadband)


Update based on data recorded 0710 GMT...check home page for the latest data updated hourly


IN BRIEF:

* B&Q BACK IN THE PLUS ZONE after a fast night of sailing in stronger than expected easterly Trade Winds putting MacArthur six hours ahead this morning, returning from her deficit of 13 hours behind yesterday at midday. And as the winds veer further into the ESE-SE, this will allow B&Q to take a more northerly course aiming for the Equator 640 miles ahead to put her back into the Northern Hemisphere. From 1900gmt yesterday the boat speeds just kept on racking up - 13.90 knots at 2000gmt to 19.41 knots at 0300gmt, although speeds decreasing this morning to the 14-15 knot range. "It's been a pretty full on night - I had to go to one reef and Solent. I've had 23 knots of breeze in the night and sailing virtually upwind to try and keep the course. There's been loads of clouds around and a huge fishing boat I had to dodge as well. We're basically beating upwind in a pretty horrible sea and makes you realise this is what we will be doing the other side of the Equator but we're getting there.
There's a lot of new noises because we've not really sailed like this for a while and it's weird to hear all the noise the boat makes when we're bouncing around. Yesterday evening, even when we started going fast, things were initially quite stable, but things are uncomfortable now in this sea." After sailing for several days with full sail up, Ellen had to dig deep again to go through the sail changing gear-shifts, back down to one reef and the Solent jib [70sqm] - replacing the larger 106sqm genoa. To finally feel the wind in the sails again will come as a huge relief to MacArthur who has spent over nearly five days where the wind has hardly averaged over 6-8 knots. The period of light airs may have served Ellen well in allowing her time to recover a bit from the relentless pace of this record attempt and the punishing mast climbs to repair the mast track that left her severely bruised, but it did little to calm her frayed nerves. Ellen has sailed over 23,000 miles through the water, and has less than 4,000 miles to go to the finish (as the crow flies, and still a very long way!). VMG [velocity made good towards the finish] is improving as wind veers more allowing Ellen to take a more northerly and direct route. Hopefully, B&Q may reach the Equator by the early hours of Friday morning - to stay ahead of Joyon's time, B&Q must cross by 0835gmt on Saturday, 29th January but that perhaps is a secondary concern to Ellen now, as a fast Doldrums crossing is all she is wishing for.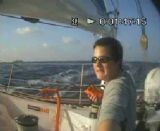 Ellen on VHF Radio (Image from onboard B&Q)
Image © OC/Ellen MacArthur


* THE SWITCH FROM BEHIND TO AHEAD has been partly due to Ellen's good speed, but also from the fact that Joyon was entering one of the two worst days of his Atlantic passage.

* RACE IS ON TO GET TO THE DOLDRUMS as soon as possible - the sooner Ellen arrives, the smaller the Doldrums will be - is the word from Commanders' Weather. After 1800gmt on Friday, the Doldrums area is set to increase and Ellen needs to push on to try and cross the Equator between 28-30 degrees west - eastwards of 27 degrees west and they are too great already. The Doldrums are currently sitting 1-2 degrees north of the Equator and the ENE Trade Winds are unlikely to develop until around 4 degrees north. The Doldrums is effectively where the South East Trade winds and the North East trade winds meet each other, effectively cancelling each other out and as a result the air is moving more vertically than horizontally - vertical air makes for a suction effect resulting in either no wind or often violent rain squalls. How quickly B&Q can get across is the big question and it is not inconceivable that Ellen could get trapped in this weather phenomenom for 36 hours which will quickly put her behind in the record stakes. "Francis didn't actually have a Doldrums - he was already in the north-easterly Trades by the time he got to the Equator. We may cross ahead of him but if we get stuck for 36 hours, we will be way behind," said Ellen.

* B&Q'S LATEST 24-HOUR RUN TOPS 300 MILES for the first time in days. Francis Joyon's 24 hour runs, in terms of miles made towards the finish (VMG miles rather than distance sailed through the water), were for today 162 miles and 130 miles tomorrow, as he was stuck upwind off the Brazilian coast. Then speeds picked up again 232 miles, 257 miles crossing the Equator. Important to note that his fastest days between now and home were the last four days with big 400+ milers.

* ELLEN'S OC SAILING TEAM MATE UPDATE: Nick Moloney is waiting to pick up a tow line from the Brazilian navy who sent a ship to standby Skandia after she lost her keel yesterday, effectively ending Nick's hope of finishing his first Vendée Globe. Nick Moloney


WEATHER ANALYSIS FROM COMMANDERS' WEATHER 0600 GMT:

From: Commanders' Weather Corp 0600UTC Wednessday, January 26, 2005

Surprisingly strong trade winds during the past 6 hours. Must be a little careful because the wind speeds diminish and the winds back the closer we get to 30W. Regardless, this will be a short term problem as winds will begin to veer again, in all areas, by 1200UTC Wed. During the 2nd half of Wednesday, winds will slowly veer and slowly increase. This will allow Ellen to accelerate again and sail a most favorable northerly heading. Conditions should be quite good for much of Thursday with ESE and SE winds around 20 kts.

Will reach the doldrums on Friday. The sooner we arrive, the smaller the doldrums will be, but they will become quite large by 1800UTC on Friday. The ENE trade winds will develop around 4N.

Wind forecasts
Wind directions are TRUE, wind speed in kts, time is UTC

Wed, Jan 26
09: 050-070/14-18
12: 070-090/14-18
18: 080-100/14-18
Partly cloudy tonight, but fair to partly cloudy daytime Wed thru Thu. Satellite imagery is not real good, but nothing on satellite looks like a heavy squall in your vicinity

Thurs, Jan 27
00: 080-100/16-22
06: 090-110/17-23
12: 100-120/18-24, near 3 45s/30w
18: 110-130/14-18


PARTNER OF THE DAY : Bollé
Official eye protection wear for Ellen MacArthur
24 January 2004
Dear Ellen,
We just wanted you to know that our website has gone crazy with the number of people logging in to follow your progress. There are now 142 countries hitting the site about once every 3 seconds. You only get this number of hits if the public care. You are an inspiration to sailors the world over. You are also an inspiration to just about everyone else.
You were bound to see calm conditions, but please, please don't let up. Rest while you may for the winds when they come. If this sounds a little patronising, please excuse us. Whatever happens in the next 12 days, you have achieved something astounding that will never be forgotten. In the words of your sponsors - "you can do it............" This may shortly be rewritten: "if anyone can do it Ellen can."
All the very best, from us at Solar Navigator
---
ELLEN EMAIL JUST IN 24 Jan 2005 - 21:32
See Ellen's latest email from onboard B&Q... Helpless in the light winds but finding time for recovery for both her and B&Q...
LESS HEAT, MORE BREEZE AFTER SUN SETS 24 Jan 2005 - 20:16
As expected the winds are diminishing - B&Q making 7.46 knots of speed in a north-easterly direction in 7.8 knots of breeze. Winds expected to turn more to the right this evening and Ellen will take B&Q back on to starboard - playing the shifts - and, hopefully, increase a bit again after the sun goes down drawing a close on another day of light airs. At least night time brings some relief from the intense heat off the coast of Brazil.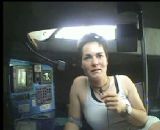 Ellen hanging in there
PLAYING IN THE LIGHT STUFF 24 Jan 2005 - 16:36
Averaging over 10 knots in the last hour - each half a knot of speed is being urged out of B&Q by Ellen - as the winds are set to decrease further: "Ellen will have to play the light and shifty winds as best she can," say Commanders'. She is doing her best to reach that finish line and once she does, B&Q will head for Falmouth. See full story below...
REASON NOT TO GIVE UP 24 Jan 2005 - 14:15
"..if ever there was a reason not to give up, it is the fact that so many people are behind us - I don't feel like I am alone out here..." said Ellen on the phone today. See transcript of latest audio below...
LATEST 3D ANIMATION AVAILABLE OF COURSE SO FAR... 24 Jan 2005 - 14:01
Check out the story so far and watch the latest 3D animation of B&Q and Idec's route. Click on the video icon in the menu bar above. (Requires Windows Media Player)
JOYON'S RUNS OVER COMING DAYS... 24 Jan 2005 - 13:50
Plenty of questions on this...we'll shortly have a graphic up showing Joyon's complete run...for now, here are his 24 hour runs, starting with today's, these are VMG distances, ie distance sailed towards the finish, not through the water...399 miles today, then 247, 162, 130, 232, 257 on passing the Equator on the equivalent of the 29th, 300, 299, 278, 221, 212, 162, 284, 383, and two big days to finish with 400, 439 and 345 in to the line on the 9th [dates normalised to Ellen's]
KEEPING BUSY 24 Jan 2005 - 12:38
There may not be much wind around - 7 knots right now - but Ellen is using this time to get herself and B&Q back in order. "I got some decent rest last night - its easier to sleep at night because its cooler. Today, I've been carrying on with all the jobs on the list, doing checks - been up the mast again this morning to check the rig, a bit painful as my left leg is still pretty swollen... Just checking everything to make sure she is okay for the final onslaught."
ELLEN CALL: BACK DOWN FROM THE MAST! 24 Jan 2005 - 11:24
'Well I said it was calm, but up there it didn't feel it. Was not fun and not flat, got the same leg jammed again, so its swollen up. But I did get everything checked a few things repaired. If I didn't go up I knew I'd have a problem, so hopefully as I did, I won't...Am pretty worried about the weather ahead, especially at the Equator. Am thinking of what is the most precious thing I have onboard to give to Neptune as an offering, as clearly we need some more luck...'
ELLEN HEADING UP THE MAST AGAIN 24 Jan 2005 - 10:10
Very different circumstances this time...flat calm sea, and less pressure, as Ellen decides to take advantage of the conditions to do a full mast and rigging check...'I didn't really get a chance to do this last time, it was too violent. I want to check all the lashings in particular [these hold up rigging and the headsails]'. Ellen has spent much of the past 2 days doing everything she can to ensure B&Q is in the best shape possible in case the weather gives her a chance to take on the record...
ADVANTAGE GONE 24 Jan 2005 - 08:30
This morning Ellen's lead has disappeared and she is now fractionally behind Joyon in terms of distance [yet to register on the clock]. Her slow speeds and Joyon's comparative fast days will see the deficit increase in the next few days as light winds continue to dominate B&Q's progress north in the South Atlantic...
---
---
B&Q has over 350 stores in the UK, China and Taiwan and employs about 40,000 people. With its sister DIY company Castorama which has stores in France, Italy and Poland, B&Q is the biggest DIY retailer in Europe and third biggest in the world. http://www.diy.com
Superb signed Limited Edition Print now available - click picture for details
Team Ellen.com OC/Ellen MacArthur
SEND A MESSAGE: EMAIL ELLEN
ENVOYER UN EMAIL Á ELLEN
> CLIQUEZ ICI
TEAM ELLEN | WEBCAM | RACE INFO | LIVE DATA | AUDIO/VIDEO | CAMPAIGN INFO