Trimaran title sponsor B&Q is the biggest DIY retailer in Europe and third biggest in the world. http://www.diy.com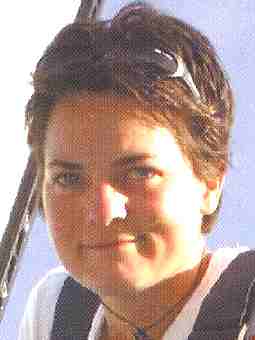 Ellen Macarthur
KEY DATA DAY 23 1310 GMT: 19 hours 24 minutes ahead of Joyon
Lat/Long: 46 48 S / 41 55 E (420 miles west of Isle de Crozet)
Average Boat speed: 16.35 knots (heading 155°, SE)
True Wind speed: 29.6 knots (direction 306°, NW)
Distance sailed so far: 8888.9 miles
Data communicated by Thrane MiniC via BT Business Broadband

OMEGA: Official timekeeper for Ellen MacArthur

Update based on data recorded 1310 GMT...check http://www.teamellen.com for the latest data updated hourly
IN BRIEF:
* SURVIVAL CONDITIONS FOR ELLEN as she is forced to sail closer to the depression than she would like.

* FORCED TO HOLD SOUTH EASTERLY GYBE due to 'cauldron' created to north east by North African Rise – depth goes from 2000m to 200m

* COMMANDERS LOOK FOR SAFE PASSAGE RATHER THAN SPEED. To finish fast, you first must finish.

* A FEW GLIMPSES OF LIFE ONBOARD via the WEBCAM button on site.
IN DETAIL:
In a short, to the point, call to OC Mission Control this Ellen explains the extreme conditions she is experiencing:
"I've got 40 to 45 knots of wind with gusts up to 53 (so far) and mountainous seas. 'I am ***** my *****' right now [quite nervous…], and there is nothing I can do. I don't want to gybe north east yet because it would mean crossing the North African Rise, where the water depth goes from 2km to 200 metres – it's bound to be a real cauldron there. But the further south I go the worse the wind and sea is getting. I am getting launched sideways down waves, like falling off the edge of a cliff on skis. I've had the boat heeling at 35 degrees (unusual and not good for a multihull) as we've been thrown down some giant waves."
It's a fine line between too much and too little, and this morning Ellen has found herself with way too much. Drawn further south by the angle of the wind than she had wanted, she then got blocked from gybing to the north because of a large Ocean shallows area called the North African Rise. A plateau of just 200 metres depth, surrounded by 2000 metre depths, this area is likely to be a real cauldron like a giant shorebreak on a beach. Ellen is already in extremely dangerous seas, and so cannot risk anything worse. The downside means she has had to hold a south-easterly gybe that continues to take her closer to the depression to the south – and therefore in to continually stronger winds and rougher conditions as well. 'I don't have many options right now. I don't like that'
See the Meteo France weather maps at http://www.teamellen.com to understand the situation, with the depression now passing under her. A second cold front associated with the depression is approaching from behind.
The strategy in these kinds of conditions is one of pure survival. There is no question of squeezing extra speed, it's a case of safeguarding boat and skipper. That doesn't mean there isn't speed, but it isn't always wanted. 'At one point I launched off a wave and was soon doing 35 knots totally out of control, it doesn't take much to get 8 tons of trimaran moving – and we are in a giant mogul field right now. Unfortunately the 'mountain' is sloping in several directions at once and when we get lifted up by a wave from the side its really frightening as we are getting thrown sideways. I am literally gripping on to the chart table with my fingernails.'
DAY 23 MEDIA RELEASE ADDENDUM...
NEW CALL IN FROM A LESS STRESSED ELLEN:
'" Still got 40 knots of wind, and 40 foot seas, but we've gybed - it was a big one! But feel much better now heading north of east away from this system, not a great angle but its the right thing to do. We are still being thrown around, the sea is very confused. Every few minutes my heart ends up in my mouth as I feel the boat suspended above a wave trough...then we come crashing down. At night it is something else...."

EMAIL FROM ELLEN ON BOARD <<B&Q>>:
It's about to go dark down here, and the waves are no smaller. In fact, now we've gybed they seem bigger and more powerful than before. I am completely in awe of this place. The beauty of those immense rolling waves is endless and there is a kind of eternal feeling about their majestic rolling that will live on forever. Us watching them roll along - with nothing to stop them makes <<B&Q>> and I feel completely insignifincant . They are hardly aware of our tiny prescence on their surface. The birds are numerous and varied and they seem cheekier today - getting closer and playing with the wind on our forestay. I stand in the cockpit and stare - I think i must be the luckiest person in the world to be here seeing, feeling, smelling and touching all this with my own eyes and sesnses - I feel alive.
Though its quite frightening being here and feeling poor <<B&Q>> being literally hurled down the saves as she was earlier - winds gusting not to 40 but over 50 too 55 knots in the squalls. Now the sun is setting there will be no visual idea of where we are on the waves, just that constant knot in my stomach wondering where we will end up at the foot of the wave beofre us. There is some kind of mesmerising feeling, some kind of completeness about being here. I feel this is not so far from the end of the earth, we are isolated, isolated but on the other hand completely free. I am glad we have come down here and seen this storm. It's a reminder of how small and insignificant we are on this planet - but at the same time what a responsibility we have towards it's protection.
WEATHER ANALYSIS FROM COMMANDERS' WEATHER 0600 GMT MONDAY, DECEMBER 20, 2004 :
Very rough conditions for Ellen early today will gradually improve.
Ellen's strong( 25-35kt gust 50kt) westerly breeze early today will be diminishing slowly as high pressure slides eastward north of her along 40s. However very high westerly swells of 15-25 feet with peak swells to 30+ feet will continue. Conditions are even worse further south so Ellen is expected to gybe to port and head ENE later today.
This more northern course will take her to lighter winds (20-25kts) and improving seas around and north of 45s Monday night and Tuesday. The trick will be to stay out of lighter air (10-15kts) closer to the high not to much further north toward 43n during midweek. With some luck she should be able to do that as wind direction should clock to NW direction by Tuesday allowing her to head more eastward. Ellen should pass north of Crozet Island later Tuesday.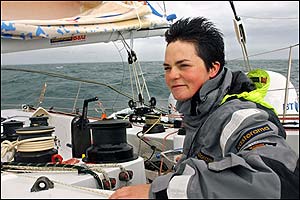 Wind Forecasts
Wind directions are TRUE, wind speed in kts, time is UTC
Mon, Dec 20 - Wind stronger to the S and lighter to the N
15: 290-260/25-35, gust 40-45
18: 260-290/22-32, gust 40
Weather…Mix of clouds and sunshine with squally showers likely into early
evening then partly cloudy. Seas 18-24+ feet, but will improve tonight as
you approach 45S
Tues, Dec 21- wind lighter N and stronger S
00: 270-300/20-30
06: 290-320/17-23
12: 290-320/17-23, near 45s/52 30e
18: 300-330/18-25
Weather…Partly cloudy. Seas subsiding to 10-20 feet, mainly WSW swell
Wed, Dec 22 - winds lighter N of 44-45s and stronger to the S
Could be annoying wind shifts about 270, but port will be more favored than
starboard
00: 300-270/20-30
06: 260-290/18-24
12: 260-290/20-30, near 44s/62e - gybe south to stay in better breeze??
18: 260-290/20-30
Weather…Partly cloudy. Seas 10-15 feet from the W and WSW
Thu, Dec 23
00: 270-300/24-32
06: 270-300/24-32
12: 270-300/20-26, near 45 20s/71 e
18: 260-290/18-25
Weather…Mix of clouds and sunshine Thu - Sat with seas 8-14 feet early,
building to 14-20 feet on Sat.
Fri, Dec 24
00: 270-300/20-30
12: 300-330/24-34, near 44 30s/79e, as fast as possible to the E
Sat, Dec 25 - wind speed will develop from west to east, so the faster you
are to the E, the more delayed the wind speed build
00: 310-340/22-32, gust 40
12: 320-350/35-40, gust 45-50, near 44 30s/88e
Sun, Dec 26
00: 330-360/35-40, gust 45-50
12: 330-360/25-35, gust 45, near 44 30s/96E
http://www.commandersweather.com
JARGON BUSTER : CROZET ISLANDS
The 20 small mountainous islands of Crozet come under French territory and are uninhabited except for scientific personnel and penguins. Home to seals, King Penguins and other birds, Crozet is designated a national conservation area. The mostly barren island is subject to low temperatures and long winters. The island climate is mitigated somewhat by maritime influences. The inland plateaus are barren and rocky. Steep cliffs drop to sea level on the coasts. First landing was in 1772, with the first settlers, a group of sealers, arriving in 1804.

PARTNER OF THE DAY : RED FUNNEL
Official IOW travel supplier to Ellen and the Offshore Challenges Sailing Team
B&Q has over 350 stores in the UK, China and Taiwan and employs about 40,000 people. With its sister DIY company Castorama which has stores in France, Italy and Poland, B&Q is the biggest DIY retailer in Europe and third biggest in the world. http://www.diy.com
---
---
LINKS TO OTHER SITES ON THIS STORY:
Vendee Globe: Jourdain Reaches Hobart; Leaders Take on the Pacific
Ellen MacArthur Sets Solo Record To Cape of Good Hope
Vendee Globe: Roland Jourdain Devastated by Keel Damage
Superb signed Limited Edition Print now available - click picture for details
SEND A MESSAGE: EMAIL ELLEN
ENVOYER UN EMAIL Á ELLEN
> CLIQUEZ ICI