Reg Regester built this solar powered craft, the 'Solar Lady' in 1990.
The 'Solar Lady' has a wingspan of 96in, 12in chord and weighs 4 1/2 Lb. The wings are covered with clear laminating plastic film.
Power is derived from solar power cells in the following combination, 24 x 1.3 amp, 24 x 1/2 amp, 12 x 1 amp. They are connected in series/parallel for a total 30 Watts (10 volts at 3 amps or 5 volts at 6 amps). The cells normally charge the battery, but can be connected directly to the electric motor.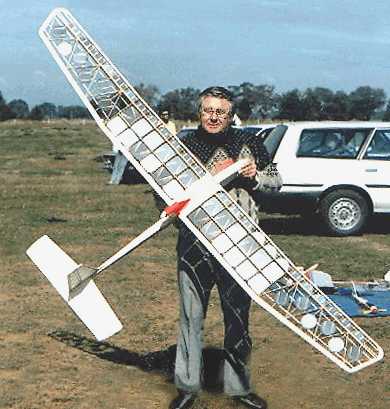 Reg Regester and his Solar Lady model plane
The electric motor is a geared 2.8:1 Graupner 600BB 8.4V driving a 12 x 10 in folding prop. The battery is made up of 5 x 2000 Mah Nicads.
The model is controlled with a Futaba 7 Ch Transmitter using rudder, elevator, electronic speed controller, and u/c switch to connect cells directly to the motor.
The speed controller supplies five volts for the receiver and servos, and has a re-settable low voltage cutout to the motor allowing for the motor to be used after the cells have topped up the battery.
The model has a few problems:
When the cells start producing power they heat up, this has the effect of reducing the terminal voltage and condensation forms on the inside of the wing covering material for a period of time.
Solar cells only supply full rated power at right angles to the sun, which is a bit hard to arrange when flying.
The cells are sixteen years old and are of a design that is only 12% efficient, and the model weight of 4 1/2 Lb does not help. The longest flight so far is 1 hr 45 min.
So, a few teething problems, but well done Reg. It's only by trying something out that you can improve upon it, and she look rather good by the way. NK
http://www.ctie.monash.edu.au/hargrave/modelers1.html
AVIATION A - Z
---
A taste for adventure capitalists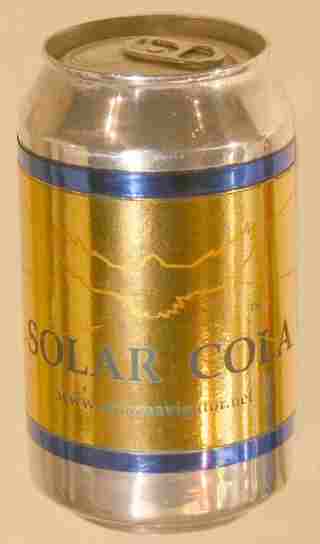 Solar Cola - a healthier alternative