A. Mason
The Yacht Design Library of A. Mason
Ace Marine Ltd
Design services for builders, other designers and surveyors. We offer a bureau service specialising in hull fairing, plate development and stability.
Adams Yacht Design
Designers of world class racing and cruising yachts for over 40 years.
Advanced Dynamics
yacht and composites design as well as engineering imaging and animation.
Alan Andrews Yacht Design
High performance racing and cruising sailing yachts.
Alan C. McClure Associates
Marine and offshore petroleum industries advanced engineering technology including semi-submersible and SWATH ships.
Alexander Simonis Naval Architects, Mr. Alexander Simonis , 42 Mariner Dr., Woodbridge Island, Cape Town, 7441 South Africa, Tel: (27) 21 5513438, Fax: (27) 21 5514812, e-mail: alex@simonis-voogd.com,
web site: maarten@simonis-voogd.com or www.simonis.com (South African Cats)
Andrzej Skrzat
Polish yacht designer and stylist.
Bloomfield Innovation Pty Ltd., PO Box 349, St Kilda, Victoria 3182, AUSTRALIA. Tel: +61 3 9221 0883, Mob: +61 417 228 730, Fax: +61 3 8610 2099, VoIP: SIP/3121@sip.atp.org.au (FWD:**832 3121), E-mail: info@bloomfieldinnovation.com, web: www.blin.com.au, www.bloomfielsinnovation.com.
Butchdesign
Sailing yacht designers for new projects, refits and restorations (esp. classics). Collaborative projects also undertaken.
Catamaran Developments, Mr. Peter O'Brian, 8 Pomona Terrace, Labrador, QLD 4215 AUS, Tel: (61) 7 5573-4581 or (61) 18-151-996
Craig Loomes Design Group Ltd., Mr. Craig Loomes, P.O. Box 147-027, Ponsonby, Auckland, New Zealand,
Tel: (64) 9 360-9799, Fax: (64) 9 360-9795, e-mail: designer@cld.co.nz, web site: www.cld.co.nz
Crowther Multihulls, Mr. Brett Crowther, P.O. Box 204, Newport, NSW 2106, AUS, Tel: (61) 2 9450 0447,
Fax: (61) 2 9450 0494, e-mail: crowther@crowther.com.au, web site: www.crowther.com.au
De Blanco Naval Architecture and Yachts Design
Juan De Blanco Naval Architecture and Yachts Design is a firm based in Baleares Island, Spain. Specialized in the design of boats under power and sail and their respective projects, as well in interior design, restaurations and modifications. (Added: 10-Feb-2004 Hits: 36)
Derek Kelsall, Mr. Derek H. Kelsall, R.D. 2, Waihi, New Zealand , Tel: (64)-7863 3332, Fax: (64) 7863 7915,
e-mail: derek@kelsall.com, web site: www.kelsall.com
Derick Reynolds Design Services
Design services. CAD. Maxsurf. 3D modelling. RCD consultant (Added: 30-Jan-2004 Hits: 26)
East Cape NZ Boat Builders, Noah Thompson, PO Box 5291, Mt. Maunganui, New Zealand; Tel: 64 7 542 1929, e-mail: admin@nzboatbuilders.com, www.nzboatbuilders.com.
Dmitry Lebedev Yacht Design
Motor yacht, sailing yacht, and interior design. Russia. (Added: 10-Feb-2004 Hits: 41)
Gerr Marine, Inc. Gerr Marine designs both yachts and commercial vessels, and probably works on a wider assortment of boat types than any other design office - sail and power, yacht and commercial, monohull and multihull. (Added: 8-Feb-2004 Hits: 52)
GESTENAVAL, S.L.
Naval Design & Engineering, located in NW Spain. Yachts, motor boats, sailing cruisers, multihulls, etc. (Added: 23-Jan-2004 Hits: 15)
Glenn Nesbitt, Mr. Glenn Nesbitt, 6719 Sabado Tarde, Isla Vista, CA 93117, Tel: 805-961-8141,
e-mail: nesbitt@west.net


Gold Coast Yachts, Inc., Mr. Roger Hatfield, V.P., P.O. Box 1980, Kingshill, St. Croix, USVI 00851,
Tel:340-778-1004 340-778-2859, e-mail: sales@goldcoastyachts.com, web site: www.goldcoastyachts.com (designer and builder of wave-piercing multihulls)


John Holtrop, Sirocco Yachts, 1336 W Burns, Ridgecrest, Ca 83555, Tel: 760-375-2076; e-mail: john@johnsboatstuff.com, www.johnsboatstuff.com. (Plans for cruising multihulls, trimarans and wave-piercing cats)
John C. Kiley Design, Mr. John Kiley, 21 Cotachoset Lane, Osterville, MA 02655, Tel: 508-428-8449
(Benchmark Boats)


John Marples Designs, P.O. Box 1437, St Augustine, FL 32085. Tel/Fax: 904-824-2688. Web site: www.searunner.com. (designer of Searunner sail and power catamarans). See Marples Marine below.
John Shuttleworth Multihull Designs Ltd., Mr. John Shuttleworth, Hayling Pond Cottage, Church Street, West Chiltington, Nr. Pulborough, Sussex RH20 2JW, Tel/Fax: (44) 01798 815 446, e-mail: john@jshuttleworth.fsnet.co.uk, web site: www.steamradio.com/JSYD/default.html (Shuttlecats)


Joubert-Nivelt Yacht Design, M. Michel Joubert, L'Aubrecay, St Xandre, Poilboreau, France 17138,
Tel: (33) 546 37 40 58, Fax: (33) 546 37 80 32 (French power cats)


Jutson Yacht Design, Mr. Scott Jutson, 2355 West 10th Avenue, Vancouver V6K 2J2 British Columbia, Canada. Tel: (604) 767-7649, Fax: (604) 732-1517, e-mail: scott@jutson.com, web site: www.jutson.com (catamaran yachts)
Knight & Carver, 1313 Bay Marina Dr., National City, CA 91950, Tel: 619-336-4141, Fax: 619-336-4050,

Knight and Carver www.knightandcarver.com (large motor yachts)


Kurt Hughes Designs, Mr. Kurt Hughes, 612-1/2 W. McGraw St., Seattle, WA 98119, Tel: 206-284-6346,
Fax: 206-283-4106, e-mail: www.multihulldesigns.com (power cats and tris)

Larry Graf, Mr. Larry Graf, 17341 Tye St., SE Monroe, WA 98272, Tel: 360-794-0444, Fax: 360-794-6674,
e-mail: info@glacierbaycats.com, web site: www.glacierbaycats.com (Glacier Bay cats)


Lavranos Marine Design Ltd., Angelo Lavranos, 33 Jellicoe Rd., Murray's Bay, Auckland, NEW ZEALAND, Tel: (64) 9 478-1942, Fax: (64) 9 478-1943, e-mail: lavranos@ihug.co.nz, web site: www.lavranosyachtdesign.co.nz, (Offers: Complete design service [naval architecture, engineering, styling, Kitset CAD Cut Files] for all types of craft in all materials. Sail and Power multihulls, pleasure, commercial, and specialty.)
Lidgard Design, Mr. Garry R. Lidgard, 13 Lotus Ave., Hollywell, Qld, Australia 4216, Tel: (61) 7 557-73215,
Fax: (61) 7 557-73215, e-mail: lidgard@iprimus.com.au, web site: www.lidgarddesign.com


Malcolm Tennant Multi Designs, Mr. Malcolm Tennant, P.O. Box 60513, Titirangi, Auckland, New Zealand 1007,
Tel: (64) 9-817-1988, Fax: (64) 9-817-6080, e-mail: malcolm@tennantdesign.co.nz,
web site: www.tennantdesign.co.nz (large multihull yachts)


Marples Marine Inc., John R. Marples, (Yacht Designer and Surveyor) P. O. Box 1437, St. Augustine, FL, 32085, USA, Tel/Fax: 904-824-2688, e-mail: mmm@aug.com, web site: www.searunner.com, (web site has downloadable order form) (Offers: Bachelor of Science in Mechanical Engineering, Calpoly. Certified marine surveyor services, National Association of Marine Surveyors member, Sock and custom multihull yacht designer, power and sail, pleasure and commercial, catamarans and trimarans to 64' long and 149 passengers. About 30 USCG certified vessels operating, plans distribution world wide. Consultation and special design services available. Full portfolio $20.00 postpaid, add $4.00 overseas, credit cars accepted Visa/MC/Amex.) Also see: www.crosswaters.com, and www.duckflatwoodenboats.com.
Morrelli & Melvin , Gino Morrelli & Pete Melvin, 4952 Warner Avenue, Suite 205, Huntington Beach, CA 92649, Phone: (714) 861-1320 FAX: (714) 840-0538, e-mail: info@morrellimelvin.com, web site: www.morrellimelvin.com, (Offers: High-performance multihull designs.)


Multi Marine, Mr. Mike Leneman, 2814 Abbot Kinney Blvd., Marina del Rey, CA 90291, Tel: 310-821-6762,
web site: www.multimarine.com (home-built power cats)


Nigel Gee Associates Ltd., Mr. Nigel Gee, Shamrock Quay, William St., Bldg 14 ,Floors 1-3, Southampton,
UK SO14 5QL, Tel: (44) 23 8022-6655, Fax: (44) 23 8022-8855, e-mail: nig@ngal.co.uk, web site: www.ngal.co.uk
(high-speed vessels)


Nigel Irens, Mr. Nigel Irens, Staverton Bridge Mill Totnes, Devon, England, TQ9 6AH, Tel: (44) 1803-762770,
Fax: (44) 1803-762377, e-mail: 100672.1622@compuserve.com, www.nigelirens.demon.co.uk (racing catamarans)


Peter Brady & Assoc., Mr. Peter Brady, 33 Curtain Ave, West Hamilton, QLD, Australia 4007, Tel: (61) 7 3868 3773, Fax: (61) 7 3868 3774, web site: www.bradymarine.com.au (large cruising cats)


Robert B. Harris, Ltd., Mr. Robert B. Harris, 795 Sawyers Lane, Vancouver, BC Canada V5Z 3Z8, Tel: 604-873-8761, Fax: 604-873-1172, e-mail: buckman@infinet.net (multis – sail & power)


Roger Hill Yacht Design, Mr. Roger Hill, 20 Tanglewood Pl., PO Box 38, 794 Howick, Auckland, New Zealand, Tel: (64) 9 537-2644, Mobile: 025 595 822, Fax: (64) 9 537-2644, e-mail: rjhill@ihug.co.nz, web site: www.powercats.nx.com (power cats & kit boats)


Schuller & Allan, Inc., Mr. Roger Fyffe, 5821 Southwest Freeway, #316, Houston, TX 77057, Tel: 713-661-7990, Fax: 713-661-7986, e-mail: admin@schuller-allan.com, web site: www.Schuller-Allan.com ("Spirit of Lahaina")


Solar Sailor, Unit 17 Hallmark Estate, 259 Princes Highway, Ulladulla, NSW 2539, P.O.Box 336, Ulladulla NSW 2539, Tel: 61 2 4454 4328, e-mail: admin@solarsailor.com.au, web site: www.solarsailor.com (passenger ferries)


Stanyon Marine Design Pty Ltd., Mr. Paul Stanyon, Gold Coast Marina, 76 Waterway Dr., Coomera, Qld, Australia 4209, Tel: (61) 7 5573 6300, Fax: (61) 7 5573 6644, e-mail: info@stanyonmarine.com.au (Stanyon 40)
Trawler Cat Australia, Mr. Barry Gartshore, 15 Terrace Place, Murarrie, Qld, Australia. Tel: (61) 7 3899 9219, Fax: (61) 7 3899 3362, e-mail: cougar@bigcountry.com.au, web: www.trawlercat.com.au (Aluminum trawler cats/Expedition Yachts)
Tri-Coastal Marine
Ship design, wooden ship building, historic preservation, and engineering services. Our design specialty has been large sailing vessels: SSV's (sailing school ships), Subchapter-T passenger carrying vessels, and sailing replicas.
Unikay Ltd., Mr. Frank Goelo, 1300 South Sound Rd., Grand Cayman, BWI, Tel: 345-947-1902, Fax: 345-947-1140, e-mail: unikay@candw.ky


Vector Works, Int'l., P.O. Box 5825, Titusville, FL 32783, Tel: 407-269-8444, Fax: 407-269-8483, e-mail: hopfk@scca.net, web site: www.vectorworks.com


Winston Green Design, Mr. Alan W. Green, 210 Alexandra Parade East, Clifton Hill, Vic., Australia 3068, Tel: (61) 3 9489 1144, Fax: (61) 3 9489 1144, e-mail: AGWinstongreen@aol.com (large cats)


Wright/Lavranos Design, Mr. Angelo Lavranos, P.O. Box 302, Whangaparaoa, HBC, New Zealand, Tel: (64) 9 428 1644, Fax:(64) 9 424 3566, e-mail: neville@catamaransnz.co.nz, web site: www.catamaransnz.co.nz (large cats)
3dnav
Design and engineering for sport and professional boats,sail and motor projects,service for shipyards and individual builders,design,building process and legal project
---
Related Categories:


---
The well known designer of exotic vehicles such as the Borzoi, Bluebird Electric and Solar Navigator, knows when he's on to a good thing. Nelson previously insured his vehicles with the Royal for about 10 years then General Accident for another 10 years. Which just shows we tend to be loyal to our insurers - but are they loyal in return?
Nelson Kruschandl - "Best value and service."
These days there is a good choice of insurers each competing to save you money, so why not shop around. When about 3 years ago Nelson's policy went up dramatically by about 30% he decided to check out the market. He obtained quotations from most of the firms advertising savings such as Churchill and Direct Line, but was pleasantly surprised to find his local company could beat the best quote he'd obtained by quite a bit and offer a better policy. Sold. Nelson says: "Why don't you give Hastings Direct a try online." Move up to a better service and help keep this website active. For every policy sold through us, Hastings Direct will contribute to our running costs - with no extra cost to you. Please help us if you can. Applies in the UK only.
UK Car, Van and Motorcycle insurance
---
LINKS:
A - Z SPORTS INDEX
---
A taste for adventure capitalists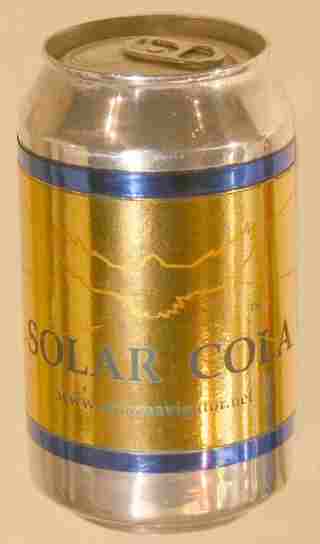 Solar Cola - a healthier alternative