Sir Alan Michael Sugar, KBE (born 24 March 1947 in Hackney, London) is a British businessman. He has an estimated fortune of around £800 million and was ranked 71st in the Sunday Times Rich List 2006. He left school in Hackney at the age of 16 and started selling fruit and vegetables out of a van he had bought with money from his life savings of £100.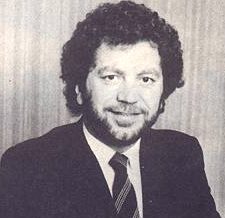 Alan Sugar
He is a donor to the British Labour Party. In 2005 he stepped into the BBC TV series, The Apprentice. The American version of the show, starring entrepreneur Donald Trump, had already proven popular in the USA.
He was knighted in 2000 for his contributions to business.
Amstrad
In 1968 he went on to found the electronics and computer company Amstrad (the name being taken from his initials – Alan Michael Sugar Trading).
By 1970 the first manufacturing venture was away. He achieved lower production prices by using the injection moulding plastics for hi-fi turntable covers, severely undercutting competitors who used the vacuum forming process. Manufacturing capacity was soon expanded to include the production of audio amplifiers and tuners.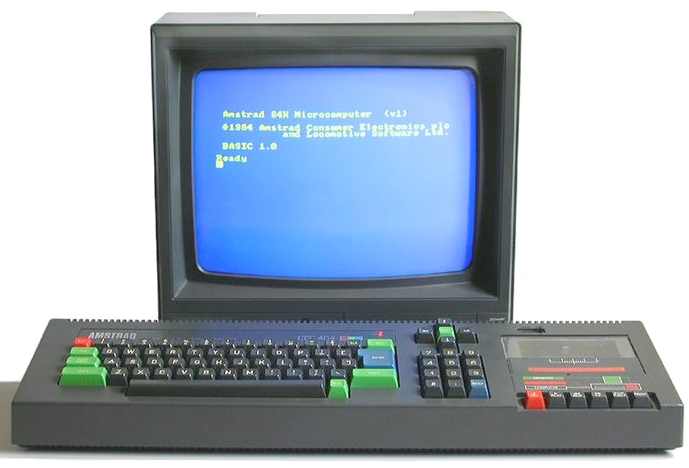 Amstrad's CPC 464 Computer
In 1980 Amstrad was listed on the London Stock Exchange. Amstrad as a company doubled in both profit and market value every year throughout the 1980s. By 1984, realising the oncoming opportunity of the computing era, Amstrad launched an 8-bit machine Amstrad CPC 464. He then went on to controversially purchase the football club Tottenham Hotspur. Although the CPC range were colourful machines, with CP/M-capability and a good BASIC operating system, it could never really compete to its archrival, the more graphically complex Commodore 64 or the cheaply mass produced Sinclair ZX spectrum, as a games machine. In 1985 Sugar had another major breakthrough with the launch of the Amstrad PCW8256 word processor which, although made of very cheap components, retailed at over £300. It also developed Amstrad PC 1512, a PC clone, that was quite popular in Europe at the time.
At its peak, Amstrad achieved a stock market value of £1.2 billion, but the 1990s proved a troubling time. The launch of a range of business PCs was marred by unreliable hard disks, supplied by Seagate, causing a very high number of customer returns. This caused great damage to Amstrad's reputation in that market, from which it never quite recovered. Some years later, Amstrad sued Seagate to the tune of $100 million for the lost revenue.
In the early-1990s Amstrad began to focus on portable computers rather than desktop computers. In 1990 Amstrad tried to enter the gaming market with the Amstrad GX4000, but it was a commercial failure, because it used 8-bit technology unlike the 16-bit Sega Megadrive and Super Nintendo. In 1993 Amstrad released the PenPad, a PDA, also a commercial failure. Amstrad was the only manufacturer producing receiver boxes and dishes at the launch of Sky, and has continued to manufacture set top boxes, including Sky's Sky+ box.
In 1997 Amstrad bought into Betacom and Viglen, as the company decided to focus more on communications as opposed to computers. Amstrad released the first of its combined telephony and e-mail devices, called the e-m@iler, followed by the e-m@ilerplus in 2002.
Sir Alan currently has a 28% share in Amstrad.

Sir Alan - You're Fired
Amsair
Sugar also controls Amsair Executive Aviation, founded in 1993 and run by his son, Daniel Sugar. As with Amstrad, Amsair's name is taken from his initials: Alan Michael Sugar Air. Amsair is a British private aircraft charter company that provides business jet and executive jet charters. Amsair operates the UK's largest fleet of Cessna Citation jets, as well as the Embraer Legacy. Through its strategic alliances, including that with Blue Star Jets, the world's largest broker of private aircraft, Amsair has access to over 5000 aircraft of all sizes.
Tottenham Hotspur FC
Sugar was once the chairman of Tottenham Hotspur F.C.. He and Terry Venables got together to buy Tottenham Hotspur Football Club on 21 June 1991. The pair beat off a late bid from Robert Maxwell for Spurs. In an interview with Channel 4's High Interest programme, Alan Sugar said:
"The only dialogue I had with Rupert Murdoch was when that clown Maxwell came on the scene and knowing that they were in the past arch enemies I think Rupert rang me up one day and said 'what's going on with this football club you're trying to buy and this clown Maxwell is trying to buy also', and I think I might have said to him at the time 'he's got the power of his newspaper to hype up the thing, I haven't got a newspaper so perhaps one of your journalists could put in a good word for me on The Sun, but that was about it"
A Sun headline once read: "20 things you never knew about Tel's Sugar Daddy", which played on Sugar's financial contributions to Spurs – paying off their £20 million debt and placing limits on players' wages and other expenses – effectively saving the club from administration. However, Sugar's relationship with Venables turned acrimonious and court battles ensued. Sugar has stated that his time at Spurs was "a waste of my life".
Sugar sold most of his share in 2001, after several death threats towards him and his family. He sold the shares to ENIC Sports Ltd, represented by Daniel Levy – effectively the current chairman of the club. Sugar currently has a 13% share of Spurs, making him the second-largest shareholder.
Despite owning a football club, he once compared football players to thugs and suggested that if they weren't playing professional football, most of them would be imprisoned and notably threw Jurgen Klinsmann's shirt away in a TV interview when the German striker refused to take up an option to stay with the club for a second season.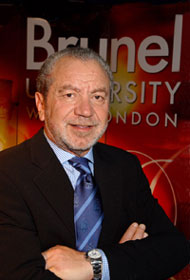 Brunel University lecture
The Apprentice
In 2005, Sir Alan became the star of the BBC reality show The Apprentice, in which he had the job of the boss, as Donald Trump had previously done in the US version. This meant that he dealt with every "firing" of a certain candidate each week. Every week, just the same as Donald Trump, he would eliminate one contestant by telling them "You're fired", which became a popular catchphrase in both the US and the UK. He also chose the tasks for the teams, using his leads in the business world to get them tasks in places such as Harrods and Sir Alan's company, Amstrad. He also chose the rewards the winning team received each week, which included dinner with Sir Alan, a trip to Monaco and a trip on the Orient Express. He decided to continue his role in the second series of The Apprentice, which is broadcasting now on BBC2 on Wednesdays at 9pm. The series began in February, featuring some new tasks & features, most are still to be found out, the finals begin today. His second apprentice was chosen to be Michelle over Ruth with a final task on the London Tower Bridge. He is also scheduled to appear in a third series of The Apprentice in 2007.
---
The Apprentice 2005, which has seen 14 candidates competing for a job with the charismatic entrepreneur Sir Alan Sugar and a six-figure salary, has been a ratings winner for the BBC. With the final episode on Wednesday night, what have been the key lessons for success?
Despite the success of The Apprentice, which has averaged 2.8 million viewers a show, Sir Alan maintains it is "more business than reality".
"It is a business programme, but realistically, a lot of people will see it as a reality programme because there's an elimination process," he tells BBC News. "There is a very serious underlying meaning to each programme - a lot of people are going to learn some great business lessons from it."
Here are some of those lessons:
In week one, the contestants were split into two teams and given a few hours to sell as many flowers as they could. The girls' team made the least profit and therefore lost because, Sir Alan said, they were trying to shine as individuals, "spending more time questioning the leader than actually doing the selling".
KEY LESSON: Authority must be respected. If individuals trying to shine in a competitive situation do so at the expense of their colleagues they will fail.
LISTEN TO YOUR COLLEAGUES
The teams had to create and pitch a prototype product to retail at £10 or less for week two's task. Team leader Lindsay went against the wishes of all five fellow members of the girls' team to choose her "Secret Signals" idea over their plan for a toy robot. Her idea - cards for children to make semaphore signals to each other - was panned by a panel of experts who said it was redundant in the age of texting and that they preferred the robot idea.
KEY LESSON: "If a room full of people tell me I'm wrong then even I will listen to them," Sir Alan said.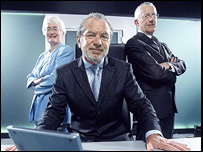 In week four, the task given to the teams, which had by now been made unisex, was to each run an area of the toy department in the Harrods store, in London.
The "First Forte" team, led by eventual finalist Tim, made strong early sales after recruiting a face painter and giving toy demonstrations to attract customers while the "Impact" team, without any gimmicks, initially struggled. After consulting with the store's own staff, a bear costume, donned by Paul, was unearthed which proved extremely popular with children and parents and ultimately led to a winning profit.
KEY LESSON: When you're out in the field, keep an open mind, learn from others and take action.
The art gallery was the backdrop for week five's challenge with each team trying to sell the work of a particular artist. First Forte again looked like early favourites, selling piece after piece of reasonably-priced artwork. But Impact's James, already something of an expert in the field, realised there were likely to be some wealthy art lovers at the gallery night and duly led his team to victory with the sale of just two expensive pieces.
KEY LESSON: Knowing your market gives you the upper hand.
In week eight, the teams had to research, develop and manufacture food products to sell at a farmers' market.
Impact bought relatively expensive ingredients - including cheese and meat - in an effort to produce a range of "quality" soups while First Forte made chutney and jam at the suggestion of eventual finalist Saira. First Forte, with cheaper ingredients, made a profit of £364 while Impact made £149 and were shown pouring gallons of unsold soup away. Sir Alan sacked Impact leader Ben for making the "fatal error" of not controlling costs.
KEY LESSON: Margin is king and the place to check for potential profit is not in the day's takings but in the amount of wasted food.
In the penultimate week, the remaining four candidates had to undergo gruelling boardroom interviews to claim a place in the final two. Saira was embarrassed by proclaiming "I hate liars" before being caught out for "exaggerating" her CV. Paul claimed to have a £3m property portfolio but stalled when asked about his mortgages and was subsequently fired.
KEY LESSON: As a candidate, never try to be someone you are not - you may well get caught out.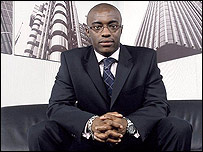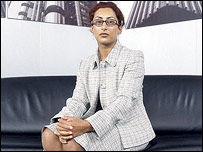 Tim Campbell became Sir Alan's apprentice - Saira Khan made it to finals
Other TV
Sir Alan's increase in popularity has lead to him appearing in several television shows, including a special celebrity edition of Who Wants to be a Millionaire?. In 2005/6 he became the face of Premium Bonds on British television advertisements. He also appeared on Room 101 in 2005 and also on Friday Night with Jonathan Ross in April 2006.
Further reading
David Thomas, "Alan Sugar - the Amstrad Story" (1991), paperback ISBN 0330319000.

Alan Sugar, "The Apprentice: How to get hired not fired"
---
LINKS and REFERENCE:
You're hired' - success is sweet for Michelle as Sugar's new Scotsman, United Kingdom
And victory on BBC2's The Apprentice finally went to blonde former checkout girl ... Ruth Badger to clinch a £100,000 job with Amstrad tycoon Sir Alan Sugar. ...

Sir Alan Sugar To Tap His Apprentice In BBC Finale Forbes

Michelle, you're hired - Sugar says Guardian Unlimited

Sugar's big £100,000 job decision expressandstar.com

Glasgow Daily Record - Daily Mail - UK
Point is, Sugar's path isn't sweet
Scotsman, United Kingdom - 12 hours ago
... The contestants in The Apprentice don't require an entry into the public world, as most ... at the feet of a respected mentor - what they want from Alan Sugar is a ...
Sir Alan Sugar - you're fired ic Wales
DEATH OF CV LEAVING BUSINESSES AT RISK, EXPERTS WARN SourceWire (press release)
Bitter taste of Sugar for Apprentice's Paul
Yorkshire Post Today, UK - May 4, 2006
... but after falling at the final hurdle Paul Tulip talks to Sarah Freeman about Big Issue sellers and who he thinks will be Sir Alan Sugar's next Apprentice. ...
Da Vinci Code - you're fired!
The Sunday Times, UK - 18 minutes ago
... authoritative jungle shorts. Or listen to Sir Alan Sugar as he enjoys a God-like status in the boardroom of The Apprentice. To be shown ...

UK infested with bad managers
Management-Issues, UK - 13 hours ago
... Sir Alan Sugar is certainly not held up as a role model for UK bosses ... they would not work for the acerbic entrepreneur and star of BBC2's 'The Apprentice'. ...

What does Amstrad actually do?
Guardian Unlimited, UK - 22 hours ago
Paul Tulip, one suspects, didn't really want to work for gruff old sir Alan Sugar at Amstrad - and who can blame him? The Apprentice contestant, who said of ...
Celebrities in the firing line for Comic Relief Apprentice
Guardian Unlimited, UK - 13 hours ago
BBC1 is planning a celebrity version of The Apprentice, fronted by Sir Alan Sugar, in aid of Comic Relief. It will be the first ...

Sir Alan's Sugar Babes
International News Service, Australia - May 7, 2006
... DAVID THOMAS meets the two finalists in the catfight to land a Pounds 100k job. Sir Alan Sugar is about to pick his next Apprentice. ...
CV should be where firms start
ic Huddersfield.co.uk, UK - 12 hours ago
... The research was conducted after last week's episode of The Apprentice, during which ... The 26-year-old was told "You're fired" by Alan Sugar after admitting his ...
Finding the message for trading places
ic Wales, United Kingdom - 11 hours ago
I AM sure, that like me, many of you will be glued to the final episode of The Apprentice, tonight to see which of Alan Sugar's babes is to win the coveted
---
A taste for adventure capitalists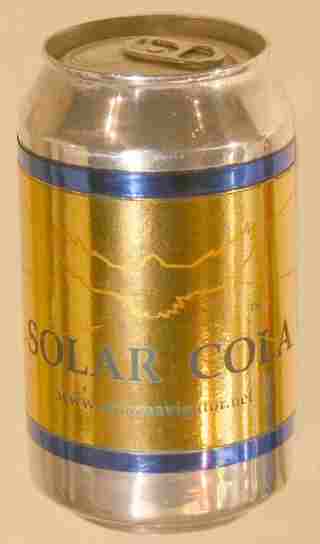 Solar Cola - the healthier cola alternative
This material and any views expressed herein are provided for information purposes only and should not be construed in any way as a prospectus or offer. Please contact the company concerned for information of any business opportunity or specific program. Before investing in any business, you must obtain, read and examine thoroughly its disclosure document or offering memorandum.