Recap: The Final - Find out which if the two girls manages to quench her Sugar craving in the grand finale... More

Share your views - Itching to say something about the final two apprentice wannabes? Spill it on the comments page. More

Cashing in the chips - Have you been wondering what the ex-candidates have been doing after getting the chop? Watch
You're Hired!
o re-live that "You're Fired!" moment
Business
Would you like to be considered for any future series of The Apprentice?
Poor Sir Alan, he can't really win. If he hires the cute one, he'll get a hard time for hiring the cute one. She hasn't shown even the faintest glimmer of any talent. If he hires the other one, he'll have a nutter on his payroll. You wouldn't want her in the same county as your company, let alone inside the door.
The weird thing about it is, if you've ever watched the show that follows The Apprentice - Adrian Chiles's interview with whoever's been fired - they always turn out to be much nicer than how they've come across on the show. Syed even. It's almost as if they've just been pretending to be monsters. Maybe Ruth will turn out to be lovely and charming after all.
I do think The Apprentice is remarkably good - and clever - television, but I didn't love this series as I did the first. The ratings have been better, but it hasn't really moved on. The tasks have been remarkably similar to those of the first series, and these shows need ratcheting up with every new series if they're going to stay interesting. I'd like to have seen them, for example, having to sell uranium to Iran.
But perhaps more importantly, the contestants haven't been so good. Tim, last year's winner, may not have been the most exciting person in the world, but he was lovely - and someone that Sugar may actually have wanted to hire. There was a credibilty about it that this series hasn't had. The monsters were better too. Saira somehow barged her way into the nation's psyche. None of this lot have - not even Ruth.
We'll know tonight who won, and there will be an interview with the winner in Thursday's Guardian. In the meantime, you can vote here for your favourite.
'You're hired' - success is sweet for Michelle as Sugar's new Apprentice
IT WAS the TV reality show finale billed as "The Blonde versus The Badger". And victory on BBC2's The Apprentice finally went to blonde former checkout girl Michelle Dewberry last night, as she outmanoeuvred the pugnacious saleswoman Ruth Badger to clinch a £100,000 job with Amstrad tycoon Sir Alan Sugar.
After the excitement, 26-year-old Michelle is today beginning her new life with Amstrad - running a business which disposes of companies' old computer equipment.
An expected TV audience of about five million viewers saw Hull-born Michelle edge ahead of outspoken Ruth as both vied to impress Sir Alan, 59, by holding a glamorous party at Tower Bridge in London. While Michelle's James Bond-themed evening went with a swing, the abrasive Amstrad head was less than impressed by Ruth's murder mystery evening.
Over the past 12 weeks, the original 14 contestants were progressively whittled down as they carried out various business challenges set by Sir Alan. At the end of each episode, the tycoon dispatched the under-performers with his trademark words: "You're fired!"
But last night, Sir Alan changed his catchphrase to tell Michelle: "You're hired!", adding: "All you have ever done in your life is work hard, and you have become a great achiever."
Sir Alan, whose own business career was launched while a teenager, seemed to recognise a kindred spirit in Michelle.
Leaving school with only two GCSEs, Michelle went on to run her own telecoms business by the age of 24. She revealed she had been spurred on to success by the tragedy of her older sister Fiona, who fell to her death from an eighth-floor window at the age of 19.
Michelle described herself as stunned to win, adding: "For someone like Sir Alan to recognise my ability is unbelievable - it wasn't until right at the very end when he said I'd won that I believed it. It shows you don't need to be loud and cocky and bolshie, just work as hard as you can and hopefully you will get on in life."
That remark appeared aimed at some of the other contestants on The Apprentice. Michelle came across as quieter, but was nonetheless lethal in her ability to undermine others on the show. Ruth, 27, from Wolverhampton, admitted that she was "absolutely gutted" not to have got the Amstrad job. Nicknamed "The Badger", she won a cult following in some magazines and newspapers for her bare-knuckle approach to business. "I've never in my career or my life fought for something so much," she said. "There's nobody in this country that inspires me more than Sir Alan," she admitted. "Even though I've come second I absolutely worship the man."
Sir Alan described making his choice as a "terrible dilemma". He said: "They are both very employable people; both have tremendous skills. And I think it's down to the job that I have in mind that pipped it for Michelle. "I found her very focused, very determined, very organised, and this particular job I have in mind requires all of those skills. She's young and willing to learn."

Related Links: Dragons Den
---
You're hired' - success is sweet for Michelle as Sugar's new Scotsman, United Kingdom
And victory on BBC2's The Apprentice finally went to blonde former checkout girl ... Ruth Badger to clinch a £100,000 job with Amstrad tycoon Sir Alan Sugar. ...

Sir Alan Sugar To Tap His Apprentice In BBC Finale Forbes

Michelle, you're hired - Sugar says Guardian Unlimited

Sugar's big £100,000 job decision expressandstar.com

Glasgow Daily Record - Daily Mail - UK
Point is, Sugar's path isn't sweet Scotsman, United Kingdom - 12 hours ago
... The contestants in The Apprentice don't require an entry into the public world, as most ... at the feet of a respected mentor - what they want from Alan Sugar is a ...

Sir Alan Sugar - you're fired ic Wales

DEATH OF CV LEAVING BUSINESSES AT RISK, EXPERTS WARN SourceWire (press release)
Bitter taste of Sugar for Apprentice's Paul
Yorkshire Post Today, UK - May 4, 2006
... but after falling at the final hurdle Paul Tulip talks to Sarah Freeman about Big Issue sellers and who he thinks will be Sir Alan Sugar's next Apprentice. ...
Da Vinci Code - you're fired!
The Sunday Times, UK - 18 minutes ago
... authoritative jungle shorts. Or listen to Sir Alan Sugar as he enjoys a God-like status in the boardroom of The Apprentice. To be shown ...

UK infested with bad managers
Management-Issues, UK - 13 hours ago
... Sir Alan Sugar is certainly not held up as a role model for UK bosses ... they would not work for the acerbic entrepreneur and star of BBC2's 'The Apprentice'. ...

What does Amstrad actually do?
Guardian Unlimited, UK - 22 hours ago
Paul Tulip, one suspects, didn't really want to work for gruff old sir Alan Sugar at Amstrad - and who can blame him? The Apprentice contestant, who said of ...
Celebrities in the firing line for Comic Relief Apprentice
Guardian Unlimited, UK - 13 hours ago
BBC1 is planning a celebrity version of The Apprentice, fronted by Sir Alan Sugar, in aid of Comic Relief. It will be the first ...

Sir Alan's Sugar Babes
International News Service, Australia - May 7, 2006
... DAVID THOMAS meets the two finalists in the catfight to land a Pounds 100k job. Sir Alan Sugar is about to pick his next Apprentice. ...
CV should be where firms start
ic Huddersfield.co.uk, UK - 12 hours ago
... The research was conducted after last week's episode of The Apprentice, during which ... The 26-year-old was told "You're fired" by Alan Sugar after admitting his ...
Finding the message for trading places
ic Wales, United Kingdom - 11 hours ago
I AM sure, that like me, many of you will be glued to the final episode of The Apprentice, tonight to see which of Alan Sugar's babes is to win the coveted
---
A taste for adventure capitalists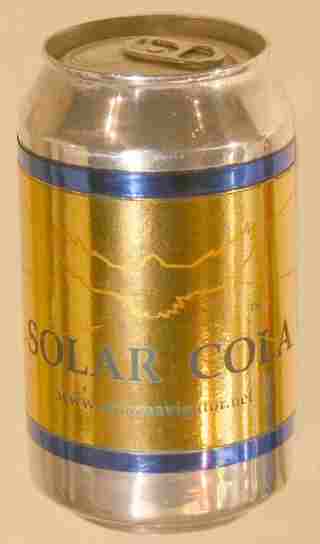 Solar Cola - the healthier cola alternative
This material and any views expressed herein are provided for information purposes only and should not be construed in any way as a prospectus or offer. Please contact the company concerned for information of any business opportunity or specific program. Before investing in any business, you must obtain, read and examine thoroughly its disclosure document or offering memorandum.