MPBA home l Introduction l MPBA For You l MBPA Officials l Insurance
According to their website in 2003, the mission of the Model Power Boat Association (MPBA) is to promote all types of model boating using power to propel a scale vessel to navigate (usually) closed waters and to encourage their members to compete in the various competitions held throughout the country.
The membership of the MPBA is normally via an affiliated club, but you can join as an individual model enthusiast by joining on a national basis via membership in the Countrywide category.
WHAT COULD THIS MEAN FOR YOU?
The MPBA was founded in 1924 by clubs in the London Area joining together and wanting a controlling body that was not for profit, but would represent their members in a number of ways. Since that time the MPBA has grown into a national body that represents all types of model boating; including static scale and a small number of yachtsmen - so not strictly speaking; power boaters!
The other interests are included because not all power boat modelers want to race or navigate their models on water. Those who do are catered for as:
* Radio control racing, known as multi racing,
* Fast electric models, straight running,
* Tethered hydroplanes and radio control hydroplanes.
These interests are sub grouped into sections that control the organisation of the discipline, or in other words make rules and organize the programme of regattas, etc.
The sections are each represented on the MPBA committee together with the officers of the organisation.
The Model Power Boat Association (MPBA) exists to promote all forms of model boating in the United Kingdom. There are many other similar organization in other countries to include America and Australia, most of whom have similar aims to that of the MPBA - and that is to encouraging all aspects of model boating, but in particular powered models. The MPBA provides a competition structure leading to National Championships in all the sectional disciplines supported and you can go on from there to compete internationally (see included article reviews) :-
* Scale models - both electric and steam driven
* Multi models - i.c. powered racing craft
* Hydro models - tethered i.c. and steam models
* Fast Electric models - r/c controlled electric racing craft
* Circuit Racing models - r/c controlled i.c. models
* Straight Running models - any powered craft for straight running competition
The MPBA supports domestic clubs arranging competitions for the above interests and assists individuals wishing to compete in World Championship events. The MPBA provides third party insurance for paid-up members and endeavours to ensure that safety for competitors, officials and the general public is paramount at all times. The MPBA is keen to support public display events and demonstrate to the general public the various facets of model boating.
A Yearbook and a quarterly newsletter help to keep members informed of forthcoming events. The MPBA is a member of the Joint Radio Consultative Users Committee (JRCUC) and endeavours to ensure model makers interests are always properly considered.
CONTACT THE MPBA
MODEL POWER BOAT ASSOCIATION
Company number: 01409815
Registered office address:

1 Bartlow Gardens
Romford
England
RM5 3UA

Email: Webmaster@mpba.org.uk

Company status: Active
Company type: Private company limited by guarantee without share capital

Nature of business (SIC) 93199 - Other sports activities

Previous company names: MODEL POWER BOAT ASSOCIATION (U.K.) LIMITED Incorporated on 17 January 1979.
MPBA WHO IS WHO 2017

Tony Willett – President
Mick Fields – Chairman
Dave Brumstead – Vice Chairman
Linda Buonaito – Secretary
Glynis Fields – Treasurer
Bill Hornby – Membership
Peter Revill – Insurance
Peter Brown – Yearbook
Andy Coburn – Website/Facebook
MPBA LINKS: The MPBA MPBA Officers Webmasters page Feedback Links
NEWS: Hot News Results General News Site News Diary Regatta List
CLASS: Scale Straight Running Multi Fast Electric Circuit Racing Tethered Hydro
CLUBS: Club List Venues & Contacts
RULES: Competition Rules Speed Records
INFO: R/C Frequencies UKRCC Insurance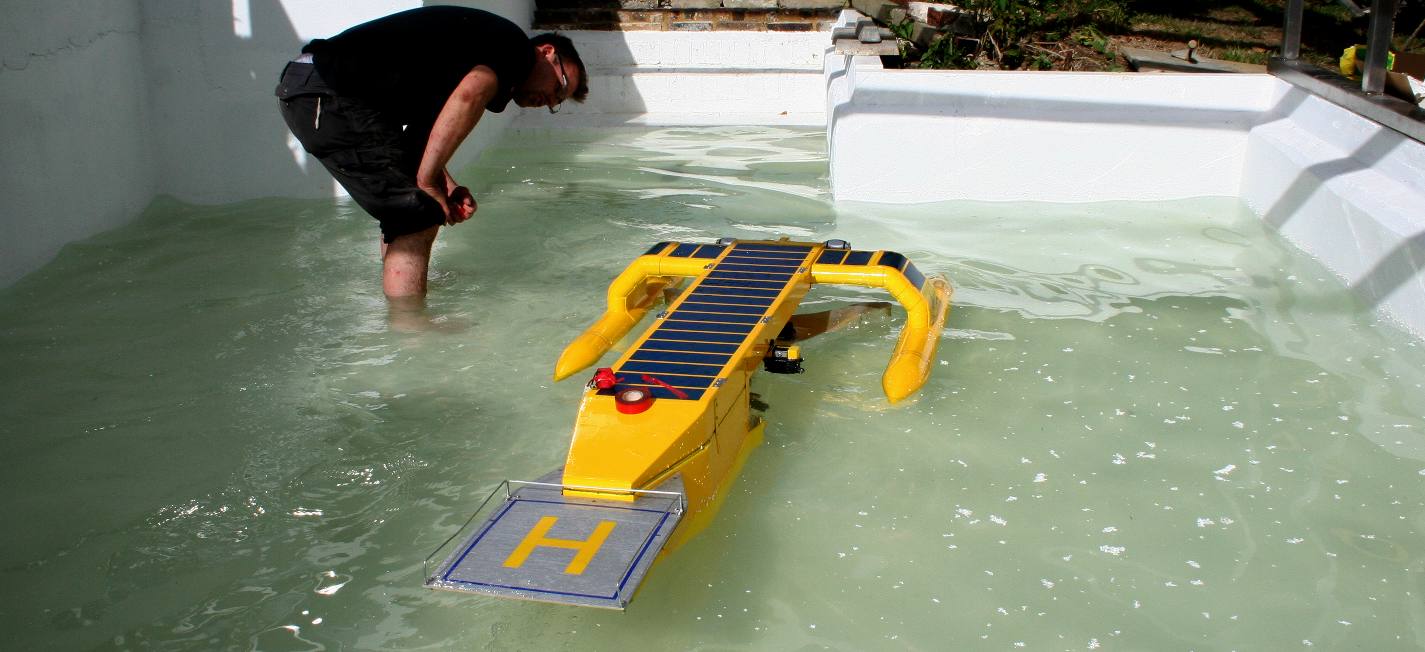 SOLAR POWER - An unusual model powerboat, the SeaVax is a 1/20th scale proof of concept boat that is solar and wind powered. This boat is a large vacuum cleaner based on a trimaran (or three point) hull. A giant version of this vessel could begin to make a difference in wild fish stock levels. The Cleaner Oceans Foundation is taking up the challenge to get a prototype in the water from May of 2017 until 2019.
MPBA AFFILIATED CLUBS
The usual way of becoming an MPBA member is through membership of an affiliated club. Usually this is through a suitable local club or one of the specialist national clubs. The Countrywide Club provides direct MPBA membership for those not wishing or able to join another club. In case of difficulty contact the Membership Secretary.
WHY JOIN A CLUB?
Clubs will usually have access to their own water. Even where the water is available to the public the club will often have additional facilities provided for their exclusive use. Clubs are able to provide insurance through MPBA membership. You would not generally be allowed to operate a powered model without insurance. Frequently owners of water insist on insurance for all types of model boat.

Other club members will provide advice and help on all aspects of building and running model boats. The encouragement and assistance gained from members can prove invaluable in overcoming the difficulties that arise especially when building your first boat. Lakes are few and far between in the UK. They are being lost to Fishing & Wind-Surfing. By supporting your local club and the association in general, we are more likely to be able to hold on to these lakes.
HOW DO YOU FIND A MODEL BOAT CLUB?
You can use these links but they may well be out of date [National] [Northern] [Midland] [Southern] or [all venues] for a full list. If you run into problems their Membership Secretary will try to help, but please visit the MPBA's website for up to date information.
One thing that is very useful is that MPBA membership includes insurance cover on your clubs water and also when competing in Regattas held by other clubs, the MPBA or organisations anywhere in the world. You will also be provided with a number of other services including the MPBA's magazine Propwash and news from their website.
The MPBA also promotes the interests of boat modellers generally, including holding exhibitions and affiliation to a number of related organisations including NAVIGA and the UKRCC.
WORCESTER NEWS 8 SEPT 2016 - Model power boat racer scoops top medal at the IMBRA World Championships

A YOUNG model power boat racer battled competition from around the world to scoop a top medal at a global championship.

Zack Humphries, who works in Worcester, represented Great Britain at the International Model Boat Racing Association (IMBRA) World Championships in Holland last month.

After reaching the finals of both the 3.5cc and the 15cc classes, the 22-year-old won a silver medal in the latter.

Mr Humphries, who is sponsored by Worcester-based company Dynamometer World, said: "It was pretty ecstatic really, it was quite a shock that we could do it again. In 2014 I was world champion.

"It was quite a proud moment because I do it with my dad, overall it was just a really good, happy feeling.

"It is something we work towards and we all enjoy it as a family - my mum comes along as well!

"I pushed for first place all the way coming back from 6th place racing against multiple-world champions from various countries."

Nearly 40 countries were represented at the championships, including the USA, China, New Zealand and Nigeria, and more than 400 boats took part.
SHOREHAM HERALD 28 AUG 2014

A SHOREHAM man has become the youngest-ever world model powerboat racing champion.

Zack Humphries, 20, represented Great Britain as part of the senior team at the FSR-V World Championship in Dessau in Germany on August 8, and won gold in the 3.5cc class.

Rod McBeth, his grandmother's partner, said: "He became, as far as we are aware, the youngest-ever world champion – and he won it by a lap.

"He was also in the final of the larger 15cc class boat but did not achieve a medal place."

Six years ago, when Zack was part of the British junior squad, he represented Great Britain in the model powerboat racing world championships at the age of 14. The competition, his first world championship, took place in Leno in Italy and Zack brought home a bronze medal.

His father, Dave Humphries, who used to work at Ricardo in Shoreham, helped him to build his own boat.

They bought the shell and parts and then Mr Humphries, an 'engine man', set the radio-controlled model powerboat up for maximum performance.

Mr McBeth added: "Zack works with his dad on preparing the boats but being a whizz on a remote control, he races the boat around the lake. It really is very much a team effort."

Zack, who is studying mechanical engineering at the University of Brighton, became involved in the sport after watching his dad compete.

He started competing in model powerboat racing in 2007, when he was a student at St Andrew's High School in Worthing, and his first world championship was only a year later.

This year's FSR-V World Championship saw 21 countries take part and a total of 481 boats. There were 13 people chosen for the British FSR-V team, competing in five classes.

Zack's next event will be an international regatta in Germany.

LINKS TO OTHER MODEL BOAT CLUBS
Countrywide Club Electra NFERC Model Hydroplane Club National Oval Racing Club Retro Racing Club
MIDLAND AREA
Anglia M.M.C. . Bournville M.Y. & P.B.C. Burton-on-Trent and District M.B.C. Caldicot M.B.C. Cheltenham S.M.E Cotswold M.M.C.
Coventry M.B.C. Daventry M.B.C. Derby M.B.C. Grantham and District M.B.C. Hartsholme Electric M.B.C. Kingsbury Water Park M.B.C.
Leicester M.B.C North Birmingham M.B.C. Northampton & District M.B.C. Nottingham M.B.C. Peterborough Area M.B.C. Peterborough M.P.B.C. Rugeley Power Station M.B.C. Sandwell M.B.C. South Wales M.B.C. Telford M.B.C. West Wales M.B.C.
NORTHERN AREA
Birkenhead M.Y. & P.C. Blackburn and District M.B.C. Bolton M.P.B.C. Bridlington M.B.S. Bury Metro M.M.S. Conisbrough and District M.A. Darlington and District M.B.C. Dewsbury M.M.S. Featherstone M.P.B.C. Goole M.B.C. Heaton and District M.P.B.C.
Huddersfield S.M.E. Hull M.B.C. Humber Marine M.B.C. Keighley & D.M.E.S. Leeds & Bradford M.B.C. Manchester R.C.B.C.
Northern Fast Electric R.C. Peterlee M.B.C. Seahorse M.B.C. Sheffield S.M.S. Silksworth M.P.B.C. South Shields M.Y.C
Wearside M.B.C.
SOUTHERN AREA
Ace M.P.B.C. Alpha M.B.C. Basingstoke & Deane M.B.C. Blackheath M.P.B.C. Brentwood M.Y & P.B.C. Bromley M.P.B.C.
Capstan M.B.C. Chichester Lakeside M.B.C. Coalhouse Fort M.B.C. Cygnets M.B.C. Dolphins M.B.C. Eastbourne M.P.B.C.
Elmbridge M.C. Gipping Valley M.B.C. Hanwell and District M.S. Herne Bay "Heron" M.B.C. Hertford and District M.S.
Leighton Buzzard M.B.C. Marches Model Boaters Mayesbrook M.B.C. Mid Thames M.B.C. Moorhen M.B.C. Portsmouth and District M.P.B.C. South Ham Southampton M.P.B.C. Southend S.M.P.B.C. St. Albans & District M.E.S. Stevenage M.B.C.
Swindon M.B. & E.C. Victoria M.S.B.C. Warminster M.B.C. Watermead M.B.C. Waterside M.C. Welwyn Garden City S.M.E.
Willen M.P.B.C. Woodbridge M.B.C. Worthing and District M.B.C. Yate and Sodbury M.B.C.
Links to other Websites
Please Email us with links to other websites. If you have trouble with an obsolete link please tell us.
MPBA Affiliated Clubs and Organisations

| | | |
| --- | --- | --- |
| | | |
| | | |
| | | |
| | | |
| | | |
| | | |
| Naviga | | In German language |
| | | |
| | | |
| | | |
| | | |
| | | |
| | | |
| | | |
| | | |
Independant Organisations

| | | |
| --- | --- | --- |
| Offshore Model Power Boat Association | | |
| Surface Warship Association | | |
| Norwegian Model Speed Boat Association (NMSBF) | | |
| Corby Model Boat Club | | |
| Model Yachting Association | | |
| Luton & District Model Club | | |
| Scottish Federation of Model Boat Clubs | | |
| Dundee Model Boat Club | | |
| Model Warship Site (US) | | |
| Fast Electric World | | UK Fast Electric Scene |
| Joint Radio Control Users Committee (JRCUC) | | |
| South West Association of Model Boat Clubs | | |
| modelboatracing Website | | Information about Multi (FSR-V) racing |
ABOUT RADIO FREQUENCIES - THE GOOD OLD DAYS
There were three bands available for Model Boat use. The UKRCC represents the modelling community to the regulatory authorities.
27 MHz is the traditional band allocated to all Radio Control users many years ago. Much of the lower cost radio equipment produced still uses this band. Since the introduction of CB radio and radio controlled childrens toys, the 27 MHz band has been subject to interference problems. Improvements are being made to equipment to reduce channel spacing in the future.
40 MHz is the latest band to be allocated and is for the exclusive surface models. When purchasing new equipment the 40 MHz band is the best choice for model boats. Equipment is still more expensive than the 27 MHz band but the difference is shrinking.
UHF band (459 MHz) is once again a band allocated to all Radio Control users many years ago. It is rarely used and little commercial equipment has ever been produced. Equipment for the UHF band is hard to obtain and expensive.
On NO ACCOUNT may the 35 MHz band be used. This band is reserved solely for the use of aeromodellers and its use for surface craft is forbidden.
Other countries have frequency bands that differ from those in the UK. Increasingly these bands are being rigidly enforced. Regattas have been cancelled because of problems and there have also been instances where the authorities have confiscated equipment. It is essential that you check before you travel.
NEW RADIO FREQUENCIES
These days radio sets are so advanced that the new frequency equipment can be used to control aircraft, cars or model boats.
| | |
| --- | --- |
| Non-Commercial Web Links | |
| | |
| UK National Circuit Racing | |
| Multi Racing | |
| | |
| | |
| Commercial Web Links | |
| | |
| AABT Collectibles | |
| Abergavenny Model Shop | |
| Action Kit Electronics | |
| Accurate Armour Co | |
| Admiralty Ship Models | |
| A.M.C Direct | |
| AsTec (models & Electronics) | |
| Anglia Model Centre | www.modelshops.uk.com |
| A Model World | www.amodelworld.co.uk |
| Arkowood France | www.arkowoodfrance.de |
| Bagnalls Models | |
| Battleships-Cruisers Co | www.battleships-cruisers.co.uk |
| BECC Model Accessories | www.modelflags.com |
| Boat Kits & Steam Engine Plants | |
| BocaBearings | www.bocabearings.com |
| Brown, Son & Ferguson Ltd | www.skipper.co.uk |
| Bow Wave Marine Models | |
| Cammett Ltd | www.cammett.co.uk |
| Chatham Publishing | www.chathampublishing.com |
| Cheddar Valley Steam | www.cheddarvalleysteam.co.uk |
| Cheshire Models | www.cheshiremodels.co.uk |
| Conway Maritime Press | www.conwaymaritime.com |
| Dateline Marine Services | |
| Dave Worth | www.manxlink.com |
| David Leftley Graphics | www.davidleftleygraphics.com |
| Dawnmist Electronics | www.dawnmist.demon.co.uk |
| Deans Marine | |
| Derby Marine Models | |
| D.J's Models & Hobbies | wwwdjmodels.net |
| D.J.Parkins | www.djparkins.com |
| Dockyard Models | |
| Display Cabinets | |
| Electronize Quality Electronics | |
| Euromodels | |
| Fibre Glass Marine modelling Supplies | www.cfsnet.co.uk |
| Fleetscale Hulls & Semi Kits | |
| | |
| Gee Dee Models - Nottingham | www.gee-dee.co.uk |
| George Turner Models | |
| Greene Marine Ltd | www.greenhobbymodel.com |
| Green Man Dancing | www.green-man-dancing.co.uk |
| G.T.Sitek (formerly E.Radestock) | www.gsitek-prpos.co.uk |
| HP Engine Bearings | www.bocabearings.com |
| Hobbico Aquacraft | www.hobbico.com |
| Hobby Stores | |
| Hobbies (Dereham) Ltd | www.alwayshobbies.com |
| Hovercraft Models | www.Hovercraftmodels.com |
| HSL Mouldings | www.hslmouldings.co.uk |
| Hunter Systems | www.huntersystems.co.uk |
| Ian's Boats | |
| In 2 It RC Yachts | www.in2it-rcyachts.com |
| JJC Electronics | www.jjc-electronics.com |
| Jo Tika Ltd Mono Hulls | |
| John Lambert Naval Illustrator & Author | www.johnlambert-plans.com |
| John Hemmens Steam engineer | |
| Kingston Mouldings | |
| KMB Kehrer Modellbau | www.kehrer-jet.de |
| Lesro Models | |
| Liskeard RC Models | www.liskeardmodels.co.uk |
| Manufacturers Association Marine Modellers | |
| Marine Modelling magazine | |
| Marine Dateline Services | www.datelinemarine.com |
| | |
| Marcle Models | |
| McLaren Books Ltd | www.mclarenbooks.co.uk |
| Meridienne Exhibitions Ltd | www.meridienneexhibitions.co.uk |
| Metcalf Mouldings | |
| MFA/Como Drills | www.modelflightaccessories.com |
| Midwest Products Co. Inc. | www.midwestproducts.com |
| Model Boat Mayhem | |
| Model Boats magazine | |
| Model Junction | www.modeljunction.com |
| Modellers Mate | www.modellersmate.co.uk |
| Models Built to Commission | |
| Modelpower | www.modelpower.co.uk |
| Model Slipway | |
| Mtroniks | www.mtroniks.net |
| Nimrif Models | www.nimrifmodels.co.uk |
| North Seas Fleet | www.northseasfleet.co.uk |
| North Sheilds Model Centre | www.modelkit.co.uk |
| Newport Model Centre | www.newportmodelcertre.co.uk |
| Onethewire | www.onthewire.co.uk |
| Palaform Ltd | |
| Pandan Models | |
| Peatol Machine Tools M.O.D.B. | www.peatol. com |
| Pegasus Models | www.pegasusmodels.co.uk |
| Perma-Grit Tools | www.deluxematerials.co.uk |
| Phills Models | www.phillsmodels.com |
| Pen & Sword Books Ltd | www.pen-and-sword.co.uk |
| Premium Woodcraft | www.premiumwoodcraft.com |
| Prestwich N Direct | www.prestwich.ndirect.co.uk |
| | |
| Prop Shop | www.prop-shop.co.uk |
| Punctillo Model Spot Ltd | www.modelspot.com |
| R2 Model Marine | www.r2modelmarine.com |
| Radcliffe Models | www.radcliffemodels.co.uk |
| RCM Direct | |
| Reade Plastics | www.readebusiness.com |
| Riverside Models | |
| Scale Hobbies | www.scalehobbies.net |
| Scale Model Boart Yard | www.scalemodelboatyard.co.uk |
| SCI-HULL 2005 | www.sci-design.co.uk |
| Servoshop | www.servoshop.co.uk |
| Scoonie Hobbies | www.scoonie-hobbies.co.uk |
| SHG Model Supplies | www.shgmodels.com |
| Space City Gifts | www.modelsandcollectables.co.uk |
| Sirmar Model Ships | |
| Stuart Models of Guernsey | www.cheddar-steam-club.org.uk |
| Subtech | www.rcmodelsubs.com |
| The Model Centre | www.the modelcentre.4t.com |
| The Model dockyard | |
| The Peatol Lathe | www.peatol.com |
| Trains and Hobbies | www.trainsandhobbies.co.uk |
| The Model Slipway | |
| Ultimate RC | www.ultimate.co.uk |
| Waverley Models | www.waverleymodels.co.uk |
| Westbourne Model Centre | |
| Whitchurch Models | www.whitchurchmodels.com |
| Wiltshire Models | www.wiltshiremodels.com |
| X List Plans | www.xlistplans.demon.co.uk |
LINKS & REFERENCE
http://www.shorehamherald.co.uk/news/model-powerboat-champ-youngest-to-win-world-gold-1-6257660
http://www.worcesternews.co.uk/news/14731813.Model_power_boat_racer_scoops_top_medal_at_world_championships/
Please note that this page is very old and due for an update just as soon as our webmaster gets the opportunity. We apologize for any inconvenience from old links, etc.