Livewire MacArthur shows that a solo haul is just her cup of tea. Ellen MacArthur is making a cup of tea. But as one might expect with this remarkable individual, it is no ordinary cup of tea. "The water's desalinated," she cheerily announces, setting a kettle on a gas flame, "so you'll be drinking the English Channel. And the tea bags came from. . . oh, yes, they've been on board since New Zealand."
The tea is surprisingly palatable, but served in a strange blue plastic mug the size of a goldfish bowl. "I normally eat my breakfast out of that," MacArthur says. "But don't worry. I've washed it out." She is sitting in the tiny cockpit of B&Q, the trimaran aboard which she is preparing to sail around the world. It is not a space designed with entertaining in mind but she is a generous hostess, particularly lavish with the chocolate chip cookies.
Ellen Macarthur
In a similar position, most of us would be keeping the scoff to ourselves. Once she embarks on her attempt on the world record, MacArthur will be confined to a diet of freeze-dried gunk. "That's a week's worth," she says, picking up a blue bag the size of a small pillow case, "including the gas cylinder to cook it with. The food's actually pretty good – all organic, all vegetarian."
Gastronomy is pretty low on MacArthur's list of priorities at the moment. Her target is the Frenchman Francis Joyon's record for a solo circumnavigation of 72 days, 22 hours, 54 minutes and 22 seconds. The fact that Joyon knocked 20 days off the previous mark indicates the scale of his achievement and the size of the challenge facing MacArthur.
"I know this record is extremely hard to beat," she concedes. "What Francis did was almost unimaginable, so the bar is set very, very high." But the Englishwoman has an extraordinary vessel and has proved that it is capable of setting records. She has sailed more than 20,000 miles aboard B&Q and on one voyage smashed the record for the fastest female crossing of the Atlantic and came within 75 minutes of an outright record.
"This is the first time that a monohull has been designed specifically for solo record-breaking," MacArthur explains. "And it was designed around me. Everything from the cockpit dimensions to the amount of sail was calculated to allow me to do the best possible job of sailing her."
The Atlantic record attempt was the first time that MacArthur had really pushed herself and her new craft to the limit and the experience clearly gave her a tremendous boost. "If I hadn't been trying for a record I would never have pushed the boat as hard as I did, so I would never have learnt so much. I gained so much confidence in the boat over those seven days. That was fantastic for me."
She certainly seems at home in the cockpit, which is part-kitchen, part-meteorology station and part-television studio. As well as the limited but practical galley, there is an ample work desk, two computer screens and a broadcast console from which she can command miniature television cameras placed all over the boat.
One of the most significant advances in ocean racing over recent years has been the ability of sailors to involve a wider audience in their battles through broadcast and internet technology. One of the least accessible sports in the world has become one of the most widely disseminated. As well as tackling the world's oceans, MacArthur will be performing in front of an audience of millions.
"It's nice that people can feel involved," she says. "And it's incredibly important for the sponsors. You can't have an operation like this without huge backing. If I was given this boat for free tomorrow, I couldn't afford to run it for a week."
But as well as the hi-tech equipment that will beam MacArthur to the nation's households, there are one or two touches in the cockpit that remind you that for more than two months this is will be her home.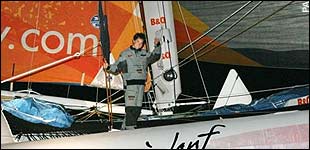 All ship shape: Ellen MacArthur aboard B&Q
There is a little luminous figure of a dolphin stuck to the canopy window, always in MacArthur's line of sight. "That was on Kingfisher," she says, referring to the monohull in which she finished second in the 2001 Vendée Globe round-the-world-race. Then there is a photograph of Mac, the
border collie/pointer cross who has been her pet since she was 13 years old. "He's 18 now, and a bit creaky, but we love him to bits." And there is a Christmas present from her mother, a padded envelope marked firmly "Do Not Open Until Dec 25". "Whatever it is, it won't weigh much," MacArthur observes. "Mum knows the rules."
People sometimes ask if MacArthur becomes lonely or homesick during her long solo voyages, but they are missing the point. There is simply not the time for reflection when driving a 75ft carbon fibre trimaran to its limits in a Southern Ocean storm, or climbing the mast in inky blackness to fix a flapping line.
That last task is every sailor's least favourite and while MacArthur will never come to cherish the experience, she has at least had plenty of practice. Four times already she has insinuated herself into the minute opening at the foot of B&Q's mighty carbon fibre mast and started the long climb. In heavy weather gear, it's like putting toothpaste back into the tube, but sometimes it just has to be done.
MacArthur and the boat are now in stand-by mode, ready to set out on the record attempt at 36 hours' notice. The trimaran is tied up at Port Pendennis in Falmouth and the yachtswoman and her support crew are staying nearby. There will be no last-minute partying, though.
"I'm just going to stay in my routine, exercising, eating right, sleeping well," MacArthur says. "I'll be on the boat a lot, working through job-lists with the team. The people around me know that half of me is already at sea."
It is fascinating to watch this dynamic, diminutive figure bouncing around the trampoline nets stretched between the extraordinary craft's three hulls, demonstrating safety equipment and technological innovations. She banters with her support team in flawless French – she is a huge star in France – then waves aboard a visiting schoolboy for an autograph.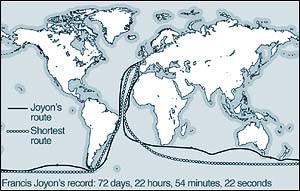 Francis Joyon's record route
The energy is astounding, but you never lose the sense that what is going on here is displacement activity, things to do rather than sit and watch the weather screen, waiting for the perfect high pressure system to send her flying over the start-line off Ushant and down towards the equator. Every now and then MacArthur stops running for a moment and her eyes flick beyond the boat, beyond the port, to the horizon.
---
---
Superb signed Limited Edition Print now available - click picture for details
OTHER LINKS:
telegraph.co.uk | Sport home | Football | Cricket | Rugby Union | Rugby League | Golf
Horse Racing | Motor Sport | Tennis | Other Sports | Columnists | Archive | Picture Galleries