British yachtswoman Ellen MacArthur is on the starting blocks in her bid to beat the world solo record of 72 days. 21 OCTOBER 2004
IN BRIEF :
ELLEN MACARTHUR OFFICIALLY GOES ON STANDBY TODAY FOR HER SOLO, NON-STOP ROUND THE WORLD RECORD ATTEMPT...

ELLEN QUOTE: "THE BOAT IS COMPLETELY READY TO GO, I AM COMPLETELY READY TO GO...SO ITS 100% READY WAITING FOR THE WEATHER..."
Listen to Ellen's audio, click here

THE 75-FOOT <<B&Q>> TRIMARAN DOCKED IN FALMOUTH AND WILL NOW HAVE TO WAIT FOR 'BEST' WEATHER WINDOW TO START RECORD...

NO OBVIOUS WEATHER WINDOW ON IMMEDIATE HORIZON...EVERY SECOND COUNTS SO LEAVING WITH FAVOURABLE WIND IS CRITICAL!

MACARTHUR FEELING CONFIDENT BUT DOES NOT UNDERESTIMATE HOW HARD IT WILL BE TO BEAT THE CURRENT NON-STOP SOLO ROUND THE WORLD RECORD SET BY FRANCIS JOYON...

TIME TO BEAT 72 DAYS, 22 HOURS, 54 MINUTES, 22 SECONDS...
Ellen Macarthur
IN DETAIL:
Today, Ellen MacArthur's 75-foot multihull <<B&Q>> arrived in Falmouth to officially go on standby for her attempt on the solo, non-stop round the world record. Over 3 years of planning and 18 months since construction began, Ellen is now ready to embark on her toughest challenge so far...to circumnavigate the globe as fast as possible, on her own, to set a new world record.
Only five attempts to sail solo, non-stop around the world on board a multihull have been made and only one of those sailors made it without stopping. Frenchman, Francis Joyon, set a new world record on board his multihull, IDEC, f 72 days, 22 hours, 54 minutes and 22 seconds...this is the time Ellen has to try and beat this winter.
For now, patience will be her companion as Ellen plays the waiting game for the right weather window to come along to propel <<B&Q>> to the start line and into the first stage of the 26,000 mile round the world course. Ellen will be in constant contact with her shore-based weather routers, Commanders' Weather based in the US. It is critical for <<B&Q>> to hook into a fast, stable and favourable weather pattern at the start of the course to slingshot <<B&Q>> across the Bay of Biscay and towards the Equator with strong Trade Winds that are not always established. <<B&Q>> has already demonstrated her speed capabilities on her solo west-east transatlantic record attempt this summer when she averaged speeds of 19.42 knots - for the round the world record, <<B&Q>> will have to average in excess of 15.38 knots to beat Joyon's time.
---
FROM ELLEN IN FALMOUTH:
What does it mean to be officially on standby?

"The boat is completely ready to go, I am completely ready to go...we have all the food on board, all the fuel on board, the boat just needs to literally throw the lines off the dock and go. So its 100% ready waiting for the weather."
What will you be doing when you are on standby?

"I will be checking the weather every day and discussing the weather with the weather routers. And also physical training and I'll be around the boat a little bit double-checking communications and that there are no issues, but everything should be ready and its just a case of waiting to go."
What are the standby modes?

"We created a code with three colours so we can let everybody know what the state of play is. We have red which means there is no chance of going as the weather is giving us no chance to go; we then have amber mode which means there is a chance of departure in 72 hours; and we have green which is go, and a possible departure within 36 hours."
Why are you in standby in Falmouth?

"We decided to do our standby in Falmouth because we felt that is was the best port to get down to the start line off Ushant. At the start the wind is likely to be from the north, or maybe the south-west just before a front, and we wanted to be in a place that wasn't dead downwind of Ushant in a south-westerly breeze. From here it's a heading due south and it should be relatively simple for me to leave on my own from Falmouth, sail across the Channel - it's about 90 miles to the start line - and then I should have my head in gear and be ready to cross that line and set off south."
What is the best possible weather window you are looking for?

"The best weather window that we're looking for is a high pressure in the North Atlantic which is well established and allows me to leave in a northerly wind or a north-west or north-easterly breeze. That will, hopefully, mean that with a well-established high pressure the winds will be strong so that northerly will turn into a north-easterly and carry me down towards the Trade Winds, then it's a case of going through the Trades across the Equator and down into the South Atlantic. After that we don't know what's going to happen with the weather but at least we can guarantee, to a certain extent, that first week."
What is the current weather outlook?

"We said we would be on standby from Monday 15th and Monday at the moment is looking like a no-go. There is basically south-westerly winds coming in, a series of depressions rolling across the Atlantic, so it looks to me that there will be a few days wait."
Are you feeling confident?

"I know this record is extremely hard to beat, there is no doubt about it. What Francis did was unimaginable to get round the world in that time so the bar is very, very high. But with regards to my confidence and confidence in the boat, that has changed since the launch in Australia... We have sailed over 20,000 miles together and I think one of the best things that happened was the transatlantic record because that gave me a real chance to push the boat very hard and learn about the boat's performance. I don't think that if we hadn't have had that record attempt, I would not have pushed the boat as hard as I did, and I would have never learned so much and gained so much confidence in the boat during that 7 days, so that was fantastic for me."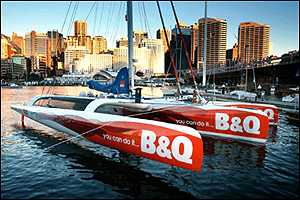 B&Q Castorama - Omega time keepers
STANDBY MODES:
RED: No obvious weather window good enough to propel <<B&Q>> into the first stage of the course towards the Equator.
AMBER: 60 to 70% chance of departure in next 72 hours, Ellen with trimaran.
GREEN: Intention to depart within 36 hours.
WHY IS THIS RECORD SO EXCEPTIONAL:
1800+ people have reached the summit of Everest...
450+ people have been in space...
12 astronauts have stepped on the moon...
5 solo sailors have attempted to race around the globe NON-STOP on MULTIHULLS (the fastest and most extreme boats to traverse the oceans)...
Only 1 succeeded to go the distance non-stop...
Francis Joyon, current solo round the world record holder, set off on 22.11.03 and finished 72 days, 22 hours, 54 minutes and 22 seconds later on 3.2.04 to set a new world record. This is the time MacArthur has to beat [see below for other 5 solo round the world attempts on multihulls].
PREVIOUS MULTIHULL SOLO CIRCUMNAVIGATIONS:
Previous attempts to race solo non-stop around the world on a multihull:
1968-69 Nigel Tetley on board Victress (Golden Globe competitor, sank 1100 miles from the finish line off the English coast but Tetley had already crossed his outbound track thereby technically completed the first solo circumnavigation in a multihull)
1973-74 Alain Colas on board Manureva finished in 169 days (stopped to make repairs)
1986-87 Philippe Monnet on board Kriter finished in 129 days (stopped to make repairs)
1988-89 Olivier de Kersauson on board Un Autre Regard finished in 125 days (stopped to make repairs)
2003-04 Francis Joyon on board IDEC finished in 72 days, 22 hours, 54 minutes, 22 seconds (non-stop)
NOTES ON PREVIOUS RECORDS:
MacArthur currently holds four solo sailing race records:
* Plymouth (UK) to Newport (US) east-west transatlantic 14 days, 23 hours, 11 minutes (fastest female and winner of Class 1 / Kingfisher monohull).
* Fastest female to race solo around the world in the 2000/2001 Vendée Globe in 94 days, 4 hours, 25 minutes, 40 seconds and finishing 2nd overall (Kingfisher monohull).
* Route du Rhum race (St Malo, France to Guadeloupe) new course record 13 days, 13 hours, 31 minutes, 47 seconds (Kingfisher monohull).
* Fastest female solo to cross the Atlantic west to east in 7 days, 3 hours, 49 minutes, 57 seconds (<<B&Q>> trimaran).
Visit http://www.sailspeedrecords.com for further information.

Email powered by Active ISP
http://www.activeISP.com
To change frequency of email updates selecting daily, weekly or major, use the following links, or click on the orange diary links below:
http://www.teamkingfisher.com/uk/popup2.asp
For further information, please contact Offshore Challenges:
Lou Newlands or Lucy Harwood
T: +44 (0)870 063 0210
E: lou@offshorechallenges.com or lucy@offshorechallenges.com or http://www.teamellen.com
---
---
Superb signed Limited Edition Print now available - click picture for details
OTHER LINKS:
---