During a visit to Pacific Sail Expo, sailing superstar Ellen MacArthur christened the new Open 60 Ocean Planet. Skippered by Bruce Schwab, Ocean Planet is the only US entry in this summer's EDS Atlantic Challenge. The 60 footer debuts at Pacific Sail Expo.
Ellen Macarthur
"May God Bless this boat and all who sail on her, especially Bruce" said Ellen shortly before smashing a bottle of champagne on Ocean Planet's bow (an aluminum guard had been secure there to protect the brand new fiberglass).
Ocean Planet is the world's newest Open 60, and the first built in America in many years. Designed by Tom Wylie and built by Steve Rander's Schooner Creek Boatworks in Oregon, it's an extremely narrow design which may make it a formidable contender in the EDS Atlantic Challenge, particularly on downwind runs.
Schooner Creek Boatworks has built a number of successful racing yachts, most notably RAGE, a 70' sled that won class honors in the 2000 Pacific Cup (with Bruce Schwab at the helm). Schwab won the 1996 San Francisco-Hawaii Singlehanded Transpac race aboard Rumbleseat, a 1930-vintage sailboat he modified himself.
In 1999, he was awarded the Arthur B. Hansen Award from the U.S. Sailing Association for his rescue of a sailor during the previous year's Doublehanded Farallones Race off the coast of Northern California.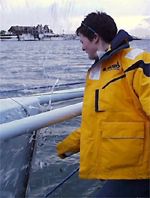 Ocean Planet was built entirely from donations; Schwab is not of the trust-funded yacht set, he's a sail rigger from Oakland California. Short and very fit, Schwab is an outgoing, engaging man whose local roots are evident in the list of his sponsors. The debut at Pacific Sail Expo was a great homecoming for a man who's clearly won the hearts of the Bay Area sailing community. Schwab was quick to note the superhuman efforts of his team and builders in getting the boat launched and delivered on time for the show (the boat was launched on April 7 and crossed under the Golden Gate bridge on April 14).
Schwab's Made in America Foundation has expended all its resources to build the boat; to race in the EDS Challenge he and his team have to raise nearly as much money as it took the build the boat. While that will be no small feat, if the crowds and excitement that this boat are generating at Pacific Sail Expo are any indication, Schwab and his team should accomplish that goal as well.
Other races in Ocean Planet's schedule are the Gold Race (February 2002), California Challenge (Summer 2002), Around Alone (starting fall 2002) and the 2004 Vendee Globe.
Specifications:
---
---
Superb signed Limited Edition Print now available - click picture for details
SEND A MESSAGE: EMAIL ELLEN
ENVOYER UN EMAIL Á ELLEN
> CLIQUEZ ICI