London welcomes Dame Ellen home 1600 hrs, Sunday February 20 2005
Thousands have seen yachtswoman Dame Ellen MacArthur sail up the River Thames to mark her record-breaking solo voyage around the world. The 28-year-old from Cowes on the Isle of Wight navigated her 75ft trimaran, B&Q, from Greenwich to Tower Bridge. Once through Tower Bridge, she went back down river to the National Maritime Museum at Greenwich.
There, she disembarked and appeared on stage in the Cutty Sark Gardens to talk about her 71 day, 14 hour, 18 minute, 33 second record voyage around the world. She thanked her thousands of supporters who had given her so much hope through the dark days of her amazing round the world trip. The trip to London is also in support of the Ellen MacArthur Trust, set up to support young people suffering from cancer and leukaemia by taking them sailing.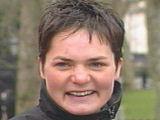 Dame Ellen - London
Ellen made her way along the Thames on board her record breaking trimaran B&Q, well-wishers lined the route from Greenwich to Tower Bridge as they turned out to show their support for Ellen after her record breaking trip. After navigating up the Thames to Tower Bridge where crowds lined the north and south banks of the river and all along Tower Bridge, B&Q moored up at Greenwich and Ellen arrived onshore to the warmest of welcomes from the 7,500 strong crowd that had been waiting to see her.

Many people waited for over two hours in the wintry conditions for a chance to see Ellen live on stage in front of the Cutty Sark in Greenwich. "It is just amazing, said Ellen, " I am really blown away by the amount of people who have come out to welcome us to London. Today is really about having a chance to thank everyone for all of the support that we recieved thoughout the whole trip. They shared this with me and it is great to come here today and have a chance to say thank you to everyone."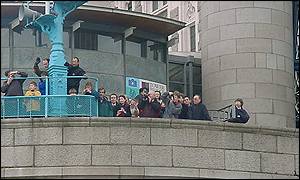 A crowd gathers near Tower Bridge to welcome Dame Ellen home

The event today at Greenwich was not only a chance for Ellen and the team to say a big thank you to all the avid suppoters, but also to raise awareness of the Ellen MacArthur Trust - a charity set up by Ellen to give young people suffering or recovering from cancer and leukaemia a chance to get out on the water and sail with her. Ellen was joined on stage at the end by 13-year-old Katie Schuster who has already participated in two sailing trips with Ellen. Katie was diagnosed with cancer when she was 10 and received treatment at the Great Ormond Street hospital.

The trimaran will now be heading back to Cowes on the Isle of Wight, for a homecoming next Friday 25th February.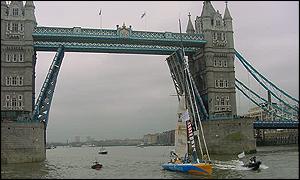 Four years ago Ellen sailed under Tower Bridge in Kingfisher
TIMING & ACTIVITIES FOR SUNDAY, 20TH FEBRUARY:

Plans for Cutty Sark Gardens

* A huge daylight screen and stage will be erected beside the Cutty Sark showing images of Ellen's round the world voyages past and present. Skipper Ellen MacArthur will be on board before disembarking at Greenwich to appear on the main stage.

* Ellen will appear on the main stage in front of the big screen for approximately 20 minutes to speak about her solo, non-stop race against the clock, hosted by BBC's sailing commentator Richard Simmonds.

Timings are approximate and subject to river/weather conditions on the day:

10.00 am Trimaran navigates up the River Thames up to Tower Bridge from Greenwich*
11.00 am Trimaran approaching Tower Bridge and turning before bridge to head back to Greenwich (the trimaran will NOT pass under Tower Bridge)
12.00 pm Trimaran arrives back at Greenwich to berth at floating pontoon. Ellen to disembark and transfer by RIB to land
12.30 pm Ellen on main stage to speak about her record attempt
12.50 pm Ellen to board Cutty Sark for opportunity to meet B&Q staff
1.30 pm Ellen departs

* The trimaran will arrive at Greenwich on the previous afternoon of Saturday (19.2.05) and will leave Greenwich at 3.00pm on Sunday 20.2.05)

For further information on how to reach Greenwich visit Greenwich


FORECAST FOR THE WEEKEND:

Wrap up warm! Forecast is for sunny spells with wintry showers with a cold north-westerly 15-20 knots of breeze.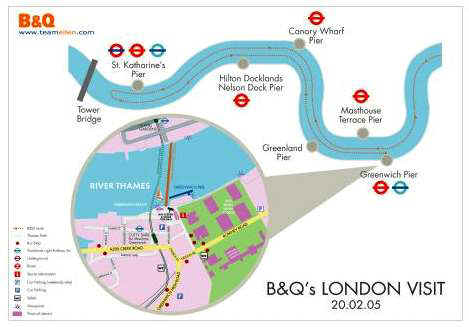 B & Q visit to London - Thames river route
OUTLOOK & TIMINGS FOR LONDON
Friday, 18 February 2005 at 15:52


PROGRESS OF B&Q TRIMARAN AND OUTLOOK FOR WEEKEND

Lots of questions coming in about B&Q's progress and passage of the River Thames with people hoping to catch a glimpse of the trimaran passing by. Ellen is not on board yet! She will be boarding the trimaran on Sunday, 20th February off Greenwich. Back to now and timings of the trimaran's route are hard to predict (subject to weather, tidal effects, etc) - B&Q passed a few miles south of Newhaven earlier this afternoon and below are some estimated times of passing other key landmarks:

19/2 0000hrs S of Dungeness
19/2 0300hrs off Goodwin Sands
19/2 1000hrs S of Southend (likely to be under engine from that point)
19/2 1100hrs off East Tillbury Marshes
19/2 1200hrs off Tillbury Basin
19/2 1300hrs off Erith Reach
19/2 1400hrs through Thames Barrier
19/2 1500hrs off Cutty Sark


---
Four years ago after finishing second in the non-stop solo Vendée Globe race around the world, Ellen MacArthur sailed her 60ft monohull Kingfisher to the UK's capital city to thank everyone for their support.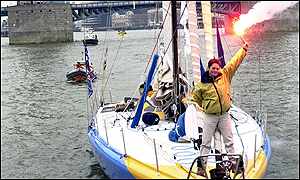 Ellen 4 years ago on the Thames in Kingfisher
KNOT OR K-NOT ON CAPITAL RADIO 18 Feb 2005 - 18:40
Tune into Capital Radio this Saturday and Sunday morning to play the Knot or K-not game! Chance to win a £250 B&Q voucher or the main prize draw of a sail on the 75ft trimaran B&Q. If you are not London based and unable to tune into London's Capital Radio - no problem, listen and play online at http://www.capitalradio.co.uk
OUTLOOK & TIMINGS 18 Feb 2005 - 16:07
Lots of enquiries about how to get to see B&Q on her way to and from London - see full article below that includes approximate timings of her passage to London and timings for the main activities on Sunday, 20.2.05. Remember to click on LIVE DATA to follow B&Q's progress updated on the hour...
B&Q ON IT'S WAY... 18 Feb 2005 - 15:40
B&Q and a delivery crew of 3, is making good speed on its way to Greenwich, at a current boatspeed of 17.31 knots (at 1500). B&Q is now south of Brighton - ETA London tomorrow afternoon. Click on LIVE DATA to follow her progress use the Enlarge key to see the zoomed in map.
B&Q HEADING FOR LONDON 17 Feb 2005 - 18:33
B&Q left Falmouth late yesterday afternoon for her appointment in Greenwich on Sunday (see below) and is now south-east of the Isle of Wight - ETA London tomorrow afternoon. Click on LIVE DATA to follow her progress use the Enlarge key to see the zoomed in map. Live Data also shows boat speed (10.47 knots at 0900) and wind speed (12.6 knots) coming from the north-west. Forecast for weekend is sunny spells, although cold and a brisk 15-20 knot wind from the north-west.
ELLEN TO SHARE WORLD RECORD WITH LONDON 16 Feb 2005 - 14:21
This Sunday, 20th February, Ellen will helm the 75ft trimaran up the River Thames before speaking live on stage next to the Cutty Sark. This special visit to Britain's capital city is in recognition of all the support from well-wishers around the UK. See further information below on how you can get to see the famous orange boat and hear Ellen speak on stage at the Cutty Sark Gardens...
B&Q TRIMARAN TO LEAVE FALMOUTH 16 Feb 2005 - 12:44
The 75ft trimaran B&Q will cast off her mooring lines and depart her berth at Port Pendennis Marina next to the National Maritime Museum Cornwall this afternoon (Thursday 17.2.05). Project Manager, Oli Allard, confirmed that the engine has gone back in and her delivery crew can head to London.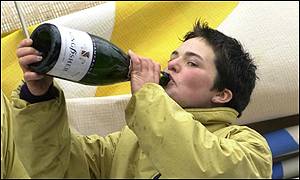 ---
---
Around the world ... in 71 days, 14 hours, 18 minutes
Superb signed Limited Edition Print now available - click picture for details


STORY LINKS:
Thousands gather to greet MacArthur triumph
Britain's ambivalence about Ellen MacArthur
MacArthur home after setting new record
Sailing: MacArthur on verge of history
MacArthur sails into record books
Sailing: Clare Balding: Ellen rules the waves
The Observer Profile: Ellen MacArthur
MacArthur storms her way to date with history
Sailing: Lull ties MacArthur in knots