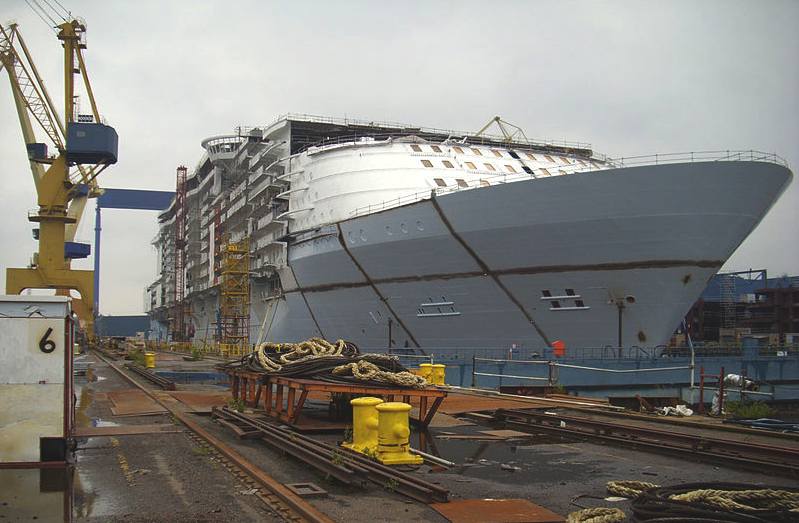 A cruise ship or cruise liner is a passenger ship used for pleasure voyages, where the voyage itself and the ship's amenities are part of the experience, as well as the different destinations along the way. Transportation is not the prime purpose, as cruise ships operate mostly on routes that return passengers to their originating port, so the ports of call are usually in a specified region of a continent. There are even "cruises to nowhere" or "nowhere voyages" where the ship makes 2-3 day round trips without any ports of call.

By contrast, dedicated transport oriented ocean liners do "line voyages" and typically transport passengers from one point to another, rather than on round trips. Traditionally, an ocean liner for the transoceanic trade will be built to a higher standard than a typical cruise ship, including high freeboard and stronger plating to withstand rough seas and adverse conditions encountered in the open ocean, such as the North Atlantic. Ocean liners also usually have larger capacities for fuel, victuals, and other stores for consumption on long voyages, compared to dedicated cruise ships.
Although often luxurious, ocean liners had characteristics that made them unsuitable for cruising, such as high fuel consumption, deep draught that prevented them from entering shallow ports, enclosed weatherproof decks that were not appropriate for tropical weather, and cabins designed to maximize passenger numbers rather than comfort (such as a high proportion of windowless suites). The gradual evolution of passenger ship design from ocean liners to cruise ships has seen passenger cabins shifted from inside the hull to the superstructure with private verandas. The modern cruise ships, while sacrificing qualities of seaworthiness, have added amenities to cater to tourists, and recent vessels have been described as "balcony-laden floating condominiums".

The lines between ocean liners and cruise ships have blurred, particularly with respect to deployment, although the differences in construction remain. Larger cruise ships have also engaged in longer trips such as transocean voyages which may not lead back to the same port for months (longer round trips). Some former ocean liners operate as cruise ships, such as Marco Polo and Mona Lisa. This number is diminishing. The only dedicated transatlantic ocean liner in operation as a liner, as of February 2010, is the Queen Mary 2 of the Cunard fleet. She also has the amenities of contemporary cruise ships and sees significant service on cruises.

Cruising has become a major part of the tourism industry, accounting for U.S.$29.4 billion with over 19 million passengers carried worldwide in 2011. The industry's rapid growth has seen nine or more newly built ships catering to a North American clientele added every year since 2001, as well as others servicing European clientele. Smaller markets, such as the Asia-Pacific region, are generally serviced by older ships. These are displaced by new ships in the high growth areas.

The world's largest cruise ships are Royal Caribbean International's Oasis of the Seas and its sister ship Allure of the Seas.
Operators and cruise lines

Operators of cruise ships are known as cruise lines. Cruise lines have a dual character; they are partly in the transportation business, and partly in the leisure entertainment business, a duality that carries down into the ships themselves, which have both a crew headed by the ship's captain, and a hospitality staff headed by the equivalent of a hotel manager.

Among cruise lines, some are direct descendants of the traditional passenger shipping lines, while others were founded from the 1960s on specifically for cruising. The business is extremely volatile; the ships are massive capital expenditures with very high operating costs, and a slight dip in bookings can easily put a company out of business. Cruise lines frequently sell, renovate, or simply rename their ships just to keep up with travel trends.

A wave of failures and consolidation in the 1990s has led to many lines existing only as "brands" within larger corporations, much as a single automobile company produces several makes of cars. Brands exist partly because of repeat customer loyalty, and also to offer different levels of quality and service. For instance, Carnival Corporation owns both Carnival Cruise Lines, whose former image were vessels that had a reputation as "party ships" for younger travelers, but have become large, modern, and extremely elegant, yet still profitable, and Holland America Line, whose ships cultivate an image of classic elegance. In 2004, Carnival Corporation had merged Cunard's headquarters with that of Princess Cruises in Santa Clarita, California so that administrative, financial and technology services could be combined, ending Cunard's history where it had operated as a standalone company (subsidiary) regardless of parent ownership. However, Cunard did regain some independence in 2009 when its headquarters were moved to Carnival House in Southampton.

Some cruise lines have specialties; for example, Saga Cruises only allows passengers over 50 years old aboard their ships, and Windstar Cruises only operates tall ships. Regent Seven Seas Cruises operates medium-sized vessels—smaller than the "megaships" of Carnival and Royal Caribbean—designed such that 90% of their suites are balconies. Several specialty lines offer "expedition cruising" or only operate small ships, visiting certain destinations such as the Arctic and Antarctica, or the Galápagos Islands.

Currently the five largest cruise line operators in the world are Carnival Corporation & plc, Royal Caribbean Cruises Ltd., Star Cruises (which owns 50% of Norwegian Cruise Line, NCL in its own right is the third largest line), MSC Cruises, and Louis Cruise Lines. Louis Cruises has largerly grown its fleet through purchasing older second- or third-hand ships, while the other four operators have largely constructed their own vessels and combined own the majority of the "megaships".


Crew

Crew is usually hired on three to eleven month contracts which may then be renewed as mutually agreed, which is based upon service ratings from passengers as well as the cyclical nature of the cruise line operator. Most staff work 77 hour workweeks for 10 months continuously followed by 2 months of vacation.

There are no paid vacations or pensions for service, non-management crew, depending on the level of the position and the type of the contract. Non-service and management crew members get paid vacation, medical, retirement options, and can participate in the company's group insurance plan.

The direct salary is low for North American standards , though restaurant staff have considerable earning potential from passenger tips. Crew members do not have any expenses while on board as food and accommodation, and transportation for most employees, are included. This makes a cruise ship career financially attractive enough to compensate for lack of employment benefits.

Living arrangements vary by cruise line, but mostly by shipboard position. In general two employees share a cabin with a shower, commode and a desk with a television set, while senior officers are assigned single cabins. There are a set of facilities for the crew separate from that of passengers, such as mess rooms and bars, recreation rooms, prayer rooms/mosques, and fitness center, with some larger ships even having a crew deck with a swimming pool and hot tubs. On some cruise lines such as Carnival Cruise Lines, certain client-facing staff (entertainers and shopkeepers) have the privilege of eating in the same buffet as passengers, but only on port days.

For the largest cruise operators, most "hotel staff" are hired from under-industrialized countries in Asia, Eastern Europe, the Caribbean, and Central America. While several cruise lines are headquartered in the United States, the ships are registered in countries such as Bahamas, Panama, and Liberia, a practice known as "flags of convenience" to take advantage of less-stringent labour regulations. Collective action is difficult due to staff being from diverse cultural and ethnic backgrounds. The exception to this are the cruise routes around Hawaii, where operators are required to register their ships in the United States and the crew is unionized, so these cruises are typically much more expensive than Caribbean and Mediterranean.


Business model

There are "luxury cruise lines" such as Regent Seven Seas Cruises and Crystal Cruises provide "the most all-inclusive" cruises. Base fare on Regent Seven Seas ships includes most alcoholic beverages onboard ship and most shore excursions in ports of call, as well as all gratuities that would normally be paid to hotel staff on the ship. Fare also includes one night's hotel stay before boarding and airfare to and from the cruise's origin and destination ports.

Most cruise lines since the 2000s have priced the cruising experience, to some extent, a la carte, as passengers spending aboard generates significantly more from ticket sales. The passenger's ticket includes the stateroom accommodation, room service, unlimited meals in the main dining room and buffet, access to shows, and use of pool and gym facilities. However, there are extra charges for alcohol and soft drinks, official cruise photos, Internet and wi-fi access, and specialty restaurants; it has been reported that the casino and photos have high profit margins. Cruise lines earn significantly from selling onshore excursions (keeping 50 percent or more of what passengers spend for these tours) offered by local contractors. In addition, cruise ships earn significant commissions for sales from onshore stores that are promoted on board as "preferred" (as much as 40 percent of gross sales). Facilitating this practice are modern cruise terminals with establishments of duty-free shops inside a perimeter accessible only by passengers and not locals.

Travel to and from the port of departure are the passengers' responsibility, although purchasing a transfer pass from the cruise line for the trip between the airport and cruise terminal will guarantee that the ship will not leave until the passenger is aboard. Similarly, if the passenger books a shore excursion with the cruise line and the tour runs late, the ship is obligated to remain until the passenger returns.


Ship naming

Older cruise ships have had multiple owners. Since each cruise line has its own livery and often a naming theme (for instance, ships of the Holland America Line have names ending in "-dam", e.g. Statendam, and Royal Caribbean's ships' names all end with "of the Seas", e.g. Freedom of the Seas, ships of Cunard Line have the title of "Queen", e.g. RMS Queen Mary 2), it is usual for the transfer of ownership to entail a refitting and a name change. Some ships have had a dozen or more identities.


Cruise ships utilization

Due to slower speed and reduced seaworthiness, as well as being largely introduced after several major wars, cruise ships have never been used as troop transport vessels. By contrast, ocean liners were often seen as the pride of their country and used to rival liners of other nations, and have been requisitioned during both World Wars to transport soldiers and serve as hospital ships.

Cruise ships and former liners often find employment in applications other than those for which they were built. A shortage of hotel accommodation for the 2004 Summer Olympics led to a plan to moor a number of cruise ships in Athens to provide tourist accommodation.

On September 1, 2005, the U.S. Federal Emergency Management Agency (FEMA) contracted three Carnival Cruise Lines vessels (Carnival Fantasy, the former Carnival Holiday, and the Carnival Sensation to house Hurricane Katrina evacuees.

In 2010, in response to the shutdown of UK airspace due to the eruption of Iceland's Eyjafjallajökull volcano, the newly completed Celebrity Eclipse was used to rescue 2000 British tourists stranded in Spain as "an act of goodwill" by the owners. The ship departed from Southampton for Bilbao on April 21, and returned on April 23.


Safety regulations & Security

As most of the passengers on a cruise are affluent and have considerable ransom potential, not to mention a considerable amount of cash and jewellery on board (casino and shops), there have been several high profile pirate attacks on cruise ships, such as on the Seabourn Spirit and MSC Melody.

As a result, cruise ships have implemented various security measures. While most merchant shipping firms have generally avoided arming crew or security guards for reasons of safety, liability and conformity with the laws of the countries where they dock, cruise ships have small arms (usually semi-automatic pistols) stored in a safe accessible only by the captain who distributes them to authorized personnel such as security or the master-at-arms. The ship's high-pressure fire hoses can be used to keep boarders at bay, and often the vessel itself can be maneuvered to ram pirate craft. A recent technology to deter pirates has been the LRAD or sonic cannon which was used in the successful defense of Seabourn Spirit.

Passengers entering the cruise ship are screened by metal detectors. Explosive detection machines used include X-ray machines and explosives trace-detection portal machines (a.k.a. "puffer machines"), to prevent weapons and contraband on board. Security has been considerably tightened since September 11, 2001, such that these measures are similar to airport security.

In addition to security checkpoints, passengers are often given a ship-specific identification card, which must be shown in order to get on or off the ship. This prevents people boarding who are not entitled to do so, and also ensures the ship's crew are aware of who is on the ship.

CCTV cameras are mounted frequently throughout the ship.


Stability

The design of cruise ships has changed dramatically during the past decades. One of the biggest changes has been moving the passenger cabins from inside the hull to the superstructure and adding individual balconies both due to customer demand and because, from a business standpoint, the cruise line can charge passengers much more than for inside staterooms. This has considerably increased the overall height of the ships, making them more susceptible to side wind and waves. As a result, there have been concerns about the stability of modern passenger ships especially in heavy weather because there is much more ship above the surface than beneath it — especially modern cruise ships may appear top-heavy to some.

Despite the large superstructure, the center of gravity of modern cruise ships is relatively low. This is due to large open spaces and the extensive use of aluminium, high-strength steel and other lightweight materials in the upper parts, and the fact that the heaviest components — engines, propellers, fuel tanks and such — are located in the lower parts of the ship. Thus, even though modern cruise ships may appear top-heavy, proper weight distribution ensures they are not. Furthermore, large cruise ships also tend to be very wide, which considerably increases their initial stability by increasing the metacentric height.

Although most passenger ships utilize stabilizers to reduce rolling in heavy weather, they are only used for crew and passenger comfort and do not contribute to the overall intact stability of the vessel. The ships must fulfill all stability requirements even with the stabilizer fins retracted.

For the Oasis-class cruise ships, currently the largest passenger ships ever built, the designers created a wide hull to keep the ship stable without excessively increasing the ship's draft. About 30 feet (9 m) of the ship sits beneath the water, a small percentage of the ship's overall height. Although wide, shallow ships such as the Oasis of the Seas tend to be "snappy", meaning that they have a short rolling period and thus will snap back upright after a wave has passed, this uncomfortable effect is mitigated by the size of the vessel. The cruise ship's officers were pleased with the ship's stability and performance during the transatlantic crossing, when the vessel, in order to allow finishing work to go on, slowed and changed course in the face of winds "almost up to hurricane force" and seas in excess of 40 feet (12 m). Despite this, the Oasis-class vessels have so far operated out of the relatively calm waters of the Caribbean, while only ocean liners such as the RMS Queen Mary 2 have been deployed on transatlantic service.


Safety record

From 2005 to the Costa Concordia disaster in 2012, out of more than 100,000,000 people worldwide who had taken cruises, there had been 16 fatalities.


Infections on cruise ships - Norovirus

Norovirus is the most common cause of gastroenteritis in developed countries and is so widespread that only the common cold is reported more frequently. Symptoms usually last between 1 and 3 days and generally resolve without treatment or long term consequences. The incubation period of the virus averages about 24 hours.

The estimated likelihood of contracting gastroenteritis from any cause on an average 7-day cruise is less than 1%. In 2009, during which more than 13 million people took a cruise, there were nine reported norovirus outbreaks on cruise ships. Outbreak investigations by the U.S. Centers for Disease Control and Prevention have shown that transmission among cruise ship passengers is primarily person-to-person; potable water supplies have not been implicated. In 2009, ships undergoing unannounced inspections in U.S. ports received an average CDC Vessel Sanitation Program score of approximately 97 out of a total possible 100 points. The minimum passing inspection score is 85. Collaboration with the CDC's Vessel Sanitation Program and the development of Outbreak Prevention and Response Plans have helped to generally decrease the incidence of norovirus outbreaks on ships.


Legionnaires' disease

Other pathogens which can colonise pools and spas including those on cruise ships include Legionella, the bacteriium which causes Legionnaires' disease. Legionella, and in particular the most virulent strain, Legionella pneumophila serogroup 1, can cause infections when inhaled as an aerosol or aspirated. Individuals who are immunocompromised and those with pre-existing chronic respiratory and cardiac disease are more susceptible. Legionnaires' has been infrequently associated with cruise ships. The Cruise industry Vessel Sanitation Program has specific public health requirements to control and prevent Legionella.


Environmental impact - Cruise ship pollution

"Cruise ships generate a number of waste streams that can result in discharges to the marine environment, including sewage, graywater, hazardous wastes, oily bilge water, ballast water, and solid waste. They also emit air pollutants to the air and water. These wastes, if not properly treated and disposed of, can be a significant source of pathogens, nutrients, and toxic substances with the potential to threaten human health and damage aquatic life. Cruise ships represent a small — although highly visible — portion of the entire international shipping industry, and the waste streams described here are not unique to cruise ships. Particular types of wastes, such as sewage, graywater, and solid waste, may be of greater concern for cruise ships relative to other seagoing vessels, because of the large numbers of passengers and crew that cruise ships carry and the large volumes of wastes that they produce. Because cruise ships tend to concentrate their activities in specific coastal areas and visit the same ports repeatedly (especially Florida, California, New York, Galveston, Seattle, and the waters of Alaska), their cumulative impact on a local scale could be significant, as can impacts of individual large-volume releases (either accidental or intentional)."

Marine & Boat Insurance Providers Table

| Company | Type of Insurance | Website |
| --- | --- | --- |
| 24 hour dinghy insurance | Dinghy & Sailboard Insurance Immediate insurance premiums displayed by clicking onto the class of craft. | |
| ABG | We've teamed up with Boatinsure.co.uk to provide our clients with a competitive online marine quote: DINGHY, SPEED BOAT, SMALL YACHT, CABIN CRUISER. | |
| Affinity Insurance Brokers | Official Brokers to the Irish Sailing Association. Affinity Insurance Brokers, the premier source for insurance coverage and risk management advice for Ireland's sailing and fishing communities. | |
| Amilcroft | Cargo INSURANCE. Take advantage of capacity and services through the London market and other specialist insurers. Our arrangements include insurers able to write surplus lines in most of North America. | |
| Arden Insurance | Arden Insurance Services are able to arrange cover on all craft from the smallest of dinghies to the largest ocean going vessels. Discounts are also available for: RYA Qualifications, Policy excesses up to 1,000GBP, Craft in Marina Berths, Craft with alarms. Many of our standard policies include: Third Party Liability up to 2,000,000GBP, 12 Months in commission cover, Underwater Machinery Damage, Protected No Claims Bonus, Road Transit Cover, Legal Protection Cover. | |
| Edwards & Associates | We offer marine insurance to cover pleasure boats such as yachts and cabin cruisers, as well as larger private boats. Whether you are looking for personal or commercial marine insurance, we have a large base of insurers who we use to make sure that you get the best possible deal: Personal and Commercial Marine Insurance. | |
| BC-Marine Inurance | Set the right course to solve your Marine Insurance Requirements. Marine Craft Insurance, Legal Protection, Foreign Travel, Boat SalesAccident & Medical, Loss Of Earnings, Marine Finance, Marine Tradesmen, Crew Liability, Instalment Plans, Boat Builders & Repairers, Public Liability, Recovery & Assistance, Product Liability. UK, Ireland, Scotland, Wales & the EU. | |
| Bishops | We have particular expertise in the following: International Marine, Cargo, Inland Goods in Transit, Hauliers Liability, Freight Forwarders Liability. | |
| Alfred Blackmore | Alfred Blackmore Group Ltd UK insurance broker specialising in bloodstock, classic car, construction, financial services, healthcare, international motor, marine, professional indemnity, reinsurance and special accident. | |
| Blythin & Brown | Loughborough brokers provide online quotes for marine insurance, and also offer a full range of financial advice. | |
| | Marine insurance underwritten by Lloyd's of London. Discover what is covered by the policies, read the FAQs, get an online quote or claim online. | |
| | Covers most commercial risks in the following industries: manufacture, motor trade, haulage supply, farms, shops, offices, clubs, pubs, hotels and marine (ONLINE APPLICATION FORM). | |
| Craftinsure | German marine insurer provides boat-insurance services throughout Europe. Select a boat type, get a quick quote, and track a claim. 20% internet purchase discount. | |
| Newton Crum | Dinghy - Narrowboat - Motorboat - Sailboard- Yacht - Marine Insurance. FREE INSURANCE QUOTATIONS no charge or obligation. Dinghy Insurance, Sailboard Insurance, Inland Waterways Insurance, Yacht - Motorboat - Speedboat Insurance, Stolen Boat List. | |
| Engine Breakdown Cover Ltd. | Offers unique insurance policies for marine in-board engines. | |
| Fairmont Insurance Services | Super Yacht Insurance for yachts in excess of $1 Million to over $125 Million. Coverage includes Liability, Loss of Charter, and Crew Personal Accident and Medical. | |
| Lucas Fettes & Partners | Marine Insurance: Hull and accessories of a vessel, passengers and worldwide cargo movements. | |
| Navigators and General | Navigators and General has been at the forefront of yacht and motorboat insurance since 1921 and has been the market leader in this field for over 70 years. Navigators & General is part of the Zurich Financial Services Group and Financial Ombudsman Service, providing policyholders with world-class security. Today, Navigators provides cover for vessels with a total value in excess of £750,000,000. Underwriting insurance for all types of leisure craft, from dinghies to £5,000,000 vessels, has provided us with the breadth of experience to understand even the most individual requirements. | |
| Giles Insurance Brokers | Marine Insurance. Dinghy, Power Boat, Yacht, Cabin Cruiser, Jet Ski, Charter Boat, Commercial Fishing Boat, Yacht Yard | |
| SHW Group | Marine Cargo Insurance. Cover is arranged with specialist insurers and the individual policies are written to suit your business requirements including if required Warehousing for distribution during export or import. | |
| LONHAM GROUP LTD | Freight legal liability for both UK and international domiciled companies. Freight legal liability insurance, Cargo insurance, Charterer's Liability insurance. Delegated authority to deal with claims matters relating to marine insurance. | |
| Mardon Marine Insurance Brokers | boat-insurance.co.uk and yacht-insurance.co.uk are the websites of Mardon Marine and maritime Underwriting Agencies Ltd. (Including Maritime Underwriting Agencies Ltd) | |
| Noble Marine | Noble Marine are specialist insurance brokers dealing with all classes Yacht insurance, rowing insurance, laser class, dinghy insurance, sailboard insurance. | |
| Rob, Perry Marine | Need Insurance? We are agents for one of the most competitive insurance brokers in the country who specialise in marine insurance. | |
| Pendleton May | We operate a scheme for the insurance of yachts, motor boats and small craft. Our expertise, experience and number of clients insuring their boats enables us to provide you with wide cover at competitive cost. Try us by completing our form. | |
| Terra Nova | Terra Nova Protection & Indemnity provides fixed premium P&I cover for the Owner / Manager / Charterers of commercial ships operating in domestic, coastwise or short-sea trades. | |
| Oban Insurance Centre | Read about the insurance schemes covering marine, holidays, business, motoring and agriculture. Offers an online quote system. | |
| B Portwood & Co.Ltd | Marine and boat insurance. On-line insurance rates are provided for dinghies, canoes, sailboards, small craft, inflatables, speedboats, yachts and motorboats for use in the uk and in Western Europe for up to 60 days. | |
| Alexander Brooks & Stevens Ltd | Marine Insurance providers | |
| Graham Sykes Insurance | Graham Sykes Insurance insure a variety of boats. Our polices cover you for use on inland and costal waterways between May and September. Smaller craft usually have to be laid up ashore over the winter months. For larger vessels we can provide cover for them all year round. For the water skiers out there we can usually extend your policy to include liability for towing water skiers. | |
| Craig & Suttar | In most cases we can provide all risks cover including third party liability for you and your craft. Polices cover you for use on inland and costal waterways between May and September. For the waterskiers out there we can usually extend your policy to include liability for towing waterskiers. In some case we can add your boat onto your house contents insurance which is sometimes cheaper. | |
| Tyser (UK) Ltd | Marine and boat Insurance | |
| Yachtsman Marine Insurance Ireland | Yachtsman Marine Insurance Ireland. Sports boats, Yacht cruisers, motor cruisers. We offer yachtsmen an exceptional insurance package at a highly competitive price. We are constantly reviewing our policy wording to provide the most up to date terms and conditions to ensure that our clients have the most appropriate cover. | |
Meeting Your Needs

Offering a range of services to most business sectors the providers below specialise in insurance design, risk placing and risk management for UK and international concerns.

They have considerable experience in the development of solutions for both Marine and Commercial risks. With access to Lloyds of London and a range of ABI registered Insurers they can secure the most competitive premiums and terms. All of the above is a very good reason to click through from us to obtain your online quotation, and it doesn't cost you a penny more to do so.
(A member of the Trans Continental Insurance Services Group)
Lloyd's Insurance Brokers
Fleet operators might reduce insurance costs if their ships have
autonomous capability, which system promises safer seas.