Miss Nickel Eagle is a 3 point hydroplane hull built by Bill van Steenwyk at Festus in Missouri. She used a 180 lb General Electric motor turning at 6,500 rpm to generate 94 horsepower. The electronics division of the Eagle Picher battery company of Joplin, Missouri supplied 152 cells to be series connected for 196 volt supply, weighing some 320lbs.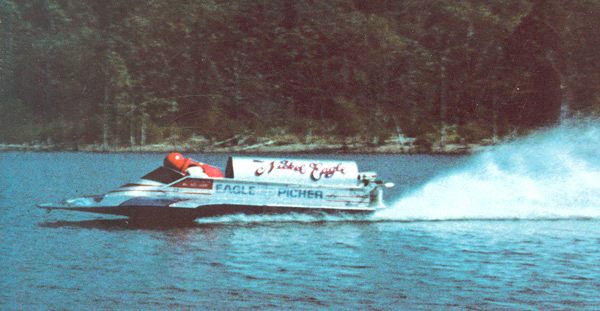 Darryl Goade's Miss Nickel Eagle - Pictures courtesy John Paramore
The battery pack was good for two minutes per charge with a life of 10 charges. When testing the system at Big M Lake, South-West Missouri, the team found the General Electric motor had to rev to 4,000 rpm before achieving a 60% duty cycle from the controller. This meant the motor would never receive 100% of the battery's power. The batteries reached 180 degrees F. so had to be cooled to 90 degrees before they could be charged. This process taking three hours, then another three hours to re-charge to an optimum 1.88 volts per cell.
Fourteen charge cycles were used for trials, meaning the boat went for its record run with batteries well past their prime. This record was never submitted to the world authority, although, the American Power Boat Association were present to time and sanction Miss Nickel Eagle's records. Therefore the record of 45.76 mph set in 1978 remains a national record only.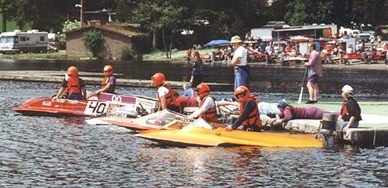 Right to left, Will Paramore, Don Crabtree, Rich Rudman and Steve Cloud
Closed circuit race 1996
When the next team came to race An Stradag to try and beat this record, they realised they should raise this matter with the UIM and in fact the UIM finally created an official class within the sport. An Stradag raised the record to 50.825mph (81.793kph), but this was beaten by Cloud Electric1 in 1995 with a speed of 70.597mph (113.61kph).
BATTERY ELECTRIC WATER SPEED RECORDS

| MPH | Craft | Motor(s) | Pilot(s) | Location | Date |
| --- | --- | --- | --- | --- | --- |
| -- | -- | -- | -- | -- | -- |
| 45.76 | | General Electric 196v | | USA | 1978 |
| 50.83 | An Stradag (spark) | Lynch 48v | | UK | 1989 |
| 55.91 | DeSilva runabout | Prestolite 144v | Norman Boddy | U.S.A. | 1994 |
| 68.09 | | Agni 48v | | UK | 2005 |
| 76.80 | Ringwood | Agni 60v | Helen Loney | UK | 2008 |
| 98.80 | 72v runabout | Prestolite 72v | Michael Bontoft | USA | 2008 |
| 99.00 | | Mercedes electric | AMG | Offshore | 2013 |
SOLAR POWERED WATER SPEED RECORDS
| MPH | Craft | Motor(s) | Pilot(s) | Location | Date |
| --- | --- | --- | --- | --- | --- |
| - | - | - | - | - | - |
| 3.45 | | 140kW total | | | 4 May 2012 |
| - | | Solar | Solar hydrofoil | | August 2019 |