Julia Roberts is one of our favourite lady actors, classy and earthy all at once. Not only that, but her acting is outstanding and she has the looks (not pretty, pretty, but character pretty, smile and lips) and a voice to carry off most parts. That together with her choice of roles and her beliefs, endear her all the more. That said, she looked absolutely stunning in the iconic red dress that made her famous.
Julia was born Julie Fiona Roberts on October 28, 1967. She is an Academy Award-winning American actress and former fashion model, who shot to fame during the early 1990s after starring in the romantic comedy, Pretty Woman, opposite Richard Gere. Since then, Roberts has gone on to become the highest-paid actress in the world, topping the recent Hollywood Reporter's annual power list of top-earning female stars for the second year in a row, and she deserves it.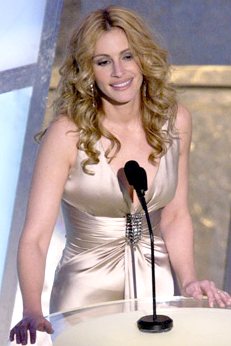 Julia Roberts
This proved that even though she had taken a year off for personal reasons and had not been seen on screen since 2004's Ocean's Twelve, Roberts still had the appeal to remain the reigning Queen of Hollywood. Her impressive film career has also given her the title of most bankable actress in Hollywood, with box office receipts well over $2 billion on the strength of numerous blockbusters such as Pretty Woman, Runaway Bride, and Ocean's Eleven. She won the Best Actress Academy Award in 2001 for her critically praised turn as the title character in Erin Brockovich after two previous nominations during the 1990s. For her fame and wholesome image, she is often referred to as "America's Sweetheart." She is certainly one of my most favorite stars and almost never fails to produce a superb performance and a truly memorable film. Erin Brockvich is probably my favorite, with Pretty Woman following close behind. NK
She was also placed at the pinnacle of the Ulmer Scale, a comprehensive guide to the global star power of actors and directors in independent and studio films created by James Ulmer, ahead of such other luminaries as Tom Cruise and Tom Hanks. This was partly owing to her ability to attract filmgoers solely on the basis of her name's appearance above the title and without the support of a male co-star, something few other actresses are able to do.
Roberts is the first of two actresses (the other is Cameron Diaz) to join the coveted "$20 Million Club", when she signed to do Erin Brockovich for that amount. An unprecedented $25 million was paid to Roberts for her role in 2003's Mona Lisa Smile. As of 2005, Roberts' net worth was over US$250,000,000. She was also the first actress to appear on the cover of Vogue and the first woman to land on the cover of GQ.
Biography
Early life
Julia Roberts was born in Smyrna, Georgia. Her father, Walter Grady Roberts, was an actor and writer of Irish, Scottish, and Welsh extraction on his father's side and English-Scottish descent on his mother's. Roberts's mother, Betty Lou Bredemus, a church secretary and actress, was born in Minneapolis in 1934, daughter of football player Wendell John Bredemus (whose mother was born in Sweden) and Elizabeth Ellen Billingsley.
While Mrs. Roberts was pregnant with Julia, she and her husband ran an acting school for children in Decatur, GA. The children of Martin Luther King, Jr. and Coretta Scott King attended the school. As a thank-you for their service, Mrs. King paid the hospital bill when Mrs. Roberts gave birth to Julie.
Roberts' parents divorced when she was four, and her mother remarried. Her father died of cancer when Roberts was nine. Her elder brother Eric Roberts, from whom she is estranged, is also an actor, as is her niece, Emma Roberts, whom she would often take along on sets when she was younger.
Roberts wanted to be a vet as a child, but soon after graduating from Smyrna's Campbell High School, and attending Georgia State University, she headed to New York to join her sister and pursue a career in acting. Once there, she signed with the Click modeling agency and enrolled in acting classes. She changed her name to "Julia Roberts" when she found that there was already a "Julie Roberts" registered with the Screen Actors Guild.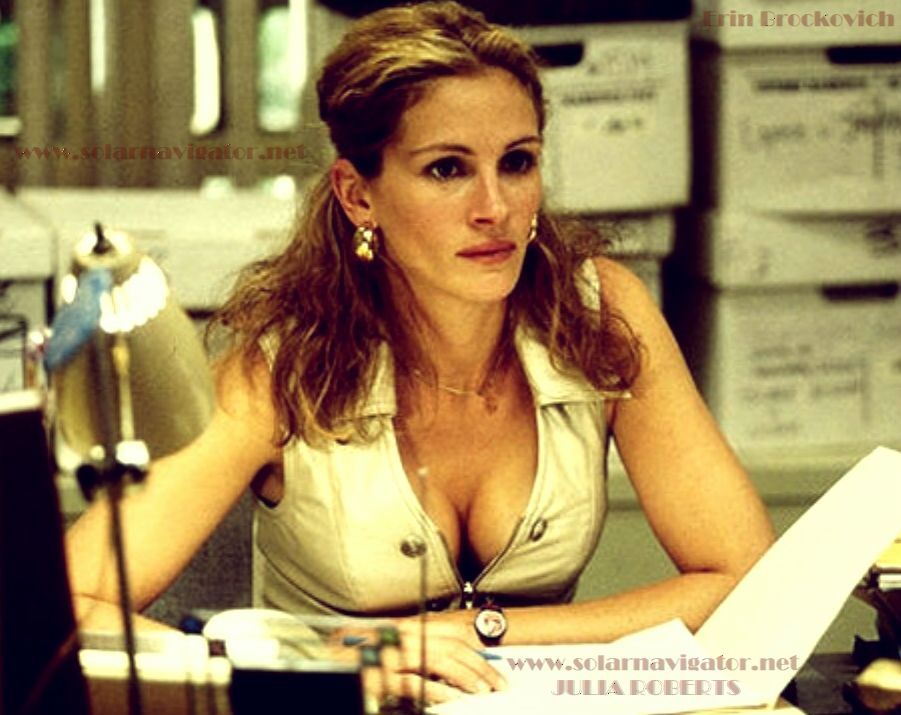 Career
Julia Roberts made her film debut playing a supporting role opposite her brother, Eric, in Blood Red (she gets just two words of dialogue), which, although completed in 1986, was not released until 1989. She once appeared on Sesame Street opposite the character Elmo, demonstrating her ability to change emotions.
Roberts first caught the attention of moviegoers with her performance in the independent film Mystic Pizza in 1988. The following year she was featured in Steel Magnolias as a young bride battling diabetes and garnered her first Oscar nomination (as Best Supporting Actress) for her performance. She catapulted to worldwide fame when she co-starred with Richard Gere in the Cinderella story Pretty Woman in 1990.
The role also earned her a second Oscar nod, this time as Best Actress. Her next box office success was the thriller Sleeping with the Enemy, playing a battered wife who escapes her demented husband and starts a new life in Iowa. She played Tinkerbell in Steven Spielberg's Hook in 1991, which was followed by a two-year period of no acting roles other than a cameo appearance in Robert Altman's The Player (1992). In early 1993, she was the subject of a People magazine cover story asking, "What Happened to Julia Roberts?"
She starred alongside Liam Neeson in the 1996 film Michael Collins Later that year, she co-starred with Denzel Washington in the successful The Pelican Brief, based on the John Grisham novel. Over the next few years, she starred in a series of films that were critical and commercial failures, primarily because she was cast in roles that strayed too far from her film persona. She broke her losing streak with the hugely popular comedy My Best Friend's Wedding (1997), and eventually regained her earlier reputation as an actress who could open a movie and guarantee box office success. She also starred with Hugh Grant in the popular 1999 film Notting Hill.
In 2001, she won critical acclaim and finally received a Best Actress Oscar for her portrayal of Erin Brockovich, who helped wage a successful lawsuit against energy giant Pacific Gas & Electric. Her acceptance speech was one of the longest in Oscar history and became fodder for late-night comedians. At the same time, Roberts' win created a mild uproar in the film community because she had beaten out Ellen Burstyn's wrenching portrayal of Sara Goldfarb in Requiem for a Dream. Roberts' win over Burstyn is frequently cited as an example of the Academy's tendency to award popularity over artistic merit. Subsequently, Roberts would team up with Erin Brockovich director Steven Soderbergh for three more films: Ocean's Eleven, Full Frontal, and Ocean's Twelve.
Roberts recently enjoyed her broadway debut as Nan in "Three Days of Rain" opposite Bradley Cooper, and television star, Paul Rudd, at the Bernard B. Jacobs Theatre. Although the play grossed nearly one million dollars in ticket sales its first week out and continued to be a commercial success throughout its limited run, most critics have heavily criticized Roberts' performance and the play itself. Even New York Times' critic Ben Brantly, a self proclaimed 'Juliaholic', described her as being fraught with "self-consciousness (especially in the first act) [and] only glancingly acquainted with the two characters she plays." Three Days of Rain received two Tony Award nominations in stage design categories but took home neither prize. Julia Roberts did, however, receive a Broadway.com audience award (a minor theatrical prize) for her peformance.
As of January 2006, Roberts' films have grossed 2.09 billion dollars at the American Box Office making her the biggest female movie star in history.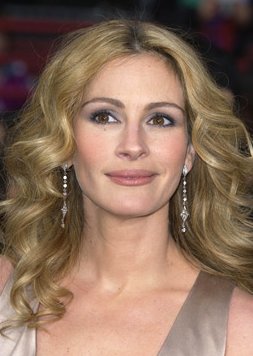 Julia Roberts - wow
Personal life
Roberts' personal life has often been in the spotlight, a fact reflected in her Notting Hill, a romantic comedy about a famous actress falling for a bookstore owner played by Hugh Grant. Her character, Anna Scott, was said to be closely modeled on Roberts herself. (When asked in one scene how much she was paid to appear in a movie, Scott replies "fifteen million dollars" — precisely the amount Roberts had received to appear in the film.)
Roberts was engaged to actor Kiefer Sutherland, whom she met on the set of Flatliners in 1991, but ended the relationship just days before the wedding. Roberts went to Europe with Jason Patric after she and Sutherland broke up. She later eloped with country and western singer Lyle Lovett shortly after meeting him. The ceremony was notable for the fact that she was barefoot. They divorced in 1995, owing to their respective career demands, but they remain friends. Roberts also briefly dated Friends star Matthew Perry and actor Daniel Day-Lewis. For a time, she lived with actor Liam Neeson, and she dated Benjamin Bratt from 1998 to 2001.
Roberts met her husband, cameraman Daniel Moder, on the set of her movie The Mexican in 2000. He was already married to Vera Steimberg Moder, but they eventually divorced. Roberts and Moder were married on July 4, 2002, at her ranch in Taos, New Mexico. Together, they have three children: twins Hazel Patricia Moder and Phinnaeus "Finn" Walter Moder (born November 28, 2004) and Henry Daniel Moder (born June 18, 2007).
Roberts bought a penthouse in Manhattan's Gramercy Park neighborhood. She reportedly loves to shop anonymously, buying her own organic greens on weekends at the market in nearby Union Square. She and her family divide their time between their homes in New York City, Malibu, California, and their 50-acre retreat in Taos.
She is reportedly a fan of the long-running soap opera Days of our Lives. She loves to knit, often knitting between takes on movie sets.
Roberts has a production company called Red Om Films ("Moder" spelled backwards; formerly "Shoelace Productions") and has given of her time and resources to UNICEF as well as to other charitable organizations. She has made trips to Haiti, India, and other countries, promoting peace, goodwill, and help for others in need. In July 2006, Earth Biofuels announced that Roberts became a spokesperson for the company and will chair the company's newly formed Advisory Board promoting the use of renewable fuels such as biodiesel and ethanol.
She has been named one of People magazine's "50 Most Beautiful People in the World" a record-setting ten times. She maintains a close friendship with actress-activist Susan Sarandon.
LATEST
Beliefs

Roberts disclosed in a 2010 interview for Elle magazine that she believes in and practices Hinduism.
Roberts is a devotee of Neem Karoli Baba (Maharaj-ji). A picture of Neem Karoli Baba drew Roberts to Hinduism.

Charities

Roberts has given her time and resources to UNICEF as well as to other charitable organizations. On May 10, 1995, Roberts arrived in Port-au-Prince, as she said, "to educate myself". The poverty she found was overwhelming. "My heart is just bursting", she said. UNICEF officials hoped that her six-day visit would trigger an outburst of giving: $10 million in aid was sought at the time.

In 2000, Roberts narrated Silent Angels, a documentary about Rett syndrome, a neurodevelopmental disorder, which was shot in Los Angeles, Baltimore and New York. The documentary was designed to help raise public awareness about the disease. In July 2006, Earth Biofuels announced Roberts as a spokeswoman for the company and as chair of the company's newly formed Advisory Board promoting the use of renewable fuels.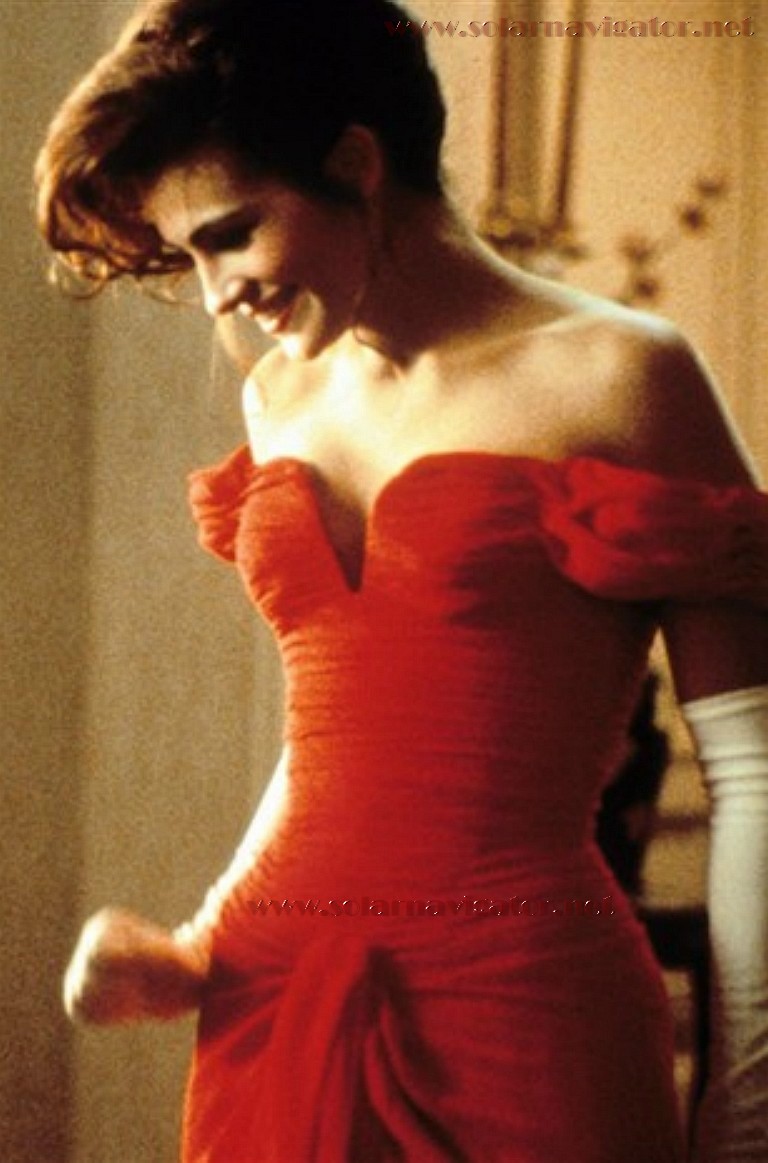 Filmography
2008

Lisa Waechter

2009

Claire Stenwick

Nominated—Golden Globe Award

2010

Kate

Nominated—People's Choice Award

2010

2011

Mercedes Tainot

2012

2012

Barbara Fordham

2012

Emma Brookner
Actress - filmography
(In Production) (2000s) (1990s) (1980s)
Julia Roberts (I) has 3 in-development credits available on IMDbPro.com.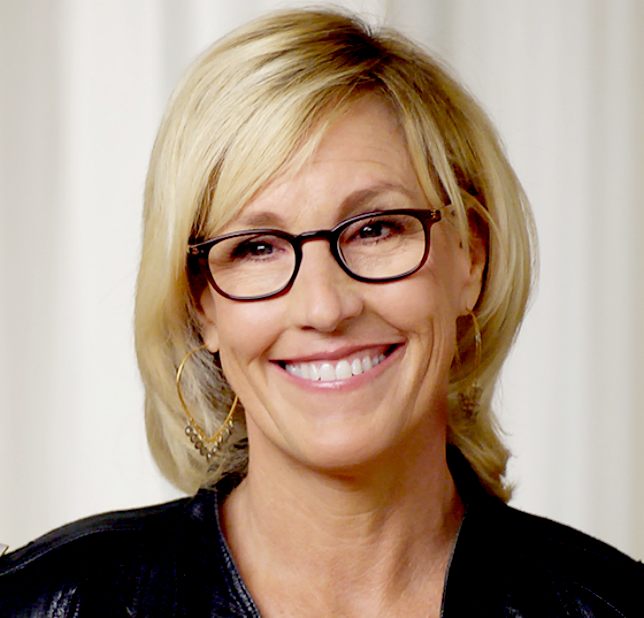 ERIN BROKOVICK - Brockovich's work in bringing litigation against Pacific Gas and Electric is the focus of the 2000 feature film, Erin Brockovich, starring Julia Roberts in the title role. The film was nominated for five Academy Awards: Best Actress in a Leading Role, Best Actor in a Supporting Role, Best Director, Best Picture, and Best Writing in a Screenplay Written Directly for the Screen. Roberts won the Academy Award for Best Actress for her portrayal of Erin Brockovich. Erin Brockovich herself had a cameo role as a waitress named Julia R.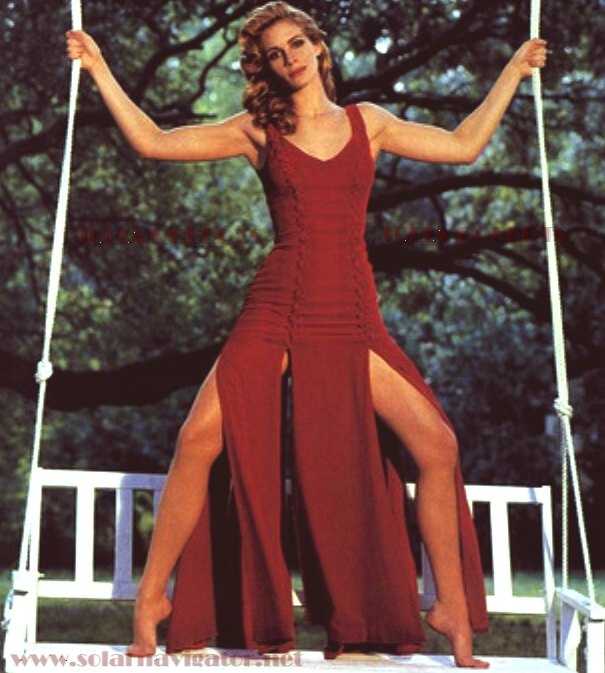 Filmography as: Actress, Producer, Miscellaneous Crew, Self, Archive Footage
Producer - filmography
(In Production) (2000s) (1990s)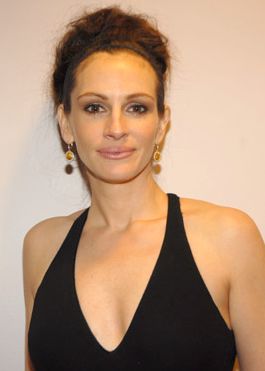 Julia Roberts dressed to kill
Filmography as: Actress, Producer, Miscellaneous Crew, Self, Archive Footage
Miscellaneous Crew - filmography
Dr. Jekyll and Mr. Hyde: A Legacy of Fear (1996) (TV) (special thanks)

Dead Man Walking (1995) (special thanks)


Filmography as: Actress, Producer, Miscellaneous Crew, Self, Archive Footage
Self - filmography
(In Production) (2000s) (1990s)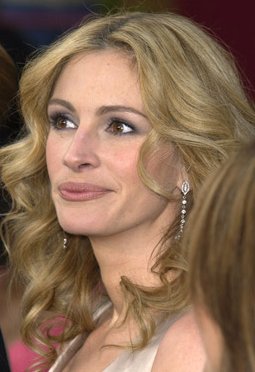 Julia Roberts with that Erin Brockovich look
Filmography as: Actress, Producer, Miscellaneous Crew, Self, Archive Footage
Awards
Awards won
1990: Golden Globe for Best Supporting Actress in a Motion Picture Steel Magnolias

1991: Golden Globe for Best Actress in a Comedy/Musical Pretty Woman

1991: ShoWest Female Star of the Year

1991: People's Choice Award for Favourite Motion Picture Actress

1992: People's Choice Award for Favourite Comedy Motion Picture Actress and Favourite Dramatic Motion Picture Actress

1994: National Board of Review Award for Best Acting by an Ensemble Pret-a-Porter

1994: People's Choice Award for Favourite Dramatic Motion Picture Actress

1997: Hasty Pudding Theatricals for Woman of the Year

1998: Blockbluster Entertainment Award for Favourite Actress - Comedy My Best Friend's Wedding and Favourite Actress - Suspense Conspiracy Theory

1998: ShoWest Award for International Star of the Year

1998: People's Choice Award for Favourite Motion Picture Actress

1999: Blockbluster Entertainment Award for Favourite Actress- Drama Stepmom

2000: People's Choice Award for Favourite Motion Picture Actress

2001: People's Choice Award for Favourite Motion Picture Actress

2001: American Museum of the Moving Image Honoree Award

2001: Academy Award, BAFTA, Golden Globe, National Board of Review, Critic's Choice Award, Blockbuster Entertainment Award, London's Critic's Circle Film Award, Los Angeles Film Critic's Association Award, MTV Movie Award, San Diego Film Critic's Society Award, Teen Choice Award and Screen Actors Guild for Best Actress in Erin Brockovich

2002: People's Choice Award for Favourite Motion Picture Actress

2003: People's Choice Award for Favourite Motion Picture Actress

2004: National Board of Review Award for Best Acting by an Ensemble Closer

2004: People's Choice Award for Favourite Motion Picture Actress

2005: People's Choice Award for Favourite Female Movie Star
Awards nominated
1989: Independent Spirit Award for Best Supporting Actress in Mystic Pizza

1989: Young Artist Awards for Best Young Actress in a MOtion Picture- Drama Mystic Pizza

1989: Academy Award for Best Supporting Actress in Steel Magnolias

1990: Academy Awards and BAFTA for Best Actress in Pretty Woman

1991: Academy of Science Fiction, Fantasy &Horror Films Saturn Award for Best Supporting Actress Flatliners

1992: Academy of Science Fiction, Fantasy & Horror Films Saturn Award for Best Actress Sleeping with the Enemy

1992: MTV Movie Award for Best Female Performance and Most Desirable Female Dying Young

1994: MTV Movie Award for Best Female Performane The Pelican Brief

1997: Golden Globe for Best Actress in a Comedy/Musical My Best Friend's Wedding

1998: MTV Movie Award for Best Female Performane and Golden Satellite Award for Best Performance by an Actress in a Motion Picture- Comedy or Musical My Best Friend's Wedding

1999: Golden Globe for 'Best Actress in a Comedy/Musical Notting Hill

1999: Emmy Award for Outstanding Guest Actress in a Drama Series Law & Order

1999: Kid's Choice Awards Blimp Award for Favourite Movie Actress Stepmom

2000: Blockbuster Entertainment Award for Favourite Actress- Comedy/Romance Notting Hill and Runaway Bride,Csapnivalo Awards Golden Slate Best Female Performance and MTV Movie Award for Best Female Performance Runaway Bride

2000: Kid's Choice Awards Blimp Award for Favourite Movie Actress Notting Hill and Runaway Bride and Blimp Award for Favourite Movie Couple Notting Hill

2000: Golden Satellite Award for Best Performance by an Actress in a Moition Picture-Comedy or Musical Notting Hill

2001: Chicago Film Critic's Association, Las Vegas Film Critics Society Sierra Award, Online Film Critics Society, Golden Satellite Award-Drama and Empire Awards (UK) for Best Actress Erin Brockovich and MTV Movie Award for Best Line from a Movie Erin Brockovich

2001: Teen's Choice Award for Film-Choice Chemistry The Mexican

2002: PhoenixFilm Critics Society Award for Best Acting Ensemble Ocean's Eleven

2005: Broadcast Film Critics Association Award for Best Cast Ensemble Closer and Ocean's Twelve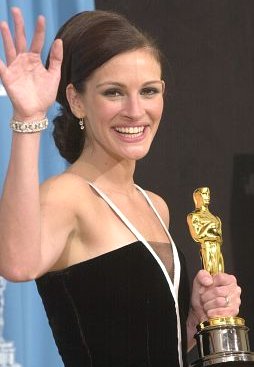 Julia Roberts wins an Oscar
| | |
| --- | --- |
| Pretty Woman - Youtube | Erin Brokovich - Youtube |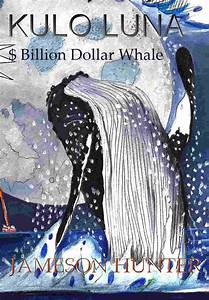 KULO-LUNA - heartwarming adventure: pirate whalers V conservationists
due for release in 2017 as an e-book, with a film production
planned for 2018 - TBA