English schoolgirl sues Scottish council over 'racist bullying' -
13th October 2006
A girl who was claims she was subjected to anti-English abuse at her school on a remote Scottish island is planning to sue a local council for failing to protect her from the bullies.
Sophie Parks, 17, suffered cuts and bruises and had to be admitted to hospital following physical and mental abuse from fellow pupils on the Isle of Lewis in the Outer Hebrides.
Her family claims she was repeatedly beaten up and called an "English bitch" by a gang of girls during her time at the Nicolson Institute in Stornoway.
They say the bullying got so bad that the teenager had contemplated suicide and was forced to leave the island and go and live with her grandparents in Sheffield.
Now they hope to bring a civil case against Western Isles Council for not doing more to protect the youngster during her time at the school.
Today, the teenager's mother, Sally, said they wanted to prevent anyone else suffering such treatment. "It was awful, it was mob-handed, it was just disgraceful," she said.
"Sophie has got bruised kidneys because of the bullying and it has also affected her emotionally. We just don't want to see this happen to anyone else."
Glasgow solicitor Cameron Fyfe today confirmed he had taken a statement from Sophie and added that they were waiting for the outcome of another case before deciding whether to take legal action.
Schoolgirl Natalie King is suing Aberdeen City Council for £20,000 over its alleged failure to protect her from bullies.
Her case is due to call in January, and, if she wins, it could pave the way for around 25 more of Mr Fyfe's cases, including that of Sophie, to be heard in court.
Ms Parks, 46, a cleaner, said Sophie was initially happy after they moved to Lewis from Derbyshire in 2003. "It was great, she had a pony, she had friends, everything was good," she added.
But she said when the teenager, then 15, entered her third year at the institute, things began to change. "Sophie was not withdrawn, but she was snappy and I didn't know what was wrong.
"One day she turned round to me and said 'How would you like to be smashed in the face?"'
Last August Sophie decided to leave the island, and is now studying at college in Chesterfield, near Sheffield. "It was so painful the day Sophie left, she was so distraught that the plane could not take off straight away," said her mother.
Ms Parks added that she had contacted the school on numerous occasions about the bullying, but she was not satisfied with its response. "If was as if they were taking it as a personal insult," she said.
"The children responsible just appeared to be getting a slap on the hand."
---
F.A.C.T. (Falsely Accused Carers and Teachers)
PO Box 3074
Cardiff CF3 3WZ
Tel: 029 2077 7499
E-mail: info@factuk.org
Website: www.factuk.org
Campaigning organisation and support group which provides help and advice to falsely accused and wrongly convicted carers and teachers throughout the UK. The website contains a range of information, leaflets, books and links.
Guidance for education staff and volunteers in schools
Website: www.lg-employers.gov.uk/conditions/education/allegations
This website has guidance on: 1) staff facing an allegation of abuse; 2) preventing 'abuse of trust' for education staff; and 3) the conduct of education staff working with young people.
SOME PROMINENT CASES:
---
LINKS and REFERENCE
Bankston, Carl L. and Caldas, Stephen J., Family Structure, Schoolmates, and Racial Inequalities in School Achievement, Journal of Marriage and the Family 60:3 (1998), 715-723.
Hilton, J., Desrochers, S.,Devall, E. Comparison of Role Demands, Relationships, and Child Functioning is Single-Mother, Single-Father, and Intact Families. Journal of Divorce and Remarriage ,35(?) 29-56.
Mulkey, L.; Crain, R; Harrington, A.M. One-Parent Households and Achievement: Economic and Behavioral Explanations of a Small Effect. Sociology of Education, 1992, 65, 1, Jan, 48-65
Pong, Suet-ling The School Compositional Effect of Single Parenthood on 10th Grade Achievement, Sociology of Education 71:1 (1998), 23-42.
Quinlan, Robert J. Father absence, parental care, and female reproductive development. Evolution and Human Behavior, Volume 24, Issue 6, November 2003, Pages 376-390
Richards, Leslie N.; Schmiege, Cynthia J. Family Relations, Vol. 42, No. 3, Family Diversity. (Jul., 1993), pp. 277-285.
Risman, Barbara J., and Park, Kyung. (1988). Just The Two of Us: Parent-Child Relationships in Single-Parent Homes. Journal of Marriage and the Family, 1988, 50, 4, Nov, 1049.
Sacks, G. (September 4, 2005) "Boys without fathers is not a logical new idea." Arkansas Democrat-Gazette (Little Rock, Arkansas)
States News Service. (2005 July 20). "America's Children: Family Structure and Children's Well-Being

*Quotes taken from Neale B and Wade A (2000) 'Parent problems! Children's views on life when parents split up', Young Voice/Nuffield.
NATIONAL COUNCIL FOR ONE PARENT FAMILIES
Registered charity no: 230750

Email web@oneparentfamilies.org.uk.
---
Disclaimer:

Some of the views expressed on this website are those of individual contributors and do not necessarily represent the views of SN. All content is for general information only and is not intended to replace professional advice of any kind. SN is not responsible or liable for any actions taken by a user of this site. SN is not liable for the contents of any external sites listed, nor does it endorse any advice, products or services mentioned on these sites.
HUMANS:
AIDS - HIV

Bladder

Blood

Bones

Death

Diet

Digestion

Disease

Drugs -

Exercise

Fantasies - Schoolgirl

Gestation

Hair

Hate

Hearing

Heart

IVF Artificial Fertilisation

Joints

Kidneys

Liver

Lungs

Memory

Muscles

Nails

Reproduction

Sight

Sleep

Smell

Skeleton

Skin

Stress

Veins
| | |
| --- | --- |
| SIMPLE LIFE FORMS | As in Amoeba, plankton (phyla: protozoa) |
| ECHINODERMS | As in Starfish (phyla: Echinodermata) |
| ANNELIDS | As in Earthworms (phyla: Annelida) |
| MOLLUSKS | Such as octopus (phyla: Mollusca) |
| ARTHROPODS | Crabs, spiders, insects (phyla: Arthropoda) |
| CRUSTACEANS | such as crabs (subphyla: Crustacea) |
| ARACHNIDS | Spiders (class: Arachnida) |
| | Ants (subphyla: Uniramia class: Insecta) |
| | Sharks, Tuna (group: Pisces) |
| | Such as frogs (class: Amphibia) |
| | As in Crocodiles, Snakes (class: Reptilia) |
| | Such as Eagles, Crow (class: Aves) |
| | Tyranosaurus Rex, Brontosaurus (Extinct) |
| | Warm blooded animals (class: Mammalia) |
| MARSUPIALS | Such as Kangaroos (order: Marsupialia) |
| PRIMATES | Gorillas, Chimpanzees (order: Primates) |
| RODENTS | such as Rats, Mice (order: Rodentia) |
| CETACEANS | |
| ANTHROPOLOGY | Neanderthals, Homo Erectus (Extinct) |
| HUMANS - MAN | Homo Sapiens THE BRAIN |
| | Which includes PLANTS non- animal life |
---
A taste for adventure capitalists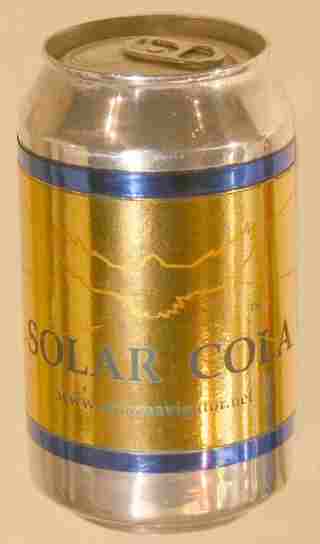 Solar Cola - the healthier cola alternative