Wilhelmina the Whale is rapidly taking shape. The sails are now ready and she is equipped with a stay sail and a kite. The stay sail may be used for promotional purposes as in the picture below, the 4Paz logo to be replaced with your logo.
Wilhelmina is equipped with a solar panel to power her electric outboard, for which a sponsor is sought. The team are hopeful that May will see this amazing cetacean at sea for her first trials.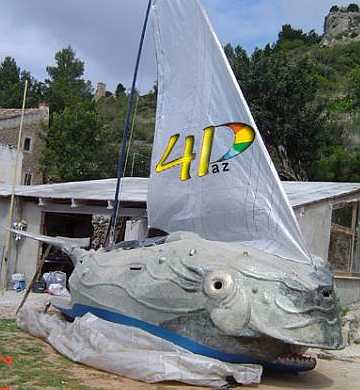 Wilhelmina the solar electric Whale
This extraordinary craft will be available for charter: trips, shows and other marine events, supplied complete with a skipper. It is hoped a lady skipper might also play the part of Paida, the Greek Goddess of play and amusement, where appropriate. If you think this could be you, please contact Irene, below.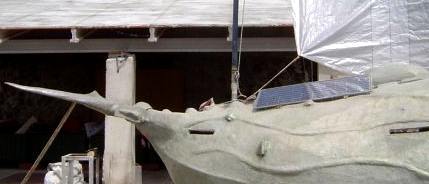 Solar panel on Wilhelmina's back
Banner space is also available on Wilhelmina's website, on which a link to customers' sites would compliment any event.
If you are planning an exhibition or trade show and need something interesting and environmentally friendly to compliment your products or services, why not give 4 Paz a call.
---
CONTACTS:
Irene Moekotte Secretary & PR coordinator 4 Paz.
Tecnico cyberlifeboat project, Espana - www ecofrogs.org
---
(NOTE: Paidia, like most of Aphrodite's attendants, is not mentioned in any surviving classical literature. She is, however, frequently depicted amongst the divine attendants of Aphrodite in ancient vase painting. Triton play-nymph, sailor, diver, animal friend and of course open and friendly to people.)