After opening up the market for beer in cans, attention was directed by the can companies to another area of great potential sales, the canning of soft drinks. The technical problems in canning soda was similar to those of canning beer. The product was, however, more acidic, and the pressures of the carbonation in soft drinks was somewhat greater.
Continental Can Company was the first to break into the new market. In 1938, the Clicquot Club Company of Mills, Massachusetts agreed to fill 100,000 cases of Continental's low profile cone top can with ginger ale. Leakage, and flavor absorption problems of the wax applied over the liner halted active consideration of soda in cans for several years.
Ring pull can end
After World War II ended, the can companies again focused their attentions on the use of cans for soda beverages. With an improved liner, and a stronger can, Continental Can received an approval from Pepsi-Cola in 1948 to test their cola in a cone top can.
In 1949, Cantrell & Cochrane Corp, teamed up with Continental to begin marketing a multi flavor line in a cone top can. Resistance to the use of the can for soft drinks began to crumble by the early 1950's, and in 1953 with the removal of Korean War price controls, the market was ready for the can.
The cone top can as well as the punch top can both began a steady advance on the bottle market to win the pocketbooks of the soda drinking consumer. The can companies, while doing well with the small fry in the soda industry, needed a break-through with one of the major bottlers, and of course Coca-Cola was the ultimate prize.
Coca-Cola had taken a look at cone top cans before World War II, but had not shown much interest in the product. When Royal Crown began to nibble at Coca-Cola's market share with a major promotions of its product in punch top cans, Coca-Cola's resistance to cans lessened. "You may be able to put Coke in a can but what comes out isn't Coca-Cola. It's a soft drink, non-toxic, but with a flavor that's as far removed from Coca-Cola as ginger ale is from India Ale" (Business Week, February 12, 1955).
The non-returnable can as a container for Coca-Cola was not completely overlooked by management in the transition from wartime economy in the early 1950's, but they saw many problems with its use and were noticeably apprehensive about public acceptance. Life-styles were undergoing a radical change due in large part to the magic of television and the desire for more leisure time activities. What's now referred to as the "Package Revolution" also was gathering strength during this era, so with two-thirds of all soft drinks destined for the take-home market, Coca-Cola made its move to cans.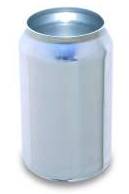 Blank can ready to accept end for sealing
The move was a crawl, not a rush. In 1955, through the Coca-Cola Export Corporation, Coke was put in cans for shipment to Japan and throughout the Pacific for consumption by our military personnel. Next, cans were tested in steel plants in Gary, Indiana, and to railroads, steamship companies, and air lines. In September 1959, Coca-Cola launched domestic market tests for canned product in five cities along the eastern seaboard and on the west coast.
The company was still not without mis-givings about canning Coca-Cola. The taste was there... but so was the taste of steel. They also thought that only a few of their bottlers would be able to afford their own canning lines. In a business week article appearing on May 21, 1960 a company official was quoted as saying, "Some of our bottlers don't want cans and we have no intention of forcing anybody to take them".
But, the tide was turning in the direction of canned soft drinks. The public enjoyed the convenience and buyers appreciated the handling advantage of the product in cans. Competition was also aware of the new package. Royal Crown had become the largest canner of soft drinks by 1960, and some of the smaller beverage companies were capitalizing on drinks in cans and clamoring for a bigger share of the soft drink market.
Coca-Cola's independent bottlers finally stopped wondering about cans and started using them. The largest franchised Coca-Cola bottler in the East, Norfolk, Virginia, set up its own canning operation in 1960. In 1962, the Los Angeles bottler became the first Coca-Cola bottler to promote in a "Major Way" the sale of Coke in 12 ounce cans. In 1966, the company announced a completely new design called "Harlequin" (Small Diamond) for all one way packaging of Coca-Cola. Store tests had confirmed that the new design on cans was more quickly recognized in retail shelves than competitive can brands.
Introduction of the new can style brought with it a new degree of enthusiasm for the canned product as shown in an excerpt from "The Cola Call Bottler", June 1966: "In view of the summer sales season coming up for soft drinks in cans, the Coca-Cola Company has provided bottlers a plan guide for a special summer can sales program. It contains ideas to help expand distribution and conduct promotional effort on behalf of all of our products in cans."
"To back up this emphasis on cans, a strong national magazine schedule is being launched. An upbeat magazine add will deliver 34,000,000 consumer impressions in 11 magazines." By 1957, fifteen million cases of canned soda beverages were sold, with production limited to approximately 40 brands. In 1960, there were 68 can-filling lines across the country, producing 820 million punch or flat top cans, mostly the 12 ounce size.
Approximately 2.4 billion gallons of carbonated beverages was sold in cans in 1979 which amounted to 38% by volume of all soft drinks produced, and the can, just another innovative package for soft drinks, had made its mark. The cone top can which had started the rise of the metallic container for soda beverages to a lofty position in the industry began loosing ground to the punch top can. As demand grew for soft drinks in cans, filling speed became an important factor.
In light of the changing markets, Continental Can Company, the last major producer of cone top cans, decided to halt promotion and production of the can shaped like a bottle in the late 1950's. Thus ended an interesting and exciting era in soft drink history, and began an interesting and exciting era for soda memorabilia collectors.
---
Solar Cola sponsor this website
We are looking for distributors in America, Australia, Canada, Europe, and Japan. The state of the Cola market globally and in the UK is ripe for a fresh quality brand, with excellent potential for growth. According to ResearchandMarkets.com the UK drinks market is worth an estimated £53.5 billion, representing a 7% share of total consumer spending. The global soft drinks market is roughly the same percentage of total consumer spending for developed countries.
Prospective investors in our company should consult their own independent investment advisers, and please note this information is provided for general guidance only. It is not a prospectus, but is provided in response to the number of requests we have received asking for more information
For all trade enquiries please contact: Nelson Kruschandl at:
Solar Cola UK or Solar Cola Exports
United Kingdom
+ 44 (0) 1323 831727
+44 (0) 7905 147709
---