New Year's Eve is December 31, the final day of the Gregorian year, and the day before New Year's Day,
New Year's Eve is a separate observance from the observance of New Year's Day. In 21st-century Western practice, the celebration involves partying until the moment of the transition of the year at midnight. Drinking champagne is also a major part of the festivities, as is making a wish or resolving to change your lifestyle or ambitions.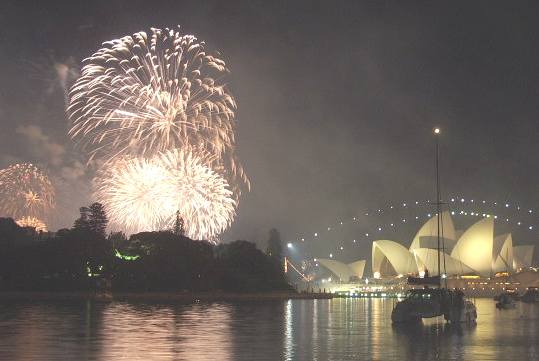 Sydney (after Auckland, New Zealand) is the second major
city to celebrate the New Year due to its time zone
Within many cultures the use of fireworks and other noise making is a major part of the celebration in cities such as Berlin, New York City, Sydney, London, Paris, Rio de Janeiro, Toronto, and Tokyo.
New Year's Eve is a public non-working holiday in the following countries, among others: France, Australia, Argentina, Brazil, Mexico, Greece, New Zealand, the Philippines, and Venezuela.
Localized celebrations
Australia
With crowds of well over 1.2 million people, Sydney has arguably the second largest New Year celebrations worldwide, after Rio de Janeiro (which attracts over 2 million people on Copacabana Beach; New York and London both average crowds between 800,000 and 1,000,000) benefiting from the harbour city's warm summer weather and spectacular natural amphitheatre. New Zealand is the first country to welcome to the new year, as it lies between the Australian time zone and the International Date Line. Sydney is therefore the second major city in the world to celebrate the new year.
Over 80,000 fireworks are traditionally set off from the Sydney Harbour Bridge and four other firing points covering 6 km along Sydney Harbour. The event can be seen from a 16 km radius around Sydney and attracts an average of 300,000 international tourists each year. The Harbour of Lights Parade adds to the attraction as cruise boats covered in fairy lights cruise the centre of the harbour all night. These vessels have the prime position for the evening. Sydney has recently been acknowledged by numerous media sources as having the world's best New Year celebrations, topping the list of cities such as New York City, Edinburgh, Paris, and London. In 2005, the New Year's Eve creators delivered their most spectacular fireworks yet: a gigantic heart with two rings around it, pulsing on the bridge. It had lights built behind it so it seemed to radiate. It was the first NYE to have the bridge effect revealed at the 9pm fireworks. Up to 12am, another ring was added every hour.
The Heart of the Harbour was a pyrotechnical feat of amazement. The bridge continued the traditional "golden waterfall" which usually gushes off the side of the bridge but looked like it was rolling off it. The soundtrack which is made by the Sydney council, makes the fireworks be "moulded" around the music. A brilliant vocal send off was the finale, and after the 12am fireworks, the smallest heart beat feebly, but quickly, as though from a massive high it had witnessed. Already for 2006, the council have set up the NYE website, which now features a ticker of how many seconds are left until 2007. The theme for this year is "A Diamond Night In Emerald City." The theme relating to Sydney, the Emerald City, and the Diamond being the focuspoint. It has been released that the 9pm fireworks will be boosted so the kids (which it is used for) can have more fun. The Sydney Harbour Bridge turns 75 in 2007, which makes NYE 2006 so much more special with A Diamond Night In Emerald City. Already, the creators are building a gigantic coathanger on the bridge. "The Coathanger" is the nickname for the Harbour Bridge.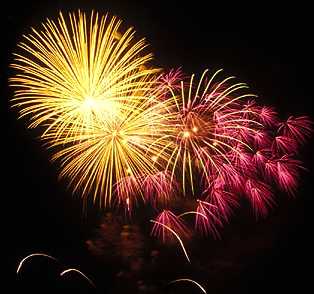 Hong Kong
In Hong Kong people usually gather in Central, Causeway Bay and Tsim Sha Tsui harbourfront to see the lightworks on the skyscrapers along the harbour and to count down to the New Year at spots like Times Square and Ocean Terminal.
United States
In the United States, New Year's Eve is a major social holiday. In the past 100 years the 'ball dropping' on top of One Times Square in New York City, broadcast to all of America, is a major component of the New Year celebration. The 1,070-pound, 6-foot-diameter Waterford crystal ball (on the right) located high above Times Square is lowered, starting at 23:59:00 and reaching the bottom of its tower at the stroke of midnight (00:00:00). It is sometimes referred to as "the big apple" like the city itself; the custom derives from the time signal that used to be given at noon in harbors. From 1982 to 1988, New York City dropped an enlarged apple in recognition of its nickname. Since 1972, Dick Clark has hosted televised coverage of the event called Dick Clark's New Year's Rockin Eve, shown on the ABC network. For about four decades Guy Lombardo and his Royal Canadians serenaded the United States from the ballroom of the Waldorf-Astoria Hotel on Park Avenue in New York City. The song Auld Lang Syne has become a popular song to sing at midnight on New Year's Eve. African American communities have a tradition of New Year's Eve being known as "Watch Night". Prior to emancipation, slaves would gather for socializing and religious worship on December 31st, January 1st being a day when slaveholders would reckon accounts and settle debts, which sometimes involved selling slaves, hence separating spouses, family members, and friends, creating the desire to gather one last time. During the Civil War, Watch Night took on a new meaning. The Emancipation Proclamation was scheduled to take effect on January 1st,1863. Black people both slave and free spent the night of December 31st, 1862 in homes and houses of worship, to offer prayers of praise and gratitude for freedom, and to celebrate the joyous occasion. This tradition of gathering for worship continues unto this day.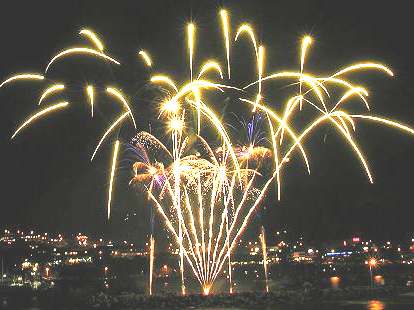 Local Celebrations
Now, many cities in America have their own local version of the celebration, even while keeping an eye on New York, and the New York-centric aspect of the holiday is diminishing. Many cities, echoing the New York tradition of ball drop, also descend or lower an object (or an enlarged representation of an object), usually one of local significance. There are also examples of things going up. In Seattle the countdown is done by raising the Space Needle's elevator and launching fireworks up the side of the tower until both reach the top at midnight.
New Years Eve is a great opportunity for musicians and entertainers to perform because of the huge demand for entertainment on New Year's. In Sacramento, California the entire first floor of the Hilton Hotel, Arden West is taken up by a New Year's Eve party that features two bands, a DJ, and Casino gaming (for fun and prizes), and a balloon drop. The DJ is also a musician. He sings and plays saxophone, trumpet, and trombone.
New Year's Eve is a major event in Las Vegas, Nevada, where Las Vegas Boulevard is shut down as several hundred thousand people party. In New Orleans, Louisiana, another of the most popular New Year celebration venues in North America, similar crowds of hundreds of thousands gather in the French Quarter, particularly on Bourbon and Canal Streets, to celebrate the New Year.
Many cities also celebrate First Night, a non-alcoholic New Year's Celebration, generally featuring performing artists, community events, parades, and fireworks displays. A similar celebration is Providence, RI's Bright Night Providence, an artist run arts celebration that started when Providence's First Night went bankrupt in 2003.
Injuries and Deaths Caused by Random Gunfire and Unapproved Fireworks Use
In several areas of the U.S., particularly major urban areas, New Year celebrations are punctuated by random celebratory gunfire, causing injuries and deaths. Police departments in many areas, aided by gun safety organizations, have attempted to crack down on this practice through technology and enhanced penalties.
A New Year's Eve tradition in Hawaii and other areas is the uncondoned use of fireworks by local residents. Local governments have begun to severely limit this practice in recent years for numerous reasons, including its effect on people with breathing problems, thrill-seeking but dangerous twists on fireworks use (e.g. hanging fireworks from power lines), and unintended fires. Legislation approved by the Hawaii State Legislature has implemented a system of permits for fireworks use, yet this system is still frequently circumvented by locals.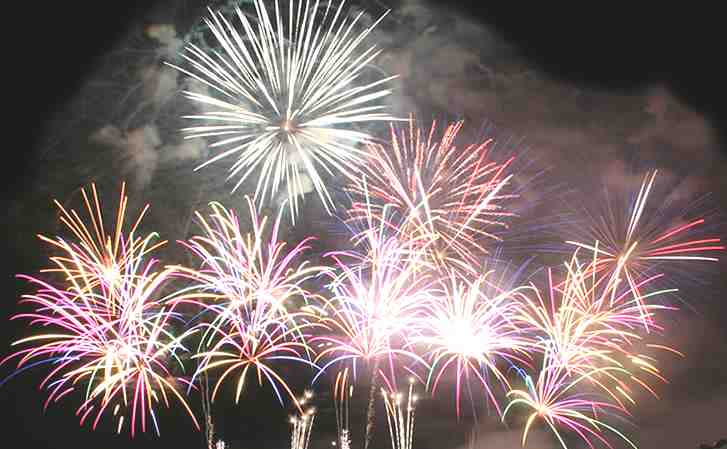 United Kingdom
England celebrates the New Year by either waiting for Big Ben, or another clock to strike midnight while enjoying the party. Usually, the partygoers will countdown the last ten seconds, by shouting out the numbers from "Ten!" and then as simultaneously Big Ben chimes and zero is reached, shout "Happy New Year!" instead of zero. Amusingly, the countdown is sometimes miscalculated and "One!" is repeated until Big Ben chimes. The chimes are usually accompanied by fireworks.
There are also major celebrations across Scotland where it is known as Hogmanay. The traditional song Auld Lang Syne was written by Robert Burns, a Scots poet. There are large street parties held in the major cities and Edinburgh and Glasgow are particularly renowned for their celebrations. The Edinburgh Hogmanay Street Party is attended by people from all over the world, thanks to its outstanding reputation.
London's celebrations are the most covered. Since the construction of the London Eye, it has been the centre-point of a huge ten-minute fireworks display each year, illuminated with coloured lasers. At the start of 2005, fireworks were launched from the wheel itself for the first time.
Spain
Spanish New Year's Eve (Nochevieja, or Fin de Año) celebrations usually begin with a family dinner, traditionally including shrimps and lamb or turkey. The actual countdown is primarily followed from the clock on top of the Casa de Correos building in Puerta del Sol square in Madrid. It is traditional to eat 12 grapes, one on each chime of the clock. This tradition has its origins in 1909, when grape growers in Alicante thought of it as a way to cut down on the large production surplus they had had that year. Nowadays, the tradition is followed by almost every Spaniard, and the 12 grapes have become synonymous with the New Year. After the clock has finished striking twelve, people greet each other and toast with sparkling wine such as cava or champagne, or alternatively with cider.
After the family dinner and the grapes, many young people attend New Year parties at pubs, discotheques and similar places (these parties are called cotillones de nochevieja, after the Spanish word cotillón, which refers to party supplies like confetti, party blowers, party hats, etc.). Parties usually last till the next morning and range from small, personal celebrations at local bars to huge parties with guests numbering the thousands at hotel convention rooms. Early next morning, party goers usually gather to have the traditional breakfast of chocolate con churros (hot chocolate and fried pastry).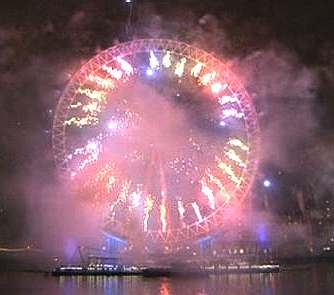 France
The French call New Year's Eve la Saint-Sylvestre. It is usually celebrated with a feast called le Réveillon de Saint-Sylvestre. This feast customarily includes special dishes and drinks like champagne and foie gras. The celebration can be a simple, intimate dinner with friends and family or a much fancier ball (une soirée dansante).
On le Jour de l'An (New Year's Day), friends and family exchange New Year's resolutions and sometimes gifts.
The holiday period ends on January 6, Epiphany. On this day, they traditionally enjoy a type of cake which varies depending on where you are in France.
Ecuador
During the celebration of Año Viejo, Ecuadorean citizens burn anthropomorphic figures made of wood, newspapers, and rags, which are then stuffed with fireworks. These figures, known also as Año Viejo, represent symbolically the detritus of the old year and are generally references to noteworthy events during the past year. Often these have included hated political figures, pop-culture references, etc.
CUSTOMS, TRADITIONS and MYTHOLOGY
ZOMBIES
LINKS
Australia's Most Comprehensive New Years Eve website: http://www.NewYearsParty.com.au

Duchesne, Louis (1889). Les origines du culte chrétien: Etude sur la liturgie latine avant Charlemagne (in French, translated to English 1903).

Talley, Thomas J (1986). The Origins of the Liturgical Year. New York: Pueblo Publishing Company.

Murray, Alexander, "Medieval Christmas", History Today, Volume: 36 Issue:, pp. 31 - 39.

Durston, Chris, "Lords of Misrule: The Puritan War on Christmas 1642-60", History Today, Volume: 35 Issue: 12, December 1985, pp. 7 - 14.

Rowell, Geoffrey, "Dickens and the Construction of Christmas", History Today, Volume: 43 Issue: 12, December 1993, pp. 17 - 24.

Tchilingirian, Hratch. Armenian Christmas. Why Armenians Celebrate Christmas on January 6th?.

St. Nicholas of Myra. Catholic Encyclopedia. (1998).

Lynch v. Donnelly. (1984).

(December 1993). "The Deadweight Loss of Christmas". American Economic Review 83 (5).

(2001). "Is Santa a deadweight loss?". The Economist

"Christmas" (1913). The Catholic Encyclopedia.
This article incorporates text from the public-domain Catholic Encyclopedia.

"Christmas" (1975). The New Columbia Encyclopedia. New York and London: Columbia University Press.

Heindel, Max (1920). The Mystical Interpretation of Christmas. ISBN 0-911274-65-0.

Raise your expectations for a safer future ......
....... The World in Your Hands
330ml alu Earth Can