John Rhodes Cobb (December 2, 1899 - September 29, 1952) was a British racing motorist. He made money as a director of fur brokers Anning, Chadwick and Kiver and could afford to specialise in large capacity motor racing. He was born and lived in Esher, Surrey, near the Brooklands race track.
Design excellence: John Cobb's Railton-Mobil Special achieved 394.196 mph using two supercharged Napier Lion aero engines housed in a neutral teardrop body. Power was 1,250 hp @ 3,600 rpm per engine - the car weighed 3 tons. It is thought this car inspired Ken Norris and indeed Ken once mentioned to the BE3 designer, that research into what had gone before was an essential part of developing a modern LSR vehicle.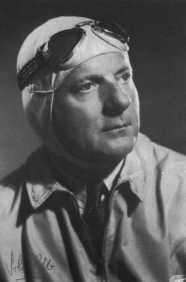 John Cobb - 1900-1952
You could be forgiven for thinking the lightweight alluminium body shown above was that of the Bluebird cn7, however, it is being lifted from the the Railton-Mobil Special, revealing smaller wheels. The car was designed by Reid A Railton who previously designed cars for Parry Thomas and Malcolm Campbell.
He held the ultimate lap record at the track driving the 24 litre Napier Railton at an average speed of 143.44 mph achieved on 7th October 1935. Driving the piston engined, wheel driven Railton Special he broke the Land Speed Record on August 23, 1939 at a speed of 350.20 m.p.h. Without this being beaten he raised the record to 394.19 m.p.h. in 1947.
The record was unbeaten until 1963 when it was narrowly surpassed by Craig Breedlove in the jet powered Spirit of America. During World War II he served as a pilot in the Royal Air Force and between 1943 and 1945 in the Air Transport Auxiliary. He reached the rank of Group Captain. He died attempting to improve the water speed record at Loch Ness in the jet speedboat Crusader at a speed in excess of 200 mph. There is a memorial to him erected by the people of Glenurquhart. He is buried at Christ Church, Esher.
The petrol engine lost the wheel driven record to the jet powered Bluebird cn7, but shortly after the Summers brothers raised the record above that of the cn7's 403.1 mph to 409.277 mph using 4 V8 petrol engines, in Goldenrod.

Teardrop bodyform of the Railton Mobil Special
On the 29th of September 1952, John Cobb made an attempt at the world water-speed record on Loch Ness. The boat he was to use in his world record attempt was built by Vospers Ltd., was based at Temple Pier, Drumnadrochit and was called 'Crusader'. He was attempting the double, he already held the world land speed record at over 390 mph. Loch Ness was chosen because of it's length and straightness. Because Loch Ness has a prevailing southwesterly wind this would be one of the deciding factors on which day to make the attempt. The water would need to be flat calm in order to reach high speed without hazard. The distance Cobb had to cover to gain the official record was 1 statute mile but in both directions and an average speed being calculated for both runs. The run had been measured and marked by two large milestones, one on either side of the Loch, and can still be viewed today. The timekeepers where to be supplied by the M.M.A. (Motor Marine Association).
'Crusader's' jet engine was tested many times on the run up to the official attempt, the same engine fitted to the 'Comet' jet airliner, a De Havilland Ghost which produced a 5000 lb static thrust, who's ear shattering whine could be heard reverberating around the Glen. The construction of Cobb's 31 ft long speedboat was of aluminium and marine ply making it a light,dynamic vehicle.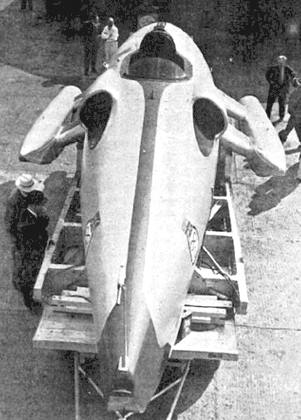 John Cobb's Crusader jet powered WSR boat
For a number of weeks Cobb gradually pushed Crusader ever closer to the record during test runs and was quietly confident of victory. The world media by this time was beginning to assemble hoping to witness history in the making and the 'Glen's' population was agog with excitement. As each day dawned the anticipation for perfect conditions was overwhelming, this particularly affected the local school children who wanted to be present when the attempt took place. Mr Cobb's press officer, Mr Angus Barr, asked the public to refrain from boating on the Loch during calm weather so 'Crusader' could be tested safely.
On Friday 5th September Cobb held two speed trials, on both occasions the boat handled well. The second trial was faster than the first. 140 mph for the second trial and 20 mph slower on the first. Then 'Crusader' was lifted out of the water for a 48 hr inspection. Friday 12th September. 'Crusader' back on the loch, did a double run between Drumnadrochit and Invermoriston. Cobb was confident he had beaten the world record in the run to Invermoriston. The record was held by an American, Mr Stanley Sayres, at 178.4 mph.

By the 16th of September the equipment used by the timekeepers to measure 'Crusader's' speed over the measured mile was in position in the area where the attempt was to be made. By this time patience was wearing thin, time ticked by waiting for the right conditions.
Tuesday 23rd September. Before 8am in the morning 'Crusader' was lowered into the water and Cobb took her for another trial run. Shortly after 8am he shot forward to the run in to the measured mile. A side wind blew her slightly off course. After that false start he was towed back and she streaked off on the measured mile once again reaching over 180 mph. The official timing for that trial was announced later by Lt. Commander Bray of the M.M.A., 185.57 mph for the outward trip and 161.71 mph on the return giving an average of 173.14 mph. An attempt was to be made on Friday the 26th of September for the official record but had to be postponed because it was reported that flood water from the River Garry was bringing driftwood i.e. tree trunks into the loch.
When the morning of the 29th arrived conditions were far from perfect, slight ripples on the surface of the water .By almost 9.30 am conditions had worsened, then events took a turn for the better in that surface conditions had improved dramatically. At 11.25 am 'Crusader' was again put in the water at Temple Pier and the official observers boat 'Maureen' set off to land the timekeepers at the Drumnadrochit end of the Loch. The 'Maureen' had reported the timekeeper were ashore at 11.50 am. At 11.55 am 'Crusader's' engine was started and she catapulted out at an angle from Urquhart Bay. Cobb came round to his starting point and revved his engine up to full power. 'Crusader' rose in the water and the attempt was under way, the time was almost 12 noon.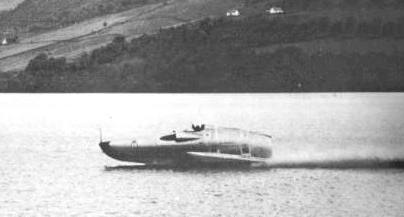 John Cobb and Crusader on Loch Ness
With a slight burst of spray in front and a trail of white foam behind she skimmed over the course and reached the second marker. As 'Crusader' reached 200 mph eyewitness accounts say she was hardly touching the water when she came out of the measured mile. Then 'Crusader' started to decelerate to make the second run but hit a wave causing her to bounce twice, she recovered for a second but the next moment the horrified spectators saw the boat plunge in a whirl of spray and foam, flaked with flying wreckage. There was no audible explosion but the boat gave the appearance of bursting apart. Hopes for Cobb's safety was roused when the yellow light attached to his safety apparatus bobbed to the surface. The 'Maureen' made her way to the floating debris and lowered a small boat which reported Cobb had been found. The news brought an immediate call over the radio for a doctor and ambulance, but later it became clear Cobb was dead, probably killed instantly.

His body was taken by fast motor boat to Temple Pier where a large silent crowd waited for news. As the report of his death grew from a rumour to a certainty the spectators left and Temple Pier lay deserted. The disaster had been watched by Mrs Cobb from a point above the measured mile. Later she was driven back to Inverness and at 4 pm left by car for London.

Mr Cobb's body was taken to the Royal Northern Infirmary, Inverness where a postmortem examination was carried out. Wednesday 1st October. Thousands of people lined the streets of Inverness to bid farewell to John Cobb, as the hearse left the Royal Northern Infirmary heading for Surrey.
The timekeeper's log stated that before the disaster Cobb was travelling at 206.89 mph, this is the fastest time ever recorded over water but cannot count as a record as the attempt must be made over two runs in opposite directions. The record holder, Stanley Sayres fastest speed for a one way run was 185.57 mph. Cobb's manager said "What John did was to be the first man to travel in water at over 200 mph".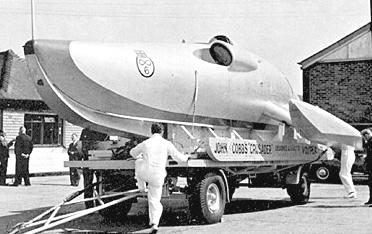 Crusader in transit
"Of records and record breakers, I would remind you that speed is relative to time. What we consider slow now, was unthinkable in years gone by. However, each time a contender goes out onto the field of battle, he or she faces the same hurdles, the same fears and financial challenges as those before us, and most importantly of all, has to muster themselves to boiling point make it all happen. In the end, players will either triumph or fail, but in doing so, show others where to, and where not to tread. All too often players pay the ultimate price. Whether they raise Man's technical mastery up another notch or not, history should remember every last one of them - for they were players." (Nelson Kruschandl December 2005)
Nelson Kruschandl
LINKS :
Hydroplanes and Racing:
Hydrofest
Hyrdroplane & Raceboat Musuem
International Hydrofoil Society -- the First 25 Years by Bob Johnston
A Brief History of PLAINVIEW (AGEH-1) by John R. Meyer, Jr.
PCH-1 HIGH POINT history by Bill Ellsworth and archived correspondence
History of the PHM -- Patrol Combatant (Missile) Hydrofoil 1973 to 1993 by George Jenkins (please be patient with the blank white screen you see in Microsoft Explorer browser while this Adobe Acrobat file loads and opens... it takes time due to color photo on the first page).
Mr. Smith's Amazing Sailboats. Author of The 40-Knot Sailboat, Bernard Smith was working for the US Navy at China Lake in the 1950s when he began designing hydrofoil sailboats and making models of them. His first full size craft was built in 1959 after he had moved on to Newport RI. By 1962 he had a well-functioning craft, which was dubbed LITTLE MERRIMAC as sort of a response to Gordon Baker's MONITOR.
In Memory of Ed Butler -- Rememberances by Dottie Butler and John Adams
In Memory of Bob Johnston -- the eulogy by his son David, and the tribute by Bill Ellsworth
The Drama of the Hanning-Lee WHITE HAWK
The Intriguing Story of George Meinas
Rostislav Yevgenievich Alekseev (Link 2) (Link 3) (Rev 040120wnw)
Chief of Naval Operation (CNO)'s First Hydrofoil Ride by Bob Johnston
The CIGAR by Bob Johnston & Jean Buhler
The Gordon Baker Story by Bob Johnston... also Posted Messages About MONITOR
In Memory of Baron Hanns von Schertel
Helmut Kock, A Hydrofoil Designer and Builder by Helmut Kock
ALBATROSS I and the Commercial Hydrofoil Era in America
Rodriquez Cantieri Navali's History by Dott. Ing. Leopoldo Rodriquez
A Hydrofoil Evening with Paulette Goddard
The Rise and Fall of Miami Shipbuilding by Bob Johnston
Canada's Fast Hydrofoil Escort FHE 400 HMCS BRAS D'OR On Display by Phil Yarnall and John Meyer***
In Memory of Robert K. Ripley, Jr.
Up-Right Hydrofoil Kits, by Tom Lang (Includes hard-earned advice for adding hydrofoils to motorboats)
Rich Miller's Hydrofoil Sailboard
Charles R. Denison and HS DENISON by John R. Meyer, Jr.
Supramar PT Series Hydrofoils by John R. Meyer, Jr.
German Navy Proves Hydrofoils Unfit For Peace or War