20 January 2008
By the breathtaking margin of two weeks, or 20 per cent, Francis Joyon has reclaimed from Ellen MacArthur the record for the fastest dash around the planet by one person under sail.
Joyon, aboard his 98ft fire-engine red trimaran Idec, passed the Ushant start/finish line at 2339 GMT on Saturday night to set a time for the 26,000-mile circumnavigation of 57 days 13 hrs 34mins, slashing 14 days and 44mins off MacArthur's record on B&Q.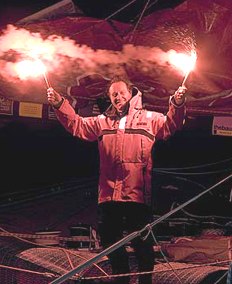 Francis at the finish line, flares ablaze
"It couldn't have gone to anyone better," said MacArthur, welcoming Joyon back from his voyage. "It's just huge." Joyon was cheered into Brest yesterday morning after a quiet night aboard Idec with his shore team. As the only two people to have circumnavigated non-stop in a multihull, the Briton joined the 51-year-old Breton on stage. "Going after her record was a very tough challenge," said Joyon. "I'd never have dreamt of taking two weeks off her record."
The 20 per cent margin is impressive on two counts. Nigel Irens, British co-designer of Idec, says that during the design stage, his computer velocity predictions were showing only a three per cent performance improvement by Idec over the 75ft B&Q.
Taking out the single-handed factor, only one sailing boat of any size and or number of crew has sailed faster than Joyon: Bruno Peyron's 125ft catamaran Orange, with a 13-man crew, hustled round the world in 50 days 16hrs.
Like Joyon, Irens is modest about his achievement, yet his three trimarans created specifically for record-setting have been bull's-eye performers. First B&Q, in which MacArthur snatched Joyon's original record; now Idec. And although Thomas Coville's Sodebo, a similar-sized tri to Idec, retired recently to Cape Town after hitting ice in Coville's record attempt, she had already set a new 24-hour solo world record of 619 miles.
"These are very rare people," said Irens of his skippers. "You simply do not come across their like in ordinary life." Quite apart from Joyon's fathomless resolve and skill as a seaman, his is a resolutely idiosyncratic approach. He built Idec for much less money than Coville's Sodebo, using resin infusion construction methods more common in mass-produced boats than racing machines, and a simple rig. He also eschewed complex, power-hungry communications equipment. In place of a big satcom dome, for example, Joyon made do with a simple Iridium hand phone.
"He was bargain-basement in the tools he used and it looks like the guy was right," said Irens. "He's re-written the rules."
In her own tribute, MacArthur added: "I really had to give everything I had to beat his 2004 record. Today he betters mine by 14 days. Amazing seamanship, ideal weather and a faster boat are the key factors, but above all I cannot express how much respect I have for the man."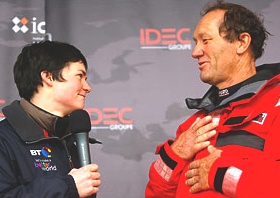 Ellen MacArthur greets Francis Joyon
ELLEN MacArthur said she has not ruled out trying to reclaim her title of fastest-ever sailor to compete a solo non-stop circumnavigation of the world after it was beaten by French yachtsman Francis Joyon.
records are set to be broken," Dame Ellen said just hours after her greatest rival regained his title by completing the journey in 57 days, 13 hours, 34 minutes and 6 seconds following an arduous journey of 21,600 nautical miles – knocking 14 days off her 2005 record.
After welcoming Francis Joyon into Brest, Dame Ellen MacArthur ranked his "awesome" achievement as one of the greatest feats in sailing history. Then, with a twinkle in her eye and steel in her voice, she said it was possible to go under 55 days.
"I think it is possible to get it below 55 with the bigger boats," MacArthur said. MacArthur had done her arithmetic before Joyon had departed at the end of November and expected her record to be significantly improved.
"I thought it would go by over ten days, I said that," MacArthur said. "So many things can come into the equation, but with average weather and a bigger boat you'll go faster, which is why I knew he'd break the record as long as he didn't break the boat."
Where does this end? Will MacArthur come back with a 115ft boat, does the future hold 200ft multihulls? "It depends what the human being is capable of dealing with," she said. "Because the boats get bigger, but the human machine running them doesn't change size."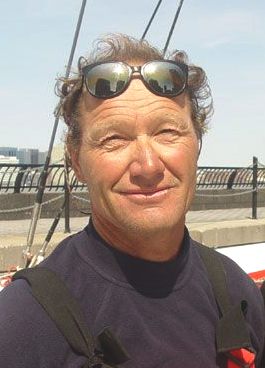 MacArthur did not sound remotely chippy as she analysed Joyon's feat, but just provided the perspective of one who knows what it takes. "Judging from my average speeds I could easily have taken a week off my record," she said. "I was five days ahead at Cape Horn and I could quite easily have picked up two days in the South Atlantic if I had had good wind."
Is she hungry to get her record back? "It's not about having it back. It's not [a case of] 'he's got it, you've got it,' " she said. "But it creates another opportunity to have another go."
MacArthur, 31, sounds like someone planning her next attempt on the record but insists a tilt at the 2012 Vendée Globe is likely to be her next big venture.
The memories, good and terrifying, came flooding back to MacArthur while she watched Joyon. She is one of the few people on the planet who knows where he has been mentally and physically. She ranks this record as the hardest feat in yachting. "Yes, I think it is," she said. "You can't describe how stressful it is sailing a boat that fast for that long.
"The Vendée is hard, stressful and competitive and you're tired, but you don't have the same mental drain as this. In the Vendée there are times when you can take it easy, whereas in a multihull if you get things wrong you will flip, that's the reality you're living with the whole time."
Her final word? "I think he's [Joyon] had a very similar experience to me, but obviously [it has lasted] two weeks less," she said, laughing.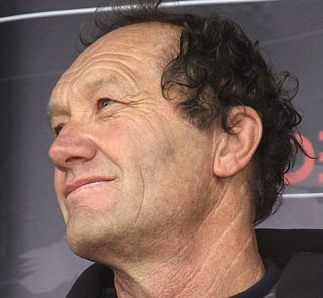 WORLD RECORDS - Fastest non-stop solo multihull records
1 Francis Joyon Idec, 2008 - 57days 13hrs 34mins.

2 Ellen MacArthur B &Q, 2005 - 71d 14h 18m.

3 Francis Joyon Idec, 2004 - 72d 22h 54m.
LINKS and REFERENCE
New energy drinks for great performers
.. Thirst for Life
330ml Earth can - the World in Your Hands