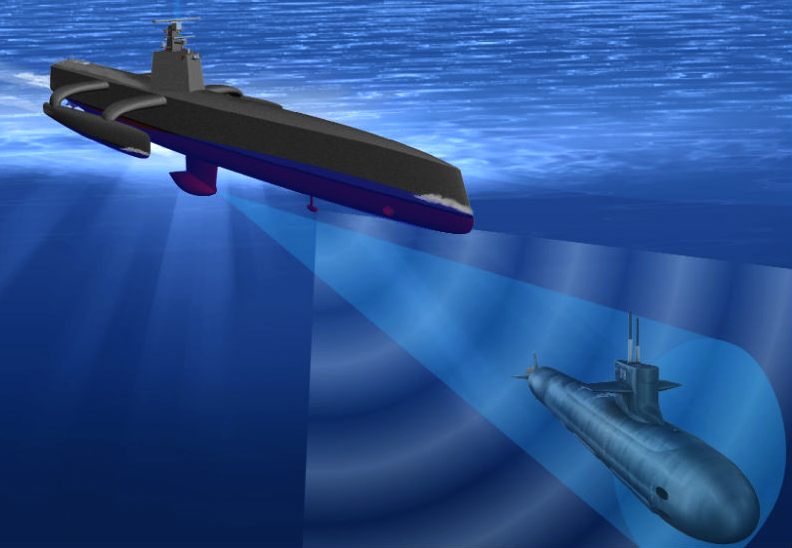 NOVEMBER 22 2012
Washington: Have you heard of unmanned drone submarines that can patrol the oceans? The US Department of Defense is creating such submarines that will navigate the oceans, tracking and following enemy subs for months at a time, Russian news agency RIA Novosti reported.

The Defense Advanced Research Projects Agency (DARPA), which is responsible for developing new military technologies, started the project because "the growing number of adversaries able to build and operate quiet diesel electric submarines is a national security threat that affects US and friendly naval operations around the world", according to a statement on the DARPA website.

Normally, anti-submarine warfare has been conducted by US Navy captains at the helm of ships, but humans will never board these drones, also known as a "Continuous Trail Autonomous Vessels", according to Discovery News.

The subs will be able to patrol the US coastline for up to 80 days at a time covering thousands of kilometres using non-conventional sensor technologies that "achieve robust continuous track of the quietest submarine targets over their entire operating envelope", DARPA stated on its website.
The vessel's main task will be to patrol the waters for enemy submarines and then chase them away if located.

The sub will also gather information deemed necessary by the US government, which will then be sent to US naval commanders up above on land, according to Discovery News.

The only time humans are needed to operate the unarmed drones will be to navigate the robot subs through crowded harbours.

In August, DARPA awarded a USD 58 million contract to Science Applications International Corporation (SAIC), which is now responsible for designing, constructing and creating a prototype of the vessel.

REALITY ATTACK

The attack on the Cole represents a new dimension in naval warfare. For the last 40 years the primary threats to naval vessels have been anti-ship missiles and torpedoes. Given the range of modern shipboard sensors, not to mention the range on anti-ship missiles and torpedoes the idea of ships getting involved in direct fire surface action engagements has become less and less of an influence on ship design and weapons load out.

The CG47 Ticonderoga guided missile cruisers, for example, are purpose built to defend themselves -- and their attendant fleet - from air attack, specifically aircraft and anti-ship missiles. Armed with two Mk41 Vertical Launch System missile cells (each carrying 61 missiles) and utilizing the 4 megawatt Aegis AN/SPY-1D radar, the Ticonderoga cruisers can lethally engage any aerial threat that comes within 100 miles of them, yet to deal with close-in surface threats, the CG47s carry just 2 automatic 5"/54 cannons.

The Des Moines class cruisers, on the other hand, were strict surface action platforms; armed with nine (3x3) 8"/55 cannons, twelve (6x2) 5"/38 dual purpose cannons, 24 (12x2) 3"/55 anti-aircraft guns, and 24 (12x2) 20mm anti-aircraft guns, the Des Moines class heavy cruisers were true surface action heavyweights and used extensively as costal patrol and gunfire interdiction platforms during the Korean and Vietnam wars.
NOVEMBER 2012 DISCOVERY NEWS
Anti-submarine warfare has long been accomplished by steely-eyed captains who search the oceans before dropping countermeasures like depth charges or shipboard torpedoes to knock out enemy subs. The job requires skill and experience, plus the latest in sonar and radar technology.

But now the Pentagon wants to build a drone sub-hunter that can chase enemy craft for up to two months at a time without any human operator at the helm.

Instead of being launched at sea, as smaller ocean-going drones are at present, the "Continuous Trail Autonomous Vessel" will leave its berth, patrol along the U.S. coastline and then chase enemy subs until they leave. The only time a human will be involved is navigating the robot ship in and out of crowded harbors.

The drone will not be armed, nor will it hide from its opponent.

"The challenge is to create a planning system that is able to track the submarines and at the same time to avoid surface traffic in a way that confirms to the rules of the road," said John Dolan, principal systems scientist at the National Robotics Engineering Center at Carnegie Mellon University, which is working with the Virginia-based contractor SAIC on the $58 million, three-year contract.

Dolan said CMU roboticists will be trying to build something new, a vessel that "doesn't give up" no matter what kind of weather conditions it faces at sea or how its prey is behaving.

"This thing has to be out on its own for a long period of time without human intervention," Dolan said. "Even if the unforeseen happens."

The exact specifications of the DARPA project are not known, such as length or power supply. CMU scientists are working on the autonomy and control systems, while SAIC is building the platform. The vessel has to be able to navigate the ocean while pursuing a submarine, and sending back updates to naval commanders back home or nearby.

The reasoning behind building such a ship is simple, according to one naval expert: money.

"For any nation, building a warship is among the most expensive capital things you can do," said Cmdr. Bill Sommer, program officer for undersea warfare at the Naval Postgraduate School in Monterey, Calif.

Sommer said the size of the naval fleet is shrinking over time, while each ship has to do more at at sea.

"That's why we need autonomy," Sommer said. "We've got to have more ears and cover the ground reliably."

For engineers building drones, whether on land, in the air or at sea, one of the biggest problems to overcome is the so-called "sense-and-avoid" issue, or building a system that can detect other vessels or airplanes and move away.

Right now, for example, federal aviation authorities won't let drone aircraft fly over U.S. airspace, with a few exceptions.

International maritime laws say that each ship, whether it's supertanker, fishing boat or pleasure craft, must be able to "maintain an adequate watch," according to Sommer, and be able to avoid a collision. How that watch will be maintained with a robot ship is yet to be determined.

Once it is up and running, the robot ship will be able to sail for up to 80 days and travel 6,200 kilometers (3,852 miles) without refueling, according to DARPA documents.
NEXT GOV NOVEMBER 2012
Science Applications International Corp. won a $58 million prime contract from the Pentagon to develop an unmanned sea vessel that spies on enemy submarines while operating with minimal supervision, the defense contractor announced.

The autonomous surface vessel will be able track a diesel-electric submarine for months over thousands of kilometers, the company said. It was funded out of a military venture capital arm initiative called the Anti-Submarine Warfare Continuous Trail Unmanned Vessel program. The Defense Advanced Research Projects Agency experiment aims to create a new maritime drone that can operate with "sparse remote supervisory control," contract databases reveal.

New autonomous capabilities could expand the use unmanned surface vessel systems at sea. "Current unmanned surface vessel systems and concepts are operated as close adjuncts to conventional manned ships - they are launched and recovered from manned ships, tele-operated from manned ships and are limited to direct support of manned ship missions," a December 2011 solicitation document reads.

The technology, if successfully developed, could allow surveillance missions to be carried out with less effort, needing a shore-based operator just "intermittently monitoring autonomous performance." One challenge DARPA-funded scientists will have to address would be building a machine that can navigate the seas safely without colliding into other ships, a tender indicates.

SAIC's three-year contract would involve the design and construction of a prototype. SAIC was also funded in an earlier phase of the initiative to draw up a blueprint.

Oregon Iron Works and Christensen Shipyards have been slated for partners in ship design, construction and propulsion, according to the SAIC statement. Carnegie Mellon University was tapped to develop vehicle's autonomous capabilities, with National Robotics Engineering Center's Senior Systems Scientist Brett Browning and Associate Director of Operations Pete Rander serving as key investigators, the university said in a statement. NASA's Jet Propulsion Lab was also picked to team up with SAIC.
FULL AUTONOMY
The above is encouraging news for navies wishing to cut their operating costs and the risk of losing lives. But, this latest development is only for a submarine with a duration of 80 days and partial autonomy at a cost of $58 million. The SolarNavigator project is aiming for complete autonomy with a duty cycle of 365 days a year. I.e. continuous unmanned patrols in vessels that do not need to refuel and carry a sting in their tail.
LINKS:

Zee News Indoa US making drone submarines to patrol oceans
Discovery News Drone submarine pentagon darpa 2012
Next Gov 2012 pentagon taps saic to build unmanned submarine spying vessel
The Solar Navigator - SWASSH (Small Waterplane Area Stabilized Single Hull) test model 2012
The latest Solarnavigator is designed to be capable of an autonomous world navigation set for an attempt
in 2015 if all goes according to schedule.