Tracy Edwards was born in Reading, Berkshire in 1962 and was raised in Purley on Thames until the age of 14 when her family moved to The Gower where she attended secondary school. Tracy came into sailing by an unconventional route. Her father died when she was young and her mother travelled the world as a ballet dancer. She was expelled from school at 15 and began sailing as an on-board cook. Tracy overcame chronic sea-sickness to become a professional Sailor in 1980 and by the age of 16 she decided to travel, beginning an involvement in yachting that was to make history.
She found a job as a stewardess on a motor yacht in Greece but after two seasons she moved to sailing yachts initially in the same job but later as cook. She learnt to sail on an Atlantic crossing from Majorca to Antigua when she was 19 years old. For the next four years she worked on charter yachts and racing boats, covering thousands of sea miles on trans ocean passages, learning the sport of ocean racing at numerous regattas in the Caribbean, United States, Britain and the Mediterranean.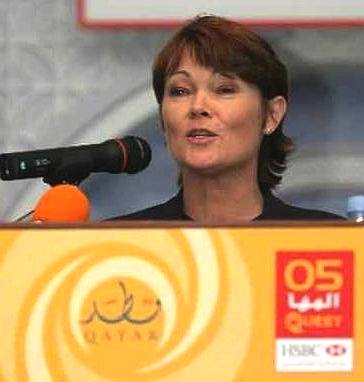 Having gained all this experience, in 1985 she decided to compete in the toughest ocean race of them all - The Whitbread. The race is the pinnacle event of the sport and 1985-86 was a 27,000 mile event starting and finishing from The Solent, stopovers at Capetown, Auckland and Punta del Este, Uruguay.
Tracy sailed the first leg of the race as cook on a yacht called Norsk Data GB but it was crewed by amateur sailors paying for the privilege. She considered the boat dangerous to sail on and so in Capetown she joined the crew of Atlantic Privateer. Privateer was crewed exclusively by hard-bitten professional yachtsmen and women were very definitely not considered for any position on the yacht including cook.
Tracy however convinced the owner/skipper and first mate that she was more than a match for the men and she joined the yacht for the remainder of the race, two Southern Ocean legs from South Africa to New Zealand and then on around Cape Horn to Uruguay and a trans Atlantic crossing back to the Solent. Atlantic Privateer won the leg to Auckland and Tracy became the first woman ever to crew aboard a winning yacht in The Whitbread.
During the rest of the race Tracy gradually took on more deck duties aboard Privateer and at the same time began to form the idea of an all female crew for the next Whitbread in 1989-90.
Within four months of finishing the race, Tracy had launched the Maiden Project. As project leader and key personality for media interviews she very quickly had to learn communications and presentation skills to augment her undoubted ability as a sailor. Over the following years to the start of 1989-90 Whitbread Race, Tracy battled to convince a sceptical press and public that her idea would succeed.
Tracy set her sights to consolidate her position as one of the world's top sailors by entering the Jules Verne Trophy in 1998 again with an all female crew.
This yachting trophy is for the fastest circumnavigation around the world with no stopping and no outside assistance. She was well on course for the record for more than half of their route, but was thwarted by treacherous seas off coast of Chile and her mast snapped in two. During the attempt Tracy and her team broke 7 world records.
Tracy retired from round-the-world sailing two years later when pregnant with daughter MacKenna, and published her second book "Living Every Second". She then decided to turn her attention to organising round the world sailing events, and the development of a formal governing body for Multihulls with championship tables and rules.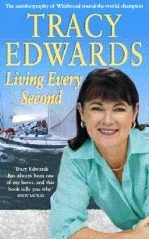 Living Every Second (Paperback)
During this time she formed a management structure to run the race campaign, recruited crew, contacted hundreds of companies for sponsorship and worked hard to maintain a high media profile. When sponsorship funds were not forthcoming she sold her house and bought a yacht with which to sail the race, refitted it and organised the Duchess of York to launch it, all the while attending press conferences, boat shows and other events to keep Maiden in the public eye.
Eventually sponsors were found a very successful racing campaign which included a trans-Atlantic event in 1989, a regatta in Ireland and the 1989 Fastnet Race was undertaken.
By the time the 33,000 mile 1989-90 Whitbread Race started Tracy had established a well organised team, secured a contract for a book about the exploits and set up a TV documentary. During the race itself Tracy and her crew silenced the critics. At the age of 27 as skipper and navigator of Maiden she shouldered immense responsibilities but she made history as the first woman to captain a crew of women in the Whitbread Race.
A quiet first leg to Uruguay saw them finish third in class, but the following two legs of the race, to Fremantle, Western Australia and then on to Auckland firmly established her in the annals of yachting history. Maiden won her class on the first of those legs, the first time a British yacht had won a leg of the Whitbread Race for 12 years and when she won the next leg as well she held the overall class lead at the halfway stage of the race.
While in Auckland Tracy was voted "Yachtsman of the Year" by the Yachting Journalists Association - the first woman ever to receive the accolade. It was awarded for her determination and resourcefulness in successfully organising the Maiden Campaign. The award ceremony was beamed live to the London Boat Show.
Although the remainder of the race was not successful on the water - the heavy weather Maiden had been designed to capitalise on never materialised - the awards to Tracy and her crew continued and so did the media attention.
When the Maiden eventually sailed back into Southampton a crowd estimated at over 50,000 welcomed her. The media turned out in force to put the women in TV news bulletins and on the front pages of newspapers all over the world. A month later Tracy was awarded an MBE for her services to yachting in the Queen's Birthday Honours List.
Subsequent TV appearances included The Wogan Show, a This is Your Life special, and a TV documentary "Maiden Voyage". More recently Tracy has worked as a presenter for TV productions on the Tall Ships Race, Southampton International Boat Show and now as a presenter for the Whitbread Race.
This led to the Jules Verne Challenge, with the first all-female crew to attempt to break the circumnavigation record with a budget of £3.2 million and sponsored by Royal & Sun Alliance. The team was 16 strong and lasted three years. The project won the Corporate Sponsorship category in the 1999 Hollis Sponsorship Awards. The sponsorship of Tracy Edwards' all-female international crew was perceived as capable of generating high-profile global media coverage, and as a result coverage value was worth £12m.
Since 1997 Tracy has been combining her career with developing Motivational Seminars and Speeches for the Corporate Market using the philosophy which has formed the foundation of every successful Challenge undertaken by her team.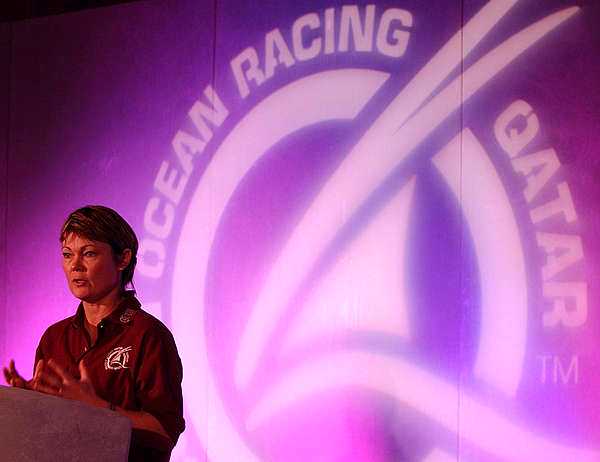 In 1990 Tracy was awarded Sportswoman of the Year and an MBE. She was the first woman to achieve acceptance by the British yachting community and paved the way for other women to follow.
In 2003 she set up Quest International Sports Events and signed a £6million sponsorship deal with the Crown Prince of Qatar to create two round-the-world races and a marina complex. HSBC sponsored the first event to the tune of £3million. The Oryx Quest 2005 was a huge success and created $46m worth of press coverage for the gulf state. However, Qatar refused to pay Tracy the £8million she had borrowed to facilitate the event and pay the teams to enter. Qatar also refused to pay the $1million prize money. Quest consequently went into receivership and Tracy was forced into bankruptcy in September 2005.
She regularly gives her time for charity work and is Patron of The Ahoy Centre, Ambassador to the NSPCC working with CEOP (Child Exploitation and Online Protection) and Ambassador of One Parent Families. Tracy also supports The Lady Taverners and The Prince's Trust.
Tracy is a unique speaker having experienced not only the upsides of winning but also the devastation of taking a calculated risk that resulted in financial ruin. She speaks eloquently and is disarmingly open about success and failure. The biggest lessons in life are learnt when things go wrong and Tracy's story of battling against the odds to survive is poignant and truly revealing.
Possibly the most extraordinary and horrifying part of 2005 for Tracy and her family were the 28 days that Tracy was held against her will in Qatar whilst the authorities tried to force her to sign a waiver exonerating them from the sponsorship. Tracy refused to sign, exhibiting the strength of character, fearlessness and tenacity that have characterised her sailing projects. Her refusal to sign and her fighting spirit ensured that legal action against Qatar could commence in the hope that she, her team and event suppliers can one day be compensated.
There are many lessons to be learned from Tracy's experiences of massive successes and devastating failure. In addition, Tracy has lost none of the sparkle and humour that audiences warm to and make her one of the most inspirational speakers of today.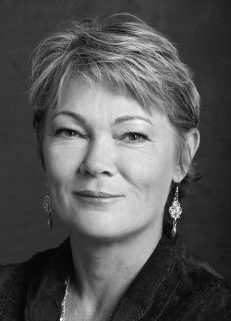 Tracy Edwards
THE INDEPENDENT - Tracy Edwards declared bankrupt 05 September 2005
The record-breaking round-the-world yachtswoman Tracy Edwards was declared bankrupt today.
Miss Edwards, who is 43 today, did not attend the 10-minute hearing at the London Bankruptcy Court and was not represented by lawyers.
Mrs Registrar Derrett made the order after ruling that all the necessary papers were in order.
The bankruptcy petition for about £60,000 was brought by Gregory Browne, the former financial director of Miss Edwards' company, Quest, who was dismissed last year.
Miss Edwards, who has been reported as having personal debts of £8 million, expects to lose the farmhouse she shares in Yattendon, near Reading, Berkshire, with her mother Patricia and five-year-old daughter, Mackenna.
The former sportswoman of the year received an MBE in 1990 after skippering the first all-female round the world crew.
http://news.independent.co.uk/uk/legal/article310455.ece
THE BBC
The 43-year-old, who was awarded an MBE for skippering the first all-women crew around the world, is now building a new life with her daughter in the Gulf.
In February, Ms Edwards said the debts she owed to sponsors made her life "a misery" and forced her to leave the UK.
The bankruptcy petition for £60,000 was brought by Gregory Browne, the former financial director of her company, Quest, who was dismissed last year.
The loan for her yacht and money owed to crew and promotions companies amounted to £6.3m.
However, it has been reported that Ms Edwards, who was brought up in Swansea, south Wales, has personal debts of £8m.
It is thought she could lose the farmhouse she shared with her five-year-old daughter and mother in Yattendon, near Reading, Berkshire.
Miss Edwards did not attend the 10-minute hearing at the London Bankruptcy Court and was not represented by lawyers.
http://news.bbc.co.uk/1/hi/england/berkshire/4215446.stm
Tracy Edwards Plans to Sue Qatar - April 3 - Qatar
In a stunning ruling, a civil court in Qatar has ruled that British yachtswoman Tracy Edwards is not responsible for massive debts she incurred when Qatar Sports International - an organization set up by the Crown Prince to promote the image of Qatar - reneged on an agreement to sponsor the 2005 Oryx Quest race. It's a remarkable ruling because the civil court judge essentially ruled against his own government, clearing the way for Edwards to file a personal injury suit after having to declare bankruptcy and liquidate her company, Quest International Sports Events Ltd. She plans on filing suit in the International Court of Justice in The Hague.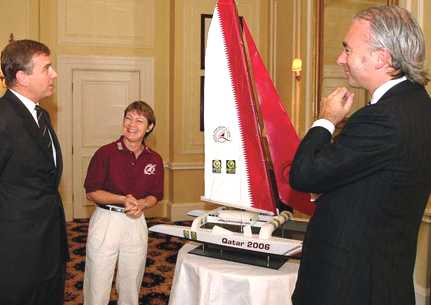 Britain's Prince Andrew, Tracy Edwards and Perry Smith of QSI
Of the ruling, Edwards said, "It is important to me, and those who have supported me through the past two years, to prove that I did nothing wrong and to set the record well and truly straight. This is the first step in our legal action to justly compensate the Quest creditors, my team and me, for the debt that is owed."
Having been discharged in September 2006, Tracy is now rebuilding her life, consulting for companies doing business in the Middle East, doing motivational and teambuilding presentations and pursuing legal action against Qatar. Tracy is a unique speaker having experienced not only the upsides of winning but also the devastation of taking a calculated risk that resulted in financial ruin. She speaks eloquently and is disarmingly open about success and failure. The biggest lessons in life are learnt when things go wrong and Tracy's story of battling against the odds to survive is poignant and truly revealing. Tracy has lost none of the sparkle and humour that audiences warm to and make her one of the most inspirational speakers of today.
Living Every Second (Paperback)
Customer Reviews
Average Customer Review: ****
5 of 5 people found the following review helpful:
*** A great read, 27 Nov 2001
Living Every Second is a genuine page turner, and there is no doubting that Tracy Edwards is an exceptionally brave and courageous woman. Her determination and refusal to accept defeat have turned her into what she is, and made it possible for her to achieve the success story that was Maiden.
We get a picture of a woman who, like most true achievers, takes huge risks and does not really contemplate failure. Although there is some introspection and self doubt in the book, this is someone who has been prepared to risk (almost) everything, including home and husband, in a single-minded drive to sail round the world.
With all this in mind, you cannot help but be aware that this is her version of the story. I wonder what her husband or crew mates really think and how much of the subsequent criticisms aired in the media were justified (not much, to go by her own account).
Nevertheless, it is a gripping tale which brings the terror of the ocean to life and goes a long way towards explaining the world of Tracy Edwards
By Bob Ukiah (bob@ukiah.freeserve.co.uk) (London, England)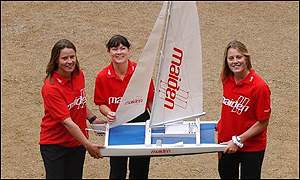 Edwards was made an MBE in 1989
15 of 16 people found the following review helpful
***** A book for anyone who has dared to dream, 17 Oct 2001
This book was recommended to me although I am not a sailor. However, after reading the book cover to cover in one evening, something I have neve done before, I realised this is a book for the adventurer in us all. Sailing is the back drop. Tracy Edwards really comes across as heroine of our time even though she is pains through the book to point out that she is not.

The book takes us through her extraordinary life in a whirlwind ride. From her troubled youth and rebellious schooldays to her first encounter with the love of her life, the ocean. This is not a fasionable rebellion like so many others your read, but a painful and aggressive transition from child to adult. Tracy tells it like it is.

Her days as a nomad of the oceans had me reaching for the atlas and planning to run away to sea. Her rise up through the ranks surprises her and this really comes across. Her description of her first round the world race with 17 guys had me in stitches, it was a tough introduction to the world of ocean racing, no yacht club membership here!

The days of Maiden, which of course we all remember are told with passion and fire and again humour and humility. The characters that come and go became so real to me and Tracy even more so. There were some sailing expressions that I didn't know but it didn't matter as I was completely swept along by the girls and their absolute belief that they could win this unbelievably tough race.

The nervous breakdown after the race seemed to surprise no-one except Tracy and I have to say most of us would have been reduced to a quivering wreck but no, she bounces back. After some years of a hermit existence she is back with a new and even more terrifying adventure.

The Jules Verne round the world record had me hiding under the covers and turning the central heating up. The descriptions of the huge catamaran, the amazing women that crewed the yacht and the odds against them are truly mind blowing. The roller coaster rides in the Southern ocean and the frank admissions of the fear and doubt made me look around me at my own comfortable surrounding swith renewed appreciation.

The appearance of Tracy's daughter on the scene shows a gentler side of this tough lady and the dedication to her at the beginning of the book suddenly made perfect sense. It brought a lump to my throat. But this is a woman who gives 100% to everything she does so this shouldn't be a surprise.

I absolutely loved this book. I loved it's honesty, openess, passion and humour. Andy MacNab says that Tracy Edwards has always been his hero and this book tells you why. It certainly does that. At the end of Living Every Second Tracy tells us of her motivational company doing teambuilding and leadership seminars. I just wish my company would employ her because if we took away even a small part of what she tells us, we would be the best company in the world! I'm going to read it again and tell my friends to buy it.
Reviewer: A reader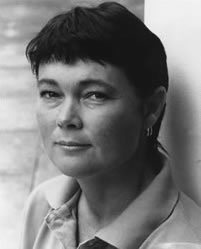 Tracy Edwards - motivational speaker
3 of 4 people found the following review helpful:
***** What a story ! What a life ! What a girl !, 28 Feb 2001
Living every second' is the sort of book that makes the reader feel both proud and inadequate. Tracy Edwards took on the male dominated arena of round the world sailing and won. 'Living every second' is a beautifully crafted emotional roller coaster as Tracy unfolds her extra ordinary life, the frustration, the hopelessness and the despair of getting the Maiden project off the ground and the chance meeting that gives her the one break she needs.
Tracy writes with such an open-ness and poignancy that you feel from the first that you know her like an old friend. Her grief is your grief. Her happiness is your happiness. And one bursts with pride at her success. Then when you appreciate what she has achieved one feels somewhat inadequate. It is impossible to understand fully the misery of the Southern Ocean when one is reading the book in the comfort of an armchair at home but Tracy's wonderful style makes us believe that we can.
'Living every second' is one of the best written, most fascinating, most well observed books that I have ever read. I fell in love with Tracy from page one...
Duncan Wells
Tracy Edwards afloat in her newly liveried 92 foot Irens designed catamaran
Royal Sun Alliance 1998, formerly Peter Blake's ENZA
CONTROVERSY - Tracy Edwards & the Oryx Quest
The events that led up to Tracy Edwards' personal bankruptcy have left too many tarnished images, too many unanswered questions.
It is an issue that has divided the sailing world and this article has been written in an attempt to start a process where the truth will be revealed.
Was Edwards, as her fans believe, nothing more than an unfortunate yachting heroine, out of her depth in the world of big business and mega-money, taken for a ride by the State of Qatar, hounded by an embittered Frenchman and a disgruntled ex-employee and ratted on by creditors, who promised to wait and then turned their coats?
Or was she, as others believe, the only villain in this piece?
The Club Med loan
Edwards troubles, at least those directly related to this issue, began when she took a £500 thousand loan from Andrew Pindar, chairman of the printing group of the same name, to help her to buy Club Med; a loan that was secured against her Berkshire home.
Exactly what Edwards paid for winner of The Race 2000 is unclear; for it has been variously reported as between £1.1 & £2.1 million. However, we do know the asking price because, shortly before the maxi-catamaran was sold to Edwards, BYM had been considering looking for sponsorship to back its own attempt at Bruno Peyron's The Race 2004. Sue Grant, director of Berthon International Brokers, offered BYM Club Med for exactly £1 million and confirmed yesterday that, although Berthon was not the principle broker, it had been authorised to sell the maxi-catamaran for that sum.
Pindar's loan was supposed to be a short term one, 2 weeks to be precise, but it was to be more than 2 years before - after instigating court proceedings - he was paid back.
At the end of November 2004, Andrew Pindar issued this statement "I am delighted to confirm that Tracy Edwards has made a full repayment of all money outstanding. I recognise that the legal action we took in September in order to formalise our agreement with Tracy created an unfortunate and regrettable public dispute, but I would like to make clear that it has always been our desire to see Tracy succeed in her ambitions."
As we jointly stated in September, when a schedule for repayment was formally agreed, neither party was in disagreement over the repayment of the loan. All concerned are delighted that the matter can now be drawn to a close. We wish Tracy well for the forthcoming Oryx Cup, which I'm sure will be a great success."
"We have great admiration for her tenacity and bravery, and are thankful of the opportunities she has provided other people in sailing."
Prior to the settlement, Tracy Edwards had said she wanted to thank Andrew Pindar and the Pindar Group for their continued understanding, recognising that it was "their financial support and Andrew's enthusiasm for the sport of ocean sailing" that enabled her team to break four world sailing records in 2002. She was rather less grateful when, in February 2005, she told the BBC "I owed 60 people money and only three of them took me to court, the rest were very supportive. People who have loaned me money are very well aware that sailing is by no means an exact science and sometimes it takes a long time to be paid back," she said. "I was especially disappointed with Andrew Pindar. It made my life a misery and I hated every minute of it."
"The sailor Tracy Edwards has just announced that she will organise, in partnership with Qatar, two round the world crewed sailboat races: the first in 2005, without stop-overs and reserved for maxi multi-hulls; the second scheduled for 2006 and open to both maxi multi-hulls (over 100 feet) and maxi mono-hulls ( over 110 feet ) with stop-overs in Asia and America. These two projects are thinly disguised copies of the concepts from The Race and The Race Tour, which were imagined, conceived and developed by The Race Event. The English sailor also announced that the winner of the Jules Verne Trophy will receive a financial prize.
This announcement, which curiously was made hardly a week after the postponement of the 2004 edition of The Race (non-stop round the world race, reserved for maxi multi-hulls), did not fail to astonish Bruno Peyron, founder and organiser of The Race, cofounder and current record holder of the Jules Verne Trophy. Effectively, what Tracy Edwards has just announced is nothing other than the exact copy of the very concept and philosophy of The Race and The Race Tour, events imagined, conceived and developed over 10 years and with substantial investment by The Race Event.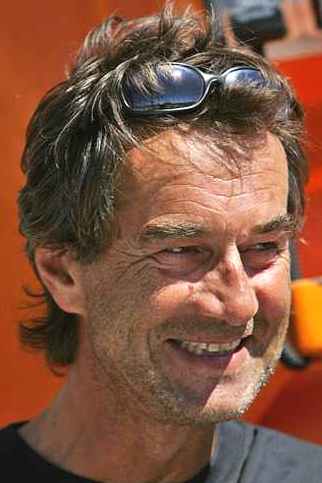 Bruno Peyron : "I am astounded by the contempt, hypocrisy and especially the dishonesty of the project's promoters. Tracy Edward's team regularly attended all of the challengers meetings that we organised for The Race and The Race Tour in Paris for two years with a view to her participation therein. I am forced to acknowledge that these people, who had our complete confidence, were provided all the benefit of our work, know how, data bases, expertise, and our help, have taken advantage of all this in order to launch these events which, more than competing with our own, are a virtual counterfeit of our ideas, concepts and our accumulated work for over 10 years. I find this attitude no less than shocking, dishonest and unworthy of the values that The Race has defended since its inception (openness, tolerance, humanity, respect, exchange...).
This project is all the more improper as it was led without the slightest consultation with the principal challengers, in the most suspicious secrecy and under the initiative of persons having no prior competence in organising international events of this dimension. Moreover, in regards to the proposal to endow the Jules Verne Trophy with a cash prize, Tracy Edward's team has launched this project without any prior consultation with the founding members of the Jules Verne Trophy (including me) and in contempt of the spirit of the association which owns the rights. The association asserts its entire liberty with respect to sponsoring and has always refused to associate a brand with the event ! This behaviour is completely irresponsible and inadmissible. Needless to say, The Race Event, owner of The Race and The Race Tour events and related intellectual property rights, reserves the right to pursue this matter by all legal means available. We will keep all concerned parties informed of the development of this matter."
Bruno Peyron
The beginning of the end
In 2004, Sports Impact, which had handled the event where the £38 million Qatari sponsorship was announced, took two of Edwards' companies to court.
Edwards countered with talk of vigorously defending the case and issued this statement "Maiden Ocean Racing and Maiden Ocean Racing Qatar (two dormant shelf companies with no assets) are currently in litigation with a company called Sports Impact re invoices they claim we owe and that we dispute. Maiden Ocean Racing and Maiden Ocean Racing Qatar do not and have never had any contracts with Sports Impact or any other company for that matter. The two companies have not and have never had a deal with Qatar and are not involved in the events in any way. They were bought off the shelf to protect the names."
Sports Impact's chairman John Taylor was scathing when interviewed by the Daily Telegraph, telling the newspaper "Vigorously defended? We've heard nothing, we feel we've been used. We feel deeply disappointed it's come to this but we've been left with no choice. It took six weeks to get a meeting with her and, six weeks after that, there's still no offer."
Despite Edwards talk of vigorous defence and the lack of a contract with Sports Impact, her lawyers made an agreement to pay Sports Impact part of the sums claimed, but the agreed payments were only made in part and, in the end, a High Court order, last July, awarded Sports Impact £18,000 from Quest, which was then put into administration. Taylor was not subdued about his pyrrhic victory saying he had continued with the action out of concern that "the sport of ocean racing has been damaged and people are reluctant to get involved because of the actions of one person."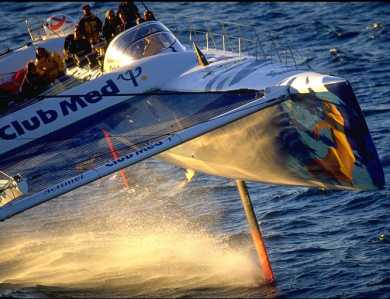 Club Med catamaran
A nation state brought into disrepute
That Sailing Anarchy statement "All to please an Arab country sponsor with no long term vision or convictions" is a telling one for, wittingly, or unwittingly, Tracy Edwards has achieved something few individuals, if any, have ever achieved before; she has brought a nation state into disrepute. So what was the Qatari role in all this?
Edwards has claimed that, early in 2003, she went to Qatar in search of funding and met Sheikh Tamim bin Hamad al-Thani, who is now the Crown Prince, and that she was persuaded to organise two round-the-world races in the Gulf state, to be backed by Qatar Sports International, the commercial arm of the Qatar National Olympic Committee.
Gregory Browne, the former Quest Financial Director, whose claim against Edwards brought about her personal bankruptcy, doubts this. Browne says that, during the run up to the Oryx Cup, he and Edwards went to a meeting with the Prince, who looked at Edwards and said "Haven't we met before? Ah yes, I remember now, I shook your hand at an Olympic event."
If there ever was a £38 million sponsorship deal with Qatar, there is little evidence of it.
Gregory Browne is just one of those who is convinced that no such deal was ever made.
The most commonly expressed opinion is that something like the following scenario took place: Edwards suggested the dual race programme to Qataris, who would have asked for more details and passed these to business advisors whilst, in typical polite Arab fashion, expressing interest. Edwards, taking polite murmurings to mean it was only a matter of time before they agreed, felt that making an announcement would bring forward agreement, especially if someone as high profile as the Duke of York was on hand at the time, and went ahead.
That is pure speculation, what is fact is that the present Crown Prince was in attendance when Edwards introduced potential entrants and her new sponsor HSBC and that his brother, the former Crown Prince Jassim bin Hamad bin Khalifa Al Thani, presented the winning crew with an empty golden envelope, rather than the expected £500,000 cheque.
Like it, or not, sponsor, or not, high profile Qataris have played some role in this saga and it would be in its own best interests if the nation state of Qatar explained just what that rôle was.
http://www.bymnews.com/tracyedwards/
If you would like to read more on this subject, we recommend that you visit Tracy's website at the address: www.tracyedwardsqatar.com
Healthier alternative tastes for adventure capitalists
Solar Red | Solar Crush | Solar Cola | Solar Spice | Solar +
Please note that for the avoidance of doubt, the Solar Navigator - World Electric Navigation Challenge, is a stand alone project. This project and the associated crew is not affiliated nor associated with any other ocean project, nor sailing or other sports personalities, unless specifically stated. We will post details of sponsors at the appropriate time.