Sony Corporation is a tremendous Japanese success story producing consumer electronics and associated services. The company was incorporated on 7 May 1946 as Tokyo Telecommunications Engineering Corporation. Its founders were Ibuka Masaru, whose Japan Precision Instruments Company had supplied electronic devices during World War II, and Morita Akio, an applied sciences instructor.

The company name "Sony" was created by combining two words. One is 'sonus' in Latin, which is the root of the such words as 'sound' and 'sonic'. The other is 'sonny' meaning little son. The words were used to show that " Sony" is a very small group of young people who have the energy and passion toward unlimited creation.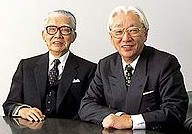 Mr Ibuka and Mr Morita 1996 - Sony 50th anniversary

Their products include:
Audio Home audio,portable audio,car audio,and car navigation systems.

Video Video cameras,digital still cameras,video decks,and DVD-Video players/recorders. Televisions CRT-based televisions,projection televisions,and digital broadcasting reception systems.

Information and communications PCs,computer displays,printers,personal digital assistants,and broadcast and professional use audio/video/monitorsand other professional-use equipment

Electronic components and other Semiconductors, Optical pickups, batteries, CRTs,audio/video/data recording media,and data recording systems, IC cards,entertainment robots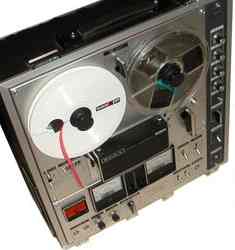 A 1969 Sony TC-630 reel-to-reel recorder

THE SONY GROUP COMPRISES:

Sony EMCS Corporation
Frontage Inc.
Sony Global Solutions Inc.
Sony Enterprise Co.,Ltd.
Sony Chemicals Corporation
Sony Communication Network Corporation
Sony Computer Entertainment Inc.
Sony Supply Chain Solutions,Inc.
Sony Siroisi Semiconductor Inc.
Sony Life Insurance Co,. Ltd.
Sony Semiconductor Kyushu Corporation
Sony Assurance Inc.
Sony Tochigi Corporation
Sony Pictures Entertainment (Japan) Inc.
Sony PCL Inc.
Sony Human Capital Corporation
Sony Finance International, Inc.
Sony Facility Management Corporation
Sony Fukushima Corporation
Sony Plaza Co.,Ltd.
Sony Precision Technology Inc.
Sony Broadcast Media Co., Ltd
Sony Broadband Solutions Corp.
Sony Marketing Co., Ltd.
Sony Manufacturing Systems Corporation
Sony Miyagi Corporation
Sony Music Entertainment (Japan) Inc.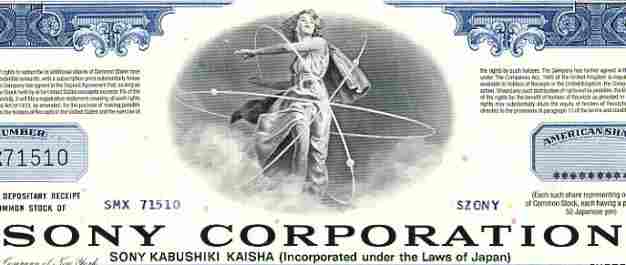 Sony Corporation (Japanese katakana: ソニー)
(NYSE:SNE (http://www.nyse.com/about/listed/lcddata.html?ticker=SNE)) is a consumer electronics corporation based in Tokyo, Japan. It was founded by Masaru Ibuka and Akio Morita on May 7, 1946 as the Tokyo Telecommunications Engineering with about 20 employees. Their first consumer product, in the late 1940s, was a rice boiler. As it grew into a major international corporation, Sony acquired other companies with longer histories, including Columbia Records (the oldest continuously produced brand name in recorded sound, dating back to 1888). Today Norio Ohga is Honorary Chairman, Nobuyuki Idei is Chairman and CEO, and Kunitake Ando is president of the corporation.
When Tokyo Tsushin Kogyo was looking for a romanized name to use to market themselves, they strongly considered using their initials, TTK. The primary reason they did not, is that the railway company Tokyo Kyuko was known as TKK.
The name "Sony" was chosen for the brand as a mix of the Latin word sonus, which is the root of sonic and sound, and the English word "sunny." At the time of the change, it was extremely odd for a Japanese company to use Roman letters to spell its name, much less the phonetic script used in the Japanese writing, instead of Chinese characters.
The move was not without opposition; TTK's principal bank at the time, Mitsui, had strong feelings about the name. They pushed for a name such as Sony Electronic Industries, or Sony Teletech. Akio Morita was firm, however, as he did not want the company name tied to any particular industry. Eventually, both Ibuka and Mitsui Bank's chairman gave their approval.
In 1988, Sony acquired CBS (Columbia) Records Group from CBS. It was renamed "Sony Music Entertainment".
In 2000, Sony had sales of US $63 billion and 189,700 employees. Sony acquired Aiwa corporation in 2002. Sony also owns television channels in India and channels aimed at Indian communities in Europe.
Sony has historically been notable for pushing its own in-house standards for new recording and storage technologies, which are often different from those of other manufacturers or of market trends and standards. The most infamous of these was the videotape format war of the early 1980s, when Sony marketed its Betamax system for video cassette recorders against the VHS format developed by JVC. In the end, VHS gained critical mass in the marketplace and became the worldwide standard for consumer VCRs and Sony had no choice but to capitulate.
Sony has continued the same tactic with subsequent technologies; for example, it pushes its MiniDisc digital recording format (intended to replace cassette tapes) whilst rivals favour CD-R and MP3 instead. Sony also makes heavy use of its Memory Stick flash memory modules for digital cameras and other portable devices, which few other manufacturers use. It also attempted to compete with the Iomega Zip drive and Imation Superdisk with their HiFD, but this proved a severe failure.
Since the introduction of the MiniDisc format, Sony has attempted to promote its proprietary audio compression technologies under the ATRAC brand, against more widely-used formats like MP3 and Windows Media Audio. Until late 2004, Sony's various digital portable music players did not support even the de facto standard MP3 natively, although the software provided with them would convert MP3 files into the ATRAC formats.
In 2004, the London Borough of Camden, England brought Anti Social Behaviour Orders (ASBOs) against Sony Music UK and BMG for alleged fly posting. Illegal fly posting by the two companies is thought to save them £8 million a year in advertising costs in Camden and cost the Borough £250,000 to clean up. Failing to comply with an ASBO can result in a jail sentence of up to 5 years.
On July 20th, 2004, the EU approved a 50-50 merger between Sony Music Entertainment and BMG. The new company will be called Sony BMG and will, together with RIAA partner Universal, control 60% of the world wide music market.
On September 13th 2004 a Sony-led consortium finalised the deal to purchase famous film studio Metro-Goldwyn-Mayer for about $5 Billion, including $2Bn in debts.
Shareholders (as of march 2004)
Moxley & Co. (12.5%)

Japan Trustee Services Bank, Ltd. (Trust Account) (5.3%)

The Master Trust Bank of Japan, Ltd. (Trust Account) (4.2%)

The Chase Manhattan Bank N.A. London (3.6%)

State Street Bank and Trust Company (1.3%)

Sumitomo Mitsui Banking Corporation (0.9%)

The Bank of Tokyo-Mitsubishi, Ltd. (0.8%)

SEGA Schweizerische Effekten-Giro AG (0.8%)

Clearstream Banking S.A. (0.8%)

Nichido Fire and Marine Insurance Co., Ltd. (0.8%)
Sony Corporation is traded on the Tokyo Stock Exchange under number 6758 and on the NYSE as SNE through ADR.
Holdings
Sony Ericsson Mobile Communications AB (50%)

Sony Corporation of America
Film production
Music business
Sony/ATV Music Publishing

Sony BMG Music Entertainment

Columbia Records - popular music

Epic Records - popular music

Legacy Recordings - rare and collectible in many genres

Sony Classical - classical music

Sony Nashville - country music

Sony Wonder - children's and family entertainment
Video and online games
Notable products and technologies
LINKS and REFERENCE
The Playstation PS4 is popular for gaming
RECYCLING ACTIVITIES IN JAPAN
The Home Appliance Recycling Law that came into effect in Japan in April 2001 covers four major types of home appliances: televisions, refrigerators, washing machines and air conditioners. Of these, the only product that Sony manufactures is televisions (defined as containing a CRT, and including Aiwa brand models). A total of approximately 490,000 Sony-manufactured televisions were recycled in fiscal 2003.

Sony recycled 84% of CRTs in fiscal 2003, while the Home Appliance Recycling Law requires more than 55%.
Television Recycling in Japan (Fiscal 2003)
| | |
| --- | --- |
| Units received at collection centers | 493,513 |
| Units recycled | 493,207 |
| Total weight of products processed | 12,853 tons |
| Total weight of recycled products/materials | 10,808 tons |
| Recycling ratio | 84% |
TELEVISION RECYCLING
Sony has been developing recycling technology primarily for large televisions since fiscal 1991. In October 1997, we established the Recycling Research Center to reinforce this development. Some plants that recycle Sony-manufactured televisions employ disassembly machines and other technologies developed by this Research Center. The Research Center conducts research on actual recycling conditions, and provides feedback to television designers and engineers so that new products can be made more easily recyclable.
POLYSTYRENE FOAM PACKING RECYCLING
Since January 1999, Sony has been recycling the waste polystyrene foam generated by the Group companies with a recycling system using limonene, a substance derived from orange peel. In fiscal 2003, approximately 99 tons of this foam was collected and recycled into new polystyrene foam for use as packing material for nearly 360,000 large-size and LCD projection televisions.
RECYCLING PERSONAL COMPUTERS
From October 2003 in Japan, the Law for the Promotion of Effective Utilization of Resources has required the recycling of computers used by private citizens, in addition to the recycling of personal computers discarded by corporate users which was already underway.
In fiscal 2003, about 5,000 Sony-manufactured personal computers(*2) were collected and dismantled to separate metals, plastics and rechargeable batteries for recycling.

Resources Recycled from Televisions
(April 1, 2003 to March 31, 2004)