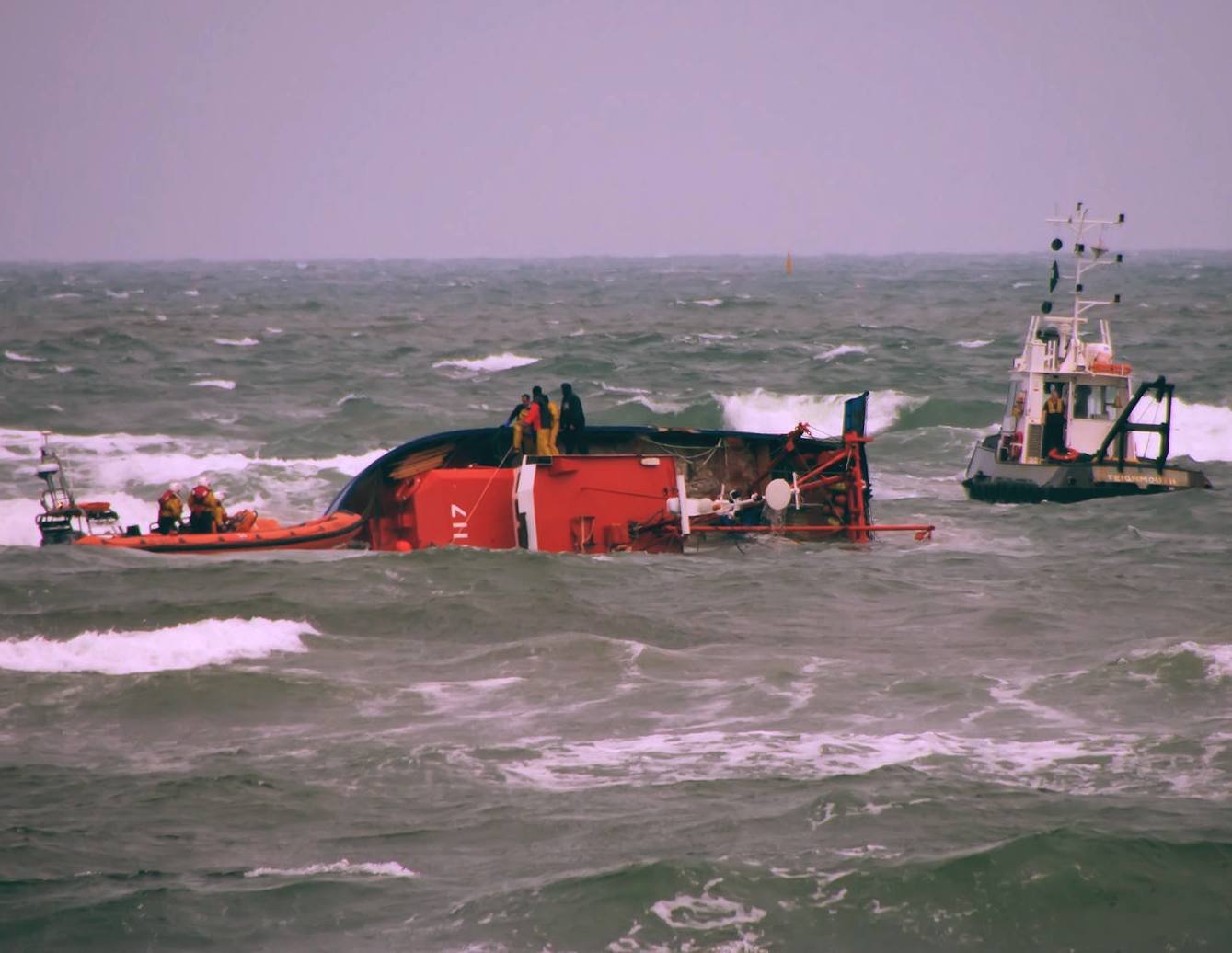 RNLI rescue 5 fishermen from capsized trawler - Tuesday 31 Jan 2012

Teignmouth relief lifeboat was called out to a capsized fishing trawler approaching the River Teign yesterday. Volunteer lifeboat crew launched Mary Lewis, the Teignmouth relief lifeboat at 13:40 yesterday.

The fishermen who were found taking refuge on the side of the wheelhouse were rescued from the trawler. Paramedics were waiting when the lifeboat returned to the station for the men who were released after being pronounced OK.

Tony Watson, Teignmouth lifeboat press officer, said: "Our volunteer crew got to the trawler quickly and saved five lives in tricky conditions, but this just shows that accidents can happen to even experienced mariners."

It is not known why the vessel capsized.

http://www.motorboatsmonthly.co.uk/news/530690/rnli-rescue-five-fishermen-from-capsized-trawler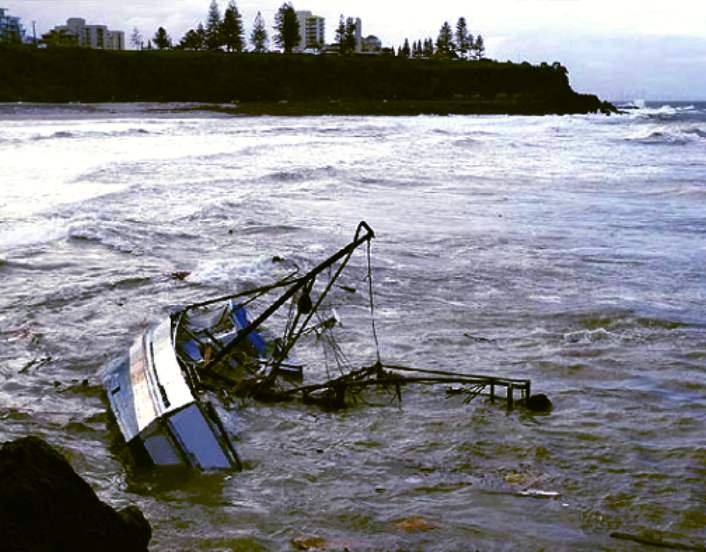 http://www.bengalnewz.com/bangladesh/chittagong/coxs-bazar/110735987.html



Trawler with 110 capsizes off Bangladesh coast, 11 rescued - 7 November 2012
A trawler carrying 110 intending migrants, including Bangladeshis and Rohingyas, capsized in the Bay at Moheshkhalia Saikatpara point in Teknaf upazila early Wednesday while heading towards Malaysia. Quoting survivors and locals, Lt Col Zahid Hasan, commanding officer of the 42nd Battalion of the Border Guard Bangladesh (BGB), said the boat carrying 110 people set out for Malaysia from Subrang point of the upazila on Tuesday night.

After an hour of journey, Zahid said, the trawler sank in the sea about 20-25 nautical miles southwest off Teknaf around 3 am due to inclement weather. On information, Zahid said, members of BGB, Bangladesh Navy and Bangladesh Coast Guard rushed in and started the rescue operation with the help of local fishermen.

The fishermen had already rescued 11 people from the point where the trawler sank. Of the rescued passengers, two were Rohingya refugees while the rest Bangladeshi nationals.

The BGB official could not say how many of the passengers managed to swim ashore. The survivors said they were going to Malaysia in search of jobs. Zahid said the rescued people could not tell them how many Rohingya refugees were there among the 110 passengers of the trawlers. He said BGB members rescued another 12 people from another boat also heading towards Malaysia.

The tragedy comes less than a fortnight after another trawler with over 128 passengers capsized on 28 October 2012 in the Bay near Shah Porir Island in Teknaf close to Bangladesh's southeastern border with Myanmar, leaving an unknown number of people missing. Among the passengers, six survived but the others went missing. Their destination was also Malaysia. (UNB)





31 January 2012 - Trawler salvage operation in Teignmouth begins

An operation to recover a fishing trawler which hit a sandbank and capsized off Devon is under way. Five fishermen were rescued from the Girl Rona after it capsized at the entrance of Teignmouth harbour on Monday. It was carrying about 2,000 gallons of diesel and nearly 20 tons of fish. Fish have been dumped from the vessel and a tug is taking a line to it before work starts to pump out water and re-float it.

Lifeboat damaged

The local inshore RNLI lifeboat came to the crew's rescue after they managed to scramble on to the side of their vessel. There were no reports of any injuries.
Teignmouth's harbour master, Cdr David Vaughan, said: "When the tide goes out, we'll get out there with pumps so we can pump out the maximum amount of water we can at low tide. "When the tide comes in again, we'll be in a good position to pull her off and re-float her. Then we can bring her into the harbour."

The lifeboat sustained some damage during the rescue, the RNLI said. It added that repairs had been started so they could "sort that out as fast as we can".

http://www.bbc.co.uk/news/uk-england-devon-16807763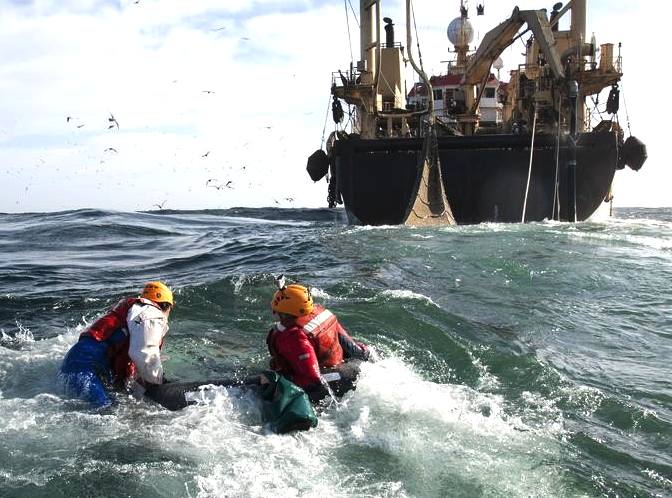 U.S Coast Guard sinks Japanese fishing trawler near Alaska News On Japan via CNN Apr 2006

The U.S. Coast Guard sank a Japanese fishing trawler off the coast of Alaska on Thursday, more than a year after it was swept away by a tsunami off the east coast of Japan, authorities said. The trawler capsized hours after the Coast Guard set fire to it, causing it to begin taking on water, said Petty Officer 1st Class David Mosley, a Coast Guard spokesman. The sinking of the Ryou-Un Maru brought about the end of a journey for the rust-stained ship that drifted across the Pacific Ocean as part of a giant debris field generated by a tsunami that struck Japan following a 9.0 earthquake on March 11, 2011.

The Coast Guard determined the trawler posed a threat to other ships navigating the area, and had been broadcasting the unmanned, unlit vessel's location to mariners to alert them to the hazard. The U.S. Geological Survey advised the Coast Guard where the ship's sinking would have the least environmental impact.

"The potential for a pollution incident is unknown at this time, but officials have limited concerns about any biological threats due to the length of time the vessel has been at sea," the Coast Guard said in a statement.

The Coast Guard opened fire on the Ryou-Un Maru at 1 p.m. Thursday. The ship drifted from Canadian waters into U.S. waters on Saturday, and was located about 180 miles west of the Dixon Entrance in Southeast Alaska, the Coast Guard said.

The trawler was first spotted floating near British Columbia by a Canadian military air patrol, and it was then determined that it had been adrift since the tsunami, Canadian officials said last month.

The Japan Coast Guard identified the owner of the vessel after being contacted by Canadian officials, who were provided the identification number on the hull.

The vessel, which was used for squid fishing, was moored at Hachinohe in the Aomori prefecture when the tsunami hit, Japanese authorities said.

A Canadian vessel, the Bernie C, had expressed an interest in salvage, which delayed the operation, but officials deemed that it would be too unsafe to tow or attempt to salvage the vessel, said Coast Guard spokesman Kip Wadlow.

http://www.newsonjapan.com/html/newsdesk/article/95752.php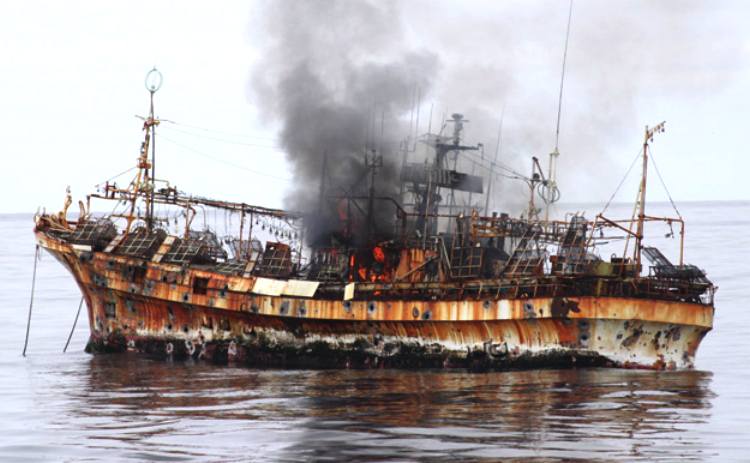 Marine & Boat Insurance Providers Table

| Company | Type of Insurance | Website |
| --- | --- | --- |
| 24 hour dinghy insurance | Dinghy & Sailboard Insurance Immediate insurance premiums displayed by clicking onto the class of craft. | |
| ABG | We've teamed up with Boatinsure.co.uk to provide our clients with a competitive online marine quote: DINGHY, SPEED BOAT, SMALL YACHT, CABIN CRUISER. | |
| Affinity Insurance Brokers | Official Brokers to the Irish Sailing Association. Affinity Insurance Brokers, the premier source for insurance coverage and risk management advice for Ireland's sailing and fishing communities. | |
| Amilcroft | Cargo INSURANCE. Take advantage of capacity and services through the London market and other specialist insurers. Our arrangements include insurers able to write surplus lines in most of North America. | |
| Arden Insurance | Arden Insurance Services are able to arrange cover on all craft from the smallest of dinghies to the largest ocean going vessels. Discounts are also available for: RYA Qualifications, Policy excesses up to 1,000GBP, Craft in Marina Berths, Craft with alarms. Many of our standard policies include: Third Party Liability up to 2,000,000GBP, 12 Months in commission cover, Underwater Machinery Damage, Protected No Claims Bonus, Road Transit Cover, Legal Protection Cover. | |
| Edwards & Associates | We offer marine insurance to cover pleasure boats such as yachts and cabin cruisers, as well as larger private boats. Whether you are looking for personal or commercial marine insurance, we have a large base of insurers who we use to make sure that you get the best possible deal: Personal and Commercial Marine Insurance. | |
| BC-Marine Inurance | Set the right course to solve your Marine Insurance Requirements. Marine Craft Insurance, Legal Protection, Foreign Travel, Boat SalesAccident & Medical, Loss Of Earnings, Marine Finance, Marine Tradesmen, Crew Liability, Instalment Plans, Boat Builders & Repairers, Public Liability, Recovery & Assistance, Product Liability. UK, Ireland, Scotland, Wales & the EU. | |
| Bishops | We have particular expertise in the following: International Marine, Cargo, Inland Goods in Transit, Hauliers Liability, Freight Forwarders Liability. | |
| Alfred Blackmore | Alfred Blackmore Group Ltd UK insurance broker specialising in bloodstock, classic car, construction, financial services, healthcare, international motor, marine, professional indemnity, reinsurance and special accident. | |
| Blythin & Brown | Loughborough brokers provide online quotes for marine insurance, and also offer a full range of financial advice. | |
| | Marine insurance underwritten by Lloyd's of London. Discover what is covered by the policies, read the FAQs, get an online quote or claim online. | |
| | Covers most commercial risks in the following industries: manufacture, motor trade, haulage supply, farms, shops, offices, clubs, pubs, hotels and marine (ONLINE APPLICATION FORM). | |
| Craftinsure | German marine insurer provides boat-insurance services throughout Europe. Select a boat type, get a quick quote, and track a claim. 20% internet purchase discount. | |
| Newton Crum | Dinghy - Narrowboat - Motorboat - Sailboard- Yacht - Marine Insurance. FREE INSURANCE QUOTATIONS no charge or obligation. Dinghy Insurance, Sailboard Insurance, Inland Waterways Insurance, Yacht - Motorboat - Speedboat Insurance, Stolen Boat List. | |
| Engine Breakdown Cover Ltd. | Offers unique insurance policies for marine in-board engines. | |
| Fairmont Insurance Services | Super Yacht Insurance for yachts in excess of $1 Million to over $125 Million. Coverage includes Liability, Loss of Charter, and Crew Personal Accident and Medical. | |
| Lucas Fettes & Partners | Marine Insurance: Hull and accessories of a vessel, passengers and worldwide cargo movements. | |
| Navigators and General | Navigators and General has been at the forefront of yacht and motorboat insurance since 1921 and has been the market leader in this field for over 70 years. Navigators & General is part of the Zurich Financial Services Group and Financial Ombudsman Service, providing policyholders with world-class security. Today, Navigators provides cover for vessels with a total value in excess of £750,000,000. Underwriting insurance for all types of leisure craft, from dinghies to £5,000,000 vessels, has provided us with the breadth of experience to understand even the most individual requirements. | |
| Giles Insurance Brokers | Marine Insurance. Dinghy, Power Boat, Yacht, Cabin Cruiser, Jet Ski, Charter Boat, Commercial Fishing Boat, Yacht Yard | |
| SHW Group | Marine Cargo Insurance. Cover is arranged with specialist insurers and the individual policies are written to suit your business requirements including if required Warehousing for distribution during export or import. | |
| LONHAM GROUP LTD | Freight legal liability for both UK and international domiciled companies. Freight legal liability insurance, Cargo insurance, Charterer's Liability insurance. Delegated authority to deal with claims matters relating to marine insurance. | |
| Mardon Marine Insurance Brokers | boat-insurance.co.uk and yacht-insurance.co.uk are the websites of Mardon Marine and maritime Underwriting Agencies Ltd. (Including Maritime Underwriting Agencies Ltd) | |
| Noble Marine | Noble Marine are specialist insurance brokers dealing with all classes Yacht insurance, rowing insurance, laser class, dinghy insurance, sailboard insurance. | |
| Rob, Perry Marine | Need Insurance? We are agents for one of the most competitive insurance brokers in the country who specialise in marine insurance. | |
| Pendleton May | We operate a scheme for the insurance of yachts, motor boats and small craft. Our expertise, experience and number of clients insuring their boats enables us to provide you with wide cover at competitive cost. Try us by completing our form. | |
| Terra Nova | Terra Nova Protection & Indemnity provides fixed premium P&I cover for the Owner / Manager / Charterers of commercial ships operating in domestic, coastwise or short-sea trades. | |
| Oban Insurance Centre | Read about the insurance schemes covering marine, holidays, business, motoring and agriculture. Offers an online quote system. | |
| B Portwood & Co.Ltd | Marine and boat insurance. On-line insurance rates are provided for dinghies, canoes, sailboards, small craft, inflatables, speedboats, yachts and motorboats for use in the uk and in Western Europe for up to 60 days. | |
| Alexander Brooks & Stevens Ltd | Marine Insurance providers | |
| Graham Sykes Insurance | Graham Sykes Insurance insure a variety of boats. Our polices cover you for use on inland and costal waterways between May and September. Smaller craft usually have to be laid up ashore over the winter months. For larger vessels we can provide cover for them all year round. For the water skiers out there we can usually extend your policy to include liability for towing water skiers. | |
| Craig & Suttar | In most cases we can provide all risks cover including third party liability for you and your craft. Polices cover you for use on inland and costal waterways between May and September. For the waterskiers out there we can usually extend your policy to include liability for towing waterskiers. In some case we can add your boat onto your house contents insurance which is sometimes cheaper. | |
| Tyser (UK) Ltd | Marine and boat Insurance | |
| Yachtsman Marine Insurance Ireland | Yachtsman Marine Insurance Ireland. Sports boats, Yacht cruisers, motor cruisers. We offer yachtsmen an exceptional insurance package at a highly competitive price. We are constantly reviewing our policy wording to provide the most up to date terms and conditions to ensure that our clients have the most appropriate cover. | |
---
Fleet operators might reduce insurance costs if their ships have
autonomous capability, which system promises safer seas.