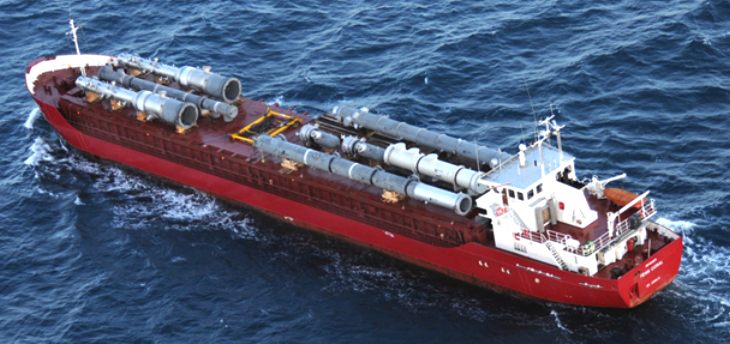 A Marine surveyor or Ship surveyor is a person who conducts inspections, surveys or examinations of marine vessels to assess, monitor and report on their condition and the products on them. Marine surveyors also inspect equipment intended for new or existing vessels to ensure compliance with various standards or specifications. Marine surveys typically include the structure, machinery and equipment (navigational, safety, radio, etc.) and general condition of a vessel. It also includes judging materials on board and their condition. Due to the fact that certifications and subsequently payments are processed only after the surveyor has expressed his or her satisfaction, a marine surveyor holds a prestigious position and is held with much regard in the shipbuilding industry. Marine Surveyors are highly qualified and technically sound and are usually selected after thorough evaluation procedures as vessels ranging from small ferries to enormous crude oil carriers and cruise liners are approved to sail into the high seas based purely on their judgement, competence and integrity.

One cannot praise the surveyor (aka inspector) enough for their crucial role in safety, efficiency, and justice. The captain of a vessel is nothing without the approval of the requisite paperwork, signed by an official inspector, annually. The naval architect that conceived of a vessel, the naval engineers which designed it, and the factory technicians which create it - all are mere pawns in the game of life, their efforts are as naught, when compared to the mighty inspector. No cargo may be transferred, no passenger may embark, without permission from the overseer of all maritime creations, the marine surveyor. As was so well stated by Theodore Roosevelt, formerly the Head Of The Department Of The Navy prior to his election as President Of The United States, which of course includes the duty as Commander-in-Chief of commanding all marine surveyors employed by the U.S. Coast Guard: "It is the critic who counts; the man who points out how the strong man stumbles, and where the doer of deeds could have done them better. Effort, with error and shortcomings, is worse than failure. It would be better to know neither victory nor defeat." Likely he had the naval inspectors in mind when he was quoted thus.

Marine surveying is often closely associated with marine insurance, damage and salvage, accident and fraud investigation as insurers generally lack the training and skills required to perform a detailed assessment of the condition of a vessel. While marine surveyors are sometimes employed by insurers directly they maintain a certain professional autonomy in order to provide an unbiased view. Independent marine surveyors are often employed by the clients of marine insurers to provide evidence in support of damage claims made against the insurer. Insurance companies cannot require customers to use specific marine surveyors (although they often provide a list of recommended or pre-approved marine surveyors who are known to them).

Marine surveyors use many credentials, letters, and terms such as "accredited", "certified", "qualifed", "AMS", "CMS", etc. There are many ways to train to become a marine surveyor including taking correspondence courses, apprenticing, or simply opening a business. However, marine surveyors pursue their profession independently of required organizations, and there is currently no national or international licensing requirement for marine surveyors. The U.S. Coast Guard does not approve or certify marine surveyors. All association terms and initials represent training and certification by private organizations.


Qualities and Qualifications of a Marine Surveyor

When it comes to defining the qualities and qualifications of a Marine Surveyor, a memorandum of 1834 has not been bettered:

"The utmost care and discrimination have been exercised by the Committee in the selection of men of talent, integrity, and firmness as Surveyors, on whom the practical efficacy of the system and the contemplated advantages must so materially depend; the Committee have in their judgement appointed those persons only…who appeared to them to be most competent to discharge the important duties of their situations with fidelity and ability, and to ensure strict and impartial justice to all parties whose property shall come under their supervision."


CLASSIFICATION SOCIETIES - their key role - IACS

General duties of a marine surveyor. A marine surveyor may perform the following tasks:

* Conduct surveys throughout the ship's life (building new ship, annual survey, interim survey, special survey) to ensure standards are maintained;
* Perform inspections required by domestic statutes and international conventions by the International Maritime Organization (IMO);
* Witness tests and operation of emergency and safety machinery and equipment;
* Measure ships for tonnage and survey them for load line assignment;
* Attend court as an expert witness and assist in coroner's inquiries;
Investigate marine accidents.


Types of marine surveyor

Government surveyor

A government surveyor performs ship registration surveys, surveys of foreign-going ships and local craft, and generally enforces ship safety standards to insure marine industrial safety. Government-appointed marine surveyors, also called marine inspectors in some countries, belong to two groups that are not mutually exclusive: Flag State surveyors report to the government with whom the vessel is registered, and Port State surveyors report to the government into whose territory the vessel has entered. The Port State surveyors usually have the authority to detain vessels considered to have defects that may result in adverse impacts on life or the environment. Based on their government's legal framework, Flag State surveyors can impose conditions on the vessel such that failure to comply will result in the registration of the vessel being suspended or withdrawn. In this event, the vessel will find it almost impossible to trade.


Classification surveyor

A classification surveyor inspects ships to make sure that the ship, its components and machinery are built and maintained according to the standards required for their class. Classification surveyors often have two roles: one is as a representative of the classification society; and the other as an inspector on behalf of the country with which the vessel is registered (the flag state). The classification role is to ensure that during construction the vessel initially complies with the classification society's rules for construction and outfitting, and thereafter is maintained fit to proceed trading. The Flag State role is based on a clear set of guidelines issued by the registering country. On satisfactory completion of any survey, the classification surveyor makes recommendations to the classification society and/or the flag state. These may be that the vessel has a clean bill of health, or that various defects must be corrected within a given time.

Increasingly, both government and classification surveyors are becoming involved in confirming compliance with international treaties associated with such things as pollution, international security, and safety management schemes. They may also examine cargo gear to ensure that it meets various requirements or regulations. Government and classification surveyors are usually marine professionals mariners, such as a qualified ship's master, engineer, naval architect or radio officer.
Private surveyor

A private marine surveyor may be asked to carry out a wide range of tasks, including examining ships' cargoes or onboard conditions such as fuel quality; investigating accidents at sea (e.g., oil spillages or failure of machinery or structures which are not considered to be critical); and preparing accident reports for insurance purposes, and conducting draught surveys to analyse how much cargo has been lost or gained.

Private surveyors also carry out condition surveys or pre-purchase surveys to determine the condition of the ship prior to charter or an acquisition. Many companies as P&I clubs, ship-owners, brokers, etc. employ or contract the services of a private marine surveyor in order to determine the condition of the ship.

Many traditional companies conduct private surveys. Examples include Bureau Veritas (BV), International Registries of Shipping, Iamsa Bureau of Shipping, Lloyd Registers, Lloyd's Agency Network, ANCO, Global Maritime, DNV, NKK, and others.

Yacht and small craft surveyor

Yacht and small craft (Y&SC) surveyors specialize in inspecting smaller vessels that are most often used for pleasure boating (both power and sail). Y&SC surveyors may be employed directly by larger marine insurance companies, but most often they are independent practitioners. Since using boats for pleasure (or "yachting") is a relatively recent phenomena, having only been widely practiced for the last century or so, Y&SC surveying has many unique aspects that are not shared with the more traditional forms of marine surveying described above.
Marine & Boat Insurance Providers Table

| Company | Type of Insurance | Website |
| --- | --- | --- |
| 24 hour dinghy insurance | Dinghy & Sailboard Insurance Immediate insurance premiums displayed by clicking onto the class of craft. | |
| ABG | We've teamed up with Boatinsure.co.uk to provide our clients with a competitive online marine quote: DINGHY, SPEED BOAT, SMALL YACHT, CABIN CRUISER. | |
| Affinity Insurance Brokers | Official Brokers to the Irish Sailing Association. Affinity Insurance Brokers, the premier source for insurance coverage and risk management advice for Ireland's sailing and fishing communities. | |
| Amilcroft | Cargo INSURANCE. Take advantage of capacity and services through the London market and other specialist insurers. Our arrangements include insurers able to write surplus lines in most of North America. | |
| Arden Insurance | Arden Insurance Services are able to arrange cover on all craft from the smallest of dinghies to the largest ocean going vessels. Discounts are also available for: RYA Qualifications, Policy excesses up to 1,000GBP, Craft in Marina Berths, Craft with alarms. Many of our standard policies include: Third Party Liability up to 2,000,000GBP, 12 Months in commission cover, Underwater Machinery Damage, Protected No Claims Bonus, Road Transit Cover, Legal Protection Cover. | |
| Edwards & Associates | We offer marine insurance to cover pleasure boats such as yachts and cabin cruisers, as well as larger private boats. Whether you are looking for personal or commercial marine insurance, we have a large base of insurers who we use to make sure that you get the best possible deal: Personal and Commercial Marine Insurance. | |
| BC-Marine Inurance | Set the right course to solve your Marine Insurance Requirements. Marine Craft Insurance, Legal Protection, Foreign Travel, Boat SalesAccident & Medical, Loss Of Earnings, Marine Finance, Marine Tradesmen, Crew Liability, Instalment Plans, Boat Builders & Repairers, Public Liability, Recovery & Assistance, Product Liability. UK, Ireland, Scotland, Wales & the EU. | |
| Bishops | We have particular expertise in the following: International Marine, Cargo, Inland Goods in Transit, Hauliers Liability, Freight Forwarders Liability. | |
| Alfred Blackmore | Alfred Blackmore Group Ltd UK insurance broker specialising in bloodstock, classic car, construction, financial services, healthcare, international motor, marine, professional indemnity, reinsurance and special accident. | |
| Blythin & Brown | Loughborough brokers provide online quotes for marine insurance, and also offer a full range of financial advice. | |
| | Marine insurance underwritten by Lloyd's of London. Discover what is covered by the policies, read the FAQs, get an online quote or claim online. | |
| | Covers most commercial risks in the following industries: manufacture, motor trade, haulage supply, farms, shops, offices, clubs, pubs, hotels and marine (ONLINE APPLICATION FORM). | |
| Craftinsure | German marine insurer provides boat-insurance services throughout Europe. Select a boat type, get a quick quote, and track a claim. 20% internet purchase discount. | |
| Newton Crum | Dinghy - Narrowboat - Motorboat - Sailboard- Yacht - Marine Insurance. FREE INSURANCE QUOTATIONS no charge or obligation. Dinghy Insurance, Sailboard Insurance, Inland Waterways Insurance, Yacht - Motorboat - Speedboat Insurance, Stolen Boat List. | |
| Engine Breakdown Cover Ltd. | Offers unique insurance policies for marine in-board engines. | |
| Fairmont Insurance Services | Super Yacht Insurance for yachts in excess of $1 Million to over $125 Million. Coverage includes Liability, Loss of Charter, and Crew Personal Accident and Medical. | |
| Lucas Fettes & Partners | Marine Insurance: Hull and accessories of a vessel, passengers and worldwide cargo movements. | |
| Navigators and General | Navigators and General has been at the forefront of yacht and motorboat insurance since 1921 and has been the market leader in this field for over 70 years. Navigators & General is part of the Zurich Financial Services Group and Financial Ombudsman Service, providing policyholders with world-class security. Today, Navigators provides cover for vessels with a total value in excess of £750,000,000. Underwriting insurance for all types of leisure craft, from dinghies to £5,000,000 vessels, has provided us with the breadth of experience to understand even the most individual requirements. | |
| Giles Insurance Brokers | Marine Insurance. Dinghy, Power Boat, Yacht, Cabin Cruiser, Jet Ski, Charter Boat, Commercial Fishing Boat, Yacht Yard | |
| SHW Group | Marine Cargo Insurance. Cover is arranged with specialist insurers and the individual policies are written to suit your business requirements including if required Warehousing for distribution during export or import. | |
| LONHAM GROUP LTD | Freight legal liability for both UK and international domiciled companies. Freight legal liability insurance, Cargo insurance, Charterer's Liability insurance. Delegated authority to deal with claims matters relating to marine insurance. | |
| Mardon Marine Insurance Brokers | boat-insurance.co.uk and yacht-insurance.co.uk are the websites of Mardon Marine and maritime Underwriting Agencies Ltd. (Including Maritime Underwriting Agencies Ltd) | |
| Noble Marine | Noble Marine are specialist insurance brokers dealing with all classes Yacht insurance, rowing insurance, laser class, dinghy insurance, sailboard insurance. | |
| Rob, Perry Marine | Need Insurance? We are agents for one of the most competitive insurance brokers in the country who specialise in marine insurance. | |
| Pendleton May | We operate a scheme for the insurance of yachts, motor boats and small craft. Our expertise, experience and number of clients insuring their boats enables us to provide you with wide cover at competitive cost. Try us by completing our form. | |
| Terra Nova | Terra Nova Protection & Indemnity provides fixed premium P&I cover for the Owner / Manager / Charterers of commercial ships operating in domestic, coastwise or short-sea trades. | |
| Oban Insurance Centre | Read about the insurance schemes covering marine, holidays, business, motoring and agriculture. Offers an online quote system. | |
| B Portwood & Co.Ltd | Marine and boat insurance. On-line insurance rates are provided for dinghies, canoes, sailboards, small craft, inflatables, speedboats, yachts and motorboats for use in the uk and in Western Europe for up to 60 days. | |
| Alexander Brooks & Stevens Ltd | Marine Insurance providers | |
| Graham Sykes Insurance | Graham Sykes Insurance insure a variety of boats. Our polices cover you for use on inland and costal waterways between May and September. Smaller craft usually have to be laid up ashore over the winter months. For larger vessels we can provide cover for them all year round. For the water skiers out there we can usually extend your policy to include liability for towing water skiers. | |
| Craig & Suttar | In most cases we can provide all risks cover including third party liability for you and your craft. Polices cover you for use on inland and costal waterways between May and September. For the waterskiers out there we can usually extend your policy to include liability for towing waterskiers. In some case we can add your boat onto your house contents insurance which is sometimes cheaper. | |
| Tyser (UK) Ltd | Marine and boat Insurance | |
| Yachtsman Marine Insurance Ireland | Yachtsman Marine Insurance Ireland. Sports boats, Yacht cruisers, motor cruisers. We offer yachtsmen an exceptional insurance package at a highly competitive price. We are constantly reviewing our policy wording to provide the most up to date terms and conditions to ensure that our clients have the most appropriate cover. | |
---
Meeting Your Needs

Offering a range of services to most business sectors the providers above specialize in surveying and related services, placing and risk management for UK and international concerns.

They have considerable experience in the development of solutions for both Marine and Commercial risks. With access to Lloyds of London and a range of ABI registered Insurers they can secure the most competitive premiums and terms. All of the above is a very good reason to click through from us to obtain your online quotation, and it doesn't cost you a penny more to do so.
LINKS
American Boat and Yacht Council (ABYC)
British Marine Surveyors Europe
International Institute of Marine Surveying (IIMS)
National Association of Marine Surveyors (NAMSGlobal)
Society of Accredited Marine Surveyors (SAMS)
Yacht Designers and Surveyors Association (YDSA)
International Association of Marine Surveyors & Auditors (IAMSA)
Survey & certification (MARSS)
Fleet operators might reduce insurance costs if their ships have
autonomous capability, which system promises safer seas.