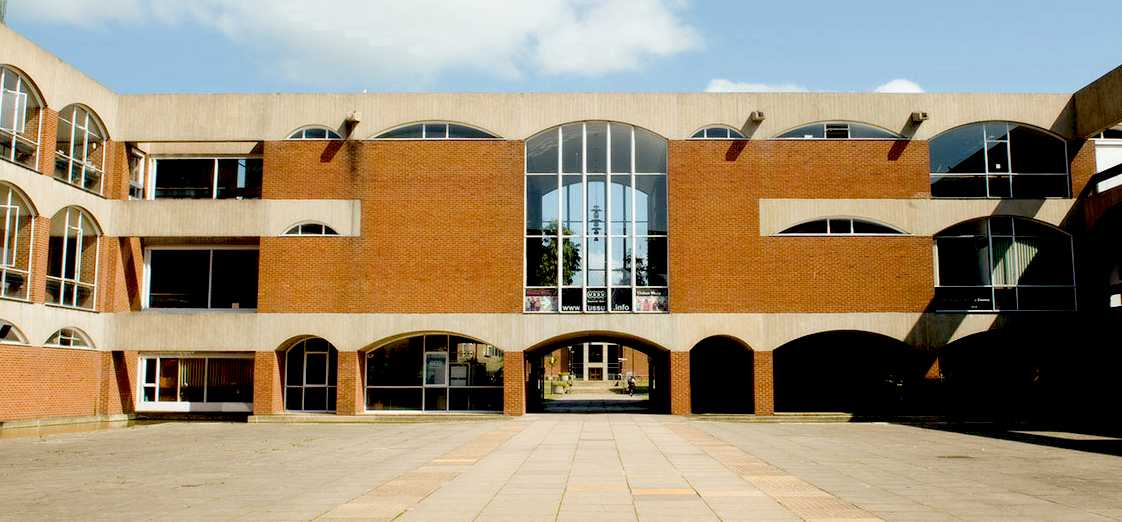 The University of Sussex is a public research university situated next to the East Sussex village of Falmer, within the city of Brighton and Hove. Taking its name from the historic county of Sussex, the university received its Royal Charter in August 1961. The university was shortlisted for 'University of the Year' in the 2011 Times Higher Education Awards. Sussex is a founding member of the 1994 Group of research-intensive universities promoting excellence in research and teaching.

Sussex is a research-intensive university. It counts three Nobel Prize winners, 14 Fellows of the Royal Society, six Fellows of the British Academy and a winner of the prestigious Crafoord Prize among its faculty. In the UK's most recent Research Assessment Exercise (RAE), 18 departments were ranked in the UK's top 20, with over 90% of research activity rated as 'world-leading', 'internationally excellent' or 'internationally recognised'. The quality of research is reflected in the funding Sussex receives from industry, research agencies, and government, which represents around 20% of the income. Sussex also has important academic partnerships with, for example, American Express and the Royal Botanic Gardens, Kew.

The university is highly placed in UK, European, and global rankings. The university is currently ranked 11th in the UK, 31st in Europe, and 99th in the world by the Times Higher Education World University Rankings. The Guardian university guide 2013 placed Sussex joint 27th, and the Times Good University Guide 2012 ranks Sussex 14th. The 2012/13 Academic Ranking of World Universities placed The University within the top 14 in the United Kingdom and in the top 150 internationally.

Since the university was founded it has maintained a strong commitment to engage with the world and have a diverse student body. Sussex receives students from 120 countries and maintains links with research universities including Georgetown University, University of California at Berkeley, University of Pennsylvania, Paris-Sorbonne University, and University of Toronto.


Schools of Studies

The university was founded with the unusual structure of "Schools of Study" (ubiquitously abbreviated to "schools") rather than traditional university departments within arts and science faculties. The Schools were intended to promote high-quality teaching and research.

The 12 schools of studies form the academic heart of the University, driving forward academic development in research and teaching and fostering an interdisciplinary approach to study. Each school provides a stimulating and supportive environment in which you will flourish taught by staff at the forefront of their fields. Additionally, many schools of studies bring together related departments, capitalising on the connections between subjects to deliver new and exciting opportunities for students and faculty. Student representatives ensure there is a strong connection between student opinion and how each department is run.

In the early 1990s, the University promoted the system by claiming, "Clusters of faculty [come] together within schools to pursue new areas of intellectual enquiry. The schools also foster broader intellectual links. Physics with Management Studies, Science and Engineering with European Studies, Economics with Mathematics all reach beyond conventional Arts/Science divisions." By this time, the original schools had been developed somewhat and were:

African and Asian Studies (abbreviated to AFRAS)
Biological Sciences (BIOLS)
Chemistry and Molecular Sciences (MOLS)
Cognitive and Computing Sciences (COGS)
Cultural and Community Studies (CCS)
Engineering and Applied Sciences (ENGG, formerly EAPS)
English and American Studies (ENGAM or EAM)
European Studies (EURO)
Mathematical and Physical Sciences (MAPS)
Social Sciences (SOC)

There was also the Institute for Development Studies(IDS).
In 2001, as the university was celebrating its 40th anniversary, the then Vice Chancellor Alasdair Smith proposed major changes to the curriculum across the 'Arts schools', and structural changes were agreed by the senate which would create two Arts schools and a "Sussex Institute" in place of the five schools then in place. Corresponding changes would be made in Sciences.

The changes were finally implemented in September 2003. After discussion in senate and the schools, disciplinary departments which had been located across the different schools, were located firmly within one school, and undergraduates were offered straightforward degree subjects. The multi-disciplinarity provided by the school courses was now to be achieved through elective courses from other departments and schools.
The new schools were:

Humanities (HUMS)
Life Sciences (LIFESCI)
Science and Technology (SCITECH)
Social Sciences and Cultural Studies (SOCCUL)
Sussex Institute (SI)

In 2009 the university adopted a new organisational structure. The term "Schools of Studies" was retained, but each was headed by a "Head of School" rather than the traditional "Dean". Many of these new heads were appointed from outside Sussex rather than from existing faculty. The schools as of 2009 are listed below. The term "department" has been retained in some cases, where a school contains separate disciplines.

Engineering and Informatics (two separate schools before 2011)
Life Sciences (Includes: Biology, Environmental Science, Chemistry and Biochemistry and houses the Centre for Genome Damage and Stability)
Mathematical and Physical Sciences (Includes: Mathematics, Physics and Astronomy)
Psychology
Business, Management and Economics
Education and Social Work
Global Studies (Includes: Anthropology, Geography and International Relations, as well as interdisciplinary programmes in Development Studies)
Law, Politics and Sociology
English
History, Art History and Philosophy
Media, Film and Music
The changes did not affect the Brighton and Sussex Medical School (BSMS).


Notable faculty

In the sciences Sussex counts among its past and present faculty five Nobel Prize winners: Sir Anthony Leggett, Sir Paul Nurse, Archer Martin, Sir John Cornforth and Professor Harry Kroto. Sir Harry, the first Briton to win the chemistry prize in over ten years, received the prize in 1996 for the discovery of a new class of carbon compounds known as the fullerenes.

John Maynard Smith, FRS, founding father of Sussex Biology was honoured with the Crafoord Prize and the Kyoto Prize for his contributions to Evolutionary Biology.

The University has 15 Fellows of the Royal Society - the highest number per science student of any British university other than Cambridge.

In the arts, there are six members of faculty - an unusually high proportion - who have the distinction of being Fellows of the British Academy. Faculty publish around 3,000 papers, journal articles and books each year, as well as being involved in consultative work across the world.

Other prominent academics associated with the University include Geoffrey Bennington, the creator of the MA programme in Modern French Thought (Derrida, Lyotard); Homi K. Bhabha (postcolonialism); Rachel Bowlby (feminism, Woolf, Freud); Geoff Cloke FRS (Inorganic Chemistry); Jonathan Dollimore (Renaissance literature, gender and queer studies); Katy Gardner (social anthropology); Gabriel Josipovici (Dante, the Bible); Michael Land FRS (Animal Vision - Frink Medal); Michael Lappert FRS (Inorganic Chemistry); Alan Lehmann FRS (Genetics and Genome Stability); (Laura Marcus (Woolf); John Murrell FRS (Theoretical Chemistry); Peter Nicholls (Pound, modernism); John Nixon FRS (Inorganic Chemistry)); Laurence Pearl FRS (Structural Biology); Guy Richardson FRS (Neuroscience); Jacqueline Rose (feminism, psychoanalysis); Nicholas Royle (modern literature and theory; deconstruction); Alan Sinfield (Shakespeare, sexuality, queer theory); Norman Vance (Victorian, classical reception); Richard Whatmore & Knud Haakonssen (intellectual historians); Gavin Ashenden (Senior Lecturer in English, University Chaplain, and Chaplain to Her Majesty Queen Elizabeth II); Cedric Watts (Conrad, Greene); Marcus Wood (postcolonialism).
CONTACTS:
University of Sussex
Sussex House
Brighton
East Sussex
BN1 9RH
United Kingdom
T +44 (0)1273 606755
E information@sussex.ac.uk
EDUCATIONS LINKS: