The Institute of Navigation (ION) is a non-profit professional organization for the advancement of the art and science of positioning, navigation and timing. It was founded in 1945 and serves communities interested in navigation and positioning on land, air, sea and space. It is a worldwide organization with members in more than 50 countries.

As of 2012, the ION has approximately 3,000 members. The ION is headquartered in Manassas, Virginia.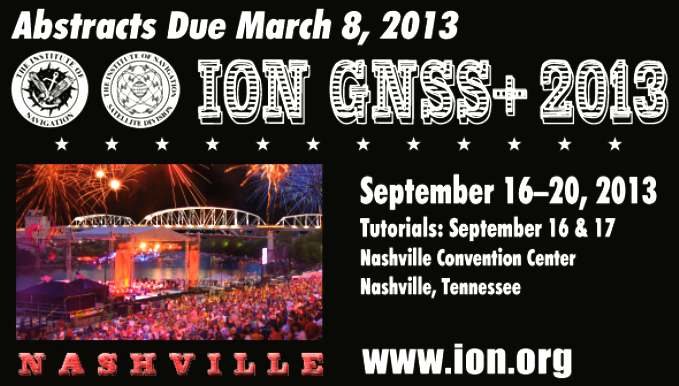 HISTORY

During World War II, the field of navigation experienced "dramatic developments [during] a period of fast-moving changes... People recognized the need for an organization to provide a forum for discussion [of the] various aspects of navigation." Dr. Samuel Herrick, assistant professor of astronomy at UCLA, proposed an institute for navigation. Dr. Herrick envisioned a research center and publication of a journal.

On June 25, 1945, the Institute of Navigation was founded at an organizational meeting held at UCLA. The Institute's first permanent council was elected at the first annual meeting in October 1945. Colin H. McIntosh, of American Airlines, was elected as the Institute's first president. The Institute's journal, Navigation, was first published in March 1946.

The ION National Office was located on the campus of UCLA until 1960, when it moved to Washington, DC. In 1992, the headquarters were relocated to Northern Virginia.

CONFERENCES

The Institute sponsors several technical conferences each year. These conferences focus on current developments in navigation technology and policy.

IEEE/ION PLANS (Position, Location and Navigation Symposium) Conference, Spring, biennial.
JSDE/ION Joint Navigation Conference, June.

ION GNSS, September. ION GNSS is attended by approximately 1,800 GPS and GNSS specialists from more than 40 countries.


PROGRAMS

The Institute of Navigation publishes a quarterly, peer-reviewed journal, Navigation.

The ION sponsors a variety of programs intended to promote the art and science of positioning, navigation and timing. In an effort to reach out to the next generation of engineers, ION sponsors the ION Robotic Lawn Mower Competition, the ION Mini-Urban Challenge, ION Autonomous Snowplow Competition, a scholarship program, and student paper competitions.

The ION also sponsors government fellows that serve a one-year term in a Congressional office or an Executive Branch department.

AWARDS

The ION recognizes individuals who have made significant contributions to the art and science of navigation. These recognitions include annual awards and election to Fellow membership.
SATELLITE DIVISION

Satellite Division: The purpose of the Satellite Division is to encourage the development, operation, and use of navigation and position determination systems incorporating satellite based elements. The Satellite Division sponsors two awards presented each year. The Johannes Kepler Award honors individuals for sustained and significant contributions to the development of satellite navigation. The Bradford W. Parkinson Award recognizes outstanding graduate students in the field of Global Navigation Satellite Systems.

The Institute of Navigation is the world's premier non-profit professional society dedicated to the advancement of the art and science of positioning, navigation and timing (PNT). Founded in 1945, it serves a diverse community including those interested in air, space, marine, land navigation, and position determination. Its membership is worldwide, and it is affiliated with the International Association of Institutes of Navigation.

ION members are drawn from many sources including professional navigators, astronomers, cartographers, photogrametrists, meteorologists, engineers, physicists, educators, geodesists, surveyors, general aviation and airline pilots, mariners, yachtsmen, and anyone interested in position-determining systems. Corporate members include corporations, civil and military government agencies, private scientific and technical institutions, universities and training academies, and consulting firms.

ION INTERNATIONAL TECHNICAL MEETINGS

These technical meetings offer you and your colleagues the opportunity to exchange technological information on the various navigation and positioning systems. The Institute annually sponsors an International Technical Meeting (January), IEEE/ION PLANS (Spring), JSDE/ION Joint Navigation Conference (Spring), and ION GNSS Meeting (September, sponsored by the ION's Satellite Division). These conferences provide a chance to present technical papers and discuss new findings with industry peers. The meetings are an opportunity to meet new people and renew old acquaintances.


PUBLICATIONS

The ION is well known for is its prestigious quarterly journal, NAVIGATION. The journal publishes original, peer-reviewed articles on all areas related to the science and technology of air, sea, land and space navigation, including estimation of position, velocity, attitude, and time, and the technologies that support the determination of these quantities. Supporting technologies include navigation aids and instrumentation, algorithms and methods, error and integrity analysis, signal processing, biological navigation systems, surveying and geodesy. Editorial services for the journal are provided by professionals in government, industry, and academia.

The ION publishes CD-ROM Proceedings from each ION conference. These proceedings contain each paper presented at the conference and provide a valuable resource for industry professionals.

Another popular series of publications are the Monographs of the Global Positioning System, better known as the "GPS Red Books".

AWARDS PROGRAM

The Institute sponsors five major annual awards. These awards include the Thurlow, Hays, Weems, Superior Achievement, and Burka Awards. Nominations are solicited from the navigation community. The presentation of these coveted awards is one of the many highlights of the ION International Technical Meeting.

In addition to the major awards, the ION sponsors student awards for navigation excellence. Cash awards are available to outstanding students of navigation selected by the faculty of recognized academies.

THE COUNCIL

The Council of the Institute acts as its board of directors. Council members are elected by the membership. Day-to-day operations of the Institute are conducted by the national office staff, at the national headquarters of the ION in Manassas, Virginia.
MEMBERS - ION CORPORATE DIRECTORY

746 Test Squadron
ACUTRONIC USA, Inc.
Aerospace Corporation
Agency for Defense Development
AGENCY FOR DEFENSE DEVELOPMENT
Airways Corp of New Zealand
Analytical Graphics, Inc.
APOGEE ENGINEERING
Applanix Corporation
Ashtech
ATLANTIC INERTIAL SYSTEMS INC
Aviation Data Communication Corporation
Braxton Technologies, LLC
Broadcom
C.S. Draper Laboratory
CAST Navigation, LLC
Chronos Technology Limited
CMC Electronics, Inc.
Coherent Navigation, Inc.
Crossbow Technology, Inc.
CTAE - AEROSPACE RESEARCH & TECHNOLOG
DATAGRID INC
Deimos Space S.L.
DW International Ltd
E EADS Astrium
EMCORE
EXCELITAS TECHNOLOGIES CORP.
Falcon Reconnaissance Systems
FASTRAX LTD.
Federal Aviation Administration
FRAUNHOFER IIS
Furuno GPS/OEM Timing
General Lighthouse Authorities
Geo++® GmbH
German Aerospace Center (DLR)
GMV Aerospace and Defence, S.A.
GPS NETWORKING
Hemisphere GPS
Honeywell, Inc.
IDEAL AEROSMITH
Infinity Systems Engineering
Inmarsat
Innovative Solutions International
Inside GNSS/Gibbons Media Research
Institute of Flight Guidance, TU-BS
InterSense Inc.
ISAE
iSense, LLC
ISI , A SUBSIDIARY OF PRAGMATICS
ISRO Satellite Centre
ITT Communication Systems GNSS Solutions
ITT Exelis
Javad Positioning Systems
Johns Hopkins University/APL
K Kongsberg Seatex AS
KVH Industries
L-3 Communications/IEC
LIGHTSQUARED
LINQUEST CORPORATION
LOCATA CORPORATION
LOCKHEED MARTIN
Loctronix Corporation
Maxtena, Inc.
MTRG CESRE CSIRO
MTSI
National Geodetic Survey
NATIONAL INSTRUMENTS
Navcom Technology, Inc.
NAVCON
NAVSYS CORPORATION
NavtechGPS
NAVXPERIENCE GMBH
Nexteq Navigation
Nikon-Trimble Co., Ltd.
Northrop Grumman Electronic Systems
Novariant
Novatel, Inc.
NSL
Ohio University Avionics Engineering Center
OMNISTAR
Omnistar, Inc.
Overlook Systems Technologies, Inc.
Penn State University Navigation R&D Center
PETROLEO BRASILEIRO S/A
Point, Inc.
PREDESA, LLC
Predesa, LLC
R RAKON LTD
RAVEN INDUSTRIES-ATC
RAYTHEON
RENESAS DESIGN FRANCE
RINCON RESEARCH CORPORATION
Rockwell Collins
ROHDE & SCHWARZ, INC.
Romona, Inc.
Rx Networks, Inc.
Sandia National Laboratories
Sarantel, Ltd.
Selex Systems Integration Inc
SENSONOR TECHNOLOGIES AS
SEPTENTRIO SATELLITE NAVIGATION
SILICOM
SiRF Technology, Inc.
skyguide - swiss air navigation services ltd
Sokkia Topcon Co., Ltd., Technical Administration
Southern Avionics Co.
SPARTON CORPORATION
SPAWAR Systems Center Atlantic
Spirent Communications SW, Ltd
Spirent Federal Systems
ST Ericsson UK Ltd
ST MICROELECTRONICS
Steve Lieber & Associates, Inc. (SLA, Inc.)
SUBCARRIER SYSTEMS CORP (SCSC)
SYMMETRICOM
SYSTRON DONNER INERTIAL
TAHOE RF SEMICONDUCTOR, INC
TELESPAZIO
The MITRE Corporation
The University of Texas
Topcon Positioning Systems, CIS
Trimble Integrated Technologies
Trimble Navigation, Ltd.
TRUSTED POSITIONING
TUBITAK SAGE
u-blox AG
U.S. Coast Guard Command & Control Engineering Center
U.S. MERCHANT MARINE ACADEMY
United States Coast Guard Academy (USCGA)
Universal Avionics Corporation
UrsaNav, Inc.
US COAST GUARD
US Naval Observatory
USAF GPS Wing
USCG Navigation Center (NAVCEN)
USCG R&D Center
USDOT/VNTSC
Vectronix Inc.
White Electronic Designs Corporation
Xsens Technologies B.V


Navigation is a roving animal with the development of Loran, then in 1978 the launch of the first GPS satellite. Such developments challenged the very idea of a Royal Institute of Navigation. This is because position-finding is now a relatively automated function.

These developments allied to a determination to embrace global satellite navigation systems and information technology as important elements in modern navigation, helped the ION become a 21st century organisation.
ION AIMS & OBJECTIVES

The ION has three stated main ai


ION FUTURE

The process of evolution continues today. In 2002 the RIN made its first appearance on the internet, and its website has been consistently popular ever since as a source of news for everyone with an interest in navigation.
In 2004, the Council began investigating ways to provide members with legal protection. Three years later, to mark its 60th anniversary in 2007, the Institute changed its status once again, as it had to mark its 25th. It gained a Royal Charter, becoming an 'incorporated body' just after the stroke of midnight on January 1 2007. In the wake of the change, the Institute developed a new logo and website for the 21st Century.
CONTACT THE ION
THE INSTITUTE OF NAVIGATION
8551 Rixlew Lane
Suite 360
Manassas, VA 20109

Phone: 703.366.2723
Fax: 703.366.2724
membership@ion.org
Manassas is an independent city surrounded by Prince William County and the independent city of Manassas Park in the Commonwealth of Virginia in the United States. Its population was 37,821 as of 2010. Manassas also surrounds the 38-acre (150,000 m2) county courthouse, but that county property is not part of the city. The City of Manassas has several important historic sites from the period 1850–1870. The Bureau of Economic Analysis combines the city of Manassas (along with Manassas Park) with Prince William County for statistical purposes. The City of Manassas is part of the Washington Metropolitan Area and it is situated in the Northern Virginia region.
Council of the Institute of Navigation
The Council of the Institute acts as its Board of Directors. The Council Members are elected annually by the Membership. Day-to-day operations of the Institute are conducted by the National Office Staff, at the national headquarters of the ION in Manassas, Virginia.

ION / COUNCIL INFORMATION

COUNCIL AND COMMITTEE MEETING MINUTES
2013:
Council and Executive Committee Minutes - January 2013

2012:
Executive Committee Minutes - September 2012
Executive Committee Minutes - April 2012
Council Minutes - April 2012
Council Minutes - January 2012

2011:
Council Minutes - June 2011
Executive Committee Minutes - June 2011
Council Minutes - January 2011

2010:
Executive Committee Minutes - September 2010
Council Minutes - May 2010
Council Minutes - January 2010

2009:
Executive Committee Minutes - June 2009
Council Minutes - June 2009
Council Minutes - January 2009

2008:
Executive Committee Minutes - September 2008
Council Minutes - May 2008
Executive Committee Minutes - May 2008
Council Minutes - January 2008
Executive Committee Minutes - January 2008


ION POLICIES AND PROCEDURES:
Corporate Documents

Bylaws, January 2013
Articles of Incorporation, January 26, 1967
Virginia State Corporation Commission, July 1, 1992

Policies

Annual Awards Policy, January 2013
Conference Committee Matrix, June 2000
Conflict of Interest Discloure, January 2009
Congressional Fellow Policy, January 2000
Document Retention Policy, January 2009
Executive Fellow Policy, January 2003
Fellow Selection Policy, January 2012
Meeting Co-Sponsorship Policy, January 21, 2001
Policy for Issuance of Press Passes for ION Meetings, October 2008
Student Award Policy, January 13, 1997
Student Travel Grant Policy, June 29, 1997
Whistleblower Policy, January 25, 2009

Satellite Division

Bylaws, September 2012
Tutorial Policy, January 2012
Investment Strategy, September 12, 2003
Funding Guidelines, January 21, 1998
Award Policies and Procedures, September 2012
Education Modules
Financial Information

2013-2014 Budget, January 2013
Audited Financial Statements, FY 2010-11, June 1, 2011

Other Resources

Council Position Descriptions, April 2012
Personnel Handbook, January 2013
Strategic Plan, January 2010
Section Handbook, January 2000
Section Scholarship Plans:
Alberta, June 2003
Dayton, January 2002
Rocky Mountain Section, January 2003
Southern California Section, June 6, 2004

LINKS
http://www.ion.org/
http://www.rin.org.uk/
The latest Solarnavigator is designed to be capable of an autonomous world navigation set for an attempt in 2015 if all goes according to schedule. This scientific expedition will improve safety at sea by demonstrating robotic navigation at a practical level.