A yacht was originally defined as a light, fast sailing vessel used to convey important persons. In later parlance, the definition came to mean any vessel, other than a dinghy, propelled by sail, power or both and used for pleasure cruising and/or yacht racing.
A sailing yacht can vary in overall length (LOA in yachting parlance) from about 6 m (20 feet) to well over 30 m (98 ft) or more. However, most privately owned yachts fall on the range of about 7 m to 14 m (about 23-46 ft); the cost of building and keeping a yacht rises quickly as length increases.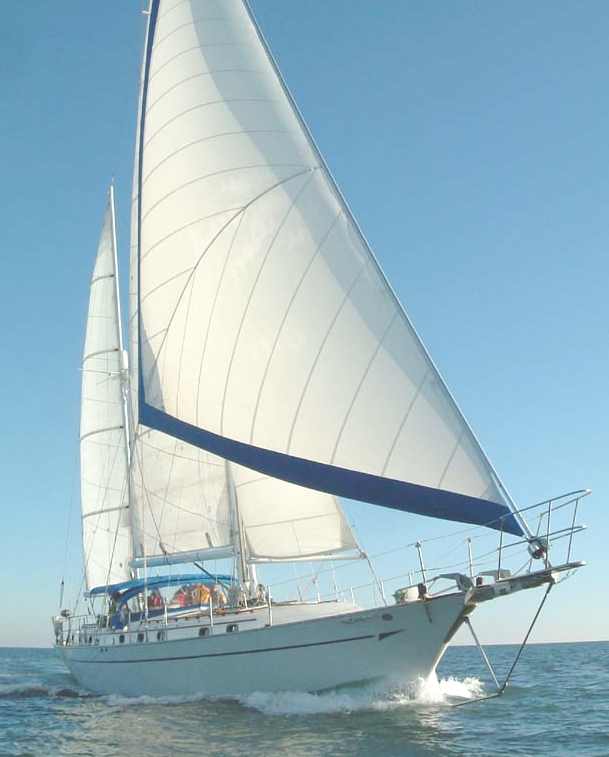 Modern motor sailor ketch
'Cruisers' are by the far the most common in private usage, making up most of the 7 m to 14 m (23 to 46 ft) range. These vessels can be quite complex in design, as designers try to find a balance between docile handling qualities, interior space, good light-wing performance and on-board comfort. The huge range of such craft, from dozens of builders worldwide make it hard to determine a specific description. However, most favour a teardrop-planform hull, with a wide, flat bottom and deep single-fin keel to give good stability. Most are single-mast 'Bermudan sloop' rigged vessels, with a single fore-sail (of the 'jib' or 'Genoa') type and a single Mainsail. Spinnaker sails, with huge areas, are often supplied for lightwind use. These types are often chosen as family vessels, especially those in the 8 to 12 metre (32 to 40 ft) range. Such a vessel will usually have many rooms below deck. Typically there will be 3 double-berth cabins, a single large saloon (galley, seating and navigation area) and a 'head' (toilet/showeroom).
In recent years, small/medium-sized private yachts have evolved from fairly simple vessels with basic accommodation to sophisticated and luxurious boats. This is largely due to reduced hull-building costs brought about by the introduction of fibre-glass hulls, and increased automation and 'production line' techniques to yacht building, especially in Europe. In recent years the amount of electric equipment used on yachts has increased greatly. Even 20 years ago, it was not common for a 7 m (25 ft) yacht to have electric lighting. Now all but the smallest, most basic yachts have electric lighting, radio and navigation aids such as GPS. Yachts around 10 m (33 ft) bring in comforts such as hot water, pressurised water systems, refrigerators etc.
YACHT CHARTER LINKS:
ADE International Yacht Charter
Barebootcharter (Selbstfahrer) auf unseren Internetseiten finden Sie eine internationale Zusammenstellung von ...
A large selection of charter and crewed yachts : cats, monohulls, motor yachts, schooners . Choose your charte...
Alquiler veleros Latitud42 charters
Mediterranean and Caribbean crewed sailing yacht charters. Mallorca, Menorca, Ibiza, Barcelona, Greece, Miami,...
RYA Training Centre for sailing yachts.Based in Alcudia,North Mallorca, offering all RYA courses, both practic...
Barnard Hamilton International Group
A desire to boat in the most beautiful bay in the Mediterranean may lead you to Puerto Pollensa. Meet the man...
Luxury Oyster sailing yacht charters
Sboats - Yacht Charter Directory - Sailing holidays in North America
Sie bleiben nicht auf gepackten Koffern sitzen, wenn wir gemeinsam Ihren Törn planen. Ich bin seit 1988 Kroati...
Celebrating a special occasion, or simply wanting to do something different? See the Mediterranean coastline a...
We are specialists in flotillas, bareboat and crewed yacht charters and the first choice for sailing in Turkey...
Sea Independence is one of the leading yacht brokers in Europe. Established in 1979 and formerly known as dahm...
Trader Motor Yacht Sales and Charter Holidays in Mallorca
Charter Management company based in Turkey and Mallorca specialisng in Broadblue Catamarans.
A charter with Mallorca Sea School and Charters is unlike any other. We take tremendous pride in providing the...
Let Our Experience Be Your Guide to Chartering the Finest Sailing & Motor Yachts Worldwide! Preview on-line...
RYA Tuition & Charter and cruising holidays, all year round in the sun. Canaries & Costa del Sol all year roun...
First network of yacht charter specialists, our aim is to propose our clients each year the largest range of s...
Wer träumt nicht davon die Balearen einmal mit einer Yacht zu erkunden? Die Strände der Mittelmeerinseln Mallo...
ECC Yacht Charter is one of the premier leisure boat charterers in the Canary Islands. We have operating ba...
Visit us in Valencia - host of the 32nd edition of the America's Cup America's Cup: Enjoy the wind where ...
FunSail Vacations is a young company crewed (sorry - staffed) by ex charter yacht crew, so we know the busine...
Greece Yachts & B&Y Charters International Exclusive! The B & Y Charters International team has developed...
Yacht charter Mallorca 20 sailing yachts from 33' to 50' Beneteau, Jeanneau, Dufour, Bavaria
We look forward to assisting you with your charter - bareboat, skippered, fully crewed, flotilla or motor yach...
This site is part of the Global Yacht group. It specialises in Late and Special Offers for all charter yachts,...
Brand new catamaran for charter in Baleares, 4 double cabins, 4wc, ac, 40hp auxiliary.
We offer you the only centralized information, availability and reservations service free of charge. If you do...
We have a large selection of motor cruisers, sailing yachts and speed boats for charter bareboat or crewed. Lu...
We are a long established company with over 14 years experience on the Island, we specialise in Chartering, Br...
Riva, Ferretti, Pershing Main Agent for Mallorca Elan Distributor for Spain Rodman Distributor for Balea...
Eastern and South coasts of Spain, Balearic and Canary Islands, French Riviera, Corsica, Salerno, Sicily, Croa...
The marina Puerto Portals in Mallorca is considered by many to be the pearl of the Balearic Islands. At it's c...
Ocean Cruise is a company dedicated to the highest quality of services in the field of large and luxury yachti...
Welcome to Palma Maritime Yacht Charter - Yacht Management - Yacht Brokerage PALMA MARITIME S.L. is...
Poolyachts is one of the leading companies for both sailing yacht and power boat charter and brokerage on the ...
You would like to spend your next holiday on two of the most beautiful islands in the mediterranian sea? We...
With the whole world seemingly going electronic, with recordings instead of people answering phones, with robo...
Dufourt Atoll 3 charter in Balearic island, special Ibiza and Formentera. Ours prices all-in and the boat qual...
Sailing all year round from Alcudia and Pollensa in north eastern Mallorca, we offer sailing tuition and shor...
RYA recognised Motorrboat School and Charter Company in Cala D'or Mallorca. Motorboot Schule und Charter Agen...
Setsail offers flight inclusive Flotilla & bareboat sailing holidays. Providing a range of modern cruising yac...
Sirena Sailing offers the following in the Balearic Islands: - Luxury Crewed Yacht Charter (days, weekends,...
Wir stellen Ihnen eines der führenden Charter-Unternehmen in Deutschland mitsamt seiner Dienstleistung und sei...
Wir informieren Sie hier über unser Charterangebot für 2005, unserem 24. Charterjahr. Sie finden bei uns eine ...
Sunscape Yachting offer bespoke independent yacht charter, flotilla sailing and gulet cruising holidays.
Experience a fantastic holiday cruising the balearic islands on board our fantastic Manhattan 56 motor yacht. ...
Vellmarí Monachus, S.L. is a small company that specialises in chartered voyages and 100% customised trips. It...
Discover mallorca's magnificent coastline and unspoilt bays in a brand new luxury yacht with skipper. For ...
What is your dream holiday? Could it be having freedom to roam around the beautiful Balearic Islands on board ...
Saling, scuba diving, exploring and relaxing is attainable by either chartering your own Luxury Crewed Catamar...
The White Star offers luxury accommodation for up to 8 guests sleeping in 4 en-suite cabins. All the cabins ha...
Silver Fiz is a superb 20m Yacht available for charter in the Mediterranean and her islands (Corsica, Sardinia...
Online yacht food provisioning and delivery. Simple and easy online service. You order online and we gua...
The YATES ALEMANES charter team are the best partners for your next sailing trip. Just call us and enjoy yo...
---
Nelson says: "We all need insurance to protect our investments. So, why don't you give the brokers below a try online."
Move up to a better service and help keep this project funded. For every introduction we make, the underwriters concerned will make a contribution to our project. If you are a marine insurance broker and are interested in working with us, we would like to hear from you.
---
FOR YOUR NO OBLIGATION QUOTE: Email: Nelson Kruschandl ENCLOSING DETAILS OF YOUR VESSEL, OR CARGO AND THE PLANNED JOURNEY OR DESTINATION. YOU WILL THEN BE CONTACTED BY A SPECIALIST WHO WILL GUIDE YOU THOUGH THE PROCESS.
It helps us to help you, if you tell us as much about your vessel as you can to get the ball rolling: displacement, age, length, value, country, where you cruise, etc. If you want cargo insurance, let us know the port of exit and entry, the goods and value, etc.
---
Please see the sample policy terms and conditions:-
For full details of the Noble Marine Dinghy Policy please click here
For full details of the Noble Marine Pleasurecraft Policy please click here
For full details of the Holmans Policy please click here
For a sample of the Haven Knox Johnston Policy please click here
For full details of the Yachtline Policy of Insurance please click here
For details of the Towergate Policy please click here
For a printable proposal form please click on the relevant company below:-
When completed please either fax your form to:-
Max Energy Limited - +44 (0) 1323 831727
Or, post to:-
Max Energy Limited, Oakwood, Herstmonceux, BN27 1RF, United Kingdom
Modern motor cruiser luxury yacht
---
A taste for adventure capitalists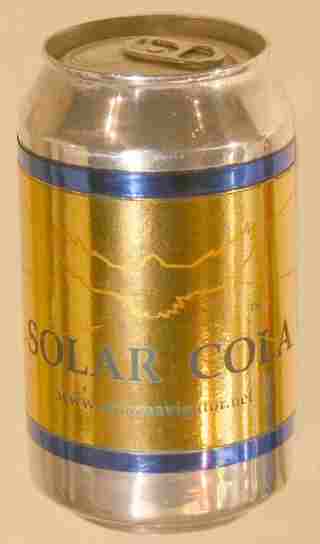 Solar Cola - a healthier alternative