UNIVERSITY of ALABAMA (HUNSTVILLE)
DEPARTMENT AEROSPACE & MECHANICAL ENGINEERING
Autonomous Boat Specification:

Base Remote Control System: Traxxas Villain Ex Deepv RTR Racer 14.4V with Rudder and Thruster Control.

On-Board Control Computer: 1.8Ghz Pentium M PC104 Industrial Computer, 40GB HD, 1GB RAM, 1GB Flash Drive, 2 Ethernet ports, 2 Serial ports, On-board Graphics.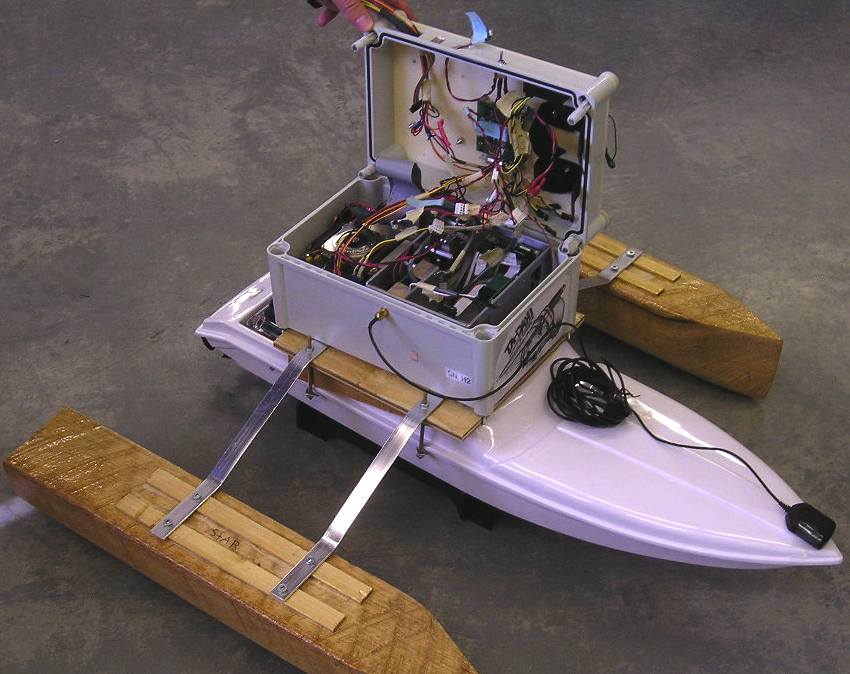 Actuator Controls: Dual-Mode (remote/computer) Controller Board Accepting Servo Command via Serial port or Radio Receiver.

Navigation Sensor: Attitude, Heading, and Positioning Reference System with Integrated DGPS Communicating with the Control Computer via Ethernet.

Software: MATLAB/SIMULINK/xPC-Target Fast Control Prototyping System.
LINKS
www.eng.uah.edu/~fahimi/Platform_Boat.html
www.gps4us.com/GPS-independent-navigation-system-for-autonomous-vessels
http://en.wikipedia.org/wiki/Geodetic_system
http://en.wikipedia.org/wiki/ECEF
www.apl.washington.edu/projects/seaglider/summary
www.seaglider.washington.edu/
http://en.wikipedia.org/wiki/IRobot_Seaglider
TropicalBoats
Solarnavigator is a battery electric ASV (Autonomous Solar Vessel), a trimaran with an extremely
efficient active hull that runs on solar power = energy from nature. This hull form has never been
attempted before, nor has the use of wind energy been used in such manner for crew comfort
(or complete onboard autonomy). A fleet of such vessels could be the basis of an international peacekeeping, and/or emergency rescue force.
Email:

or phone UK:
+ 44 (0) 1323 831727 +44 (0) 7842 607865
Blueplanet Productions, Solar House, BN27 1RF, United Kingdom
Galley | Paints | Screens | Diving
Project Estimates | Record Attempt | PR Events
Batteries | Alloys | Timber | Composites | Navigation | Hydraulics
Motors | Electronics | Solar Panels | Propeller | Transmission | Tooling | Life Support
Tank Testing (Model Construction) & Results
---
The design of the Solar Navigator boat has been licensed for use in
the John Storm series of books by Jameson Hunter