SEAROBOTICS
This company produces a number of surface and subsurface vessels for duties such as hull inspection and seafloor mapping.
Sea Robotics offers several boats that can be used to deploy either TRDI or SonTek/YSI ADCPs. These RC Boats provide manual, semi-autonomous, and autonomous control.

Type: USV 2600 Manufacturer: SeaRobotics Corp Applications: survey/surveillance, hydrographic data-gathering, general purpose sensor transport Dimensions: length: 4m, beam: 2m Weight: 165kg Propulsion: dual electric thrusters, differential thrust steering Performance: efficient wave-piercing hull, speed: >14km/h, endurance: 100hr+ at 6km/h with optional generator Payloads: 100kg + payloads for small craft, numerous sensors/sonars/video systems Communications: various RF LoS radios, cellular failover option for BLoS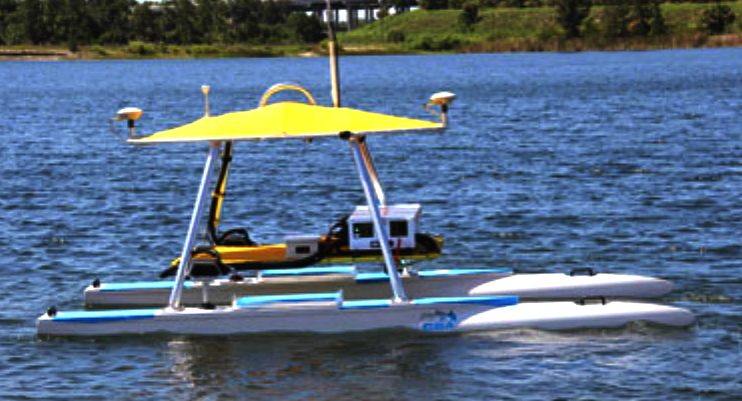 CONTACTS
SeaRobotics Corporation
7721 SW Ellipse Way
Stuart, Florida, 34997 USA
561-627-2676
LINKS
https://sites.google.com/site/usnaasv/2011-competition
http://www.auvsifoundation.org/foundation/competitions/roboboat/
http://www.auvsifoundation.org/foundation/competitions/robosub/
The ultimate RoboBoat. Solarnavigator uses an advanced SWASSH hull as the platform
to mount the world's first autonomous circumnavigation. A fleet of such vessels could be the basis of an international peacekeeping, and/or emergency rescue force. Especially when equipped with the Scorpion anti-pirate laser weapon.
---