A water taxi or river taxi is a boat used for public transportation in cities with abundant water channels. Many cities, including New York City, Boston, Baltimore, Fort Lauderdale, London, and Tokyo have scheduled water taxis which operate in a similar manner to ferries or buses. Others, like Venice, have for-hire boats similar to traditional taxis. (Venice also has a vaporetto, or waterbus, system that operates similarly to American "water taxis".) [1]
Water taxis also operate in cottage areas where some cottages are accessible only by water. Visitors can drive to a local marina and take a water taxi to the final destination.
On March 6, 2004, a "Seaport Taxi," a water taxi service operated by the Living Classrooms Foundation, capsized during a storm near Baltimore's Inner Harbor; 5 passengers died in the accident.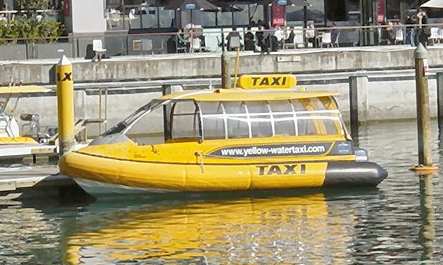 THAMES LONDON
The Thames Clippers are a water-bus service operating in London on the River Thames. They offer commuter service between eastern and central London, as well as tourist services.
Tickets
Thames Clippers operate under licence from Transport for London. Although the river boat service is not fully integrated into the tube and bus ticketing network, passengers holding a valid travelcard pay a substantially reduced fare (2/3 of the ticketed price) on all routes. Seasonal tickets are also available.
Commuter services
Main Commuter Service
Commuter service is between Savoy Pier (on the north side of the river by Embankment tube station and Charing Cross tube and railway stations) and the Royal Arsenal Woolwich Pier (on the south side of the river in Woolwich. The service runs approximately every 20 minutes during peak times, and every half hour off peak times.
Stops include from west to east:
Savoy Pier - at the Savoy Hotel

Blackfriars Bridge - for Blackfriars tube station

Bankside Pier - for Tate Modern and the Globe Theatre

London Bridge City Pier

St Katherine's Dock - for Tower of London

Canary Wharf

Greenland Dock

Masthouse Terrace

Greenwich Peak hours only

Royal Arsenal Peak hours only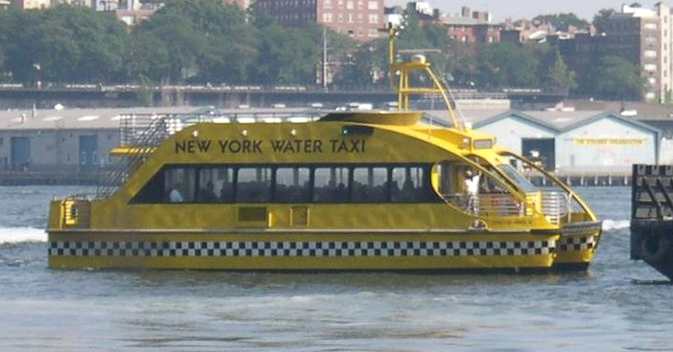 New York water taxi service
Hilton / Canary Wharf Ferry
Thames Clippers operates a direct ferry service between Canary Wharf and the Hilton Hotel London Docklands directly across the Thames from Canary Wharf in Rotherhithe. The service uses smaller boats than the commuter service but runs at a higher frequency of roughly every 10 minutes. The ferry can be used both by guests of the hotel as well as by normal passengers not staying at the hotel.
Visitor/Tourist services
Tate Boat Service
The Tate Boat Service serves visitors travelling between the Tate Modern museum on the South Bank and the older Tate Britain in Millbank across the river, with a stop by the London Eye and the Saatchi Gallery.
London Eye to Tower Express
Visitor service directly between the London Eye and the Tower of London, aimed at tourists.
Wireless internet
Since May 2006, ThamesOnline is offering free wireless internet access to all commuters using the Thames clipper service.
LINKS
---
The well known designer of exotic vehicles such as the Borzoi, Bluebird Electric and Solar Navigator, knows when he's on to a good thing. Nelson previously insured his vehicles with the Royal for about 10 years then General Accident for another 10 years. Which just shows we tend to be loyal to our insurers - but are they loyal in return?
Nelson Kruschandl - "Best value and service."
These days there is a good choice of insurers each competing to save you money, so why not shop around. When about 3 years ago Nelson's policy went up dramatically by about 30% he decided to check out the market. He obtained quotations from most of the firms advertising savings such as Churchill and Direct Line, but was pleasantly surprised to find his local company could beat the best quote he'd obtained by quite a bit and offer a better policy. Sold. Nelson says: "Why don't you give Hastings Direct a try online." Move up to a better service and help keep this website active. For every policy sold through us, Hastings Direct will contribute to our running costs - with no extra cost to you. Please help us if you can. Applies in the UK only.
UK Car, Van and Motorcycle insurance
---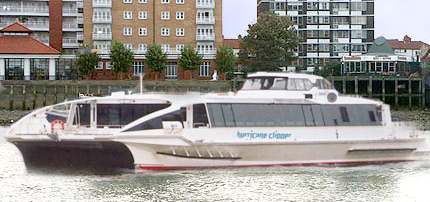 Thames Clipper water taxi
A taste for adventure capitalists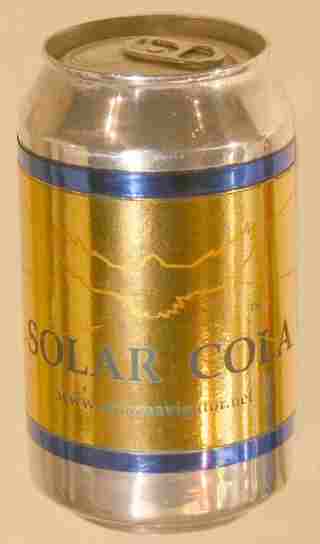 Solar Cola - a healthier alternative