•Home • Contact • Search • Site map • News • Team • Boats • Race • Multimedia • Press • ABN AMRO •

Latest News

23 July 2005


TEAM ABN AMRO hosts three generations of sailors




Pushing the boat's limits
ABN AMRO BOAT 1 (Netherlands)
Skipper Mike Sanderson (NZ)
Designer Juan Kouyoumdjian


ABN AMRO BOAT 2 (Youth Team)
Skipper TBA
Designer Juan Kouyoumdjian


ABN AMRO : : (The Netherlands) has entered two boats into the Volvo Ocean Race. Both boats are designed by Argentinean, Juan Kouyoumdjian. Irishman, Killian Bushe, builder of illbruck, the winner in 2001-02, is constructing both boats. It is a three year project, with a budget of approx. EUR 20 million.

The crew of the first boat are professionals, but the second boat will have an international crew of promising young men and women aged between 21 and 30. Applications are exclusively being accepted via a dedicated website: www.abnamro.com/team
---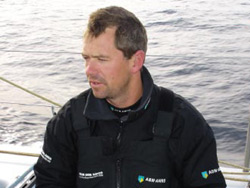 Mike Sanderson - Skipper
Right on schedule
At the beginning of April, we were off to a flying start. Although it is great to be back out there again, it is always hard when you are going to be at sea for a couple of weeks. Everyone is leaving his loved ones but then that's the game we are in. This is such a crucial time in our preparation for the Volvo Ocean Race. If we get this bit right then for sure we will have a great race come start time in November.
We started with some very smooth, quick sailing, pushing along at 19 knots and then ran into some rough lows during the second night out. Fast, wet, and wild: writing my logs has been a bit of a challenge with the nav station bucking like a wild horse. But the boat was beautifully in control and sailing to all its targets! The guys were in dry suit tops and crash helmets on deck to deal with the spray. It comes at you like a full on fire hose.
April 2 brought sun and smoother sailing: a good chance for us all to get dry and circulate some air through the boat. Everyone is now fully locked into life on board, as per normal. Food is a hot topic of conversation, especially since we only have three flavours of freeze-dried meals to choose from on this trip!
The bow takes a beating


The night of the April 4 was spectacular. The sea was messy with short, nasty waves. Instead of the boat surfing down them, we were charging through them. This sent massive sheets of water in the air as we hit the next wave at speeds as high as 32 knots!
ABN AMRO 1 - Christening
As could be expected, there was some damage. Steaming into the icy Labrador Current at 25-30 knots, the stainless steel bow pulpit lost a match with a big wave and came out bent. Then we hit something that took a good chunk out of the bow...the poor bow. Not sure what it was but it caused three loud bangs as it hit the bow, then the keel and finally the weather rudder. We dropped the gennaker and did a full-on check. Once we were sure that we were OK, back up went the Code 6 Fractional and off we were again, blasting along at 30 plus knots in total pitch-blackness! That's ocean racing for you.
Sadly a ridge of high pressure swallowed us up earlier than expected. So the breeze died at about 4 a.m. But after our first night of full on sailing at 30 plus knots of down wind stuff, we were ready for a little break…ha-ha. Tuesday April 5 marked Brad's 37th birthday and a lot of delicious chocolate bars he was kind enough to share with the rest of us! The next day saw us just 650 miles from Newport: that's only roughly the distance of a Fastnet or a Sydney-Hobart race. We put a lot of effort into keeping track of the Gulf Stream and using this ocean river to our best advantage.
The boat feels great! We modified some bits and pieces after Rotterdam. It's been time well spent making more testing and development possible: testing sails, testing Polars - which are the theoretical targets for the boat - and generally spending the time getting to know our boat better. ABN AMRO is a lot more powerful than the Volvo 60!
On Saturday April 9 Stan turned 50! Man, we spoilt him rotten on his birthday. Not only did he get to stay up all night to navigate us through the Georges Banks while doing 13 knots ocean upwind in 25 knots of wind, leaping off some pretty nice waves, but then at 6 am he got to serve himself some beautiful chicken stew for breakfast. Sunday 10 April saw us hit US coastal waters with a little un-interrupted sleep, a nice hot shower and some spicy chicken wings in sight. Our last night on open seas brought winds up to 40 knots. The boat was just smoking along, very fast and very wet.
Spicy chicken wings and NY ahoy

After nine days and 17 hours at sea, it is good to be in the US. At Newport Shipyard we have been refitting the ABN AMRO for our journey back. Thanks to the guys on our shore team, who are working long days for us and are probably looking forward to seeing us leave for New York
---
---