Hydraulic failure recurred 24 hours after repair, after rounding the second scoring gate at Eclipse Island
"MOVISTAR" STILL TROUBLED BY HYDRAULIC FAILURE; HANGS ON TO THIRD PLACE
Melbourne (Australia), January 18th, 2006
The second leg of the Round the World race is proving to be tough, hard and stressful; the struggle for first place is even harder as a result of mechanical failures. "movistar" had apparently solved her hydraulic failure, but it has reappeared again in the last hours. "Back to where we were on movistar. The replaced O-ring in the port hydraulic ram has spat the dummy. Consequence, the keel is back to a max of 20 degree, this way not much force on the cylinders and less loss of hydraulic fluid. We can go of course to a single ram, but after what happened last evening to the Pirates, want to use that as the last option" – said "movistar" skipper Bouwe Bekking.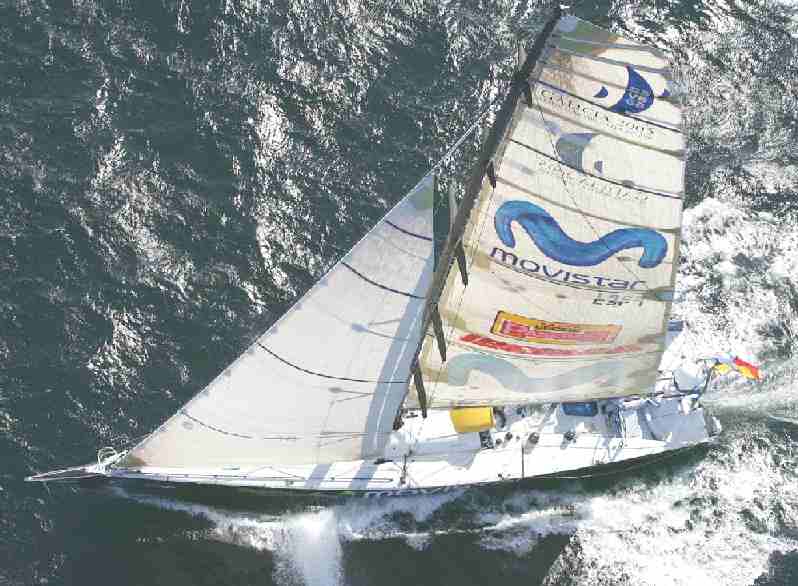 There are still 800 miles to go before the finish line, strong winds and the boats will have to cross Bass Strait, where sailing is complicated, dangerous and very hard on the equipment when the weather is rough. "Who gives me a guarantee that our rod will not snap as well?" – asks the Spanish boat skipper. "These rods were replaced in Cape Town, after recommendation after what happened to Ericsson in leg 1, but I guess they must have mixed up some material numbers, and made the rods out of recycled coca-cola cans"
The crew is in complete disbelief about what is going on: "It is hard to believe, you lay your trust in a worldwide well respected hydraulic company and this happens. This was supposed to be a yacht race and not a survivor race".
The main priority now is to keep the boat safe and to maintain the third place. "Although it still has the first principles of yacht racing intact. You have to finish before you get to score points, so we are in fully in that mode".
When they reach Melbourne, drastic measures will be taken with respect to the pivoting keel hydraulic system. "Comes of course the question: how did you manage to sail 20.000 miles before, without having real problems with the hydraulics? Answer: they were nearly double the weight, and working with a less pressurized system, and I changed them for "performance" gain to be made".
"In Melbourne we will rip these ones out, and send them back to the manufacturer and put our stainless steel ones back in movistar. It is easy to calculate how many hours the boat will be slower, when sailing them virtual around the world with the heavier rams, but at least you can sail the boat full throttle and ...........can sleep a little better when off-watch". "It looks tricky ahead"
Regarding the lead of the two Dutch boats, 150 and 100 miles respectively, Bekking put himself in their shoes: "I know the leaders probably think: not again. But light air will suit us well, as we don't need to swing the keel to gain stability".
There is growing frustration on board about the unsuccessful chase of the Dutch boats, but the history of this leg and the very history of the Round the World race make the crew confident again. "Of course everybody is down a bit, but what I said to Mike Joubert today has hit like a hammer. I asked him in what position they were after leg 2 with Assa Abloy in the last race (they finished second). Slowly a smile appeared on his face, changing into a big grin. There is still a lot of racing to be done".
Pedro Campos, general manager of the Spanish team, said "once again in this leg, we are holding our breaths and keeping our fingers crossed, hoping to reach Melbourne in one piece. We are suffering so much on shore, that I can easily imagine what they are going through on board. But these are great professionals and we are fully confident in their experience and good judgment"
"I just found out about Brasil's serious problem, and wish to send our support and encouragement to our Brazilian friends; we hope they can solve the problem and make it on time".
"Finally, I want to thank everybody in Spain and especially in Galicia, for their continued support. It would be impossible to mention every one, so I will just refer to three institutions which represent us all: First of all, the Casa Real, constantly in touch with our team, expressing their support; the Spanish Government, which is also supporting us at all times through the State Secretariat for Sports; and the Galician Government, which through the Presidency, is closely following daily developments on the "movistar", congratulating us for our successes and supporting us in difficult times".
"To all of them and through them to everyone in Spain, our heartfelt thanks".
Temporary standings (16 days and 5,338 miles into the race):
1º AMRO One (Netherlands) 762 miles from the finish
2º ABN AMRO Two (Netherlands), 46 miles behind the leader
3º movistar (Spain), 155 miles behind
4º Pirates of the Caribbean (USA), 472 miles behind
5º ING Real Estate Brunel (Australia), 899 miles behind
6º Brasil 1 (Brazil), 1,972 miles behind
7º Ericsson (Sweden), retired
---
Movistar have moved back up to third place 12 January 2006
Overnight, Paul CAYARD's (USA) Pirates of the Caribbean was overtaken by movistar when the crew noticed cracks in the area of its keel support structure. Water was coming into the boat from those cracks and still is. The rate of water flow is manageable at this time.
Thursday, 12 January 2006 - Ana Garcia:


The 11th of January, at 00:00 h GMT, the Volvo Open 70 "movistar" passed the scoring gate at Kerguelen Islands, between the Indian and Antarctic Oceans, in fourth place, two hours after "Pirates of the Caribbean". This slight difference of a mere 40 miles between both boats, 9 days and 2,485 miles into the race, is a clear indication of how tight things are at theIndian Ocean.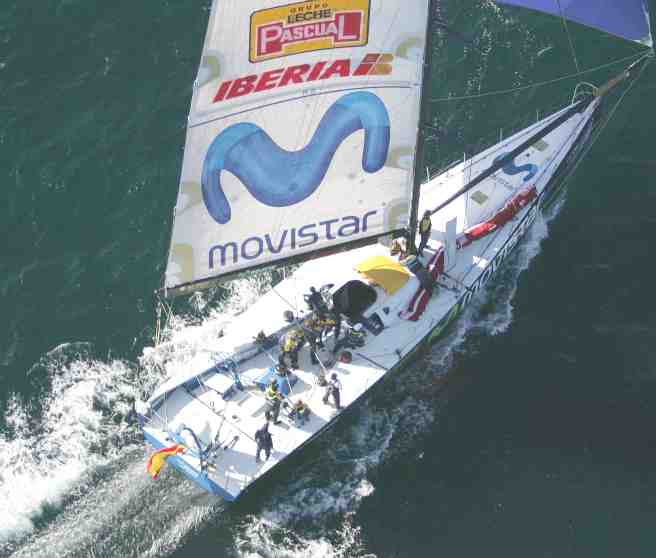 Movistar in third place: - Picture © María MUIÑA 12 January 2006


The location of the Spanish boat, where the wind had less intensity, and the breakage of one of her sails (a spinnaker), were the reasons why they could not catch up with the US boat and the Dutch boat ABN Two, which has just beaten the world speed record after a run of 563 miles in 24 hours.

The Spanish boat reported: "First of all, congratulations to the boys on ABN Two, for taking the world speed record for a monohull from their colleagues. The kids must be having quite a laugh teaching the older generations a lesson in sailing. In the report of the last six hours, only movistar was able to keep that pace. movistar is jumping and bouncing against the waves, and there is a lot of water on the deck. It's important to be well fastened; otherwise you will be carried away by the water or will hit anything violently. Xabi, our golden '49 boy, was unlucky and bumped against the wheel's protection bar, but suffered just a bruise. Yesterday we made some gains but then lost again, because of being more north and having a tad less breeze" – said Bouwe Bekking. "Potential investors should take a look at this sport; it would surely be the wildest attraction on any amusement park. Who said sailing is boring?"

On the Eastern course and the broken spinnaker, he commented: "It's amazing how that works, nearly impossible to dive south again. As well a small tear in a spinnaker didn't help. We had to take the sail down, normally we can furl this sail tight up, so that it looks like a long snake, this way the wind has not much effect on it when hoisting or dropping, but now it was all hands on deck for what we call a mongrel drop. A tight rolled sail is impossible to repair".

On the sail-repairing scene, movistar skipper said: "Probably everybody has tried once as a kid to hold his/her jacket open in a gale when standing on the beach. Now, early this morning, we try to do the same with 300 square meters trying to fly away from the boat, big waves washing over the bow of movistar, and the guys hanging on for their dear lives. But some way somehow we managed it, and now 300 square meters fill up our "living space" inside of the boat. Don't ask me how they do, but they got it fixed in no time. Glued and stitched and the sail like new, the sail makers were in their element. Thanks Spike (Peter Dorien) and Nitro (Noel Drennan".


An incident regarding food and two lighters

Besides the broken spinnaker, movistar lost the refuse bin and two lighters: "Talking of Nitro, he had a "shocker" yesterday. He was supposed to prepare dinner, so had to empty out the chilly bin with the left over lunch. Being smart he dumped it in a bucket for throwing the remainders overboard. You guessed it, he lost control over the bucket, easy way of cleaning up, not good for the environment. But then within 5 minutes he managed, to soak two lighters. Now we are down to our last one, which we will treat like a king, otherwise no warm food or hot drinks anymore for us on this trip".


Bound for Eclipse Island

The next target for the Spanish boat is the next scoring gate, located a few miles off the Australian city of Perth. Bekking said in the afternoon: "There are still 2,000 miles to Eclipse Island, on the southern tip of Australia, and I'm sure that many things will happen before we get there!" "100 miles is really a very short distance for these very fast boats".
---
Volvo Ocean Race: Designers not concerned about cracks in Black Pearl's keel - Thursday, 12 January 2006
Volvo Ocean Race organisers say that Paul Cayard's Pirates of the Caribbean's keel problem is not serious and the boat should be back up to speed by the next position report.

A spokesman for the organisers told BYM News that, having spoken with Paul Cayard, "the designers were not concerned".

Currently, there are problems getting some satellite telemetry details from the Black Pearl, but information from movistar indicates that Cayard's Volvo Open 70 is, probably, experiencing winds of around 25 knots 318° and wave heights of about 1.5 metres. Movistar's current angle of heel is 5°.

Such sailing conditions will allow Cayard to push a little harder, since he pointed out in his earlier report that it was high degrees of heel that raised serious alarm, saying: "We have run tests with 0, 20 and 40 degrees of cant while inspecting the area. 40 degrees is definitely alarming. The cracks open and close as the loads change and the water flow is more and less accordingly. 20 degrees seems tolerable .
'Sail was immediately reduced. Photos and video of the cracks were recorded and sent to the designer of the boat. 'Several hours were spent discussing this issue with the designers of the boat. A certain level of comfort was achieved and we proceeded, with reduced sail, east at twelve knots through the night.
'This morning we have reviewed the drawings of how this area was designed. It is not clear to us if this is structural damage or superficial. The fact that water is coming into the boat is not reassuring. We have a made a new video and photos in the daylight, and sent them off to the designers. 'We have run tests with 0, 20 and 40 degrees of cant while inspecting the area. 40 degrees is definitely alarming. The cracks open and close as the loads change and the water flow is more and less accordingly. 20 degrees seems tolerable.
'It is not clear to us, and probably will never be clear to us or anyone, how serious this damage is until we reach land. We simply can't properly inspect the area out here.
'On the weather side, the best winds to help us make the progress toward Australia are during the next 30 hours. We currently have winds from the northwest. Eventually, we will fall 'of the back' of this system and be hit with less favourable winds from southeast. There is danger in being out here for long time.
'Therefore, considering all of the above, I have decided to run the boat up to 80% of full speed at this time, with a maximum of 20 degree of cant, to make as much progress as reasonably possible in these conditions. 'Naturally we are taking all precautions necessary for any eventuality. 'In general, all is well and stable onboard the Black Pearl.'
Movistar in third place: - Picture © María MUIÑA 12 January 2006
---
Looking Forward To The Next Scoring Gate
As the fleet passed the halfway point in leg two of the Volvo Ocean Race, complex weather continues to challenge the fleet. However, Chris BEDFORD, race meteorologist, says, that given the expected conditions, the leaders should be nearing the second scoring gate of Eclipse Island off Australia, by Sunday.
As the fleet peels off towards the higher latitudes once more, concerns about ice remain on everyone's minds. Updated ice information was given to the fleet on Tuesday, just before they passed the final ice gate and started to head further south.
It is likely that the fleet will want to remain in the stronger winds as long as possible incurring some extra distance. The turn northeast towards Eclipse Island will be critical and the navigators will need to identify the optimum time to make the turn. A series of high pressure centres with very light and shifty winds will move towards the Australian Bight and a ridge of high pressure with accompanying light winds will move between the fleet and the scoring gate.
Position Report At 1000 Hours UTC, 12 January 2006
| | | | | | | | | | | | |
| --- | --- | --- | --- | --- | --- | --- | --- | --- | --- | --- | --- |
| Team | Nation | Skipper | Latitude | Longitude | DTF | DTL | DTLC | CMG | SMG | VMG | ETA |
| ABN AMRO ONE | NED | Mike SANDERSON (NZL) | 42 30.33S | 93 45.29E | 2554 | 0 | 0 | 91 | 19.5 | 14.7 | No Data |
| ABN AMRO TWO | NED | Sebastian JOSSE (FRA) | 41 56.30S | 88 44.50E | 2767 | 213 | 13 | 97 | 21.7 | 13.8 | No Data |
| movistar | ESP | Bouwe BEKKING (NED) | 41 20.46S | 86 07.27E | 2881 | 327 | 10 | 99 | 21 | 13.4 | No Data |
| Pirates of the Caribbean | USA | Paul CAYARD (USA) | 41 51.55S | 85 01.22E | 2932 | 378 | -17 | 103 | 16.7 | 13.1 | No Data |
| ING Real Estate Brunel | AUS | Grant WHARINGTON (AUS) | 41 33.15S | 67 35.16E | 3712 | 1158 | -40 | 107 | 12.4 | 9.9 | No Data |
| Brasil 1 | BRA | Torben GRAEL (BRA) | 40 11.46S | 37 07.11E | 5083 | 2529 | -1 | 100 | 19 | 4.1 | No Data |
| Ericsson Racing Team | SWE | Neal MCDONALD (GBR) | DNF | DNF | DNF | DNF | DNF | DNF | DNF | DNF | DNF |
Overall Leaderboard
| | | | | |
| --- | --- | --- | --- | --- |
| Pos | Team | Nation | Skippers | Pts |
| 1 | ABN AMRO ONE | NED | Mike SANDERSON (NZL) | 15 |
| 2 | Brasil 1 | BRA | Torben GRAEL (BRA) | 12.5 |
| 3 | ABN AMRO TWO | NED | Sebastien JOSSE (FRA) | 12 |
| 4 | Ericsson Racing Team | SWE | Neal MCDONALD (GBR) | 11.5 |
| 5 | movistar | ESP | Bouwe BEKKING (NED) | 6 |
| 6 | ING Real Estate Brunel | AUS | Grant WHARINGTON (AUS) | 5 |
| 6 | Pirates of the Caribbean | USA | Paul CAYARD (USA) | 5 |
CAPE TOWN: Brasil 1 has rejoined the Volvo ocean yacht race after undergoing repairs in the coastal city of Port Elizabeth.

The boat was forced back to shore just 24 hours into the 6100 nautical mile second leg between Cape Town and Melbourne because of structural damage. "The team is in very good spirits now and getting back into racing mode," skipper Torben Grael said. "It feels very good to be back sailing and the boat is behaving very well with the repair. The reinforcement that has been done should stop it happening again and we expect to be in Melbourne before the end of the month."
Ericsson Racing were also forced to turn around on the first day of the leg after sustaining keel damage and have decided to ship the boat to Melbourne ready for the third leg. Mike Sanderson's ABN AMRO ONE continue to lead the fleet, despite conceding ground after plunging south in an effort to find more wind.
They hold a 288-mile lead over ABN AMRO TWO with Paul Cayard's Pirates of the Caribbean third.
January 9, 2006
OSLO, Norway – The Dutch yacht ABN AMRO ONE was increasing its lead on a fleet battling unstable winds, fog and cold drizzle a week into the grueling southern ocean leg of the Volvo Ocean Race.
The U.S. entry Pirates of the Caribbean was second Monday en route from South Africa to Australia, followed by the second Dutch boat, ABN AMRO TWO, Movistar of Spain and ING Real Estate Brunel of Australia.
The wet, cold, exhausted and constantly hungry crews are always on the lookout for icebergs and whales, which could sink them. This vigil often is in the dark, at speeds of up to 45 mph and hundreds of miles from help.
Waves in the southern ocean reach 50 to 60 feet, launching the 70-foot boats, which then crash back onto the water. "The conditions here are quite quickly getting worse," ABN AMRO ONE skipper Mike Sanderson said by e-mail from the boat Monday. "We are working hard to try and keep this missile under control. We have done some jumps at the end of some of these waves that would make Evil Knievel proud."
The No. 1 Dutch boat's lead of 301 miles put it in a belt of stronger winds than the rest of the fleet. The second leg of the seven-month, 7,020-mile around-the-world race started from Cape Town, South Africa, on Jan. 2, and ends later this month in Melbourne, Australia. The race ends in June in Gothenburg, Sweden, after stops in Australia, New Zealand, Brazil, the United States, Britain and the Netherlands.
---
ABOUT THE VOLVO OCEAN RACE
The Volvo Ocean Race is the ultimate mix of world class sporting competition and on the edge adventure. It takes 8 months, covers 31,000 nautical miles of treacherous seas over 9 legs, in the process visiting 10 ports around the world.
The teams comprise professional sportsmen and women at the top of their game. The race requires their utmost skill, physical endurance and competitive spirit as they race from continent to continent in an easterly direction around the world.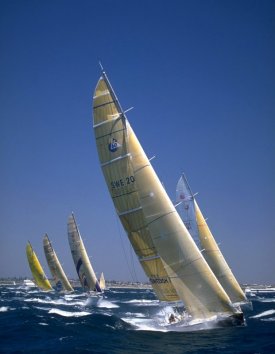 Round The World Yacht Race 2005 - 2006:
The Volvo Ocean Race is a marathon event. For nine months, world-class racers battle each other around the globe over some 32,700 miles (52,600 kilometers). Participants spend weeks at a time driving their boats to the limit 24 hours a day. They sacrifice sleep, privacy, fresh food, and other comforts to win each leg. But what happens when they reach the next port of call?
The race doesn't stop-it just shifts gears. Weary sailors get a chance to rest and prepare for the next leg, while the shore crew swings into action. After weeks of demanding action, and a spartan existence at sea, the first things these exhausted sailors crave are basic human needs.
The event will start on November 5, 2005 with an inport race in Sanxenxo, Galicia, Spain.
The race track will continue to follow the traditional route of the old clipper ships, sailing around the world with the prevailing winds. An exciting new feature introduced for this event is a number of scoring gates and pit stops around the world, where the fleet will be able to score points, which will count towards the final score.
---
---