BAJA BUG - DESERT RACER/STREET CRUISER
A collectable Baja conversion. Good condition. 1,600cc air cooled engine. 4 speed manual. 1972 F reg. Red paintwork. Brown leather interior. Service history. Black number plates and Tax exempt as an officially recognised historic vehicle.
This VW (Vdub) was converted about 15 years ago. The rear seats were moved back and the battery re-located under the bonnet forward, for better weight distribution. The front seats fold flat for emergency breaks. An adjustable front beam axle lowers the front end. 15" Weller wheels are fitted with BF Goodrich all terrain 15" x 175 tires on the rear. The front Wellers are fitted with 15" x 205 low profile tires.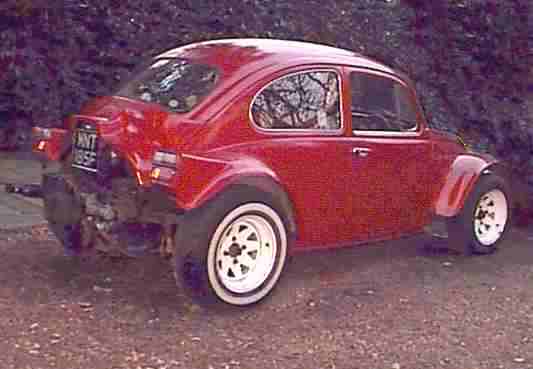 VW Beetle - Baja conversion - historic vehicle plates
The Ghia type engine has been rebuilt/improved with a high lift cam, Melling oil pump, Bosch 009 distributor, twin choke webber 40's, buggy exhaust and a lightened flywheel - new seals and bearings throughout. New cylinder heads were fitted with large stainless steel valves.
The car has completed about 20,000 miles since the rebuild which included new barrels, pistons, rings, pins, etc, and was run in on quality synthetic oil, then Slick 50 added at the next oil change.
With the new weight distribution and lower center of gravity, she handles extremely well and is a fast reliable example of this very much sought after marque.
The car will be MOT tested within 7 days of sale and ready for delivery with a new certificate shortly thereafter.