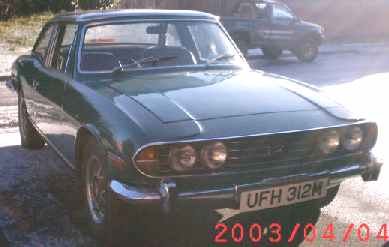 The above Stag is being offered for sale for £1,500.
The owner says it needs a full rebuild.
If you are interested please contact Mr John Ruff directly
on 01432 357435.
Call 07905 147709 for details.
Location: Hailsham in East Sussex
JOIN THE TRIUMPH STAG OWNERS CLUB
The Stag Owners Club was formed in November 1979 and currently has about 5,500 members in 32 countries. Many events are held at both local and national level, which include concours competitions, treasure hunts, social meetings, weekend breaks and fun days. In addition there are continental trips and an annual European Meeting.
The Club arranges special insurance schemes offering competitive premium to members over 25. A valuation scheme is also available to members. An active accessories section is in operation, selling a range of goods including top-quality clothing with Club logos, books, umbrellas, models, etc. An annual National Day is our premier event held in different locations around the UK every year.
The Club has a company dedicated to the remanufacture of tooling to provide spare parts for the car - every member holds one share in this company.
For Club joining Details contact:
Peter Robinson, The Old Rectory, Aslacton, Norfolk NR15 2JN
Tel: 01379 677735 Fax: 01379 677363 Peter