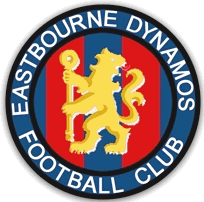 7th May 2007 - Dynamos end season with defeat
Eastbourne Dynamos ended their season as it started, with a narrow 1-0 defeat in a game they feel they should have got something from.
Dynamos dominated long periods of the game against Battle Baptists but failed to create some clear cut chances and turn them into goals, which sums up Dynamos first season.
Eastbourne players have agreed to continue to train through the summer up at Old Town Rec in order to prepare for next season. Players and supporters are also reminded that the Clubs first Awards night will take place on Saturday June 2nd at the Hogs Head. Can all players and supporters who have not handed in their vote for Players Player to Dean yet, please do so as soon as possible.
The Club would also like to thank all players, supporters and management that have helped out this season and we look forward to next season.
30th April 2007 - Dynamos Win Again
Eastbourne Dynamos secured another win as came from behind to defeat Beulah Baptists at Old Town Rec on Saturday. Goals from Christian Courtier and Mark Likeman secured the win.
The win means that Wittersham must now win both their games if they are to have any chance of finishing above Eastbourne in the League, they must also hope that Dynamos lost their final game of the season.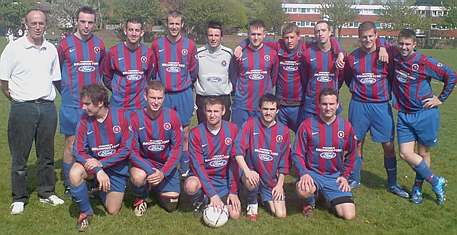 Eastbourne Dynamos - Team Photo April 2007
CLUB HISTORY
9th September 2006
Eastbourne Dynamos play their first ever competitive game down at Old Town Rec against Burwash in East Sussex League Division 3. Burwash win 1-0 thanks to a lucky goal from Kevin Bird.
26th August 2006
Eastbourne Dynamos win their first ever game, 5-2, against Willingdon AFC seconds, the Club's second ever game.
A Neil Taylor hat-trick, along with strikes from Wayne Burke and Dean Pugh secure the win, the last game before the League season kick's off!
24th August 2006
Eastbourne Dynamos play Wheatsheaf Willingdon in a pre-season friendly, their first ever full 11-a-side fixture.
After a brave show, the Dynamos eventually lose 4-2, with Chris Milnes and Dean Pugh getting the goals for Eastbourne.
SPONSORS
Birchwood Ford are Eastbourne Dynamos First Kit Sponsor. They provided the club with the splendid Nike kit they currently wear. Birchwood have many dealerships all around Sussex and they cover more than just Ford. Contact details for their Ford Dealerships are above, or visit their website, www.birchwood.net for a look at their current stock of New and Used cars.
PLAYERS
Martin Bell
DOB:
Date Signed: 01/11/2006
Previous Clubs: None
Position: Unknown
Debut: 04/11/2006 - Eastbourne Dynamos - 0 vs 1 - Little Common III (Division 3)
Liam Brooks
DOB: 27/04/1983
Date Signed: 04/09/2006
Previous Clubs: Willingdon AFC
Position: Defence \ Midfield
Debut: 09/09/2006 - Eastbourne Dynamos - 0 vs 1 - Burwash (Division 3)
Tom Budd
DOB: 28/07/1987
Date Signed: 06/09/2006
Previous Clubs: None
Position: Midfield
Debut: 09/09/2006 - Eastbourne Dynamos - 0 vs 1 - Burwash (Division 3)
Simon Burke
DOB: 29/12/1988
Date Signed: 26/07/2006
Previous Clubs: None
Position: Goalkeeper \ Defence
Debut: 23/09/2006 - Eastbourne Dynamos - 2 vs 9 - Catsfield (Division 3)
Wayne Burke
DOB: 07/07/1984
Date Signed: 19/08/2006
Previous Clubs: Willingdon AFC
Position: Midfield
Debut: 09/09/2006 - Eastbourne Dynamos - 0 vs 1 - Burwash (Division 3)
Dayle Courtier
DOB: 01/12/1983
Date Signed: 04/09/2006
Previous Clubs: None
Position: Unknown
Debut: 09/09/2006 - Eastbourne Dynamos - 0 vs 1 - Burwash (Division 3)
Christian Courtier
DOB:
Date Signed: 30/11/2006
Previous Clubs: None
Position: Unknown
Debut: 09/12/2006 - Eastbourne Dynamos - 2 vs 1 - Westfield III (K&P Motoring World Challenge Cup - Second Round)
Ben Curwood
DOB: 15/05/1984
Date Signed: 26/08/2006
Previous Clubs: None
Position: Defence
Debut: 23/09/2006 - Eastbourne Dynamos - 2 vs 9 - Catsfield (Division 3)
James Dale
DOB: 31/03/1983
Date Signed: 04/09/2006
Previous Clubs: None
Position: Defence
Debut: 16/09/2006 - Beulah Baptists - 4 vs 4 - Eastbourne Dynamos (Division 3)
Jeffery Ferguson
DOB: 09/10/1980
Date Signed: 02/08/2006
Previous Clubs: None
Position: Midfield
Debut: 09/09/2006 - Eastbourne Dynamos - 0 vs 1 - Burwash (Division 3)
Stephen Fletcher
DOB: 14/04/1983
Date Signed: 06/09/2006
Previous Clubs: None
Position: Midfield
Debut: 09/09/2006 - Eastbourne Dynamos - 0 vs 1 - Burwash (Division 3)
Gary King
DOB: 10/03/1983
Date Signed: 26/07/2006
Previous Clubs: None
Position: Defence
Debut: 09/09/2006 - Eastbourne Dynamos - 0 vs 1 - Burwash (Division 3)
Mark Likeman
DOB: 04/06/1984
Date Signed: 24/05/2006
Previous Clubs: Eastbourne United AFC & Willingdon AFC
Position: Defence
Debut: 09/09/2006 - Eastbourne Dynamos - 0 vs 1 - Burwash (Division 3)
Chris Milnes
DOB: 28/03/1981
Date Signed: 21/08/2006
Previous Clubs: None
Position: Defence
Debut: 16/09/2006 - Beulah Baptists - 4 vs 4 - Eastbourne Dynamos (Division 3)
David Moran
DOB: 02/06/1983
Date Signed: 02/08/2006
Previous Clubs: None
Position: Defence \ Goalkeeper
Debut: 09/09/2006 - Eastbourne Dynamos - 0 vs 1 - Burwash (Division 3)
Siamack Pour
DOB: 01/10/1982
Date Signed: 13/09/2006
Previous Clubs: None
Position: Unknown
Debut: 16/09/2006 - Beulah Baptists - 4 vs 4 - Eastbourne Dynamos (Division 3)
Dean Pugh
DOB: 30/03/1984
Date Signed: 01/05/2006
Previous Clubs: Eastbourne United AFC & Willingdon AFC
Position: Left Midfield
Debut: 09/09/2006 - Eastbourne Dynamos - 0 vs 1 - Burwash (Division 3)
Lee Roberts
DOB: 18/05/1975
Date Signed: 26/07/2006
Previous Clubs: None
Position: Forward
Debut: 09/09/2006 - Eastbourne Dynamos - 0 vs 1 - Burwash (Division 3)
Craig Ross
DOB: 29/10/1984
Date Signed: 06/09/2006
Previous Clubs: Red Lion & Eastbourne United AFC
Position: Midfield \ Forward
Debut: 09/09/2006 - Eastbourne Dynamos - 0 vs 1 - Burwash (Division 3)
James Smith
DOB: 14/01/1986
Date Signed: 16/08/2006
Previous Clubs: None
Position: Defence
Debut: 09/09/2006 - Eastbourne Dynamos - 0 vs 1 - Burwash (Division 3)
Alan Smith
DOB: 12/03/1958
Date Signed: 06/08/2006
Previous Clubs: None
Position: Defence
Debut: N/A
Glenn Taylor
DOB: 07/01/1983
Date Signed: 08/06/2006
Previous Clubs: None
Position: Defence \ Midfield
Debut: 30/09/2006 - Battle Baptists - 2 vs 1 - Eastbourne Dynamos (Division 3)
Neil Taylor
DOB: 12/08/1984
Date Signed: 04/06/2006
Previous Clubs: Willingdon AFC
Position: Forward
Debut: 16/09/2006 - Beulah Baptists - 4 vs 4 - Eastbourne Dynamos (Division 3)
Lloyd Taylor
DOB: 07/11/1988
Date Signed: 13/09/2006
Previous Clubs: None
Position: Unknown
Debut: 16/09/2006 - Beulah Baptists - 4 vs 4 - Eastbourne Dynamos (Division 3)
Darren Vine
DOB: 29/04/1986
Date Signed: 26/07/2006
Previous Clubs: None
Position: Midfield
Debut: 16/09/2006 - Beulah Baptists - 4 vs 4 - Eastbourne Dynamos (Division 3)
LINKS
TOP UK FOOTBALL CLUBS
---
A taste for adventure capitalists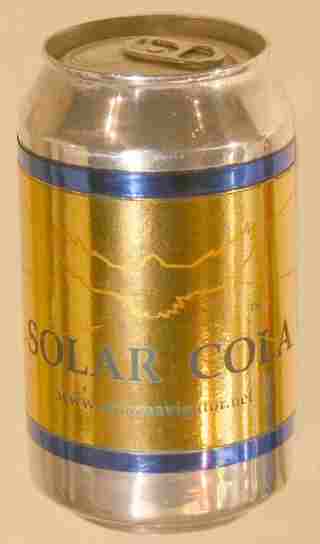 Solar Cola - a healthier alternative