The Personal Digital Assistant or PDA
PDAs or palmtops are handheld devices that were originally designed as personal organizers, but became much more versatile over the years. A basic PDA usually includes date book, address book, task list, memo pad, clock, and calculator software. Many PDAs can now access the Internet via Wi-Fi, cellular or Wide-Area Networks (WANs) or Bluetooth technology. One major advantage of using PDAs is their ability to synchronize data with a PC or home computer.
A portable computer that is small enough to be held in one's hand. Although extremely convenient to carry, handheld computers have not replaced notebook computers because of their small keyboards and screens. The most popular hand-held computers are those that are specifically designed to provide PIM (personal information manager) functions, such as a calendar and address book.
Some manufacturers are trying to solve the small keyboard problem by replacing the keyboard with an electronic pen. However, these pen-based devices rely on handwriting recognition technologies, which are still in their infancy.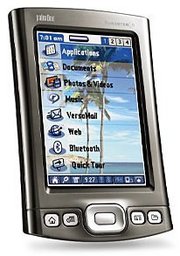 Tungsten T5 PDA
Overview
The term "personal digital assistant" was coined on January 7, 1992 by John Sculley at the Consumer Electronics Show in Las Vegas, Nevada, referring to the Apple Newton. Earlier devices like the Psion and Sharp Wizard have the functionality to be considered PDAs, however. PDA's are some times refered to as "Palms" or "Palm Pilot" after an early PDA created by Palm, Inc. This usage is similar to refering to a "tissue" as a "Kleenex".
The currently major PDA operating systems are:
Palm OS - owned by Palm, Inc.

Windows Mobile (Pocket PC), (based on the Windows CE kernel) - owned by Microsoft

BlackBerry - owned by Research In Motion

Many operating systems based on the Linux kernel - free (not owned by any company) These include:

Symbian OS (formerly EPOC) owned by Ericsson, Panasonic, Nokia, Samsung, Siemens and Sony Ericsson
Many PDAs run using a variation of the ARM architecture (usually denoted by the Intel XScale trademark). This encompasses a class of RISC microprocessors that are widely used in mobile devices and embedded systems, and its design was influenced strongly by a popular 1970s/1980s CPU, the MOS Technology 6502.
According to a Gartner market study, the overall market for PDAs grew by 20.7% in the third (Q3) of 2005, compared to Q3 2004, with marketshare resolving as follows (by operating system):
for Palm, Inc. PDAs and some other licensees- 14.9% (declining)

Windows Mobile for PDAs that comply with the Microsoft's Pocket PC specifications - 49.2% (increasing)

BlackBerry OS for BlackBerry PDA (produced by Research In Motion) - 25.0% (increasing)

Symbian OS - 5.8% (increasing)

Various operating systems based on the Linux kernel for various special designed PDAs (many other supported) - 0.7% (stable)

Other - 4.4% (stable)
The reason usually cited for the resumption in PDA market growth (after market declines in 2002 - 2004) is the growing interest in PDAs offering wireless email capabilities (such as BlackBerries), and PDAs with built-in GPS capabilities for navigation. Smartphones — mobile phones with PDA-like abilities will likely curtail PDA growth in the near future, as smartphones are becoming very popular.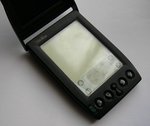 Palm IIIxe PDA
Popular PDAs
Apple Computer Newton

BlackBerry

hp iPAQ Pocket PC (Originally Compaq iPAQ until HP merged in 2002)

Palm Pilot, Tungsten, LifeDrive, Treo and Zire

Sharp Wizard and Zaurus

Sony CLIÉ

Tapwave Zodiac

AlphaSmart Dana

Dell Axim

GMate Yopy

Fujitsu Siemens Loox 720

List of PalmOS Devices
Other uses
Media player

Audio recorder

Camera (still & video)

Remote control

Wifi clients

Video game emulator

Photo browser

GPS receiver

Cell Phone

Data Storage Device
---
LINKS:
---