Sir Terry Leahy (born 28 February 1956) is the CEO of Tesco, the largest British supermarket chain. He was knighted in 2002, and was Chancellor of UMIST, his alma mater, from that year until 1st October 2004 when he became co-chancellor of the newly formed University of Manchester.
Sir Terry joined Tesco straight after graduating from the University of Manchester Institute of Science and Technology (UMIST) in 1979.
He entered the supermarket chain as a marketing executive, was appointed to Tesco's board of directors in 1992, and by the time he was 40 he had worked his way up to become chief executive in 1997.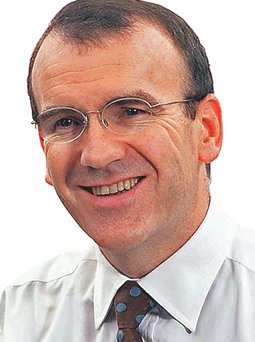 Sir Terry Leahy
He had worked briefly stacking shelves in the Wandsworth Tesco in school holidays. After graduating from UMIST, Leahy returned to Tesco in 1979 as a marketing executive. He was appointed to the board in 1992 and became chief executive in 1997. Tesco has stretched its lead as the UK's largest retailer since then, and also has grown significantly internationally. He was chosen as Britain's "Business Leader of the Year" in 2003 and the Fortune European Businessman of the Year for 2003. In 2005 he was selected as Britain's most admired business leader by Management Today. [1]
Following Tesco's announcement of £2 billion in profits in April 2005, Leahy hit back against protests that the company was "too successful". He argued that such protests against a successful company were unique to the UK.
Leahy was born and grew up in Liverpool where he attended St. Edward's College. He is the third of four brothers and the only one to receive a higher education. He has since been granted the freedom of the city of Liverpool. Sir Terry is an Everton Football Club supporter and is a special advisor to the club [2]. He is also part of a proposed ground move to Kirkby which would have a new ground with a Tesco supermarket, a hotel, a range of high street shops and extensive car parking. [3]. As of 2004 he lives in North London.
Profile
It is quite a paradox that perhaps the most respected business leader in the land has found himself under fire - not from competitors, consumers or the authorities, but from the owners of the company he runs. Tesco's chief executive Sir Terry Leahy was forced to bow to shareholder pressure and accept that his two year service contract was cut to one year rolling contracts.
The move followed last year's (2005) annual general meeting where 40% of shareholders voted against or positively abstained from the vote on the length of Sir Terry's notice period.
Shortening notice periods is seen as a crucial step towards making it easier for shareholders to sack failed executives without having to kit them out with golden parachutes. But in the case of Sir Terry, such shareholder activism can easily be seen as ungrateful given his skills at making money on behalf of investors.
Certainly, Sir Terry - who is seen as a tough and blunt operator - seemed to think so.
At the time he appeared reluctant to accept changes to his arrangement and stressed the importance of honouring contracts.
Tesco Security | Tesco Petrol | Tesco CEO
Strong performance
Under the stewardship of the now 48-year-old supermarket boss, Tesco has built its share of the UK market to 24%, and at least one in every eight pounds spent with a UK retailer now ends up in Sir Terry's coffers.
In addition, the retailer has expanded dramatically in new markets, both geographically and in terms of products and segments. Tesco's international expansion has given it a presence in 11 markets in Ireland, Eastern Europe and Asia.
While in the UK, an acquisition spree into the convenience stores market - where it recently snapped up Adminstore, owner of Europa, Harts and Cullens - has given it a strong urban foothold in London. The stores are due to be re-branded Tesco Express.
New markets have also been reached through ventures such as its recent push into DVD rentals, and Tesco's website is filled with a variety of offers ranging from cheaper home telephony and insurance or finance deals, to holiday and flight offers.
Tesco's Extra hypermarkets - which sell clothes, furniture and electrical goods - also help the chain's push into the £100bn non-food market where the grocer already commands a 5% market share.
Its presence in the non-food market is growing fast, thanks to products such as its £4 jeans, as well as to Tesco's non-food boss Richard Brasher who wants his division to rival the food part of the group.
Rewards
Sir Terry's many initiatives have so impressed investors, the Tesco share price outperformed the market by 13% last year, rising from less than £2 a year ago to more than £2.50. And shareholders have not been the only ones to benefit.
Tesco employees receive frequent invitations to join a save as you earn scheme.
Staff save a fixed sum of up to £250 a month for up to five years.
At the end of their determined savings period, they get the money back along with an option to buy Tesco shares at their market price when their individual schemes started.
Such options are obviously only attractive if the share price has risen over the last, say, five years - in which case the workers are free to sell the stock and cash in the profits.
Sir Terry has also been handsomely rewarded. Last year alone, that is during the 2002/03 tax year, he was paid £3.76m - that is his £916,000 basic salary plus bonuses
Controversial
Outsiders have been impressed too. In January, he was names European Businessman of the Year by Fortune magazine, soon after Management Today named him the most admired leader in the UK.
But Sir Terry's business methods are not universally popular. In February, the small supermarket chain Proudfoot - which is run by a family in Withernsea, North Yorkshire - asked the Office of Fair Trading to launch a probe into what it called "predatory pricing".
And Tesco's £54m acquisition of Adminstore was also referred to the Office of Fair Trading, with both supermarket and convenience store rivals urging the complaints authority to scrap the distinction between supermarkets and convenience stores.
The problem they are faced with, however, is one of customer preference: Tesco Express is cheaper than many traditional convenience stores - in part due to Tesco's tremendous buying power - and consumers like that.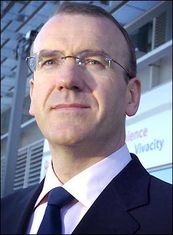 Local hero
Local hero
Sir Terry was knighted in 2002, soon after having received the honour of the Freedom of the City of Liverpool which entitles him, amongst other things, to herd his sheep across the city without being arrested.
Quite an honour for a local boy who, according to Liverpool Post "grew up in a pre-fab maisonette on Endbrook road in the Lee Park council estate in Belle Vale".
Sir Terry was the third of four brothers, and the only one to get any higher education.
"My brothers all left school at 16 but my parents worked very hard so that I could stay on and do my A-levels [at the local grammar school St Edwards College]," Sir Terry is quoted on his former university's website.
Sir Terry, who remains an Everton supporter, has decamped to North London where he lives with his wife Alison and their three children.
Tesco looks at new role as a £12bn property empire
4/03/2006
Tesco chief executive Sir Terry Leahy may place the supermarket chain's freehold property into a Real Estate Investment Trust in the wake of the Budget
Supermarket giant Tesco is considering placing its £12bn freehold property portfolio into a Real Estate Investment Trust in a bid to enhance shareholder returns.
The move would allow the retailer to place its property into a separate quoted vehicle and use the money raised from selling shares in this entity to buy back its own shares.
The revelation comes two days after Chancellor Gordon Brown announced final plans for Real Estate Investment Trusts (REITs), allowing firms to place property into a REIT from January 1 next year.
Tesco finance director Andrew Higginson told The Daily Telegraph: "We're obviously interested in the sense that we're a big property company. We've got people looking at it to see whether it's a good idea."
A small team is thought to have been looking into the REIT option for some time, but momentum has moved up a gear following the Chancellor's Budget statement on Wednesday.
Mr Higginson stressed that a timescale for a decision has yet to be set. Any decision would have to be ratified by Tesco's board, and could possibly need the approval of shareholders depending on the scale of the transaction.
The retailer's most recent annual report shows Tesco's global property portfolio has a net book value of £13.1bn. But the freehold element, which would be eligible to be placed into a REIT, is worth £12bn.
Whether Tesco would want to put all of its property into a REIT remains to be seen.
Collins Stewart Quest analyst Stuart Fraser estimates Tesco's UK freehold property assets are worth £6.2bn.
It is understood it is likely to be these UK stores that would be placed into the REIT. Mr Fraser said: "There is undoubted value in the asset base."
Placing the property into a REIT would ensure the assets are valued at closer to their actual worth, as the property base is largely discounted in Tesco's current 334¾p share price.
A REIT is a quoted property vehicle which returns 90pc of income in return for not paying any corporate or capital gains tax, but a 2pc charge on gross assets is levied on creation in return.
In Tesco UK's case, this would equate to a one-off fee of £124m. But there are ownership limits which mean no-one can control more than 10pc of a REIT's shares, although it is understood a loophole exists that allows the dividend to be sold on to a third party for a fee in order to get around that. Tesco is known to have been considering how to achieve better value for its shareholders for some time, and has discussed a number of options - including a REIT - with them.
Tesco's property team are also understood to be investigating the possibility of securitising some of its portfolio - and using the money to buy back shares. This would echo the move by rival J Sainsbury that last month issued new bonds backed by its property portfolio.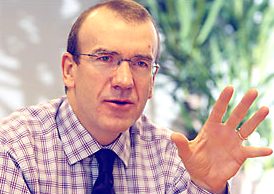 Terry in conversation
External links
Tesco.com. The largest grocery homeshopping service in the world. Also selling books, DVDs, CDs, wine, electrical goods, flowers and much more in Tesco ...
www.tesco.com/
Tesco.com · Home · What's New & Top Offers Store Locator Price Check · Tesco Magazine · Clothing · Giftcard. Contact us - Help - Site map - Careers ...
www.tesco.com/storelocator/
Tesco Club card members only, with free email addresses, webspace, portal and online shopping. www.tesco.net/
Home page - Tesco Personal Finance
Great products, excellent value and friendly advice from Britain's leading retailer. Tesco offers Car insurance, Home insurance, Car breakdown, ...
www.tescofinance.com/ - 12k - 3 Nov 2006
Car insurance: Home Page - Tesco Personal Finance
Great value car insurance from Tesco. Save when you buy car insurance online.
www.tescofinance.com/personal/ finance/insurance/carins/index.jsp
Welcome to the corporate website for Tesco PLC, one of the world's leading ... Children shopping at Tesco; Annual review and summary financial statement ...
www.tescocorporate.com/ - 17k - 4 Nov 2006
Tesco.com downloads store * great music at great value prices
Available Tesco stores. Skip stores; Tesco home · Groceries · Finance & Insurance · Telecoms · More stores; End of navigation list ...
www.tescodownloads.com/
My Tesco Mobile PIN - To get a PIN code to access My Tesco Mobile press GO ... Welcome to Tesco Mobile Network. 99% coverage of the UK population ...
www.tescomobile.com/
Grocery shopping, online supermarket & buy grocery Ireland - Tesco
Grocery shopping at Tesco.ie. Ireland's online supermarket for buying groceries.>
www.tesco.ie/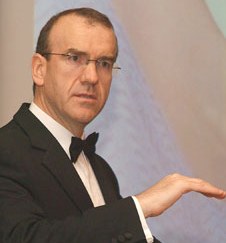 Electrical Goods and Appliances - Tesco.Direct
Great value Electrical Appliances and Electrical Goods from Tesco Direct, with free UK delivery and clubcard points. direct.tesco.com/homepage/electrical.aspx
Tesco plc | Corporate Responsibility
Available Tesco stores. Skip stores. Tesco home ... little helps' can become a great deal when everyone pulls in the same direction.' Sir Terry Leahy ...
www.tescocorporate.com/ page.aspx?pointerid=32B0E699AB1A4CCC8D018E763CAF120D
Terry Leahy became Chief Executive in 1997. Joining Tesco in 1979, he held a number of marketing and commercial positions prior to being appointed to the ...
www.tescocorporate.com/ page.aspx
The architect of this transformation is Sir Terry Leahy, the company's unassuming chief executive. A Tesco veteran who took over in 1997, the 49-year-old ...
www.businessweek.com/magazine/ content/05_22/b3935409.htm
Revealed: the secret of Tesco's success - Business Extra - Times ...
Sir Terry Leahy, the chief executive of Tesco, today revealed part of the secret behind the retailer's extraordinary success.
business.timesonline.co.uk/ article/0,,14390-1316536,00.html
Tesco chief Terry Leahy at BBC News; Terry Leahy at Disinfopedia; Sir Terry Leahy installed as Chancellor (extract from UMIST Times, University of ...
en.wikipedia.org/wiki/Terry_Leahy
Sir Terry Leahy, was appointed Chief Executive of Tesco PLC in March 1997. He received a Knighthood for services to food retailing in the 2002 New Year ...
www.bitc.org.uk/events/speaker_profiles/terryleahy.html
CRM applications, solutions, advice and tips from ...
Terry Leahy believes Tesco's future will revolve around values – the 'Tesco Way'. Leahy has stated, "I regard Values as one of the most important ways of ...
www.ecustomerserviceworld.com/earticlesstore_ articles.asp?type=article&id=737
Tesco.com
Tesco.com. The largest grocery homeshopping service in the world. Also selling
books, DVDs, CDs, wine, electrical goods, flowers and much more in Tesco ...
www.tesco.com/

Tesco internet access
Tesco Clubcard members only, with free email addresses, webspace, portal and
online shopping.
www.tesco.net/

Home page - Tesco Personal Finance
Great products, excellent value and friendly advice from Britain's leading retailer.
Tesco offers Car insurance, Home insurance, Car breakdown, ...

Tesco fiddling petrol calculations? - MoneySavingExpert.com Forums
Tesco fiddling petrol calculations? Motoring & Public Transport.
forums.moneysavingexpert.com/showthread.html?t=86668
Hypermarket service station road maps from Europe
Tesco experimented with standalone petrol stations under the "Tesco Express" format, ... The rear cover had a planning map showing Tesco petrol stations, ...
www.ianbyrne.free-online.co.uk/uk-hyper.htm
In praise of the 24 hour Tesco petrol station!
Come to (aforementioned) 24 hour Tesco petrol station and stop to check directions to hospital. Tesco staff laugh, hospital closes at night, ...
www.bristolcyclingcampaign.org.uk/ tbc/2003/summer/tesco.htm
Tesco Petrol Station - Rawcliffe - Petrol Filling Stations ...
Tesco Petrol Station. Click and drag map. Telephone. +44 (0) 1904 690989. Website. www.tesco.com. Street Address. Clifton Moor Centre Stirling Road ...
www.citikey.com/search/area/ Rawcliffe/category/10010/city/York
Tesco Petrol Station Review in Petrol Stations at Review Centre
Read reviews of Tesco Petrol Station in Petrol Stations Compare Tesco Petrol Station in Car Accessories at Review Centre.
www.reviewcentre.com/reviews65992.html
Petrol Price - A Cost Comparison Of Petrol in the UK
Street name. Location of Petrol Station e.g. Cambridge. Retailer e.g. Tesco. Area of Petrol Station. Petrol Price. Date of submission (Y-M-D) ...
www.whatprice.co.uk/car/local-petrol-prices.php
BBC - Wales - X-Ray - Tesco petrol
How an innocent visit to a Tesco garage resulted in a visit from the police - investigation by X-Ray, BBC Wales' consumer TV programme.
www.bbc.co.uk/wales/x-ray/ allarticles/stories/6p05_tesco.shtml
Turtles get confused by plastic bags at sea, where they look a lot like jellyfish, one of their favourite foods. Obviously, eating plastic is harmful to their digestion. Many turtles get caught up in the bags and drown. Microscopic plastic that is toxic is entering the human food chain when it is eaten by small animals, who are eaten by larger fish and so on. Supermarkets churn out these bags by the million, sometimes not realizing the harm they can cause.
The right to call food packaging "Ocean Friendly" can be earned from contributions to projects to tackle waste at sea, to recover waste and where possible recycle it. One such project that went live in February 2015 is the SeaVax Ocean Cleanup Project. Contributors to projects like this can hold their head up high, as can their customers, who would then be, in effect, making up for some of the harm that others are doing to seas near them. As we say, leading by example.

A taste for adventure capitalists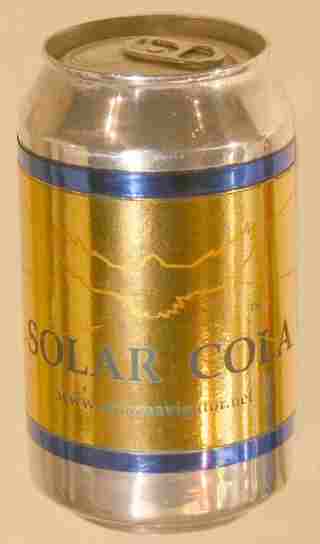 Solar Cola - a healthier alternative
Tesco is a supermarket chain that as of 2019 uses plastic in their packaging, some of which ends up on beaches and in rivers where it may be washed out to sea to join millions of tons of floating plastic in five gyres.
A taste for adventure capitalists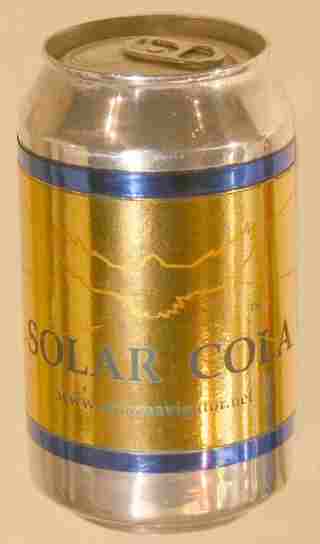 Solar Cola - a healthier alternative
A number of supermarket chains produce their own cola drinks which they display with some prominence. They also stock the leading brands. However, do they stock smaller label brands in the spirit of fair competition? Do they have a fair trade policy?
If you fancy trying a different cola, a cola with more in it, more healthy ingredients, a cola company that cares about the environment - that actually supports environmental projects, you're in luck. But does your supermarket stock Solar Cola yet?