Fenhuang Cola: rumored to have disappeared in 2000
Publicized as "Chinese people's own Cola", Fenhuang Cola was a big name between 1998 and 2000. It suddenly dropped in popularity in 2000 and never rose again - so it is claimed at: http://english.people.com.cn/200609/26/eng20060926_306363.html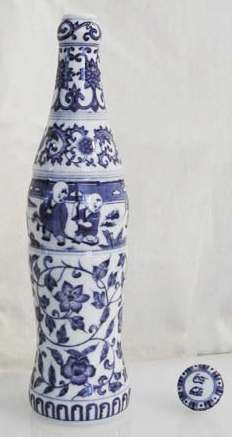 Kekou-Kele

CHINESE COLA MARKET

Pepsi-Cola and Coca-Cola have been in competition in China for about 80 years. Pepsi-Cola's market share is a little bit smaller than Coca-Cola. Whereas the local colas such as FeiChang and FenHuang have taken their feet in the market. Their advertisement says "Chinese people drink our own cola". It is well known that China is a united and patriotic nation. So these slogans can really catch Chinese people's heart. Some say these local cola's are more suitable for Chinese taste. But is that true.

The Coca-Cola system has also worked with the Chinese government to develop the soft-drink market, the final major element of the Porter-Dunning framework. In general, the market devel-ops by becoming more diverse and more competitive. As the country's best-known brand, Coca-Cola plays a leadership role in the beverage cluster, if not the consumer goods sector over-all. Chapter 2 described the 1993 cooperative memorandum, signed by the Coca-Cola Company and China's National Council of Light Industry. The joint plan was to promote the beverage industry through "sincere cooperation and common development."

Recall that part of the agree-

ment was to help China's beverage industry develop its own brands, leading to the introduction of Tian Yu Di ("Heaven and Earth") and Xingmu ("Smart"). Coca-Cola invested several million

U.S. dollars in developing the formulas.

Production of Xingmu and Tian Yu Di has grown rap-

idly, from 260,000 cases in 1996 to 26,000,000 in 1999. One beneficiary has been Hangzhou China Foodstuffs, where the two brands have made up 10 percent of total sales and are expected to soon reach 30 percent. Now, each Coca-Cola bottling plant is actively promoting the Chinese brands.

Soft drinks depend on brand awareness. During the gestation period, the Coca-Cola

Company has covered all advertising and publicity for Tian Yu Di and Xingmu. The success of Tian Yu Di and Xingmu demonstrates a commitment to find brands appro-priate to China. Overall, the soft-drink market in China remains highly competitive and dynamic.

In economic terms, the market is contestable—meaning it is possible for rivals to enter, or re-enter, at any time. With the threat of entry, soft-drink producers are pushed to be efficient and to lower costs, even when no direct competitive threat is present.

As Coca-Cola introduces new brands, the contemporary beverage market in China remains more competitive than ever, with many producers springing up across the country. Future Cola started in 1998, bottled by Hangzhou Wahaha Group in Zhejiang Province. Fenhuang Cola, from Guangdong Province, has grown rapidly and has even exported its product to Russia and Southeast Asian countries. Yanjing Beer entered the competition in the carbonated beverage market in 1997. Responding to this intensified rivalry, Coca-Cola stated that it welcomed the

new participants and believed that "mutually orderly competition can build a healthier and broader market."

The overall market for soft drinks grew from 4.84 million tons in 1993 to 12

million tons in 1998.
Coke, Coca Cola - Future will be better label
COCA COLA
In winding its way into the China market, that possesses one fifth of the world's population, this soft drink phenomenon has come face to face with the largest market in the world. Since 1979, Coca Cola the US giant has invested $1.2 billion in 23 plants nationwide and now claims an enormous 70 per cent in the soft-drinks market in China.
Fiercer competition
Despite its phenomenal success, Coca-Cola is not able to rest on its laurels. Besides its global arch rival - Pepsi - never far behind in the drive to conquer the open world market, there are now some domestic competitors taunting the king of the soft drinks world with their small, but increasing, market share.
Based in the capital of East China's Zhejiang Province, Hangzhou Wahaha Group Corp is increasing production lines at its headquarters plant from two to six and adding a total of three new lines at facilities in North China's Tianjin Municipality and Northeast China's Jilin Province.
Each of the new lines will be able to churn out 700,000 bottles of soft drinks a day when they go into operation by the end of the year.
"Coke and Pepsi have long dominated the China market, their empire should be dismantled and more domestic players should enter the fray," said Zong Qinghou, general manager of Wahaha Group. "Chinese people should have their own Cola."
The firm's aggressive expansion plans are based on sound performance over the past years. In 1998, Wahaha sold 100,000 tons of its Future series soft drinks and company representatives say the figures for last year, soon to be released, are expected to hit 400,000 tons, including 300,000 tons of Future Cola.
While the most popular item in the mix is cola, the series also includes Future Lemon, Future Orange and Future Apple drinks.
The company attributes its sound performance to active absorption of advanced know-how and technology from the US and Italy and its aggressive move in expanding the marketing network nationwide with a 1,000-strong army of sales agencies in China, said Yang Xiuzhen, a spokeswoman for the firm.
Yang noted Future Cola also has many brand-loyal customers among the Chinese people who believe it is better to buy Chinese.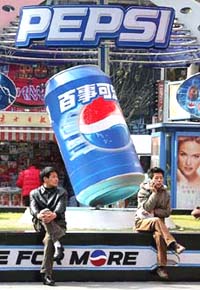 Chinese shoppers rest near a Pepsi advertisement in Shanghai
PepsiCo, reported a 26 per cent jump in sales in China to $1 billion in 2004
The US drinks giant wages war against market leader Coca-Cola
Spending more on ads
Domestic brands are not only limbering up in production techniques, but also readying themselves to take on their competitors in the battle of advertisements.
Fenhuang Coke, based in Guangdong Province, spent about 1.296 million yuan ($156,000) on its total advertising budget in 1999, which is 6.6 times more than the year earlier. Yanjing Coke, a Beijing-based soft drink maker, also aggressively marketed its Coke product on TV in Beijing, according to reports by Beijing Youth Daily.
The Coke king, Coca-Cola, which used to rely mainly on outdoor advertisements in China, turned its attention to TV last year. The new strategy pushed up its total expenditure on advertising last year to hit 9.86 million yuan ($1.19 million), up 26 per cent over the same period in 1998.
Some Chinese-language newspapers in China also started rumours that Coca-Cola, under pressure from domestic rivals, was considering a price cut this year. Coca-Cola's China branches, however, dismiss the rumour.
"Who told you that? We have heard no such thing," said a senior representative with Coca-Cola's China operation in Shanghai.
The reports are not even credited by officials with Future Coke.
"I don't buy the story. Even if it were to be the case, we would not over-react to it and I would imagine it would only run for a very limited amount of time. It is ultimately the producers who suffer if a price war ensues," said Yang.
Zhang Huiming, an economist with Fudan University, said that it was too early to say whether Coca-Cola was feeling the heat from domestic players in the China market.
"They are not competing on the same footing. Coca-Cola now has a massive 70 per cent share of the market, while even the biggest domestic player, Future Coke, trails far behind with 10 per cent. Domestic players remain small fry in the soft drinks market," he said.
Zhang said he would urge foreign and domestic players to fight for their corner by catering to different market segments.
"It is obvious that Coca-Cola and Pepsi have consolidated their position in China's cities, especially big or medium-sized cities, the vast countryside areas remain unexploited and domestic players should be targeting them," he said.
Solar Cola 500ml PET bottle
Self-confidence
Indeed, it is that very strategy that has given Fortune Coke an edge in China's soft drinks market.
"Though foreign brands are popular in the cities, we can start in the vast rural area where brandname recognition isn't high and where consumers value a low price above all else," said Zong.
Future Coke is priced at five to six jiao ($0.06 to 0.07) less than Coca-Cola in China, which has won over many rural consumers in China. "We plan to expand our share in the rural markets," said Zong.
Zhang also believes competition is a positive thing. "The subsistence of domestic players, even in a small capacity, can thwart the monopoly of Coke or Pepsi.
Having rivals to contend with, meanwhile, the big producers will be goaded into improving their products and favouring consumers with better promotions and services."
http://app1.chinadaily.com.cn/star/history/00-02-18/c10-coca.html
CHINA COLA - ORIGINAL
China Cola - Original; This cola is made with imported Chinese herbs and spices. Caffeine free and no preservatives. [12 fl.oz/355 mL]
China Cola is the top selling cola in natural foods. This great tasting cola gives a natural lift from the addition of a Chinese herbal infusion imported from China. This herbal infusion was originally developed by a Chinese master herbalist and was added to a popular cola in China. The main Chinese herbs are Szechwan Peony Root, Cassia Bark, Cardamom, Licorice, and Orange peel. These herbs were picked for their effect on digestion and the liver. It was designed to boost and balance the body's natural energy levels. It was believed that these herbs would benefit the general population due to imbalances observed by the Chinese Herbal profession (according to Chinese herbalists these imbalances are commonly found in Americans, too)

The cola part of this formula was designed by a retired soft drink flavorist here in the USA who had worked on the early colas. The original ingredients used in colas were much more natural and would be too expensive for a mainstream cola nowadays. China Cola harks back to these early colas and uses these original natural ingredients such as real Malaysian Vanilla and Cinnamon. So enjoy an American classic with an exotic eastern health benefit.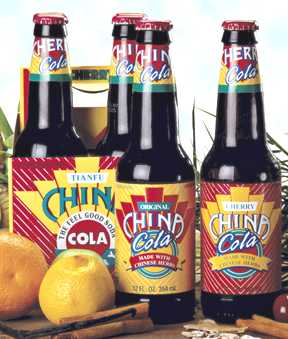 China Cola - Original
$1.75 each
INGREDIENTS: Purified Carbonated Water, Raw Cane Sugar, Szechuan Peony Root, Cassia Bark, Malaysian Vanilla, Oils of Lemon, Lime and Orange, Nutmeg, Cloves, Licorice, Cardamon, Caramel Color, Citric and Phosphoric Acid.
LINKS and REFERENCES
---
THE OPPORTUNITY TO INVEST IN SOLAR COLA WILL BE OFFERED ON THIS WEBSITE LATER THIS YEAR, WHEN YOU WILL BE ABLE TO BUY SHARES DIRECTLY via PERSONAL or COMPANY CHEQUE.
WHAT IS SOLAR COLA? It is a delicious new cola drink based on a traditional recipe, full of natural goodness and energy - refreshment at its best.
If you are looking for a new drink to add to your existing product range, we are looking for distributors in: Australia, Canada, China, Europe, Japan, India, Russia, South Africa, South America, UK, and the USA. We are currently in negotiations regarding the Middle East and North African territories, and please see our contacts in Jordan, Iraq and Saudi Arabia for more information.
You may be looking for a new business to get into, in which case we can offer a complete support package, from trademark licensing (packing under license) to flavourings delivered to your packers. We will also source a competitive supplier of sugar for you - wherever you are in the world.
We are seeking venture (seed) capital to develop our supply chain and begin a world marketing campaign. We are offering shares in our company by way of equity funding. Although, this product has potential for good growth, the value of shares in any company, private or public, can go down as well as up.
Prospective investors in our company should consult their own independent investment advisers, and please note this information is provided for general guidance only. It is not a prospectus, but is provided in response to the number of requests we have received asking for more information.
For all Investor and Trade enquiries contact: Nelson Kruschandl
Solar Cola UK or Solar Cola Exports
United Kingdom
+ 44 (0) 1323 831727
+44 (0) 7905 147709
A taste for adventure capitalists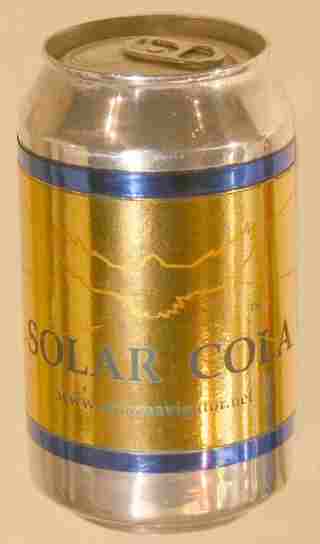 Solar Cola - a healthier alternative