Cadbury Schweppes plc is a confectionery and beverage company with its headquarters in Berkeley Square, London, England. However, it does not manufacture Schweppes beverages for Hong Kong, Ireland, or the United Kingdom, having sold its trademarks there to The Coca-Cola Company, nor is it manufactured in Poland or Brazil, having sold its trademarks there to PepsiCo. Cadbury Schweppes is currently the only major international confectionery manufacturer to produce Fairtrade or organic products, which they sell through their subsidiary company Green & Black's.
Overview
Schweppes
In 1783, Jacob Schweppe developed a method to make carbonated water in the Swiss city of Geneva, some time after Joseph Priestley first discovered a method of impregnating water with carbon dioxide.
Cadbury's
Independently, in 1824, John Cadbury began vending tea, coffee, and (later) chocolate in Birmingham in England and sometime in India and Pakistan. The company was then known as Cadbury Brothers Limited.
After World War I, Cadbury Brothers Limited undertook a financial merger with J.S. Fry & Sons Limited.
After John Cadbury's retirement, his sons, Richard and George, opened a major factory in the purpose-built suburb of Bournville, four miles south of the city.
Merger
The two companies merged to form Cadbury Schweppes in 1969. Cadbury also operates factories in Dublin (Ireland), Dunedin (New Zealand), Port Elizabeth (South Africa), Ringwood (Melbourne, Australia) and Claremont (Tasmania, Australia).
Domestic and International Subsidiaries
UK:- Cadbury UK also owns Trebor Bassett, Fry's, Maynards, and Halls. As of August 2004, Cadbury Trebor Bassett has eight factories and 3,000 staff in the UK.
Canada:- Cadbury Beverages Canada Inc., based in Mississauga, Ontario is the company's Canadian subsidiary for beverage related products while Cadbury Adams is the company's Canadian confectionery subsidiary, based in Toronto. Most brands and products match those in the UK; the chocolate bar line was re-branded in late 2005 to the UK-standard purple wrapper theme.
USA:- The Cadbury Schweppes company's presence in the United States consists of the beverage units Dr Pepper/Seven Up, Inc., Mott's, and Snapple Beverage Group. Although Cadbury Schweppes chocolate products have been sold in the U.S. since 1988 under the Cadbury trademark name, the chocolate itself has been manufactured by Hershey's and can be found in Hershey's chocolate stores.
Beverages
Cadbury Schweppes beverages include:
7Up – sold by Dr Pepper/Seven Up, Inc. in the United States, and by PepsiCo elsewhere

7Up Plus

Bournvita – a malted beverage brand

A&W Root Beer

Cactus Cooler

Canada Dry – ginger ale and other mixers such as club soda

Cherry R.C.

Cool Ridge Spring Water (Australia)

Coolah Energy

Country Time

Cream Soda (Hong Kong, Macau, South Africa)

Crush

Deja Blue

Diet RC Cola - sold in a few markets, this is a completely separate line from Diet Rite, in that it is more related to RC Cola in taste.

Diet Rite

dnL

Dr Pepper

Ginger ale

Gini'

Grapefruit Soda (Hong Kong)

Granadilla Twist (South Africa)

Hawaiian Punch

Hires Root Beer

IBC Root Beer

Lemon Twist; South African lemon drink

La Casera; Spanish soda

Mistic Brands

Mott's – fruit juice

Nehi – fruit-flavoured soft drink

Orangina

Peñafiel – mineral water and mineral soft drink in Mexico

Quinine Tonic water

Raging Cow

Red Fusion (discontinued)

Ricqlès

Russchian

Schweppes

Slush Puppie

Snapple

Solo

Sparberry (South Africa)

Squirt

Stewart's Soda

Sundrop

Sunkist

Tahiti Treat

TriNa, soft drinks and ice-teas in Spain

Vernor's – ginger ale

Welch's

Wink

Yoo-Hoo
Chocolates
Cadbury Schweppes chocolates and sweets (candies) include:
Boost (UK, Ireland and Australia)

Bournville – plain chocolate bar (manufactured in France)

Brunch Bar – 'breakfast' cereal and chocolate bar

Cadbury Caramilk

Fudge bar

Cadbury Thins

Caramello Koala

Cherry Ripe

Chomp

Creme Eggs

Crispy Crunch

Crunchie

Curlywurly

Dairy Milk (Many Dairy Milk products are now manufactured in France and Poland and sold in UK)

Dairy Milk Bubbly (formerly Wispa)

Dairy milk Caramel whip (Noughat and Caramel

Dairy Milk Fruit and Nut

Dairy Milk Turkish (Turkish Delight)

Dairy Milk Wafer

Dairy Milk Whole Nut

Dairy Milk with Biscuit

Dairy Milk with Crunchie Bits

Dairy Milk with Mint Bits

Dairy Milk with Orange Bits

Dairy Milk with Caramel (formerly Cadbury's Caramel)

Dairy Milk with Creme Egg

Dairy milk Pepermint

Dairy milk triple decker (Australia only)

Dairy milk double decker (Australia only)

Dairy Milk Taster

Double Decker

Dream – white chocolate

Fingers

Flake

Freddo Frog

Freddo Frog with Caramel

Fry's Chocolate Cream

Fry's Turkish Delight

Fuse

Marble (only marketed in Australia)

Mini Eggs

Mini Rolls

Miniature Heroes

Moro – chocolate bar

old gold (dark chocolate

Picnic – chocolate bar

Roses

Snack

Snack Shortcake

Snack Wafer

Snack Sandwich

Snaps

Spira

Time Out

Turkish Delight (formerly Fry's)

Twirl

Wispa (no longer marketed)
In addition to these chocolates, a number of the brands have been sub-licensed to Frederick's Dairies to make a range of ice-cream versions. In the United States, most Cadbury branded chocolates are produced in Pennsylvania by the Hershey's chocolate company. Brand names sold include the Caramilk and Dairy Milk, as well as "Fruit & Nut" (with raisins and peanuts) and "Royal Dark" brands.
Recall
On 24th June 2006, Cadbury-Schweppes announced that there has been a salmonella scare in their products, causing millions of chocolate bars from stores across the UK to be recalled. Cadbury officially reported on the 2nd August that they had lost £20 million as a result of recalling the bars. However they are trying to minimise the damage, by issuing vouchers for returned products rather than cash.
Cadbury's recall over 1 million chocolate bars over salmonella fears
Green & Black's
A range of upscale organic and Fairtrade chocolate.
Trebor Bassett
This brand competes with Nestlé's Rowntree's brand over a number of product categories and features gums and mints.
Bassett's Liquorice allsorts

Bassett's Jelly Babies

Trebor Extra Strong Mints

Trebor Softmints

Wine Gums

Fruit Bonbons

Fruit allsorts

Desert allsorts

party babies
Other products
Bournville Cocoa

Drinking Chocolate powder

See also Cadbury Adams products: this subsidiary produces several brands of gum, breath mints, and cough drops.

Dr Pepper/Seven Up

Nantucket Nectars
LINKS
---
A taste for adventure capitalists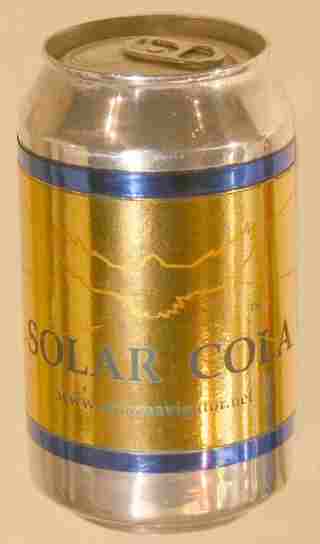 Solar Cola - a healthier alternative
We are seeking venture (seed) capital to develop our supply chain and begin a world marketing campaign. We are offering shares in our company by way of equity funding. Although, this product has potential for good growth, the value of shares in any company, private or public, can go down as well as up.
Prospective investors in our company should consult their own independent investment advisers, and please note this information is provided for general guidance only. It is not a prospectus, but is provided in response to the number of requests we have received asking for more information.
For all Investor and Trade enquiries contact: Nelson Kruschandl
Solar Cola UK or Solar Cola Exports
United Kingdom
+ 44 (0) 1323 831727
+44 (0) 7905 147709
---