Somewhere is the heart of the Sussex countryside a solar powered car is under development, which could be the first vehicle of it's kind and may very well be the beginning of the end of petrol dependence in years to come.
Nelson has been building cars for 20 years. He started with a Joystick controlled car called the Borzoi, way back in 1984, for which he was awarded British Patent number 2218187. His next car was the Bluebird Electric 1, a car which featured battery cartridge exchange by built in loaders. He was awarded British Patent 2253379 for this development. He was also the project manager of a LSR attempt until 1997. The construction of Bluebird Electric 3 for the 2007/8 seasons is ongoing. During this time Nelson has also designed and built several working solar boats.
Nelson Kruschandl
The brief is simple: Design and build a lightweight buggy or car, which is capable of operating on solar power, to provide the equivalent of 10,000 road miles a year. Now obviously, this is dependent on your geographical location, since sunshine varies with declination. It also depends on how many cells you can pack. The United Kingdom is at 51 degrees of latitude, hence does not see as much sunlight as Italy or California, let alone Adelaide. So, Nelson has his work cut out.
At the moment solar or electric rickshaws are available, but they are expensive and have limitations. Conventional rickshaws have no suspension and only three wheels. A three wheeled vehicle is nowhere near as stable. A lack of suspension would put off the vast majority of road users - potential customers.
It's all very well building a solar car if you are spending £100,000 or more. Most student built solar racing cars cost at least this. Nelson aims to produce a solar car, or at least solar assisted car or buggy, for a development cost of around £10,000. The car is to have independent suspension all round and disc brakes and carry two passengers. There will be an optional petrol power pack, for those awkward moments when the sun is shy. Such a car if mass produced could retail for £3,000.
The development car will be powered by an advanced DC motor, running through a Curtis controller at 48 volts to provide 7.5Kw or 10hp. The very latest mono-crystalline solar cells will be used operating at 18% efficiency and a Lithium Poly battery is to be incorporated. As you may have gathered, these are expensive high specification items. A 1200w 4 stroke petrol generator will be an optional accessory, as will be a lightweight charger for top up from domestic supplies. Nelson is hoping to be able to test the Gemini motor in this vehicle.
If you might be interested in a custom built solar buggy for yourself, why not put your name down as an interested party. As and when the first car rolls into the sunlight, customers will be offered the chance to order a car, on a first come first served basis. Although, the target price is £3,000, you will appreciate that is for a mass produced version. Hand built made to order (or pre-production) models are likely to be around £10,000. If you are interested, ask for a quote.
---
UNIVERSITY AND COLLEGE SOLAR CAR TEAMS:
---
A taste for adventure capitalists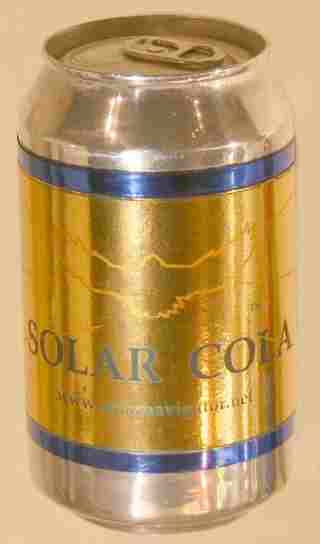 Solar Cola - the healthier alternative