1968: Alec Rose sails home
Yachtsman Alec Rose received a hero's welcome as he sailed into Portsmouth after his 354-day round-the-world trip. The 59-year-old was escorted into Portsmouth harbour by 400 motor-boats, yachts, catamarans and canoes blowing sirens and whistles. A crowd of more than 250,000 people had gathered to congratulate the Portsmouth greengrocer on his 28,500-mile solo trip around the globe.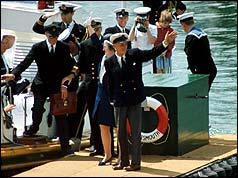 Sir Alec Rose - return home
A gun was fired as Mr Rose crossed the finishing line in his 36ft pale blue ketch 'Lively Lady' at the Royal Albert Yacht Club, Southsea, at 1152BST today. And as the weary sea-farer stepped ashore at 1233 BST the Lord Mayor of Portsmouth, Councillor F A Emmery-Wallis, presented him with a telegram from the Queen. It read: "Warmest congratulations on your magnificent voyage. Welcome home - Elizabeth and Philip." Prime Minister Harold Wilson also sent a message of congratulations.
Mr Rose and his wife, Dorothy, were then taken by Rolls Royce to the Guildhall where the couple spoke to waiting reporters. Mr Rose revealed how at one point during his journey he had lain unconscious below deck for two hours after being overcome by fumes as he tried to repair an exhaust pipe. He said: "I said my prayers quite often on this trip. "I felt there wasn't much difference between me and eternity. At times my prayers were answered and the yacht and I got through."
When Mr Rose and his wife arrived home at their greengrocery shop in Osborne Road later this evening they were again met by jubilant crowds singing "For He's a Jolly Good Fellow." Alec Rose, who set sail on 16 July last year, made stops in Australia and New Zealand during his trip. He had saved for many years to undertake this epic voyage and was given no extra financial help.
A day after his home-coming Alec Rose received a knighthood. He was also given the Freedom of Portsmouth in 1968 and made Freeman of the City of London in 1969. Sir Francis Chichester was the first to prove that small boats could sail round the world when he completed the voyage in Gypsy Moth IV in 1967. In June 1968 Sir Robin Knox-Johnston became the first person to circumnavigate the world non-stop & single handed. On his return Sir Alec Rose wrote a book about his adventure entitled My Lively Lady. He died on 11 January 1991 aged 82.
Naomi James was the first woman to do this in 1978 and beat Sir Francis' record by two days. In February 2001 after 94 days at sea Ellen MacArthur became the fastest woman to sail the world.
Lively Lady facts and figures

LOA

36'

11.0m

Beam

9'2"

2.8m

Draught

6'6"

2.0m

Displacement

13.75 ton

12,475Kg

Original Design

F Shepherd MRINA

Built

Calcutta 1948
LINKS
---
A taste for adventure capitalists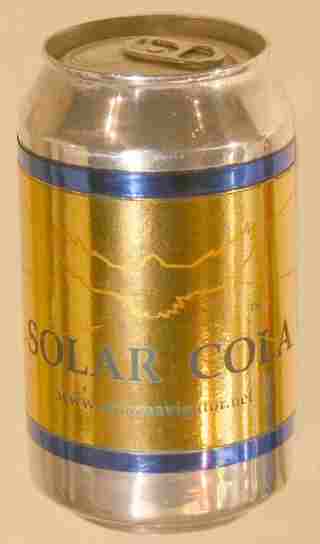 Solar Cola - the healthier cola alternative