Alone on the Pacific

a k a My Enemy, The Sea; Taiheiyo Hitori-Bochi; The Enemy, the Sea
1963 - Japan - Adventure Drama/Sea Adventure
PLOT DESCRIPTION
What might have been a banal TV "movie of the week" in American hands is transformed into a work of art by Japanese director Kon Ichikawa (Harp of Burma). Alone on the Pacific is based on the true story of Kenichi Horie, who as an adult fulfilled his childhood ambition of crossing the Pacific in a small, handmade vessel. Yuiro Ishihara stars as the erstwhile mariner, who sets out on his mission from Japan's Osaka Bay. Despite the ravages of the elements, Ishihara realizes his goal, and in the last shot is seen sailing beneath the Golden Gate bridge. The film's more suspenseful moments are leavened by welcome (and appropriate) doses of humor. Also titled My Enemy, The Sea, Alone on the Pacific is based on Kenichi Horie's own logbook. The American print runs 100 minutes, 4 minutes shy of the original Japanese running time. ~ Hal Erickson, All Movie Guide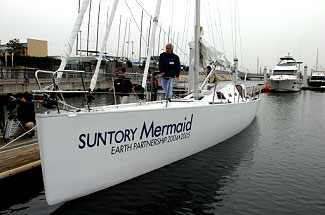 Suntory Mermaid 2004
Type: Features
Rating: NR Running Time: 104 minutes Starring: Yujiro Ishihara, Masayuki Mori
MOVIES / MOVIES NEWS AND FEATURES | February 12, 2005

His Homeland, His Obsession
By MIRTA OJITO

MOVIES | February 12, 2005
His Homeland, His Obsession
By MIRTA OJITO

MOVIES | February 11, 2005
Movies Guide
By THE NEW YORK TIMES

CAST FOR 'Alone on the Pacific'

Yujiro Ishihara - The Youth
Masayuki Mori - His Father
Shiro Osaka
Hajime Hana - His Friend
Ruriko Asaoka
Kinuyo Tanaka - His Mother

PRODUCTION CREDITS

Kon Ichikawa - Director
Natto Wada - Screenwriter
Toru Takemitsu - Composer (Music Score)
Kenichi Horie - Book Author
Takashi Matsuyama - Art Director
Masanori Tsujii - Editor
Yoshihiro Yamazaki - Cinematographer
Akira Nakai - Producer
Yasushi Akutagawa - Composer (Music Score)

AWARDS

Best Foreign Film (nom) 1963 Golden Globe

SIMILAR MOVIES

Kon-Tiki (1951, Thor Heyerdahl)
Mare Matto (1963, Renato Castellani)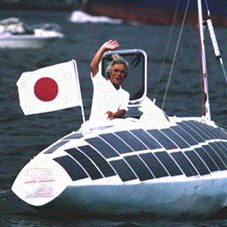 Horrie sailing into Tokyo in his first solar boat 1996
KON ICHIKAWA

Director/Screenwriter : Born November 20, 1915 - Ise, Mie Prefecture, Japan
From All Movie Guide: Kon Ichikawa is considered one of the masters of the immediate postwar generation of Japanese filmmakers - a generation often overshadowed by the titanic presence of Akira Kurosawa. Like Kurosawa, Ichikawa frequently takes secondary sources and makes them his own. Also like Kurosawa, he is an exacting perfectionist and master of the widescreen format. ...Continue
News & Reviews | Biography | Awards | Filmography
---
The Japan Times: Jan. 13, 2005 - Solo yachtsman passes Cape Horn

Adventurer Kenichi Horie passed Cape Horn at the tip of South America on Tuesday as he continues on his nonstop solo sailing circumnavigation, according to his supporters in Japan.
"I am happy that I could clear the first target," Horie, 66, was quoted as saying. "Tasmania is the next target."
He left a harbor in Nishinomiya, Hyogo Prefecture, Oct. 1 on a 4.7-ton yacht in a bid to repeat a trip he made in 1974.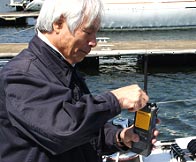 Kenichi Horrie 2004
In 1996, Kenichi Horrie succeeded in a solo journey without stopping at any port between Ecuador and Tokyo with "MALT's Mermaid", a solar-powered boat, made out of recycled aluminum cans.
In 1999, he made a journey from Golden Gate Bridge of San Francisco, the USA, to Akashi Strait Bridge with "MALT's Mermaid II", which was made out of recycled beer barrels.
In 2002, the fortieth anniversary of his first success in the across-the-Pacific journey, he made a successful attempt at restaging his first solo cruise across the Pacific to pay tribute to San Francisco with "MALT's Mermaid III".
The inspiration for challenges of Mr. Ken'ichi Horie, who turned 65 years of age this year, is still ongoing, and in this year, he will restage his first round-the-world solo cruise without stopping at any port after 30 years, with "SUNTORY Mermaid".



About us / Contact us / Advertising / Subscribe
News / Business / Opinion / Arts & Culture / Life in Japan
Sports / Festivals / Cartoons
Advertise in japantimes.co.jp.