HURRICANE WILMA - OCTOBER 23 - KEY WEST, FLORIDA
Hurricane Wilma is possibly the most powerful storm in Atlantic history. The tropical revolving storm thundered toward Florida on Sunday after devastating Mexico's Caribbean resorts with floodwaters and wild winds that smashed thousands of homes and killed at least seven people.
While residents of the Florida Keys hunkered down for battering winds and a powerful surge of floodwaters, dazed tourists waded through knee-deep water in the streets of Mexico's beach resort Cancun to seek food and water after three nights in damp shelters without electricity.
At one point the most intense hurricane ever recorded in the Atlantic basin, Wilma weakened as it hammered Mexico's Yucatan Peninsula for days, but still carried 100 mph (160 kph) winds toward the fragile Florida Keys, where many storm-weary residents ignored evacuation orders.
"We were all packed and ready to go. But personally, now I feel we will be safe and better off here," said Lori Thompson, who had considered leaving Key West and driving to Orlando with her fiance.
Light traffic along the Overseas Highway, the only road out of the 110-mile (176-km) island chain, and the possibility of a storm surge that could swamp the low-lying islands and southwest Florida coast, had officials fretting that too many people were taking Wilma too lightly. "The hurricane is coming and a hurricane is a hurricane," Florida's Govenor Jeb Bush told Keys residents. "It has deadly-force winds and while there have been evacuations over the last 14 months and there's not been a hit, perhaps people are saying 'I'm going to hunker down.' They shouldn't do that."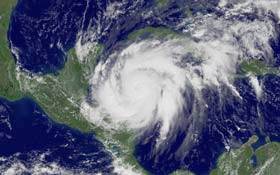 Satellite picture of Hurricane Wilma
Tens of thousands of residents were ordered to flee from vulnerable islands and coastal areas. Forecasters predicted the storm would pick up speed "like a rocket" after flooding the Mexican coast.
The southern half of Florida's peninsula was under a hurricane warning Sunday in anticipation of Wilma, a Category 2 storm with 100 mph sustained wind. Landfall was expected around dawn Monday. Tornados were possible over parts of the state through Monday and powerful storm-surge flooding was expected on the southwest coast
State and federal officials warned Floridians of the impending storm and underscored previous evacuation orders, even while reassuring the public that steps were being taken to minimize the impact on the state's residents and visitors.
FEMA sets plans, urges evacuation

"Time is running short," said David Paulison, acting director of the Federal Emergency Management Agency. Paulison repeatedly advised residents to be ready to evacuate when orders came from authorities.
Paulison outlined his agency's storm-response plans at a Sunday afternoon news conference.
"Our biggest challenge is to make sure were able to provide Florida the commodities it needs," he said. "We are trying to make sure we do that."
Paulison said FEMA had "several hundred people on the ground, probably close to a thousand people in Florida. There's no daylight between FEMA representatives and Florida reps working this storm."
About 160,000 people in the state were under mandatory evacuation orders, including the entire population of the Florida Keys island chain. There was no way of knowing how many actually left, but it appeared only about 20 percent of the 78,000 Keys residents fled, said Billy Wagner, senior Monroe County emergency management director. "If they don't get out of there, they're going to be in deep trouble," Wagner said.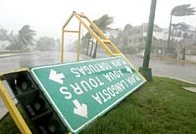 Road sign blown over
Message to the Keys: 'Evacuate'

Paulison had a pointed message to hangers-on in the tourist-friendly Keys. "If anyone remains in the Florida Keys … they are making a significant mistake. They need to evacuate." Earlier, in Tallahassee, Gov. Jeb Bush urged residents in evacuation zones to leave, warning others that "now's your last chance to stock up on supplies." He said authorities expected widespread power outages and flooding, and urged residents to stockpile enough food, water and medication for three days.
Evacuation orders also covered barrier islands and coastal areas in Collier and Lee counties, such as Fort Myers Beach, Marco Island, Sanibel and parts of Naples. "The time of preparing is rapidly moving into time of action," Florida Emergency Management Director Craig Fugate said.
Increase in speed is anticipated

Max Mayfield, director of the National Hurricane Center in Miami, predicted Wilma would dramatically pick up speed later Sunday, and its top wind speed would increase. "It's really going to take off like a rocket," he said. "It's going to start moving like 20 mph."
About 3,500 people were in shelters across the state, including roughly 850 people who registered Sunday at a Red Cross shelter in Germain Arena in Fort Myers, with some pitching tents and setting out mats on melting ice where the Florida Everblades minor league hockey team plays. "I'm just doing a lot of praying that things will work out," said David Bright, 48.
Wilma had been joined by Tropical Storm Alpha, which formed Saturday off the Dominican Republic as the record 22nd named storm for the Atlantic season, before weakening to a tropical depression.
Forecast: Alpha will be no threat to U.S.

It was the first time forecasters exhausted the regular list of names and had to turn to the Greek alphabet for labels in almost 60 years of naming storms. The previous record of 21 tropical storms and hurricanes had stood since 1933. Alpha "is not going to be a threat to the United States," Mayfield said. "I want to make that very clear."
By 2 p.m. EDT on Sunday, Wilma had maximum sustained wind near 100 mph. It was centered about 240 miles west-southwest of Key West and was moving toward the northeast at about 12 mph. Hurricane-force wind of at least 74 mph extended up to 70 miles out from the center, and wind blowing at tropical storm-force reached outward up to 200 miles, the hurricane center said. Before moving back out to sea, Wilma pummeled Mexico's Yucatan Peninsula for two days with screaming winds and torrential rains that flooded the nation's resort coastline.
Cancun awash

Residents and tourists wandered the flooded streets of Cancun in search of food Sunday, as the sun returned to Mexico's battered coast, and military convoys arrived with water, medical aid and other supplies.
About 30,000 people — mostly tourists who couldn't be evacuated before the storm hit — weathered Wilma's screaming winds and torrential rains for two days in sweltering, leaky shelters.
State officials said three people died in Mexico during the storm. One was hit by a falling tree and two others died from injuries they received when a gas tank exploded. Four badly decomposed bodies were found floating in flood waters on Cozumel Island, but officials said it was unclear if the deaths were related to the storm.
The storm earlier killed 13 people in Jamaica and Haiti.
STORM SURGE FEARED
At 2 p.m. (1800 GMT), the center of Wilma was about 240 miles (384 km) west-southwest of Key West and was moving toward the northeast at 12 mph (19 kph), the U.S. National Hurricane Center in Miami said. It was accelerating and expected to hit the southwest Florida coast around dawn on Monday.
It was a Category 2 hurricane on the five-stage Saffir-Simpson scale, and forecasters said it could strengthen as it moved over warm Gulf waters. Wilma could push a storm surge of 9 feet to 15 feet (2.7-4.6 metres) above normal tides onto the southwest Florida coast. That would exceed the surge of last year's Hurricane Charley, then the second costliest hurricane in U.S. history with more than $15 billion in damage.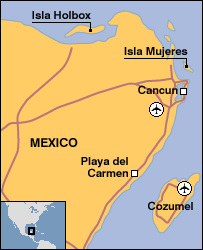 Storm reaches Cozumel, Mexico

21 OCTOBER 2005 Hurricane Wilma hits Mexico coast

Hurricane Wilma is battering the leading resorts of Mexico's Yucatan peninsula, where tens of thousands of people have moved to safety.

The centre of the powerful Category Four storm is now over the island of Cozumel and is moving slowly towards the north-east of the peninsula. Heavy rains and mudslides triggered by Wilma have killed at least 13 people in the Caribbean, mostly in Haiti.

The storm is expected to weaken before hitting Florida on Sunday or Monday.

The eye of the hurricane is passing directly over the island of Cozumel, the Mexican weather service said.

In Cozumel and Cancun, power has been knocked out, road signs torn down and waves have flooded the deserted streets. With Yucatan airports now closed, tens of thousands of tourists in the area have been moved inland or are now taking cover from sustained winds of 140mph (225km/h).

Mexican President Vicente Fox has urged people to remain in shelters set up in schools and gymnasiums.

"The most important thing now... is to protect lives," he said in a televised speech.

One shelter reportedly flooded overnight and some 300 people had to be relocated. Others are said to be cramped and hot, without electricity to power air conditioning. Officials have warned the centre of the storm could linger over the peninsula until Sunday morning. "Tin roofing is flying through the air everywhere. Palm trees are falling down, Signs are in the air and cables are snapping," Julio Torres of the Cozumel Red Cross told the Associated Press news agency.

One BBC news report from Cacun: "holidaymakers are abandoning the resort, which is built along a narrow beach of white sand that could be vulnerable to the predicted 10ft (3m) storm surge of sea water."

Uncertain impact

The hurricane has also been causing heavy wind and rain in western Cuba. US forecasters warn the Yucatan and isolated areas of Cuba could see 25 to 50cm (10 to 20in) of rain by Sunday, with some parts of Cuba hit by up to 100cm (40in). Schools have been closed and storm drains cleared as a precaution in the capital, Havana, even though it should not be directly affected. The Cuban government says 370,000 people have been ordered out of the hurricane's path.

In Florida, Governor Jeb Bush has declared a state of emergency, although mandatory evacuations for Florida Keys residents were put back, as Wilma's slow speed means it may not arrive until Monday. "Both the location and the timing of the impacts on Florida remain very uncertain," US National Hurricane Center (NHC) forecaster Richard Knabb said.

2005 has been one of the most destructive hurricane seasons on record. Wilma is the 12th of the year - a figure equalled only once, in 1969, since record-keeping began in 1851. By one measure, Wilma was the strongest ever, with the lowest barometric pressure on record in the Atlantic basin. It has since dropped in strength from Category Five to Category Four, but the NHC has warned it is expected to regain strength soon. Thousands of people have died in Central America this month from landslides and floods following torrential rains brought by Hurricane Stan.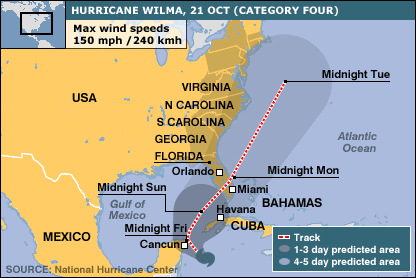 Mexico: Tourists told to leave high-risk coastal resorts
Cuba: Coastal residents evacuated and some schools closed
US: Visitors and non-residents ordered to leave Florida Keys
Third Category 5 hurricane breaks record
Hurricane Wilma has grown into a monster cyclone, becoming the third Category 5 storm of the 2005 North Atlantic hurricane season. It is also more intense than either of deadly hurricanes Katrina or Rita.
On Wednesday morning, Wilma's sustained wind speeds reached 280 kilometres (175 miles) per hour and its minimum air pressure dropped to 882 millibars. That pressure is the lowest ever recorded in the North Atlantic basin, although it was measured in an unusually small eye, less than 8 kilometres wide, the US National Hurricane Center (NHC) reported.
Hurricane researchers judge storm intensity by measuring the drop in pressure at the eye compared to the average sea-level pressure of 1013 millibars. Hurricane Gilbert set the previous record in 1988 for a hurricane at 888 millibars when it was in the same area of the northwest Caribbean as Wilma is now.
Third time unlucky
Fortunately, Category 5 storms are rare in the North Atlantic. Hurricane Ivan in 2004 was only the 24th recorded since the first observations in 1928. Only twice before, in 1960 and 1961, have two hurricanes reached Category 5 in the same season. Now, 2005 has become the first year that three have reached the most intense level on the scale.
The storm is moving over very warm waters, experiencing low wind shear, and is now thought to be near its peak intensity, the NHC said on Wednesday morning. Hurricane-force winds this morning swept from relatively close to the eye – within 30 km – out to a radius of 85 km. Tropical storm winds extended outwards as much as 260 km.
A 24-hour hurricane warning is in effect for the east coast of the Yucatan Peninsula and a hurricane watch is in place for the western end of Cuba. Forecasters expect Wilma to move into the Gulf of Mexico through the channel between the Yucatan Peninsula and Cuba, then turn sharply to the northeast and pass over southern Florida. Projections indicate it will weaken before making landfall south of Fort Myers, Florida, late on Saturday.
October 19, 2005
The 2005 hurricane season reached two more milestones this week: Hurricane Wilma has become the 21st tropical storm of the season and has quickly grown into the most powerful hurricane on record in the Atlantic Basin. The storm is expected to make landfall in the U.S. late Saturday on the southwest coast of Florida. Evacuation orders have been issued for Monroe County, which includes the Florida Keys.
State parks in the Keys have been closed to encourage tourists to leave the islands, and an evacuation order for residents goes into effect tomorrow. Also, patients in Keys hospitals are being airlifted out of the islands.
Record-Breaker
One of the best indicators of a hurricane's intensity is its barometric pressure; very powerful hurricanes have very low readings. As of 11 a.m. Eastern time today Wilma's barometric pressure reading had dropped to 26.04 inches or 882 millibars, a record low. Forecasters expect Wilma to lose some of its intensity before landfall, but the storm is still expected to come ashore as a major hurricane, with winds of at least 111 miles an hour (180 kilometers an hour).
The previous record for the Atlantic Basin was Hurricane Gilbert in 1988, which had a low pressure of 26.18 inches or 888 millibars. Gilbert made landfall at Mexico's Yucatán Peninsula. The most intense hurricane to make landfall in the U.S. was the Labor Day hurricane of 1935, which had a reading of 26.35 inches or 892 millibars, when it struck the Florida Keys.
Wilma began on October 15 as a tropical depression in the central Caribbean Sea. When it became a tropical storm two days later, it was the 21st of the season. The last time that many tropical storms formed in a single season was 1933. Wilma has astonished meteorologists with its rapid intensification. As of 4 p.m. Tuesday, Wilma was a minimal hurricane with winds of 80 miles an hour (130 kilometers an hour). But only 18 hours later it had mushroomed into the Atlantic's most powerful storm.
James Franklin, a hurricane specialist at the National Hurricane Center in Miami, said Wilma "obliterated … by a wide margin" the previous record for rapid intensification set in 1967.
"It's certainly the most dramatic strengthening I've ever seen," said Keith Blackwell, hurricane researcher at the University of South Alabama's Coastal Weather Research Center in Mobile. Blackwell said Wilma's rapid intensification was caused by the warm waters of the northwest Caribbean, which have spawned other extremely powerful storms. Hurricane Wilma formed in the same area as Hurricane Mitch did in October 1998.
Hurricane Wilma makes landfall on Cozumel
CANCUN, Mexico (AP) — Hurricane Wilma tore into Mexico's resort-studded Mayan Riviera on Friday with torrential rains and shrieking winds, filling the streets with water, shattered glass and debris as thousands of stranded tourists hunkered down in hotel ballrooms and emergency shelters.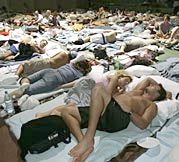 Evacuated tourists sleep in provisional shelter - Cancun, Mexico.
Packing winds of 140 mph, the storm shattered windows and downed trees that crushed cars on the island of Cozumel, a popular cruise-ship stop. Pay phones jutted from floodwaters in the famed hotel zone.
The fearsome Category 4 storm, which killed 13 people in Haiti and Jamaica, was expected to pummel the tip of the Yucatan Peninsula for two days, sparking fears of catastrophic damage. It is forecast to sideswipe Cuba before bearing down on Florida on Monday.
"Tin roofing is flying through the air everywhere. Palm trees are falling down. Signs are in the air and cables are snapping," Julio Torres told The Associated Press by telephone from the Red Cross office in Cozumel. "Not even emergency vehicles have been able to go out on the streets, because the winds are too strong." Officials said damage assessment teams couldn't reach Cozumel until late Saturday, at the earliest.
The National Hurricane Center in Miami said Wilma officially made landfall about 3:30 p.m. (4:30 p.m. ET), with the center of the storm's eye hitting Cozumel. The wind bent palm trees and the surf washed away tiki huts on hotel beaches. Power was cut early Friday to most parts of Cancun — a standard safety precaution. Shop windows were shattered, cars were crushed under fallen trees and pay phones jutted from waist-deep floodwaters in the famed hotel zone.
Officials loaded more than 1,000 people into buses and vans after a downtown cultural center being used as a temporary shelter suddenly became uninhabitable, Cancun Red Cross director Ricardo Portugal said without elaborating.
At the same time, Wilma's outer bands pounded western Cuba, where the government evacuated nearly 370,000 people. Forecasters said Wilma could bring more than 3 feet of rain to parts of Cuba. Waves of up to 21 feet crashed on the extreme westernmost tip of Cuba and heavy rains cut off several small communities. About 7,000 residents were evacuated from the coastal fishing village of La Coloma in Cuba's southern Pinar del Rio province. "We thought we'd be spending a lot less time here," Maria Elena Torre said at a shelter set up inside a Cuban boarding school. "Now we have no idea how long we'll be here."
Civil defense official Adolfo Nilo Moreno said the 725 evacuees at the school were likely to remain in place until Tuesday or Wednesday. "Luckily, we have enough food for four months," primarily rice, chicken, bread and milk, he said. At 8 p.m. ET, the hurricane was about 440 miles southwest of Key West, Fla., and was moving northwest at about 4 mph, the hurricane center said. The large storm's outer rain bands were beginning to affect South Florida late Friday, meteorologists said.
Emergency officials in Florida on Friday issued evacuation orders for the west coast town of Naples and a nearby island. Florida Keys residents also were asked to leave. Forecasters said the storm should weaken before reaching Florida Sunday. "It's going to be a long couple of days here for the Yucatan Peninsula," hurricane center director Max Mayfield said. Mexican officials said about 20,000 tourists were at shelters and hotels on the mainland south of Cancun, and an estimated 10,000-12,000 were in Cancun itself. About 50 hotels there were evacuated. "Now is the time to save lives and protect the population, and we are working on that," Mexican President Vicente Fox said. "Afterward, we will begin the phase of helping citizens and reconstruction."
Hotels being used as shelters pushed furniture up against windows that weren't boarded up, and some had several inches of water in rooms and hallways as rain entered through broken windows. People at shelters slept under plastic sheeting. Juan Luis Flores, an emergency services official in Quintana Roo state, said about 65,000 people were evacuated. Mexico's civil defense chief, Carmen Segura, assured people "their families are protected as they should be."
But instead of luxury hotel suites over a turquoise sea, many tourists found themselves sleeping on the floors of hotel ballrooms, schools and gymnasiums reeking of sweat because there was no power or air conditioning.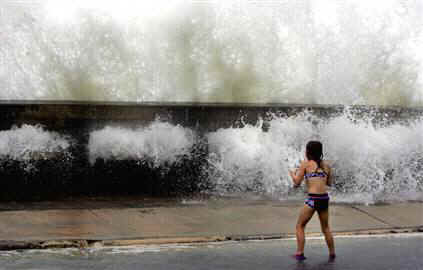 A 7 year old girl plays with waves in Key West Sunday
Scott and Jamie Stout of Willisville, Ill., were spending their honeymoon on a Cancun basketball court with a leaky roof. "After one more day of this, I believe people will start getting cranky," said Scott Stout, 26. "Things could get messy." The Stouts, at least, had food and coffee. Devon Anderson, 21, of Sacramento, was sharing 10 rooms at a rundown Cozumel school with 200 other Americans. "We are all sleeping on the floor," Anderson said. "There's no food, no water."
At the Xbalamque Hotel, a downtown Cancun shelter for evacuees from beachfront resorts, American tourist Becky Hora, 37, watched floodwaters rise up the steps toward the lobby as winds howled and trees thudded to the ground. "It's awful," she said. "I thought that last night we had made it through the worst of it. And now it turns out this is only the beginning. It's hard to stay calm."
Ronnie Croley, 46, said he lost power at his Madison, Miss., home for four days after Hurricane Katrina struck, then he helped his company clean up a factory damaged by Hurricane Rita.
"This was supposed to be a little break for us, but now here we are again," he said. Wilma briefly strengthened to Category 5 and became the most intense hurricane recorded in the Atlantic Ocean with 882 millibars of pressure, breaking the record low of 888 set by Hurricane Gilbert in 1988. Lower pressure brings faster winds.
Storm-Weary Gulf Coast
Hurricane Wilma became only the latest unusual event in a season full of anomalies. Two hurricanes that formed in July—Dennis and Emily—were the most intense on record for that month.
In August, Hurricane Katrina virtually destroyed New Orleans and the Gulf Coast. Less than a month later Hurricane Rita became the third most powerful hurricane ever to form in the Atlantic before weakening and making landfall near the Texas-Louisiana border. "There are so many astounding things about this season," Blackwell said.
In Florida, which was pounded by four intense hurricanes last summer, residents are becoming weary of the storms. "Montana looks really good to me right now," joked Irene Toner, a director of the Monroe County Emergency Management Department. Toner has had to order repeated evacuations of the low-lying islands, which are very vulnerable to hurricanes. "We were on guard really since the last hurricane season," Toner said. "We were surprised that this season has been as busy as it has, but we were not overly shocked by that." The hurricane season continues until November 30.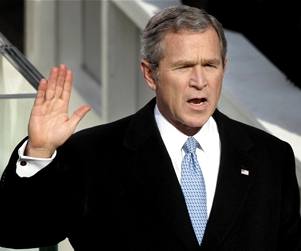 What about global warming now Mr President?
---
Evacuating a third storm
LINKS:
More evacuations ordered in Florida
Apocalypse, now? Storms fuel doomsday predictions
Special report: Rising from ruin after Katrina
Hurricane Stan strikes Central America and Mexico 07 October 2005
Relief as Rita fails to match Katrina 26 September 2005
New Orleans struggles in wake of deadliest hurricane 02 September 2005
National Hurricane Center, NOAA
Hurricane Katrina: the Aftermath, special report, New Scientist

STORMS | HURRICANES | TORNADOES | ATMOSPHERE | WATER CYCLE | FORECASTING | FLOODS