HURRICANE RITA

Latitude: 24.6 North
Longitude: 87.2 West
Movement: West at 9 mph
Winds: 175 mph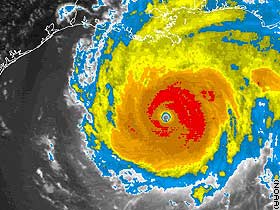 An estimated 1.8 million people are being told to evacuate Gulf Coast communities as Hurricane Rita threatens a large swathe of Texas and Louisiana. Many Texan evacuees were caught in traffic jams and the state opened southbound carriageways to northbournd traffic. Rita remains extremely dangerous despite being downgraded to a Category 4 storm. It is forecast to make landfall Saturday between Galveston, Texas, and the Texas-Louisiana border.
Hurricane Rita is the 17th named storm, ninth hurricane, fifth major hurricane, and was the second Category 5 hurricane of the 2005 Atlantic hurricane season. This hurricane (currently Category 4) is on record as being the strongest measured hurricane to ever have entered the Gulf of Mexico. The storm has already struck Florida and Cuba, and currently threatens Texas and Louisiana. The system reached Category 5 strength on the afternoon of September 21, 2005, and as of 5 p.m. CDT is expected to make landfall with estimated winds of 125 knots (144 mph (232 km/h)) sometime on September 24, to the east of Galveston. Evacuation orders have been issued for parts of the Texas coast, and storm-ravaged New Orleans.
Texans flee colossal Rita - Category 5 storm is third most intense ever
Wednesday, September 21, 2005; Posted: 03:07 GMT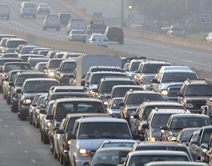 Traffic Wednesday Houston Texas during evacuation
MIAMI, Florida
As more than 1 million people scurried to get out of the way of Hurricane Rita, the Category 5 hurricane grew more turbulent, becoming the third most intense storm in history, the National Hurricane Center said Wednesday night.
Officials said the barometric pressure near the eye of the storm was 897 millibars, a lower reading than Hurricane Katrina, which slammed into the Gulf Coast August 29. Only Hurricane Gilbert in 1988 (888 mb), which struck Jamaica and the Yucatan Peninsula, and the Labor Day hurricane of 1935 (892 mb), which hit the Florida Keys, had lower pressures. Max Mayfield, director of the hurricane center, said Rita could be even more damaging than Katrina. "This is a very, very dangerous hurricane," he said.
A hurricane watch was issued from Port Mansfield, Texas about 80 miles from Mexico to Cameron, Louisiana. As of 11 p.m. ET, Rita packed maximum sustained winds of 175 mph (280 kph), according to the National Hurricane Center in Miami.
The storm's center was about 570 miles (915 kilometers) east-southeast of Galveston, Texas, and the storm was moving west at 9 mph (15 kph), according to a center advisory.
The warm waters of the Gulf of Mexico were fueling the storm, which is about 370 miles wide.
In Galveston, Texas, several thousand of the city's 58,000 residents were bused to inland shelters.
"I'm prepared to be gone two weeks or more, and I have medication and everything my kids need to prepare myself for that," said Julia Marshall, who moved to Galveston from New Orleans with her five children earlier this year.
Mayor Lyda Ann Thomas applauded the evacuees. "We're a sandbar, and storm-ridden fairly often," she said. "This is the first time people have responded the way they have."
One man who runs a retirement home near the beach told The Associated Press not everyone was leaving willingly. "They either go with a family member or they go with us, but this building is not safe sitting on the seawall with a major hurricane coming," David Hastings, executive director of the Edgewater Retirement Community, told AP.
"I have had several say, 'I don't want to go,' and I said, 'I'm sorry, you're going.' "
Galveston, smashed in 1900 by the deadliest hurricane in U.S. history, is in the center of the storm's projected path.
The latest extended forecast from the National Hurricane Center predicted Rita would likely make landfall Saturday in Texas, but anywhere from southwest Louisiana to northeast Mexico.
Around Houston, the nation's fourth most-populous city, highways were clogged with traffic as residents rushed to leave.
Houston Mayor Bill White urged the residents in areas at risk for storm surge and those living in mobile homes to evacuate. White also asked residents to help move citizens who cannot evacuate by themselves. President Bush declared states of emergency in Texas and Louisiana, allowing the Federal Emergency Management Agency to coordinate relief efforts.
Officials at the South Texas Project nuclear plant in Bay City, Texas, were preparing to shut the facility down before Rita arrives, a spokesman said. The plant, which powers 1 million customers, is built on elevated ground 12 miles inland from the Texas coast to withstand storm surges from Category 5 hurricanes.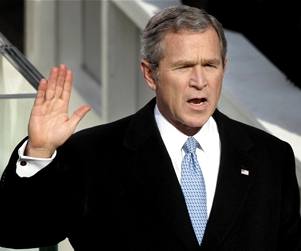 What about storms and global warming Mr President?
Evacuating a second storm
Texas welcomed thousands of evacuees after Hurricane Katrina hit, and many are now having to flee again. Gwendolyn Garley and her family were taken to Galveston after being rescued from the roof of their home in New Orleans' 9th Ward. The family was planning to settle in Galveston permanently, she said. "I feel lifeless, I'm just going through the motions,".
Later she said her cousin contacted her after seeing the interview and invited the family to join her in Atlanta, Georgia. Ernie Allen, president of the National Center for Missing and Exploited Children, said one of the lessons learned from Katrina was that families need to take some pictures with them.
He also advised parents to make "a little simple ID for your child" that they can keep with them in case they become separated. Authorities in Louisiana also worked to get thousands of residents moved from areas near the coast. Rita brushed South Florida and the Florida Keys on Tuesday, pounding the area with heavy rain and strong winds from its outer squall bands.
The storm caused storm-surge flooding in some areas and spawned at least two tornadoes, forecasters said.
Hurricane Rita in the Gulf of Mexico on September 22, 2005 at 2115 UTC.

Duration

Sept. 17 - present, 2005

Highest winds

175 mph (280 km/h) sustained

Damages

Not yet available

Fatalities

None reported

Areas affected

Bahamas, Florida, Cuba (to date)

Part of the 2005 Atlantic hurricane season
Rita is now estimated by NOAA to be past its peak, but became the third most intense hurricane ever recorded in the Atlantic basin, having achieved a minimum central pressure of 897 millibar (26.49 inches of mercury). Under current forecasts, it will be one of the most intense hurricanes ever to strike land in the United States. Forecasters from the National Hurricane Center are issuing warnings about the unpredictability of large storms such as Rita, since there is a far smaller information base to work from. It is still a major hurricane, capable of causing localized catastrophic damage from straight line winds, flooding, storm surge, vortexes and tornado activity. Meterological authorities in the US urge individuals to take all appropriate precautions, including observing evacuation orders if in effect. NOAA has warned that conditions may cause a return to higher winds and storm surge, with one indicator being that the central pressure has remained unchanged while the wind speeds have dropped somewhat disbelievingly.
Because the Gulf of Mexico is a major center for crude oil production and refineries, as well as home to some of the busiest ports in the world, Rita has the potential to do damage beyond the localized wind and wave surge. The spot market for crude oil and gasoline futures both spiked when it became clear that Rita's path would take it towards the Gulf and towards Texas. Gasoline prices, already elevated by strong demand and a previous hurricane in the Gulf, are predicted to increase again by several major energy analysts on Wall Street. There are increasing concerns that this may further weaken GDP growth in the US and around the world in late 2005.
Only three Category 5 hurricanes have hit the United States: the Labor Day Hurricane of 1935, Hurricane Camille in 1969, and, most recently, Hurricane Andrew in 1992. As of 5 pm CDT September 22, the National Hurricane Center estimates that upon making landfall Rita's winds will have decreased to 144 mph (232 km/h) from their steady-peak of 175 mph (280 km/h). If accurate, this would place Hurricane Rita as a Category 4 storm when it strikes land.
Storm history
Rita's name, alone, indicates the activity of the 2005 hurricane season; it is only the second time an "R" name has been used since naming of storms began in 1950. Several systems in 1969 went unnamed, so the "R" name was never reached, and the seventeenth system received the first "M" name used to that time. The only prior seventeenth tropical systems since 1950 were Hurricane Martha in 1969 and Hurricane Roxanne in 1995.
The storm formed at the tail end of an old frontal boundary, where convection and low level circulation around an upper level low steadily developed for over two days. A surface low formed near it, and the season's eighteenth tropical depression formed soon thereafter east of the Turks and Caicos Islands. It became the seventeenth tropical storm of the season on September 18, less than a day after forming. A mandatory evacuation had been ordered for the entire Florida Keys. Rita is expected to threaten Texas and Louisiana next, likely as a major hurricane. Key West mayor Jim Weekley said in an interview, "We're looking right now at a Category 2 or 3."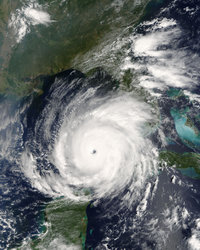 Hurricane Rita in the Gulf of Mexico on September 21 2005
Rita was slow to become a hurricane; discussions early on September 20 showed that wind translations to surface level were indeed at 75 mph (120 km/h), however, the lack of a complete eyewall meant that the National Hurricane Center kept Rita as a tropical storm with 70 mph (110 km/h) winds overnight. Aerial reconnaissance data released at 9:45 am EDT that morning showed that Rita had closed the eyewall and winds clearly reached hurricane strength. Four hours later, another special update stated that Rita had reached Category 2 strength with 100 mph (160 km/h) maximum sustained winds.
The warm water in the Gulf of Mexico, which is currently 1 °F (0.5 °C) above average, is favorable for hurricane development. As Hurricane Rita entered the Gulf of Mexico, it had rapidly increased in intensity. The National Hurricane Center's official advisories, issued every three hours, showed strengthening at every single advisory from 5 p.m. EDT on September 20th to 11 a.m. EDT on September 21st. At that advisory, Rita's maximum sustained winds had increased to 140 mph. Strengthening continued; an update issued at 2:15 pm EDT (1815 UTC) said that Rita's maximum winds had increased to 150 mph (240 km/h) and a minimum pressure of 920 mbar. Less than two hours later, at 3:55 pm EDT (19:55 UTC), another update was issued, saying Rita had strengthened into a Category 5 storm with maximum windspeeds of 165 mph (265 km/h). At 6:50 pm CDT, a reconaissance aircraft recorded a pressure reading of 26.547 inches (899 mbar), but it was thought to actually be lower since the reading was not from the center.
Lt. Col. Warren Madden, a Hurricane Hunter and meteorologist for The Weather Channel, recorded a peak wind gust of 235 mph while in the eye of the storm. "[Rita] is the most powerful storm that I've ever been in," he commented.
Current status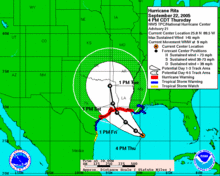 Forecast track for Rita provided by the National Hurricane Center
As of 7 pm CDT September 22 (0000 UTC, September 23), the center of Hurricane Rita was located about 350 miles (565 km) east-southeast of Galveston, Texas and about 290 miles (465 km) southeast of Cameron, Louisiana. As of 5pm CDT, Rita is currently a Category 4 hurricane on the Saffir-Simpson hurricane scale, with maximum sustained winds of 145mph (230 km/h or 125 knots) and a minimum central pressure of around 913 mbar (which is typical of Category 5 pressure), and is moving west-northwest at 10 mph (17 km/h).
Rita is forecast to be at least Category 3 intensity before final landfall (more likely Category 4), and is currently expected to hit the northern Texas coastline near Galveston, but the probabilities have been drifting to the east. The strength of Rita has prompted New Orleans mayor Ray Nagin to suspend re-entry to the city, and order a re-evacuation. While the eye of the hurricane is not expected to hit the city, the hurricane's proximity will likely result in dangerous rainfall levels (for the weakened levees) and strong winds. Should Rita make landfall in Texas as expected, it could rival Hurricane Carla and the Indianola Hurricane of 1886 as the most intense storm ever to strike Texas. Many comparisons are being made between Rita and Carla due to the similarity of their strengths and because Rita was at first expected to come ashore very near where Carla came ashore in 1961.
Rita has been downgraded to a Category 4 hurricane, which is still dangerous. It is still possible that Rita could regain Category 5 intensity as it goes over some warm vortexes in the Gulf, although it appears unlikely such will be maintained up to landfall. Some models are showing that a high pressure system might cause Rita to stall over Texas and dump as much as 25 inches of rain there, but there is still a great deal of uncertainty over whether this will happen or not.
Warnings and watches
Evacuations
Impact
Florida and Cuba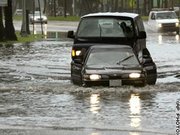 Hurricane Rita flooding in the Florida Keys
So far, few reports have come in. Over 340,000 people were under voluntary or mandatory evacuation orders in Florida and Cuba. Flooding has been reported along the Florida Keys as a result of the storm surge. The Overseas Highway (US 1) connecting the islands is impassable in some sections as a result of the flooding. As of 8:00 pm EDT, about 25,000 customers were without electricity in Broward and Miami-Dade counties, plus another 2,100 in the Keys.
A state of emergency has been declared by Florida Governor Jeb Bush and a federal emergency by President George W. Bush in four counties: Broward, Collier, Miami-Dade and Monroe. Over 2,000 National Guard troops and dozens of law enforcement officers have been brought in and are on standby.
No fatalities have been reported in either Florida or Cuba.
Preparations and risk
Louisiana
Rita's approach changed New Orleans mayor Ray Nagin's plans to begin reopening the city on Monday, September 19. The plan had already come under heavy criticism from federal officials, and Nagin reversed his decision while Rita was still a tropical storm near the Florida Keys.
Instead, a re-evacuation of the city was initiated on Wednesday, September 21. Even though Rita's forecast track keeps the center of circulation well to the south and west of New Orleans, even a glancing strike could be dangerous as the Army Corps of Engineers estimates that as little as five inches (130 mm) of rain (a small amount for a typical tropical system) could overwhelm the fragile levee system as repairs continue.
In addition, residents of Cameron Parish, and residents of Calcasieu Parish south of Interstate 10 were told to evacuate.
Texas
After the devastating aftermath of Hurricane Katrina, government officials of Galveston, Texas, which was decimated by the Galveston Hurricane of 1900, have issued a mandatory evacuation of Galveston County, effective Wednesday, well in advance of the storm's possible landfall later this week. Texas Governor Rick Perry recalled all emergency personnel, including almost 1,200 Texas National Guard from Katrina recovery efforts, in anticipation of Hurricane Rita's arrival.
In the wake of Katrina, Galveston local officials have ordered the evacuations in a staggered sequence setting different zones in the area which are due to leave at different times in the next 24 hours. Officials of the county hope that the designation of zones A, B, and C are able to prevent bottlenecks leaving the area such as those seen out of New Orleans prior to Katrina and Hurricane Dennis this year. Also, different zones will be forced to go to certain cities in Texas and will not be allowed to exit their designated routes except for food and gas - another feature of the evacuation plan which hopes to keep traffic and flow orderly throughout this timeframe. These cities include College Station, Huntsville, and Lufkin, Texas.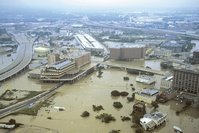 Houston after Tropical Storm Allison June 2001
Hurricane Rita has caused some worry as current forecasts predict a close landfall as a major storm by Houston, Texas. Houston has four major bayous passing through the city: Buffalo Bayou, which runs into downtown; Brays Bayou, which runs along the Texas Medical Center (check the Brays Bayou flood alert webcam and conditions); White Oak Bayou, which runs through the Heights and near the northwest area; and Sims Bayou, which runs through the south of Houston and downtown Houston, merging into the Houston Ship Channel. The ship channel goes past Galveston and into the Gulf of Mexico.
Most of Houston is flat, making flooding an increasing problem for its residents. The city stands about 50 feet (15 m) above sea level; the Houston Heights area has the highest elevation in the city. In 2001 significant portions of the city were flooded by a comparatively weak Tropical Storm Allison that stalled over the city, dropping over 30 inches (750 mm) of rain on some parts of the city.
As part of the evacuation, Johnson Space Center in Houston handed off control of the International Space Station to their Russian counterparts.
Another complication exists with the large number of Hurricane Katrina evacuees in Houston; plans are underway to move them inland to other facilities throughout the United States. Some evacuees have already been moved to Arkansas (which already has an estimated 50,000 Katrina evacuees and may pick up thousands of Rita evacuees on its own).
Concerns have been raised over the state of the oil industry in response to Rita. The storm threatens a large amount of oil infrastructure that was left undamaged by Katrina. The Texas gulf coast is home to 23% of the United States' refining capacity, and numerous offshore production platforms are potentially in Rita's path. While no potential storm path would threaten all of the capacity at once, a direct strike on Houston could disable up to 8% of the nation's refining capacity. Valero Energy Corp, the nation's largest refiner, stated on September 21 that Rita could cause gasoline prices to rise well above $3 per gallon.
On September 22, Governor Rick Perry and the Texas Department of Transportation implemented a contraflow lane reversal on Interstate 45 north towards Dallas, on Interstate 10 west towards San Antonio and U.S. Highway 290 northwest to Bryan/College Station.
Inland flooding potential
Heavy rain and powerful winds from Rita are expected to spread well inland due to its size and intensity, with hurricane-force winds expected at least 150 miles (240 km) inland, which would be to approximately the US 84 corridor based on a landfall east of Galveston. The precise distance depends on the strength and speed at landfall. Tropical storm force winds are expected far beyond there, possibly as far north as the Red River Valley.
One especially problematic scenario exists; some models forecast that Rita will stall over eastern Texas, Arkansas, northern Louisiana or eastern Oklahoma. Such a scenario could lead to potentially catastrophic inland flooding, possibly as much as 20 to 30 inches (500 to 750 mm) of rain over 2-3 days. Such would be similar to the flood disaster of Tropical Storm Allison in 2001.
If a ridge of high pressure blocking the route north breaks down, Rita is expected to continue through the central United States, possibly to dissipation or crossing the eastern states back into the Atlantic Ocean. Significant flooding is still possible in that scenario due to heavy rain.
Records
Top five most intense Atlantic hurricanes since measurements began


Hurricane intensity is measured solely by central pressure, source: NOAA

North Atlantic

Landfall U.S.

Rank

Hurricane

Year

Pressure

Rank

Hurricane

Year

Pressure

1

Gilbert

1988

888 mbar (hPa)

1

Labor Day

1935

892 mbar (hPa)

2

1935

892 mbar (hPa)

2

Camille

1969

909 mbar (hPa)

3

Rita

2005

897 mbar (hPa)

3

Katrina

2005

918 mbar (hPa)

4

Allen

1980

899 mbar (hPa)

4

Andrew

1992

922 mbar (hPa)

5

Katrina

902 mbar (hPa)

5

Indianola

1886

925 mbar (hPa)

Based on data from: The Weather Channel

Based on data from: U.S. National Hurricane Center
Rita has broken multiple records, being the earliest 17th named storm, the third most intense storm, and quickest drop of pressure in 1 hour. Hurricane Rita recently became the 3rd most intense hurricane on record in the Atlantic basin and the most intense hurricane on record in the Gulf of Mexico, the latter a record set by Hurricane Katrina three weeks earlier.
Economic Effects
The heavy concentration of oil infrastructure in the Gulf of Mexico makes hurricanes of Rita's intensity very problematic. Currently there is very little spare crude oil capacity, and the Gulf of Mexico produces some 2 million barrels a day total, as well has having some 30% of the total refining capacity of the United States, which is the world's largest consumer of gasoline and crude oil. Rita's path takes it through a dense area of offshore pipelines and oil platforms, and on land to an area with large refineries. With over half of Gulf production still shut down in the wake of Katrina, some economists have stated that a worst case scenario is for gasoline prices to briefly touch $5/gallon, which would be easily the highest real price for gasoline paid in the United States during the internal combustion era. With some 200K jobless claims attributed to Katrina, Rita could be a further drag on a weakened US economy.
The most pessimistic projections have GDP growth cut by 1% on an annualized basis in the United States in the second half of 2005, with as many as 500K people thrown out of work. This would lead to a sharp uptick in the Unemployment Rate. Some economists argue that the rebuilding effort would bouy the economy in 2006, while others argue that the energy spike could decrease consumer confidence by enough to send the economy into a full fledge recession when combined with the Federal Reserve's increases in interest rates.
Gasoline Falls as Hurricane Rita Weakens, Shifts Eastwards
Sept. 23 (Bloomberg) -- Gasoline fell in New York after Hurricane Rita weakened on its path toward Texas and shifted track away from the heart of the refining industry. Crude oil futures were little changed.
Rita's winds dropped to 145 mph from as high as 175 mph earlier, the National Hurricane Center said. The storm may make landfall between the northern coast of Texas and the west coast of Louisiana. Gasoline rose 4.2 percent yesterday as about 20 percent of U.S. refining capacity was shut in Texas.
The track has been moving to the east, away from the really big refineries in the Houston area,'' said Kyle Cooper, an analyst with Citigroup Inc. in Houston. ``The storm is still serious.''
Gasoline for October delivery fell as much as 3.94 cents, or 1.8 percent, to $2.10 a gallon in after-hours electronic trading on the New York Mercantile Exchange at 8:32 a.m. Sydney time. Yesterday, the contract rose 8.63 cents to $2.1394, the highest close since Sept. 2.
Prices touched $2.92 a gallon on Aug. 31, the highest since trading began in 1984. Futures are 59 percent higher than a year ago. Gasoline yesterday had the biggest move of any commodity.
At least 14 refineries with a combined capacity of more than 3.3 million barrels a day were closed or had processing cut in Corpus Christi, Port Arthur and in or near Houston, as Texas braced for Rita, one of the strongest storms on record. About 5 percent of U.S. capacity was already closed because of Hurricane Katrina, which hit Louisiana and Mississippi Aug. 29 and sent U.S. gasoline pump prices above $3 a gallon for the first time.
Louisiana
The path of the hurricane has moved eastward, away from Houston and toward Port Arthur, which is near the Louisiana border. It looks now as if Rita is not going to go through the main refinery region,'' said David Thurtell, a commodity strategist at Commonwealth Bank of Australia in Sydney. ``Because all these plants have closed for precautionary reasons there have been problems with gasoline supply, which drove prices higher yesterday. Still, it looks as if there's not going to be so much damage to the bigger refining sites.''
Exxon Mobil Corp., Royal Dutch Shell Plc and Valero Energy Corp. are among the companies that shut plants. Closures extended to Lake Charles, Louisiana, where Citgo Petroleum Corp. was shutting its refinery, the fourth-largest in the U.S., according to an Energy Department report yesterday.
Crude Oil
Crude oil for November delivery was little changed in electronic trading at $66.59 a barrel, up 9 cents, at 9:08 a.m. Sydney time. Yesterday, oil fell 30 cents, or 0.5 percent, to $66.50, having earlier reached $68.14. Oil reversed when the storm was downgraded to a Category 4 hurricane from Category 5. Futures have fallen 6.1 percent since touching a record $70.85 a barrel on Aug. 30, the day after Katrina made landfall. Prices are 37 percent higher than a year ago.
Rita was located about 405 miles southeast of Galveston as of 4 p.m. local time, the hurricane center said. The storm is moving west-northwest at 9 mph and is expected to turn gradually towards the northwest during the next 24 hours, it said.
On this track, the core of Rita will be approaching the southwest Louisiana and the upper Texas coast late Friday,'' the center said. Exxon Mobil said it is closing its 557,000 barrels-a-day Baytown, Texas, refinery, the nation's largest, and another plant in Beaumont. Valero is shutting plants in Texas City and Houston. Shell, ConocoPhillips and BP Plc also closed or slowed operations yesterday.
Higher Prices
``If some refineries are damaged prices will rise higher than they did as a result of Katrina,'' said Phil Flynn, vice president of risk management at Alaron Trading Corp. ``There would be record pump prices, which would eventually go down because demand will fall as the economy falters. There comes a point when people will reduce driving and I think we're close.''
Regular-grade gasoline, averaged nationwide, fell 0.9 cent to $2.755 a gallon yesterday, according to data released yesterday by the AAA, the nation's largest motoring organization. Prices have declined 9.9 percent since touching a record $3.057 on Sept. 2. Heating oil for October delivery yesterday rose 0.71 cent, or 0.4 percent, to $2.0458 a gallon. Futures touched $2.21 on Sept. 1, the highest in 27 years of trading on the exchange. Heating oil was at $2.0285 in after-hours trading.
Natural gas for October delivery yesterday rose 19.6 cents, or 1.6 percent, to $12.79 per million British thermal units, the highest close since trading began in 1990. Prices, which touched $13.42, an intraday record, have more than doubled in the past year. The contract traded at $12.87 at 9:10 a.m. Sydney time.
---

STORMS | HURRICANES | TORNADOES | ATMOSPHERE | WATER CYCLE | FORECASTING