PROGRESS DAY CHART
---
DAY 12: SOUTHERN DRIFT STILL EATING UP THE MILES...
Thu, 2 Feb 2006 // 16:22

NEW WEBSITE FEATURES: IMAGE GALLERY and watch the Mike Horn PROMO VIDEO

Quote of the Day:
'We wish and need this southern drift to stop and become just like normal, which is actually drifting north...'

MIKE DATA LOG
Latest position 31.01.06: N81°50'6.3' E103°53'6.2' (No position received for two days)
Temperature: -15°C

DAY 12 UPDATE
Although ice conditions are improving, Mike and Borge are still working hard against the northwest winds and southern drift, waiting patiently for the icecap to change direction and take them north...

'This is Borge and Mike from the Arctic Ocean - still pushing hard towards the North Pole. Today has been not too bad, we actually had quite good ice conditions, the ice is getting older and smoother and better to ski on - also tika ice which means safe ice for us to camp on. Temperature is not too bad, it's warm -15°C and the glide is good on the sleds so everything is fine, and everything works perfect when it comes to the equipment. The only big, big problem is we have the wind constantly from the west/northwest which push us to the east, and south. Half the distance we do during the day is actually eaten up by the drift during the night, but it has to change someday, spirits are of course good, but we wish and need this southern drift to stop and become just like normal, which is actually drifting north. So crossed fingers, and be with us, follow our trip, it's a great adventure, and it's great to be out here! All the best, from Mike and Borge.'

Click here to listen to full audio sent back today from Mike and Borge.
DAY 15 : NOT YOUR ORDINARY SUNDAY WALK...
Sun, 5 Feb 2006 // 18:32

Quote of the Day:
'I must admit this is the toughest 'degree of latitude' that I've walked - never struggled with conditions such as these before...'

MIKE DATA LOG
Latest position: N89°59'35' E107°03'19'
Distance to go: 894km
Temperature: -25°C

Mike and Borge spent all day yesterday (Saturday) in their tent after deciding the winds were too strong and temperatures too cold to walk. Although it was good for them to rest, they were also moving backwards so were hoping for conditions to improve today when they were back out on the ice...

We've been out walking again. It's icy cold out there, -25˚C and a constant northeasterly breeze. Really cold and miserable! Block ice, strewn every which way, slowed our progress considerably. We've been drifting south again with the wind in our faces. Now the drift is carrying us mostly east.

It took us 10 hours to cover 8 km. We've now camped at N89˚59'35', E 107˚03'19' and we still have 894 km left before reaching our goal.

I must admit that this is the toughest 'degree of latitude' that I've walked. We're now just a few hundred metres from N82˚. Never struggled with conditions such as these before. Well, I hope somebody up there appreciates our toil and perseverance, and that things will turn. That is our hope.

Mike and Borge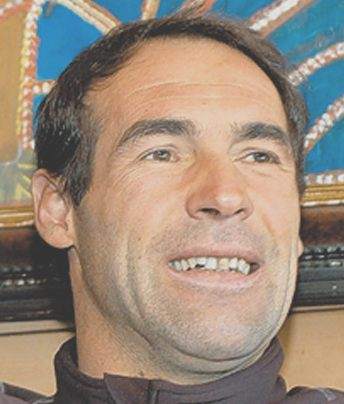 ---

For latest news on Mike and Borge go to: www.mikehornnorthpole.com


WEB LINKS

Sign up for updates on Mike's progress on his North Pole Winter Expedition at www.mikehornnorthpole.com

Click here to view Mike & Borge's latest position on Google Earth. To download Google Earth click here ( PC and Mac OS X 10.4 only).


For further information on Mike Horn contact:
Josie Robinson
T: +44 (0)870 063 0210
E: josie.robinson@ocgroup.com



MIKE HORN PERSONAL DETAILS

Age: 39
Nationality: South African resides Switzerland
Status: Married to Cathy, two children aged 11 and 12

MIKE HORN'S PHILOSOPHY:

'The drive to go beyond our physical, mental and spiritual limits is an internal attitude that transcends global borders. It tests our personal limits and opens the way for new levels of achievement in all aspects of life. This philosophy is the driving force behind every endeavour.

Although I find myself in the most extreme circumstances, I always use caution. My philosophical approach is to live the endeavour as an expression of my being. Alone, immersed in nature, with no creature comforts, to surpass the limits imposed by man and nature itself. With faith and determination, one can embody the purest expression of this philosophy.'
---
ARCTIC AND ANTARCTIC EXPLORATION LINKS:
---
Nelson Kruschandl: We're with you all the way.
---
This page contains links to educational sites around the world under the headings provided. Content on those sites may be the subject of author copyright, which is hereby acknowledged. Please note the Solar Navigator project is not associated with the featured project. We provide information on this expedition as publishers of similar material and expeditions that the public may know.