It' a bit daunting trying to replicate the Dalek look without any plans. Fortunately, there are many pictures on the web and in several hundred books, from which you can estimate fairly accurately. You might find (as we did) that Daleks seem to change depending on the era. That is in fact true. The Dalek as we know it today is quite a bit different to the originals Peter Cushing and Roy Castle worked with.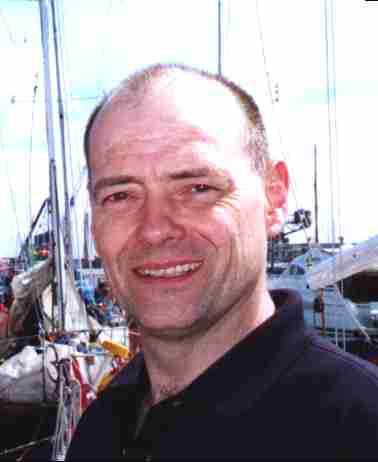 Nelson Kruschandl - master fabricator
I'm finding this project fairly easy at this stage. It has taken just a few hours to get this far. I bet it gets a bit more complicated and time consuming as we try to make the head turn and other bits work. Of course I've been building custom vehicles for many years. If you are new to this, you will need to master: steel fabrication, welding, timber cutting, painting, soldering, electrics and other skills such as drawing to scale. My helper was only 7, but even he is screwing and bolting parts together and really enjoying himself.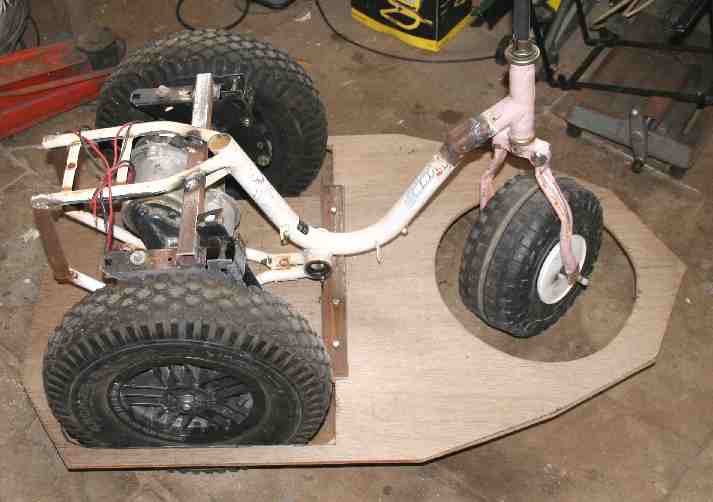 Lower plywood former bolted to electric trike
This working full scale model is based on a junior bike, shortened, with the handlebars replaced by a joystick. An electric motor axle unit is welded to the bike frame to form a trike. You can see the base and mid-section for the Dalek's body cut from 10mm plywood. The wheels fit through slots in the plywood, which is then bolted to the trike's frame. We hope it will not be too difficult to attach the remaining bodywork and that a small person will be able to drive the Dalek with some precision. You may notice in the picture below, that an oval centre shape is still to be cut. This is of course to allow the driver to sit upright in some comfort.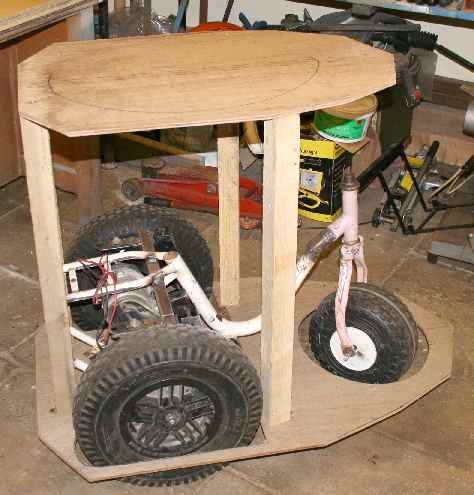 Dalek plywood lower body formers in situ
More to come .................................... upper body, batteries, steering and controls.
---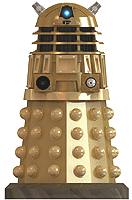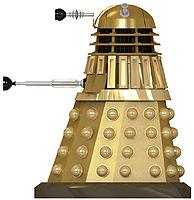 New Doctor Who Series New Dalek Model
---
LINKS:
Cast and Crew list, on the BBC website
Photonovel of episode 2 of The Daleks' Master Plan on the BBC website
Project Dalek (http://www.projectdalek.co.uk/) - build your own Dalek
Dalek 6388 (http://www.dalek6388.co.uk/) - about the various Dalek props built for the series
Science fiction citations - Oxford English Dictionary citation of "dalek"
Dalek Links - the Web's most comprehensive listing of Dalek Web sites
Project Dalek - build your own Dalek
Dalek City - Dalek Building guides
Dalek 6388 - about the various Dalek props built for the series
Doctor Who Collectibles: An Annotated Bibliography
The Last Dalek - Flash game by New Media Collective, on the BBC website
Dalek 3D Resource - General information and 3D models
---
---
A heartwarming adventure: Pirate whalers V Conservationists,
with an environmental message.
For release as an e-book in 2013 with hopes for a film in 2015 TBA
(graphic design: Martin House)