In the United Kingdom, as with other countries, the cost of establishing a home is moving further than ever away from first time buyers and others on a low income, because rents are so high that saving is impossible. The alternative to paying high rent with no sign of a home of your own in sight, we think, is a timber mobile unit like that shown on this page.
What if we were to tell you you we could install a luxury timber cabin for around £50,000. This includes a fitted kitchen and bathroom, ready for you to move in.
Our design is suitable as a replacement to any existing mobile home as an upgrade. Hence, if you are a farmer or run a game farm, holiday park or other business, this may be the upgrade you are looking for. Our mobile home is considerably less expensive than equivalent imported log cabin designs. It is well worth checking out our specification and comparing.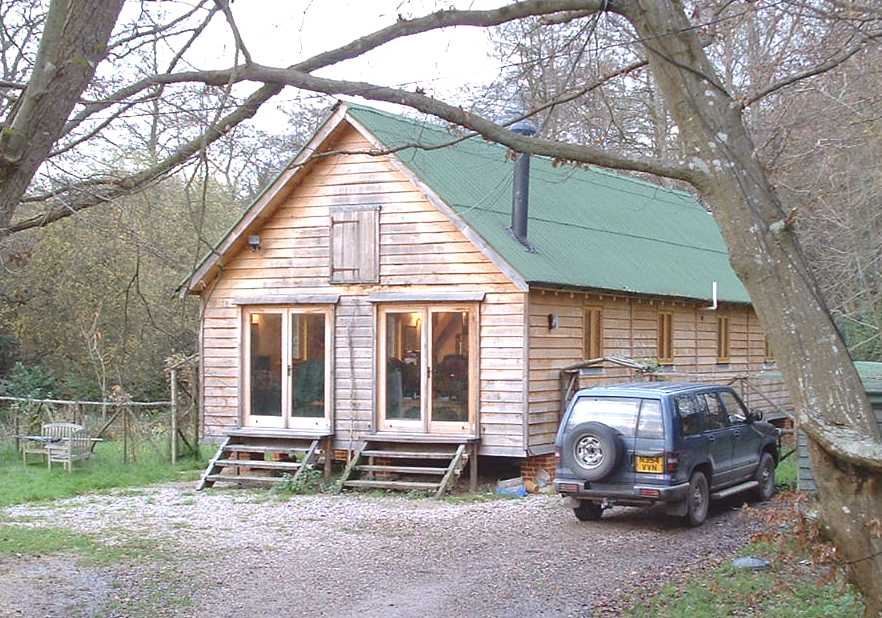 A typical Mobile Homes timber design - We'd like to see
affordable quality housing for everyone
What you need is a plot of land with planning permission for a mobile home. Or, if you do not yet have planning permission, but own, or are thinking of purchasing a suitable plot, please contact us to see if our planning expert can help - he often succeeds where others fail, and the new planning guidelines from March of 2012, materially assist in this regard.
Our unique design of mobile home is Euro Standards 2020 ready. Our planning expert has overcome obstacles to planning consents in many cases in the south east of England, and now obtained consent for this design below.
Utopia Tristar™ can organise and oversee the complete project on your behalf. Alternatively, you may wish to run the project yourself, in which case the overall cost will reduce. You may even be a builder and just want our help with the design of your home for compliance and to obtain planning permission.
Whatever you decide we are waiting to hear from you and ready to assist. If you live near to Sussex, you can visit our show home. If you are considering buying a mobile home, please be sure to speak with us before approaching your local authority. Our design is so recently confirmed, most councils will not be familiar with the approval and as our design is copyright, we would need to be hands on during the application stage.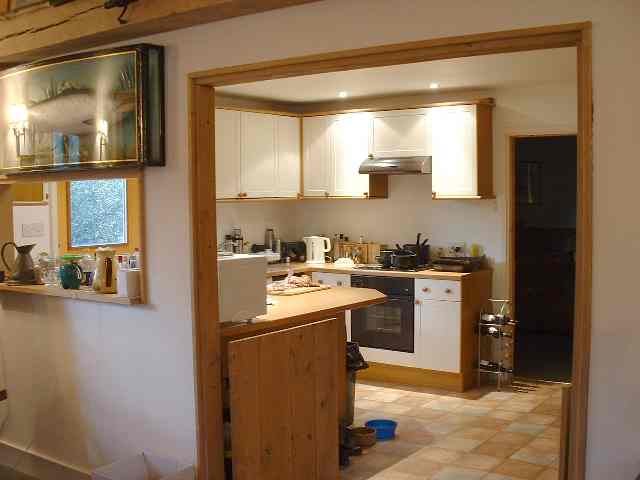 Fitted kitchen
Wood plays a major role in combating climate change. Greater use of wood products will stimulate the expansion of Europe's forests and reduce greenhouse gas emissions by substituting for fossil fuel intensive products."
• Wood products act as a carbon sink throughout their life

• Wood has the lowest energy consumption and the lowest CO2 emission of any commonly used building material

• Wood's thermal insulation properties mean timber frame houses use less energy

• Wood is uniquely renewable

• Using wood products encourages forestry to expand, increasing the carbon sink effect and reducing the CO2 in the atmosphere
• Wood is created by photosynthesis and can be considered an efficient way of storing solar energy

• Recovering the energy from wood products at the end of their life - as a substitute for fossil fuels - increases the CO2 benefit of using wood.
View from lounge to bedrooms
Timber has been used by man for an enormous variety of purposes since pre-historic times, particularly in the construction of shelter and for artefacts used in day-to-day life. Forests cover 30% of the earths surface. Trees have been called "fountains of the earth" (Durrell 1993).
Today, timber and wood-based products continue to be used in construction, often in conjunction with other, man-made materials (metals, concrete, plastics). Wood is truly renewable in a relatively short time frame and can also be recycled through a succession of uses before returning to its constituent elements of carbon, water and energy.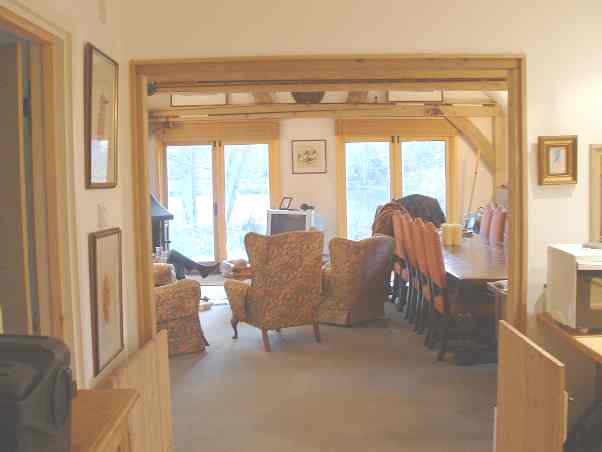 View from kitchen to lounge
Solar architecture and timber construction: ideal symbiosis

All over Europe, one particular type of detached house is becoming increasingly popular. We are talking about wooden houses featuring large glazed surfaces facing the sunny south and well insulated walls with small windows on the cold northern side to protect against heat loss. This new low-energy building technique is without a doubt Solar Architecture as it uses the free energy of the sun in various ways.
Over 8000 tree species, 10% of the world's total, are threatened with extinction. Like all resources, the forests which produce timber need careful management if they are to continue to supply the increasing demands placed upon them. Fortunately, there are now many organisations dedicated to educating the public as to good forest management.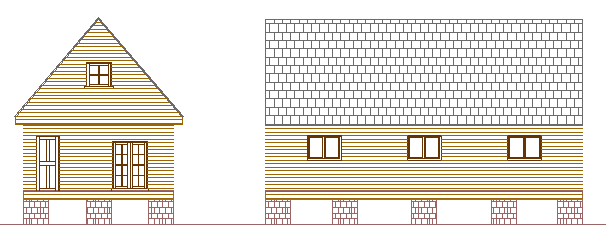 A lovely timber mobile home in Sussex - Contact us if you are thinking of settling down
to a comfortable sustainable lifestyle. You'll need the planning lowdown.
We can supply similar homes 48'x18' and other sizes as an affordable flat-pack,
(POA due to the volatile timber market). Our planning strategist secured
consent for this mobile home, even where the council concerned were adamant
that this attractive, affordable unit did not comply with regulations.
CONTACTS:
Utopia Tristar™ Partners
(affordable sustainable living)
Solar House, Herstmonceux, Sussex, BN27 1RF
Telephone: 01323 831827 & 07842 607865